I thought I'd try something a little different today. I tend to ramble about trends, fashion news stories that have me going and depending on the time of year, red carpet and runway commentary. But what about some information you can actually use? Like perhaps a few spring outfit ideas?
Unless you're lucky enough to live somewhere that's warm all year round, I'm sure you've spent many many months layered up in sweaters, coats, scarves, boots and all that Fall stuff that fashion folks love but we end up hating about 2 months into it. If you find yourself forgetting how to dress for spring (I realize showing a little ankle can be tough but I know you can push through it!) then here's some fun combinations to get you inspired.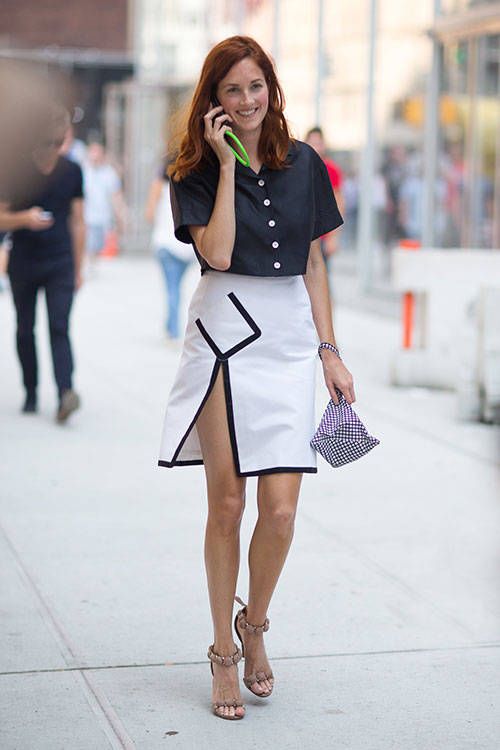 Give it a try: A button-down + a high slit skirt
But how? Make sure the proportions are right. Depending on how short the skirt is and how large the slit, you want to cover more on top if you're showing more on the bottom (remember ladies, you want to be a starlet…not a street walker).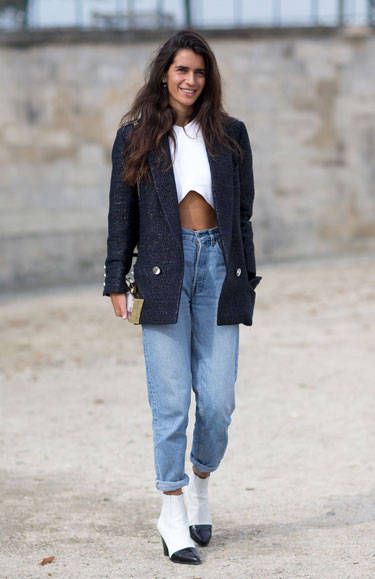 Give it a try: Crop top + high-waisted denim
But how? I love how Chiara (my style crush) put together this look. The boots give it some edge, the jacket adds a little menswear flare while the jeans and crop top combo plays into that 90s thing that's happening right now. When trying this pairing, just make sure your denim is high-waisted enough (the whole 12 inches of midriff thing is something I'd like to leave in the 90s). And if you're not so comfortable with your mid-section, opt for a pair of loose-fitting denim to avoid any "spillage."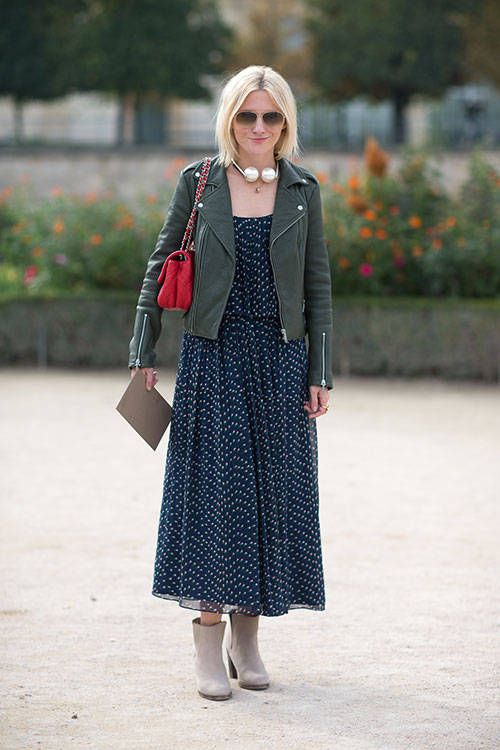 Give it a try: Leather jacket + pearls
But how? Whether it's playing with proportion or different styles, I've mentioned many times here on CCF about a well-balanced look. I love the idea of something edgy like a leather jacket paired with something so feminine like pearls (although pearls have come a long way in the last year or so). For this look specifically, I like how Laura Brown kept with the edgy/girly theme by also choosing a polka-dot dress and ankle boots. Having a little Chanel doesn't hurt either 😉
Give it a try: Dress + sneakers
But how? I've seen this done with all sorts of dresses and quite the variety of sneakers (because we have so many options now). I personally prefer this look with a shorter dress (plus it's easier to wear a shorter dress with flat shoes…to avoid that whole streetwalker thing again). I gave this look a try recently and I'll definitely be doing it again soon. This is probably the easiest combination because I'm sure everyone has at least one dress and one pair of sneakers in their wardrobe — so just put them together and see how you feel about it. If you end up looking like one of those ladies in Reeboks with a skirt suit walking to work circa 1985, then I'd maybe give a different combination a try…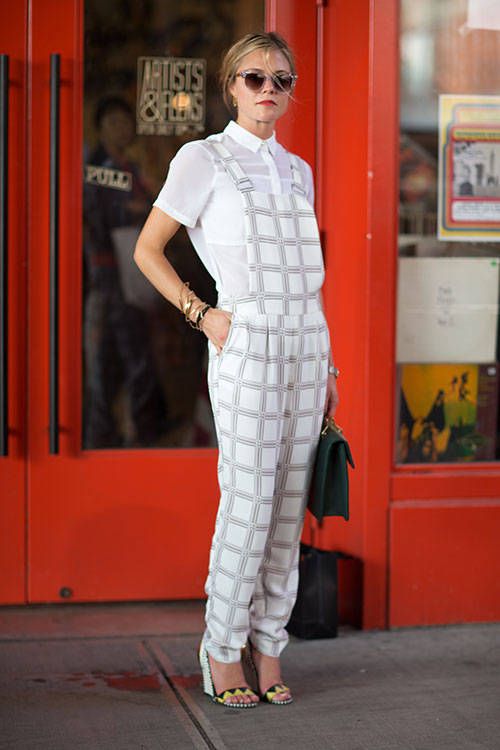 Give it a try: White shirt + white overalls
But how? I've been wanting to try an all white look for quite some time now (even wrote about it last year — still haven't gotten around to it). I like this fresh and casual take on white on white with a shirt and overalls. Whether it's just a white tee or a fancy white button down, it sounds like a simple combination but one we don't see very often. So why not try something a little different this spring, eh?
—
So, what do you think? Have you tried any of these combinations yet this season? Will you? Any pairings you've seen but have no idea how to put them together so maybe I should do a post about it? TELL ME.
Images via Harper's Bazaar
You might want to check out...