Due to my extreme frustration with the recent weather (can anyone in Chicago remember the last day we did NOT have rain? I didn't think so), I thought I'd channel this into something helpful. When it rains, we all seem to either give up on how we look or just ruin our outfits. Neither one is fun so I'm going to turn something bad (daily storms that occur when you least expect it so you better have an umbrella at ALL times) into something good (an excuse to go shopping).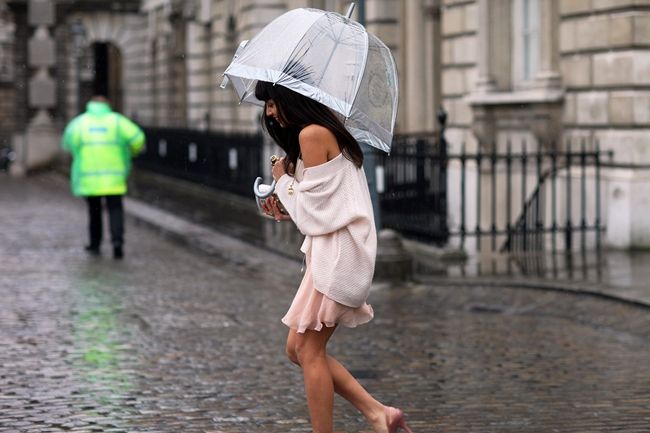 Nobody looks this fabulous in the rain but I'm going to give you the tools to at least try. I hate all phrases that end in chic (boho-chic, Parisian chic, [insert any word here]-chic) but I really am going to show you how you can look fabulous in the rain without compromise (which I guess we can call downpour chic).
Now because it's summer, you don't want to be wearing all of this heavy rain gear. A jacket and boots are plenty heavy but I found some lighter options so you won't look like a sweaty mess during the times it's not raining…nobody wants that. Obviously, an umbrella is key and less obviously, I'm sharing my favorite "rain friendly" handbags. When I get stuck in the rain with a nice leather bag, I do whatever I can to protect it (which usually involves stuffing it in my shirt…no joke). So why not come prepared and wear a bag that can withstand all sorts of action mother nature throws at us?
You can check the weather.com app all you want, but if you live in Chicago you never know what is going to come down from that sky. So at the very least, have an umbrella on you at all times. I like to carry a small one in my bag and keep a larger one at home (or at your office). As much as they're a pain in the ass, it helps when you at least own a cute one.
Raincoats are tough because in the summer, it can get hot in something so…plastic. So going a more unconventional route (a rain "bomber" jacket, a rain cape, etc.) is ideal. Plus, you'll be the best dressed dry person during the downpour. And who doesn't want that prestigious title?
Like raincoats, rain boots for summer aren't fun. No one wants to wear BOOTS in summer. If you don't want to wear flip flops (which I highly recommend saving those strictly for the beach and pool) and don't want to ruin any of your other shoes, then a cool looking rain boot is your friend. I recommend something no higher than you're ankle (these are my favorite option), because sweaty calves are never in style.
And now for the most interesting of the rain gear…a "rain bag." Now this isn't a bag just to carry in the rain, but if it so happens to storm during your outing, you won't freak out about ruining your handbag. Anything PVC will do just fine (and it just so happens to kind of be on trend).
To shop more of my favorite stylish rain gear…
Image via Apollinas.com
You might want to check out...