If you follow me on Instagram, you probably think my closet only consists of five things (seven, max) because I'm one of those people who tends to wear the same pieces over and over (and over) again. I don't believe in the whole "I was photographed in it once so I can never wear it again" mentality (I've even called myself out for being a repeat offender right here on CCF) because if you own things you love (bonus if they're comfortable) why not wear the hell out of 'em? So today, I thought I'd share with you my go-to items…and why I consider them to be summer must haves.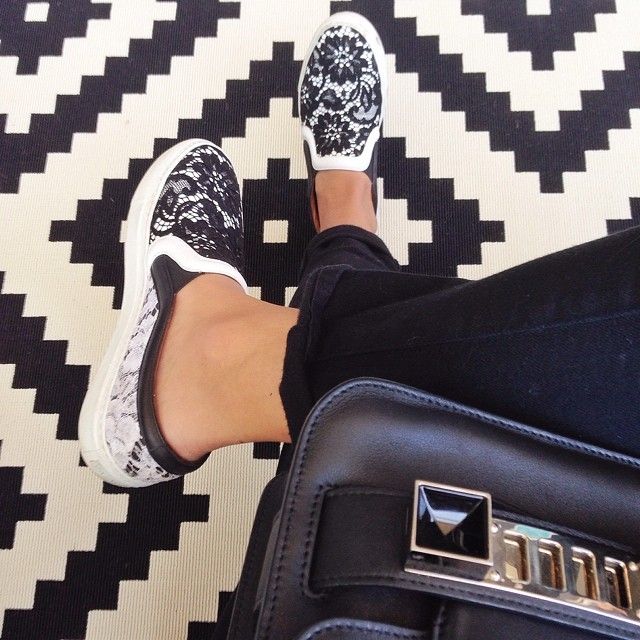 I guess most of these can be worn in a few different seasons — they just happen to be the pieces I wear quite frequently in spring/summer. Everyone has somewhat of a uniform — the looks or items you tend to choose more often than not. Sometimes it's hard to break the habit…but should you even have to?  Every once in a while, I look at the other items in my closet and almost feel bad for them. If they could talk, my Givenchy slip-on sneakers (pictured above) would be like "GIVE ME A FUCKING BREAK" and all of my dresses would be all "WHY DON'T YOU LOVE ME?!" So before I try mixing up my outfits, there's a reason why these are my go-tos.
The Go-To: 3.1 Phillip Lim Quinn Loafers
The Story: Ever since loafers became stylish, I barely ever go back to heels. I got these while at Liberty in London last September and I don't think I've ever worn a shoe as much as these (even the Givenchy slip-ons, which we'll get to in a minute). They're the perfect shoe for both day and night, they're extremely comfortable and they go with everything…why wouldn't I wear these all the time?
Similar Styles:

The Go-To: Proenza Schouler PS11 Tiny
The Story: It should be no surprise that something Proenza made it on my go-to list. The OG of go-tos for me was the PS1 but now that I've done a pretty good job of editing what I need to carry, a small cross body is all I need. Like the Quinn loafers, the PS11 is perfect to dress up or down (especially with the detachable strap — instant clutch…so it's basically a two-fer) and in a neutral color, you can literally wear it with anything and everything. Plus, it makes for a decent close-up Instagram shot too 🙂
Similar Styles:

The Go-To: Illesteva sunglasses
The Story: My addiction to sunglasses is a long journey that doesn't seem to be ending any time soon. Although in a turn of events, my addiction seems to be going in a very specific route — a route that leads to all things Illesteva. It started with the blue Leonard 2s (that showed up in just about every single one of my early-on WWW posts) and four pairs later, it's very likely that I'm wearing some Illesteva sunnies at this very moment. Currently, I'm really into the White Chapel style (pictured above)– the clear frames are neutral while the colored lenses add a little extra something to my simple day looks. But really, you can't go wrong with anything under the Illesteva umbrella (even Illesteva umbrellas).
Similar Styles: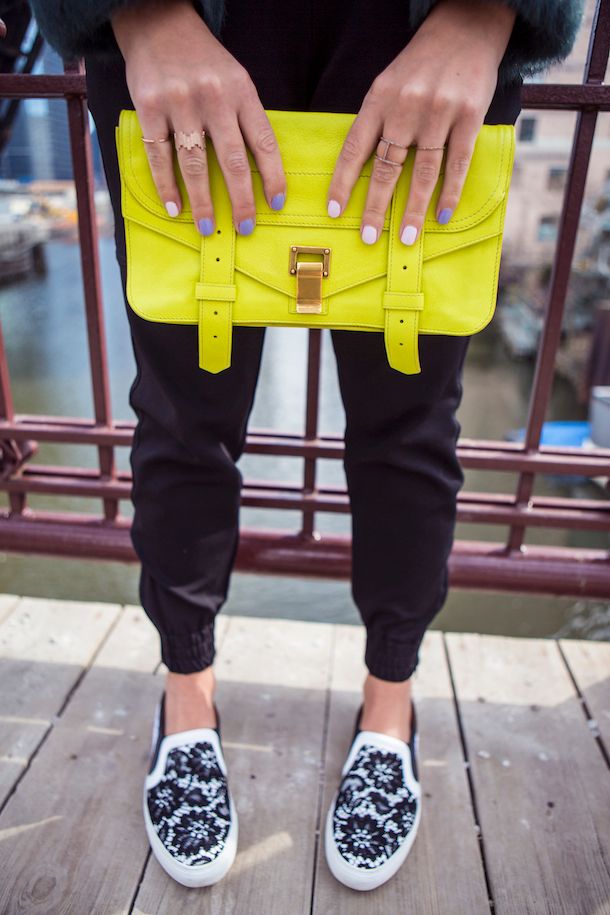 The Go-To: Givenchy slip-on sneakers
The Story: I try not to get too caught up in trends because I never want to fall under the #trendsontrendsontrends category and I also don't want to regret splurging on an item that I'll hate a year later. I took a risk getting these slip-on sneakers last summer because I knew I liked them but I wasn't sure how I'd feel about them later on. Sure enough, it was a good purchase because if I'm not wearing my Quinn loafers, I'm wearing these. Whether I'm running errands or trying to dress down a dress (I just don't feel myself in a dress and heels), these are my go-to sneakers. And on the contrary to some of your Instagram concerns, I only have one pair of these and I just try to keep them as clean as possible…with maybe a bit of retouching 😉
Similar Styles: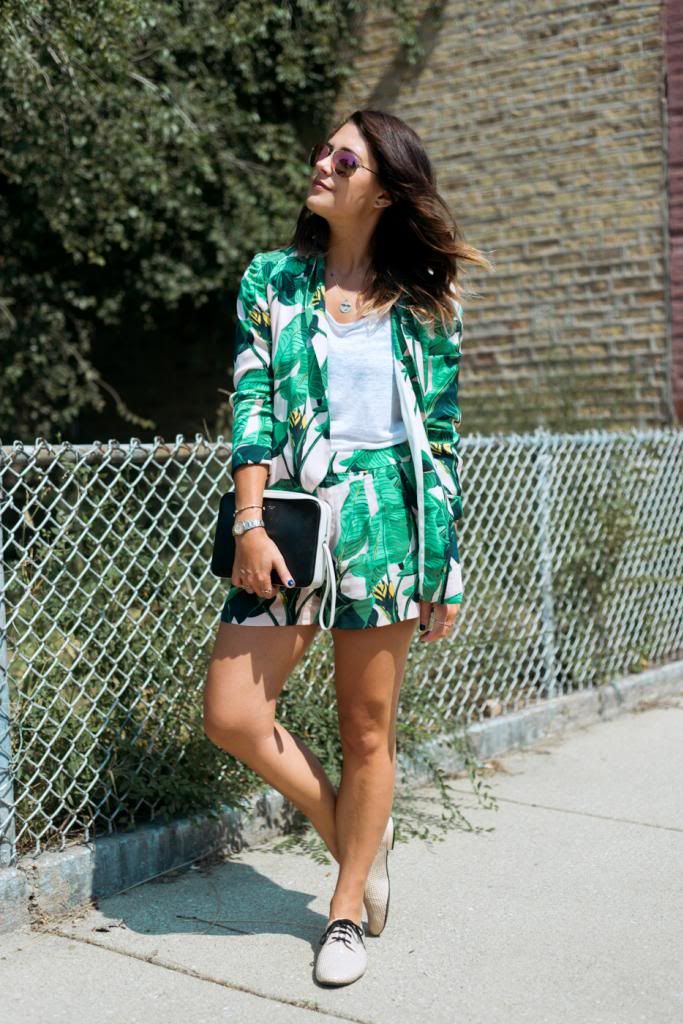 The Go-To: Printed shorts
The Story: In the summer, I feel like I only wear shorts. The occasional dress or skirt might be thrown in there but day or night, I'm most likely in shorts. When it's really warm, I tend to gravitate towards silk shorts and I'd say 90% of mine have some sort of print on them. Prints are just a fun thing to wear in spring/summer anyway and there's so much you can do with them. I'll either throw on a cotton t-shirt or tank with flats or sneakers for day then a silk shirt (or maybe even a coordinating top) and MAYBE even heels for evening. But if I know I'll be sitting for an extended period of time, silk shorts aren't necessarily the best option (unless I walk around with my portable steamer…which is not ideal when it's 90 degrees).
Similar Styles: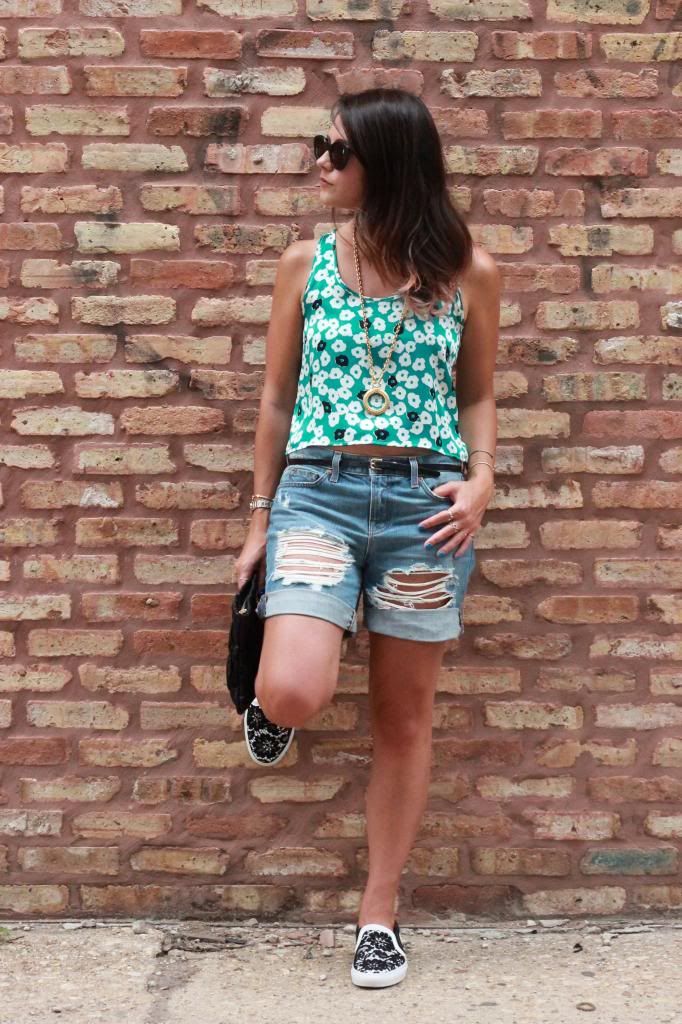 The Go-To: J Brand ripped denim shorts (and those damn sneakers again!)
The Story: If it's too hot to wear jeans, I'll go for the denim shorts (and after that long conversation we had about cut-offs, this longer/ripped look is the type of style I'm into right now). I wear these a ton (mostly because they're my only regular denim shorts and when the mood strikes, these are the chosen ones) and although they're not necessarily the most flattering, they're just so easy to wear and it's a great denim option that won't leave you looking too "festivaly."
Similar Styles:

—
What are your go-to items in your wardrobe? More importantly, why are they your go-tos?
You might want to check out...