The fact that I've been had a blog called CHI CITY FASHION for over six years and have never written a post with this title is borderline embarrassing…but better late than never right? And just because you don't live in Chicago doesn't mean this can't apply to you (but if you live in LA then the only reason to read this is to make yourself feel extra good about your decision to reside in Southern California).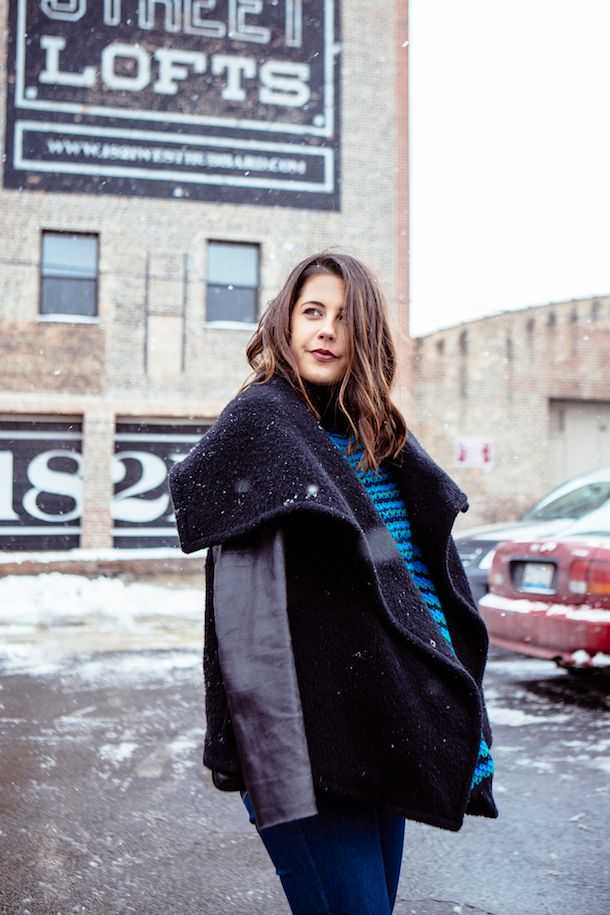 Thankfully, this winter hasn't been too bad. If you've been in Chicago for the last four or five years…you realize this is the best it's ever going to get. So I can't complain. However, if you're new to the city or still just trying to figure out your winter wardrobe…you're going to want to listen up!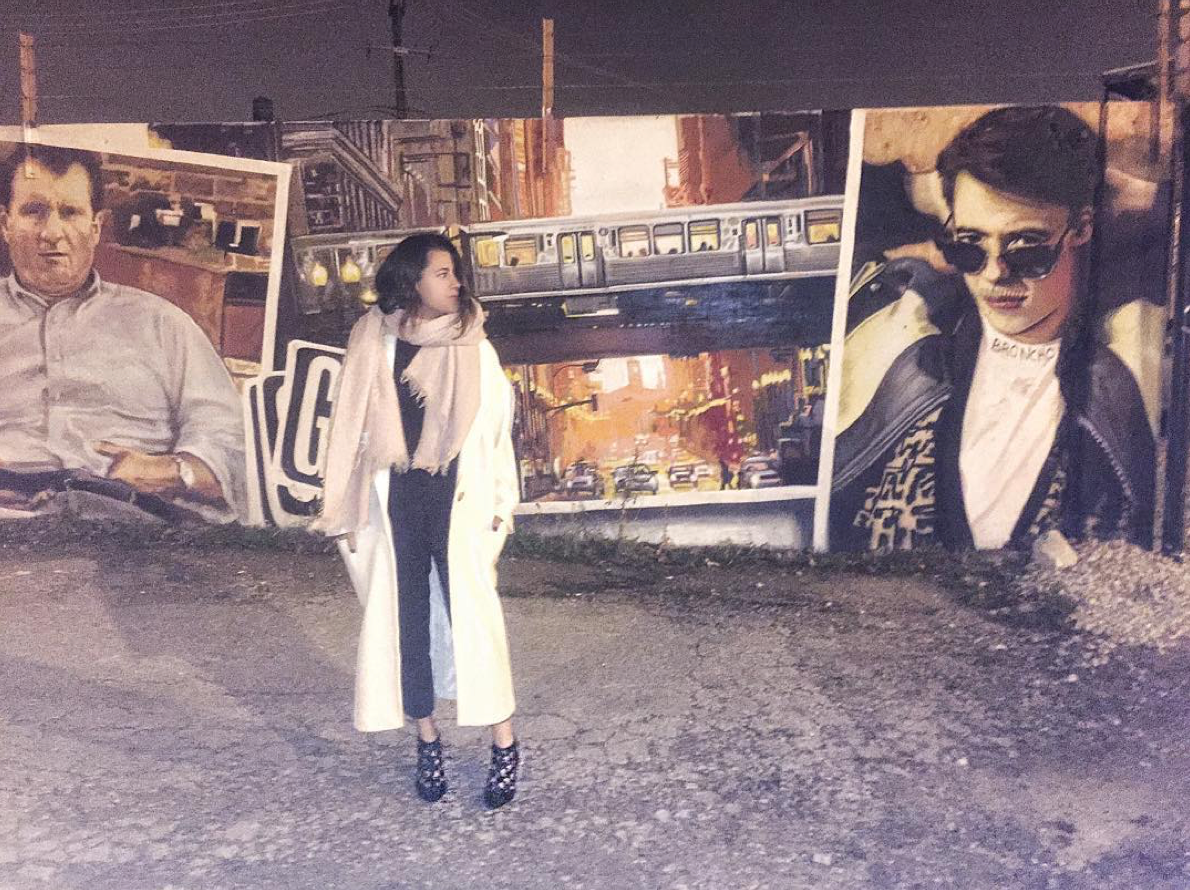 There's three main things we have to deal with in Chicago winters — 1) the extreme cold, 2) the extreme wind and 3) the extreme slush (as you can see, our winters are extreme). Of the 3, the cold is the easiest to dress for. Two words: BUNDLE UP. But of course…there's more to it.
This isn't the post where I'm going to tell you to wear six layers, with long underwear being one of them, two pairs of socks with snow boots, and every cold weather accessory you own. This is a FASHION blog after all. And there's a way to keep warm and still be stylish.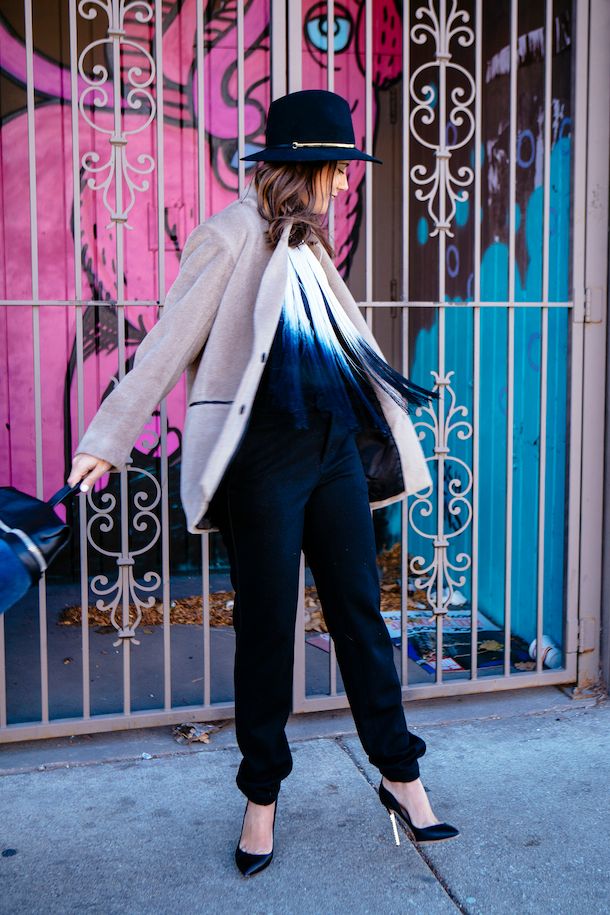 Let's start with #1 — the extreme cold. The first thing people will tell you when you ask "how do you survive a Chicago winter?" is to LAYER. I agree to an extent, but it's actually thing I do the least when it comes to dressing for these cold situations. Yes, I might wear a long sleeve shirt and a blazer or a bodysuit and a cardigan but because I get a little lazy (don't we all?) I almost always opt for a sweater. Which brings me to my #1 suggestion — sweaters.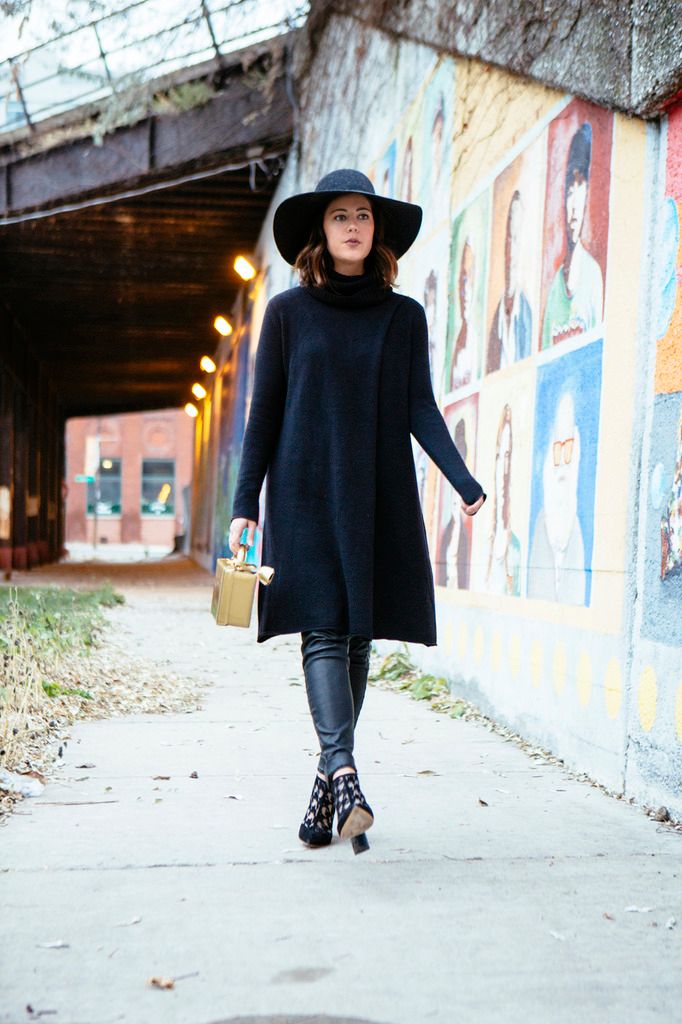 Make sure you have a ton of them, so you don't get sick of wearing the same ones (but let's be honest…we all wear the same five things anyway so I guess it doesn't really matter). Because sweaters can be bulky and casual, make sure you throw in a few that can work for a dressier occasion (think: metallic, embellishments, textures, or even a sweater dress). Not saying it's for a black tie affair but just something that looks nice with trousers or leather pants (not the oversized pilled number you wear with leggings and Uggs). Get the difference? My go-to is this Sass & Bide sweater I got in Australia a few years ago (if you need more of a visual) but don't you worry…I included a few options for you to shop at the end of this post.
Going along in the keeping warm category…I always tell people that if you're going to live here and invest in one wardrobe piece, it has to be practical outerwear. Now by practical outerwear, I don't necessarily mean a puffer. It can be a puffer but it can also be a leather and shearling Acne coat (among other things…)
There are so many amazing coats out there right now just waiting to keep you warm in frigid Chicago…all you have to do is find one! And I repeat — you don't need a North Face or Canada Goose to get the job done (not saying you shouldn't have one in the rotation BUT if you're looking to do something other than walk your dog or run to the grocery store, I promise there are more stylish options out there). It also helps to throw in a color (whether you prefer bright, pastel, printed, whatever!) We can go weeks without seeing sunshine so having something other than black or grey can be quite refreshing.
The last thing that I more recently discovered as a necessity to surviving Chicago winters are shearling-lined boots (and I don't mean Uggs!) A couple of years ago I started looking for a pair of boots that look like regular flat boots but just so happen to be lined in shearling, and at the time there were very few options. Now, they're far more common…so I finally found the perfect pair to avoid frozen feet. These Balenciagas have been a game-changer for me…and I couldn't keep that secret all to myself (they're that good).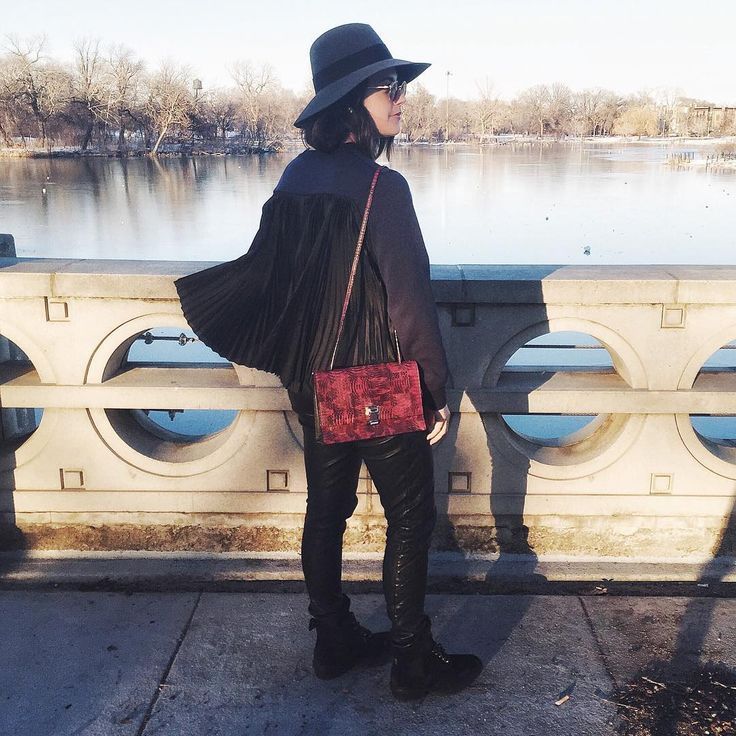 You may be thinking we're done here, but oh no…we're only on to the second Chicago winter annoyance, #2 — the extreme wind. Although this goes along with the temperature (and is one of those obvious answers like LAYERING), finding cute hats, scarves and gloves will help with both the cold and the wind. I've come to terms with the fact that I'm now a beanie collector, as I wear one almost everyday this time of year. I prefer ones with a little fur / faux fur pom pom on the top (Inverni is my favorite brand) but you can make that decision for yourself.
For scarves, I suggest something chunky / large / long, as a skinny piece of cashmere or wool just isn't going to cut it. A turtleneck will also get the job done (and you can wrap a scarf over it, for those piercing cold days).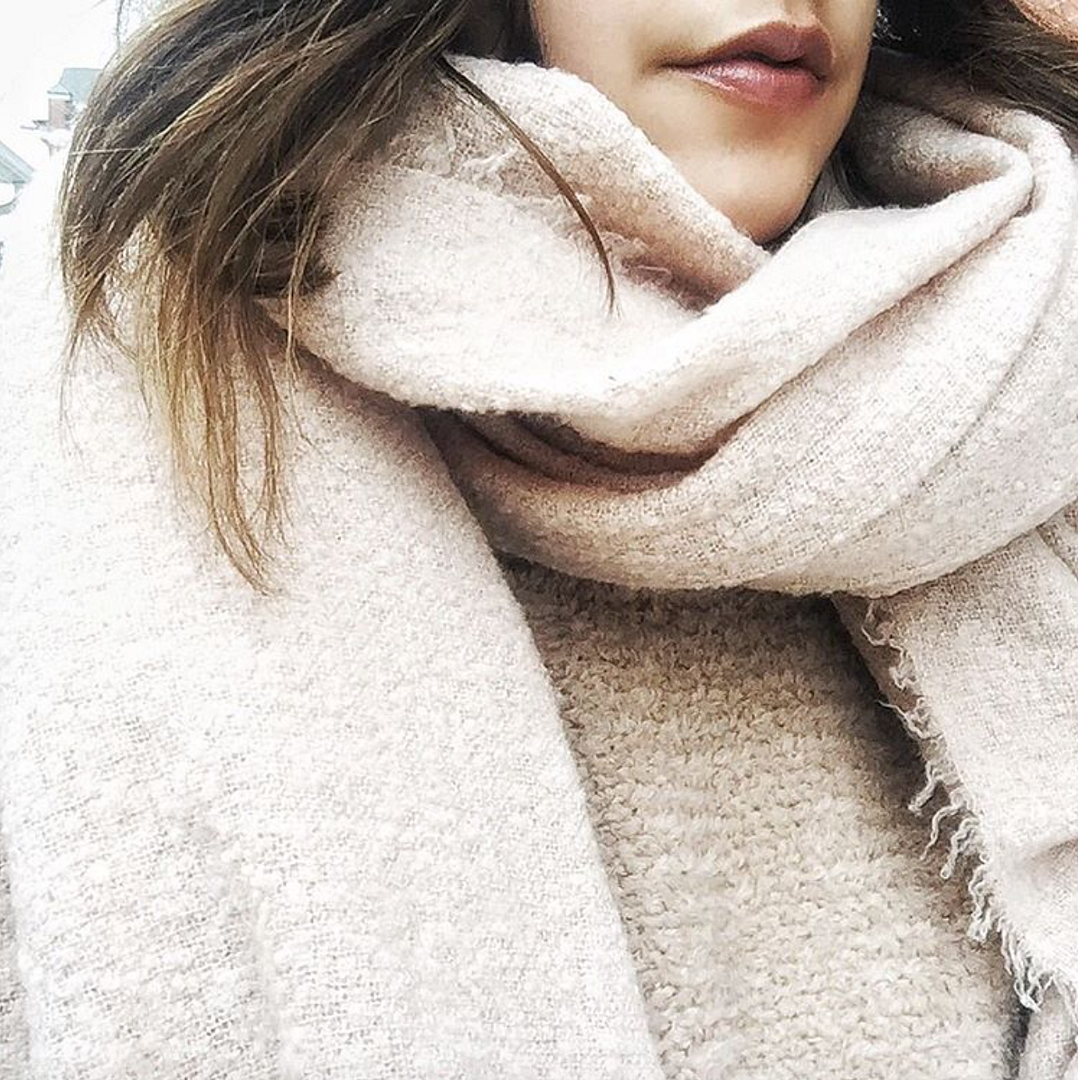 One piece of advice you may be surprised to hear when it comes to helping with that crazy wind would be sunglasses (or glasses in general). Even if it's not sunny, having something to protect your eyes makes all the difference. When it's below zero with the wind chill, it can be difficult just to keep your eyes open outside (especially if you're near the lake) so even if you feel weird wearing sunnies when it's not sunny, your eyes will thank you (and you can avoid frozen tears).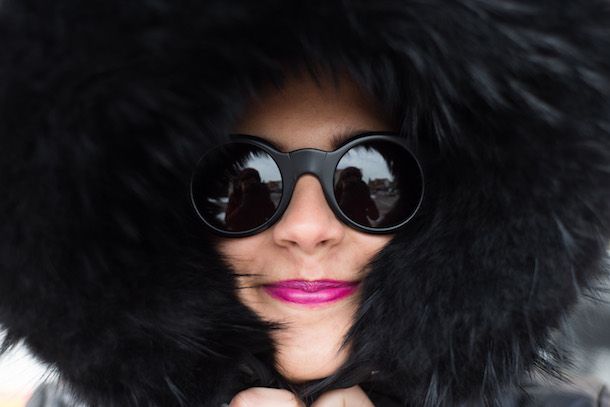 Finally, let's address the ground…#3 — the extreme slush. Snow, slush, ice, you name it…we have it at some point during these 365 days. And if you live somewhere where you've never experienced this, consider yourself lucky…because it's a pain in the ass. When I feel like I literally have to march to get from point A to point B and not move my gaze even slightly above the ground to avoid slipping…it's not fun (and it's exhausting). BUT if you have a cute pair of boots to get you through it, I'm not saying it becomes fun, but it's at least slightly less terrible. And for boots, I divide them into two categories — one being what I call "sacrifice boots," which is a stylish pair of boots (for me, usually ankle boots) you buy at a price where you don't care if they get ruined, and that's what you wear when you need to look nice and the ground is not in the most ideal conditions (you're not going to wear your L.L Beans to a cocktail party right?) For example, these have been my sacrifice boots for the last couple of years.
Once you find them, they'll continue to be your sacrifice boots until they fall apart. Now don't think once they get dirty that means they're done for — a good shoe repair can easily clean them up, slap on a new heel / sole and they're good as new (Gus New Quality Shoe Repair is my shoe guru). Where to find such boots? Obviously it depends on what you deem a price where you don't care if they get ruined but ASOS and Topshop are always a great place to start.
And the second category of boots would be rain / snow boots. I still have yet to find an actually stylish pair of snow boots. I just ordered these the other day (although they haven't arrived yet) because after I saw them on Eva Chen's Snapchat, they were deemed acceptable. But I'm hoping to only wear them during dog duties (park, walk, etc.) HOWEVER, just because the snow boot people are behind, doesn't mean the rain boot people are. There's many more stylish rain boot options (including ones that don't even look like they're meant for the rain) so I tend to wear these more (especially in the slush) and just pair with super thick socks. For added warmth you can try knee-high socks (or even over-the-knee socks) under your pants tucked in your boots. Clearly, this isn't my first Chicago winter 🙂
I realize that is A LOT of information but like I said, there's more to surviving Chicago winters than just strategic layering. PLUS, there's a way to do it without looking like a frumpy marshmallow. You just have to get creative! One time I wore a romper, tights, flat boots and a ski jacket. Sounds random but it worked (at least I think it did).
So if you need a place to start, here's my absolute favorite pieces in all the categories discussed today, that will not only get you through a Chicago winter but get you through in style.
Be sure to let me know if you have any tips of your own in the comments!
You might want to check out...