If you are dying to know what Anne Hathaway wore for her many outfit changes at the Oscars last night, you have come to the right place. If you're wondering how she changed her hair from wavy to straight in under 30 minutes, I cannot help you there.
Anne Hathaway in Armani Prive Spring 2011 (modified)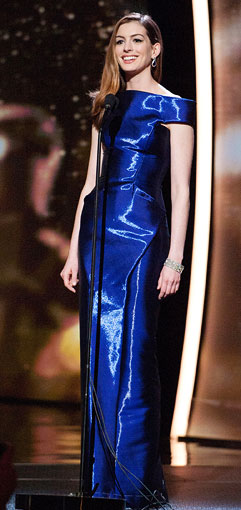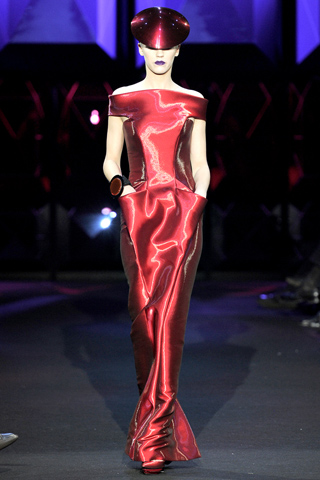 I love when Anne wears Armani Prive. She always turns heads in Prive and I'm so glad this was one of her outfit choices for the awards show. It's like a liquid dress? Blue liquid that is…
Anne Hathaway in Atelier Versace Spring 2011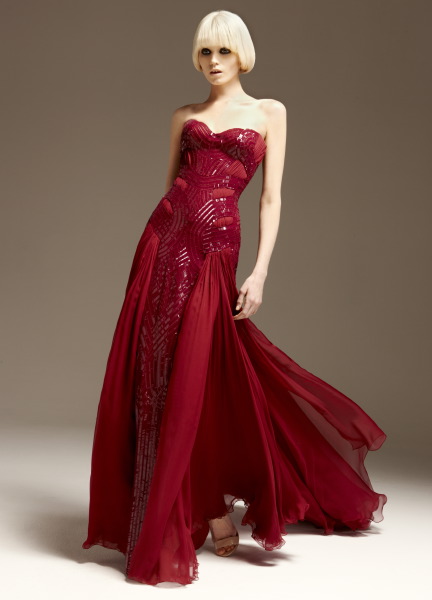 At this point I was totally over seeing red dresses. Thankfully this one wasn't that bright red that everyone was wearing. The detailing looked great on stage, which is always important. But of course…still gorgeous.
Anne Hathaway in custom Lanvin & Brian Atwood shoes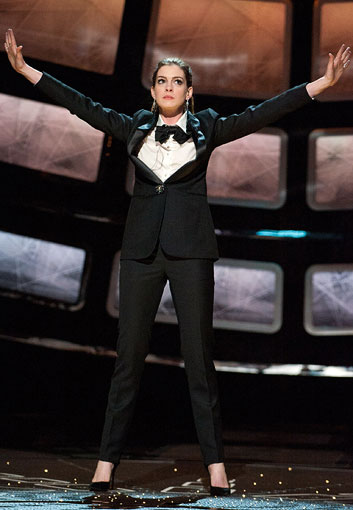 Comical. Cute. I obviously wouldn't recommend wearing on the red carpet. But perfect for that little "number" she performed. But I LOVE the shoes.
Anne Hathaway in Givenchy Fall 2009 Couture
It's a beautiful dress but I think Anne has worn more flattering gowns before. The detailing in the bodice is gorgeous and overall, I think it was the perfect choice for a first outfit change. It says "I'm here but don't go away because there's better things coming your way."
Anne Hathaway in Vivienne Westwood Couture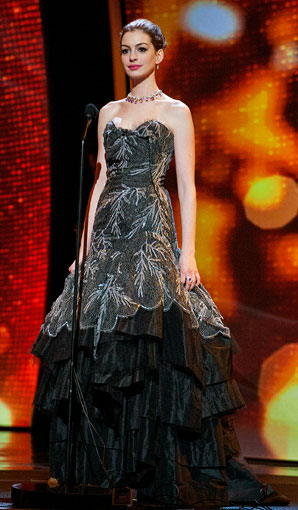 Probably my least favorite of all of Anne's outfits for the evening. It's not terrible, but I'm just not loving it. Vivienne Westwood is just not a designer I see on someone like Anne Hathaway. Florence Welch or Helena Bonham Carter could wear Vivienne well, but I'm just not feeling it with Anne.
Anne Hathaway in Oscar de la Renta Fall 2011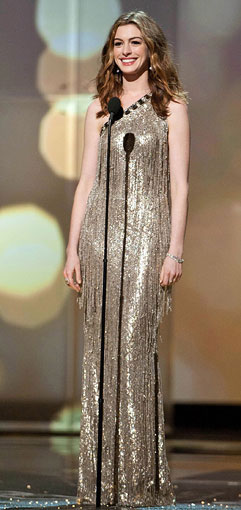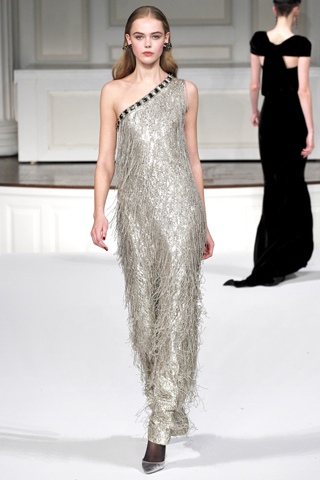 Finally we got a straight-from-the-runway look! This was shown no less than 2 weeks ago at New York Fashion Week. I knew Anne was going to wear at least one Oscar de la Renta dress last night and I'm not just saying this but I was really hoping it would be this one! I love the fringe detail and how it lays on the gold. It's just perfect! My favorite Anne look of the night.
Anne Hathaway in Tom Ford Spring 2011
I appreciate her wearing a look from the highly anticipated Tom Ford Spring 2011 collection, but she's so young and beautiful, she does not need to wear a dress that covers everything up. I would have liked to see the Oscar de la Renta dress as her final look but I guess this will do!
—-
So with this all said…congrats to Anne Hathaway for hosting an [what I found to be] entertaining evening. And congrats to the woman who styled these amazing looks…Rachel Zoe.
So, which was your favorite Anne outfit of the night?