Between the Old Town and Wells Street Art Fairs, this was just an art filled weekend! I had never been to either of these street fests before and I had a great time at both. Old Town Art Fair had a lot more art while Wells Street was more of a social scene. It was nice to have a balance of both because they were equally as fun in my opinion. Oh, and I tried Polish food for the first time…which was quite the delight

I took some photos from the art festivals plus some of the items I picked up along the way. Whether you're an art junkie or just like something to different to do on the weekend, it's definitely worth checking out.
And now for my purchases…
I found this necklace at the same vendor as the peace sign pieces above. The artist makes these out of old return tags, keys and other charms. This return tag was from Chicago…so I knew I had to have it.
Both of the photos above are taken by Xavier Nuez who is one of the most incredible photographers I've ever had the pleasure of meeting. He ventures into urban settings in the middle of the night and takes amazing photos of graffiti, buildings, alleys, etc. The coloring in all of his photos are just stunning. Seeing these vibrant colors in a nighttime setting is something I've never really seen, which is why I was so intrigued by this specific artist.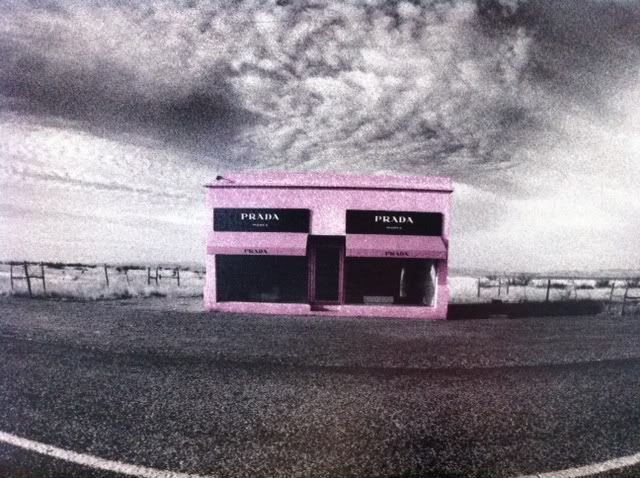 This photograph is by Bruce Jeffries Reinfeld of High Fidelity Disco. His photos also had great use of color but in a completely different way than Xavier Nuez. Bruce uses both black and white and color in his photos to create these amazing images I couldn't get enough of. Obviously when I saw the one of the Prada installation (off Highway 90 in West Texas), I knew it must be mine. One of the very few fashion-related pieces of art I saw at the festivals, it was my favorite purchase of the day.
—
Did you go to the Old Town or Wells Street art festivals this weekend? If you didn't, I highly recommend checking it out next year!