I promise I'll leave you alone with Emmys red carpet fashion after this! Be sure to check out part 1 and part 2 of my red carpet commentary and let me know who your best and worst dressed picks in the comments section below!
Cobie Smulers in Alberta Ferretti
Although a very standard Alberta Ferretti awards show dress (mostly with regards to the silhouette), it's beautiful on Cobie and it was really refreshing to see this color on the red carpet.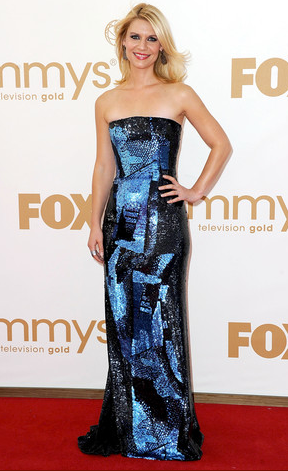 Claire Danes in Oscar de la Renta
How many times can we see this woman wear a strapless tube gown? She needs to try a different silhouette. Love the dress (but not on her). Not dying over the hair. Hating the makeup.
Christina Hendricks in Johanna Johnson
I'm just going to say what we're all thinking…it's time for a reduction. I feel bad but nothing EVER works for her when it comes to red carpet dresses. It looks like her boobs are trying to escape!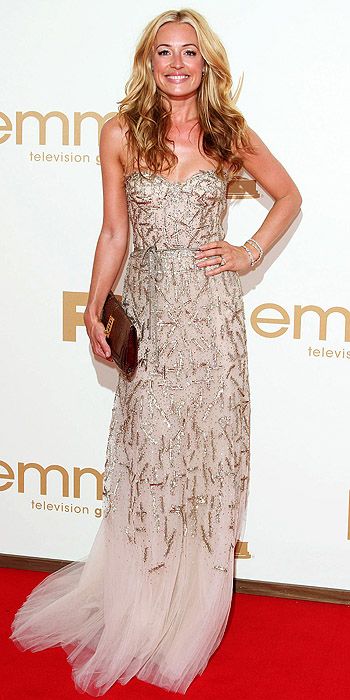 Cat Deeley in Monique Lhuillier
Pretty. Standard. And pretty standard for Monique Lhuillier.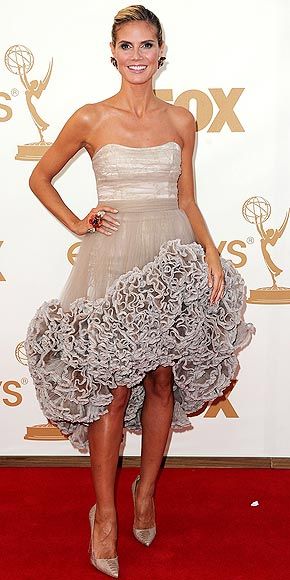 Heidi Klum in Christian Siriano
I think it's great Heidi wore a former Project Runway designer's dress for the Emmys. This dress is VERY Christian Siriano and I really love it on Heidi. It's out there but I always appreciate a risk. I would have gone with a different shoe but now I'm just getting picky.
Sofia Vergara in Vera Wang
I like how she did something a little less boobalicious for the Emmys but I'm just not feeling it. The color is great but I'm never a fan of one shoulder dresses and the knotted gathering by the knees seems unnecessary. Also thinking the earrings are just a bit much. And a word of advice…nail your red carpet looks before you launch a clothing line (even if it is for Kmart).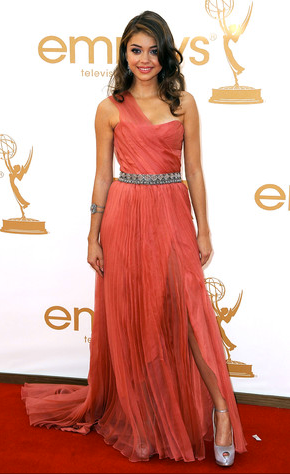 Sarah Hyland in Christian Siriano
I thought it was cute she collaborated with Christian on this dress. As I mentioned, I don't love one shoulder dresses but this looks really great on her and it's perfectly age appropriate (but I could have definitely done without that bracelet!)
Nina Dobrev in Donna Karan
Like I've said many times, I am not a fan of red dresses (which sucks for me because it seemed like everyone and their mother was wearing red last night). But Nina was the first to be interviewed on the E! red carpet and my jaw just dropped. It goes to show that fit is EVERYTHING. I also love the ruffles at the bottom. She OWNED this look.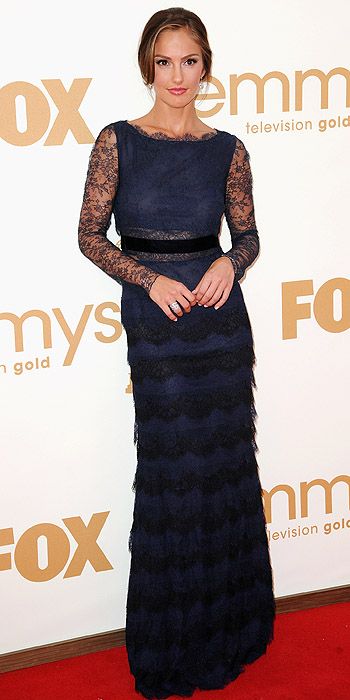 Minka Kelly in Dior
Is it just me or is she identical to Leighton Meester? Anyway, she looks great in the dress. It's not my absolute favorite of the night but we've definitely seen worse. However I do like the lace detail and I appreciate when black and navy is done right.
—
Until the next red carpet event!
Photos: E! Online, Hollywood Reporter, People