Saturday afternoon I attended Brad Goreski's book signing at Brooks Brothers and scored an interview with him before the event started. He was such a pleasure to talk to and as always…I was obsessed with his outfit. Wearing Black Fleece head-to-toe (except for a killer pair of Louboutins), how can you not love this?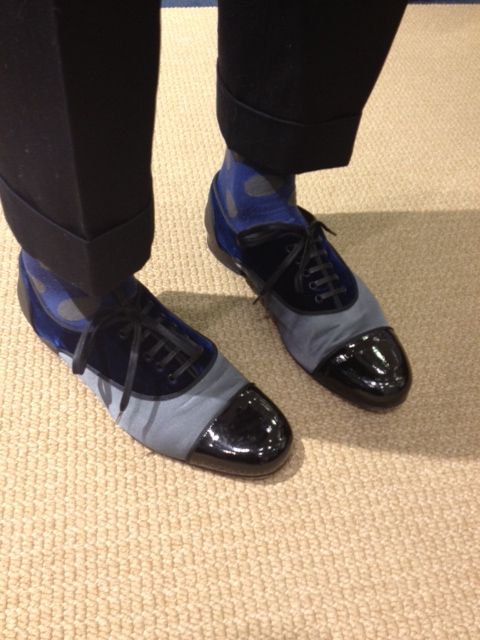 We started off chatting about Fashion's Night Out and how I thought it was great he decided to come to Chicago for that stylish evening. That night in September was his first time here and he's been back a few more times since. He says he loves Chicago now, and enjoys dining at Pump Room and going to Underground. Before our interview he had just finished brunch at Luxbar, which let's be honest…you can never go wrong. I also told him his boyfriend Gary is one of my favorite people to follow on Twitter…and I'm kind of obsessed with his dogs, who get lots of air time on It's a Brad Brad World.
So we all know Brad's a stylist, has his own TV show and has written a book, but do you know his most prized fashion possession or favorite place he's traveled? Well now you can find out!
What womenswear designer do you wish designed menswear?
Karl Lagerfeld for Chanel. I wore a head-to-toe Chanel outfit once and I wish he did more menswear. I'd also love to wear Jason Wu.
Favorite place you've traveled?
Tokyo for fashion. Greece overall. (where he met his long time boyfriend Gary)
If you had to choose a title for your second book, it would be…
Brad to the Bone.
What's your process for getting dressed?
I start with one key piece and build everything around that. It's similar for when I'm styling a client, except the key piece doesn't always end up being the star of the look.
What's your most prized fashion possession?
Right now I'm loving my Simon Spurr jacket with leather sleeves. It adds a little edge to my outfit.  But my Louis Vuitton duffle has the most sentimental value. 
Brad, I leave you with one question…when am I going to see this Spurr jacket?? It sounds like something I'd be very interested in borrowing.
Be sure to pick up a copy of Brad's new book Born To Be Brad on sale now!