This July, the largest free shopping event returns to Daley Plaza…The Chicago Sidewalk sale! This year, there are over 40 participants showcasing all types of clothing and accessories, for both men and women. Regardless of style or budget, there's something for everyone.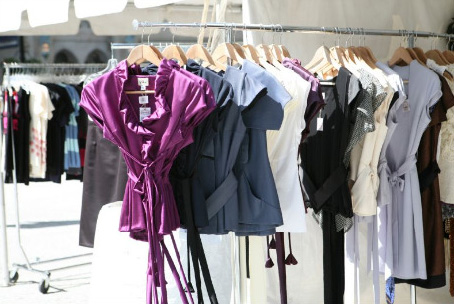 Here's a list of the local designers and independent boutiques that will be participating in the sidewalk sale this year:
Sandra Adams and her textile art apparel line The Nature of Things ($80-$400)
Sharon Boucher and her line of eponymous classic blouses ($100-$200)
Sherri Bourdage and her contemporary jewelry line Bourdage Pearls ($18-$500)
Brandon Breaux and his t-shirt brand End Wealth Corp. ($20-$35)
Rachel Brooks with contemporary men's accessories line The Style Cooperative ($20-$115)
Tiffany Bullock with South Loop footwear boutique House of Sole ($35-100)
Brynn Capella and her namesake Italian leather and fabric handbags ($20-$400)
Jessica Constable and her creative jewelry line Jess LC ($18-$120)
Brooke Costello and her line of accessories created from recycled neckties, Tongue Tied ($20-$168)
Kate Coxworth and her tailored women's wear line Kate Boggiano ($16-$350)
Leah Fagan and her style and sustainable women's apparel line Alidade ($75-$130)
Julia Failey and her eponymous line of eco-friendly and reclaimed jewelry ($50-$450)
Aaron Firestein and Raaja Nemani's socially conscious and limited edition footwear line, BucketFeet ($60-$75)
Lynne Barnett with upscale Lincoln Park apparel and accessories boutique Panache ($10-$500)
Kirsten Goede and her sparkle-filled jewelry line Objets d'Envy ($25-$350)
Tracey Glibowski with the Lakeview boutique dedicated to local fashion, Cerato ($45-$385)
Michelle and Melissa Gomez with Wicker Park's one-stop-shop M.GO Fashion ($25-$89)
Julie Grabowski with contemporary accessories boutique Eulita ($5-$150)
Anna Hovet and her namesake contemporary women's wear line ($25-$179)
Katie Johansson and her handcrafted jewelry line Dollybird Designs ($25-$300)
Eun Hee Kim and her children's apparel and accessories line Sam and Coop ($25-$50)
Claudia Kleiner with her trendy Bucktown and Block 37 boutique Malabar Collection ($40-$350)
Marco Lopez with hand printed tees and accessories from Black Market Caviar ($10-$50)
Priscilla Lopez and her active wear line Peachy Tan ($5-$25)
Christy Lucius and her handmade sterling silver jewelry line Lucius Jewelry ($25-$150)
Annie Mauhopt and her locally made eco-friendly sandal line Mohop ($142-$188)
Agnes Miles and her vintage inspired accessories line Love, Lulu Mae ($45-$400)
Thomas Mui and his line of locally inspired tee shirts Tom & John's Chocolate Factory ($25-$30)
Jenny Pfanenstiel and her one-of-a-kind hats line Forme Millinery ($30-$150)
Pilar Reed with her worldly and vintage-inspired jewelry line Kreative Soul ($10-$150)
Law Roach with Pilsen's pre-eminent vintage fashion boutique Deliciously Vintage ($12-$200)
Andrew Rueve with his unique milliefiorri jewelry line She Beads ($25-$250)
Lisa Schaefer and her eco-friendly handbag line whether bags ($42-$130)
Jules Schwanbeck and her hand fabricated artisan jewelry line jules. ($50-$450)
Greg Shugar and his handmade silk, wool and cotton necktie line The Tie Bar ($15-20)
Susanne Siegel and her namesake travel inspired jewelry line ($50-$500)
Michelle Tan with her eponymous deconstruction and detailed women's clothing line ($29 to $500)
Lesley Timpe with her carefully crafted clothing and hat line Squasht by Les ($28-$148)
Helen Tsatos and her vintage inspired jewelry line Rock Candy by Helen ($15-$300)
Lidia Wachowska and her playful yet classic women's wear line Evil Kitty ($22-$350)
Chiquita White with her stylish West Loop women's clothing and accessories Kiwi Boutique ($20-$100)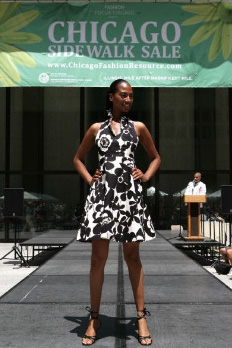 The Chicago Sidewalk Sale is from 9am to 3pm on July 19 and 20 at Daley Plaza. In addition to the shopping, a summer-inspired runway show will take place at 12 pm on both  days featuring the latest styles from the participating fashion talent.
Hope to see you there!
You might want to check out...