Don't you just love a double-the-fun CCF Loves? This month, get to know the husband and wife team behind one of my favorite new beauty brands, Town & Anchor.
I met Parisa and Jeremy Morris (the creators of Town & Anchor) a few months back at a create your own essential oils blend class. I signed up for the class way before I knew about Town & Anchor (I just liked the idea, as I love anything in the natural beauty department). I then discovered Town & Anchor while shopping at the new Lou & Grey store on Southport. A few days later I showed up to the class and it ended up being taught by T&A's very own Parisa and Jeremy! Now, I love what they stand for — they not only make amazing products (so far, the facial hydrator and the leg oil are my favorites…the charcoal cleanser is next on my list to try) but I adore the whole husband-and-wife-team thing (and based in Chicago thing!) But wait…there's more! For every product sold, one all natural body cleanser is donated to those in need. Pretty cool, right? Really, you'll just have to try Town & Anchor for yourself (and be sure to let me know what your favorite product ends up being). In the mean time, let's chat with Parisa and Jeremy…
So, why Chicago?
Parisa was born in Chicago, but after a quasi-sabbatical of living in Los Angeles, where she studied and worked as a Cosmetologist, I think she was ready to garner herself in the locale of where her roots began. For me, my birthplace is Virginia, however North Carolina is my home where I studied poetry and received my MFA in Creative Writing. Town & Anchor is really an amalgamation of the welcoming metropolis of Chicago, and the anchoring southern coast of North Carolina. Chicagoans have a Midwestern hospitality and charm that's reminiscent of where I come from, however there's more culture here, and from what we've seen: local support that's unsurpassable. 
​Top three favorites things to do / see in the city?
We are strange creatures, and travel in our own thoughts. I think it's the observing poet in me, and for Parisa, the voracious reader in her. We love the city, the metallic luster and vigor that it resonates. We love Myopic, in Wicker Park, a bookstore that doesn't have a database of their archived books, so one is able to swim through literature for an entire day until a gem is found. This probably sounds horrible to some, but it's quite meditative and reassuring for us.
​We love curation, and Chicagoans are impeccable curators with an aesthetic prowess. Go anywhere in the city, look at the details, it's all there. It's so pleasing to go into stores and see such a great selection of items that weren't shipped here from another country in mass production. We now have the ability to look and feel things that could be made from someone living down the street, or a few cities away. 
Our affinity for all things natural, healthy and cruelty-free often has us at health-food markets and vegetarian restaurants. Because we value sourcing only the finest ingredients for our skincare products, we definitely want to do the same with what we eat. Some of our current favorites are Eatly Chicago, Owen + Alchemy, Handlebar, Chicago Diner and Native Foods. 
What's the most memorable moment in your career so far?
We launched Town & Anchor in July 2014 and we always knew we wanted to give back in some way with our company. So in December we launched our #GoNaturalGiveBack Campaign where for every product sold one all natural body cleanser is donated to those need. In India alone there are 70 million people who have never used soap. Which means that one Indian child under five is dying every three seconds from a preventable hygiene related illness. The need for proper hygiene is everywhere – even here in the United States. The fact that we are able to donate products to impoverished communities perpetuates the idea that we all to deserve to use products that are all natural and good for us.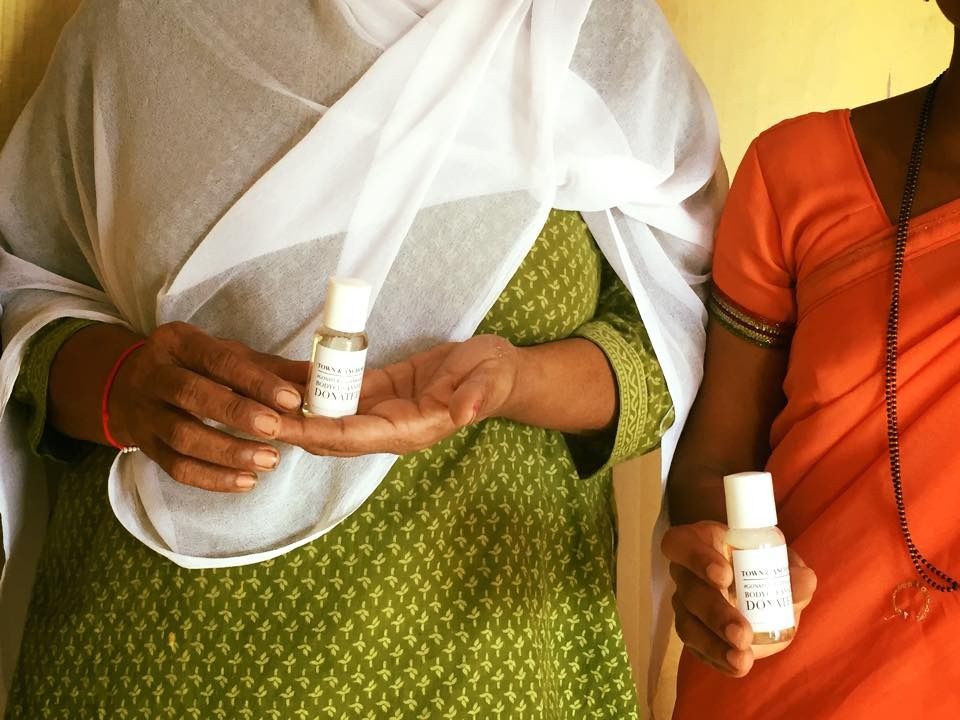 Our most memorable moment was when we sustained partnership with Sundara Fund who combines our hygiene initiatives with community education, environmental preservation and female empowerment. It's been a dream come true to do something not only good for the environment and animals, but everyone in the world too. Every little bit helps.
​Any words of advice for aspiring apothecary creators?
Embrace your vision, and act on it. Some of the best business ideas never leave the chambers of the mind, and there's no time for this because someone else is formulating your idea into existence right at this very moment—you'd better beat them to it. Let your business be driven by invention and improvement, not money, there's a misconception within the cultural ethos of Entrepreneurship: money, fame, repeat. You should go to your business daily, as an artist goes to their craft, relentless, for innovation. Source ethically, value small-batch, write every single customer a letter as each one is your new best friend.
If you were stranded on a desert island and could only have ONE beauty product, what would it be?
Definitely, our Clarifying Toner. The Organic Aloe Leaf is soothing and healing, while the Malic, Citric, and Glycolic Acids help to exfoliate, lighten sun pigmentation, and improve the skin's texture. It's also vigorously refreshing. It's the perfect travel buddy. Forget your cleanser or moisturizer? This alcohol-free bottle of love is truly a cure-all elixir.
—
Be sure to keep up with Jeremy and Parisa (by the way, does she not look exactly like Rachael Leigh Cook?) by following @townandanchor and shopping their site. You're going to want to buy everything. Promise 🙂
You might want to check out...