Clear accessories, especially handbags, are a photographer's dream during fashion week. Although I can't recommend wearing one if you carry your life with you on a daily basis, there are ways to do see-through right. Whether it be a bag, sunglasses or even a jacket, this trend can either be your best friend (see below) or your worst enemy (ie. stripper heels).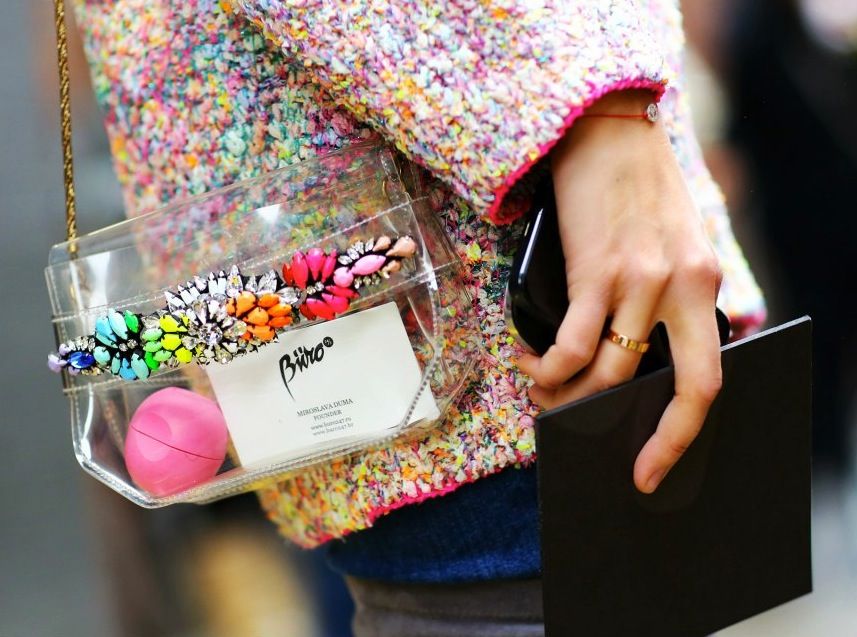 Of all transparent fashion, handbags happen to my favorite. Mainly because it's a great excuse to buy a fun wallet and potentially some other exciting chotchkies you want the world to see. Valentino and Charlotte Olympia are my top picks, however I wouldn't mind finding out who makes the one Miroslava Duma is carrying in the photo above. It looks like Tom Binns and DANNIJO had a baby but that baby was not a piece of jewelry, it was the coolest handbag ever.
If you're looking for an easy way to incorporate this "trend" into your wardrobe, I suggest starting with sunglasses. They go with everything, you can wear them regardless of the season and you don't have to spend a ton of money to make the look work. By the way, I use the word trend loosely here because I wouldn't necessarily consider it to be on trend this particular season (unlike black & white or stripes) but it's a fun thing to wear, especially come Spring/Summer.
If you're looking for a fashion challenge (re: dress over pants) then you should go with the jacket. Although I've had my eye on the Valentino and RED Valentino versions this season, I ended up buying a transparent studded Alberta Ferretti jacket at the Decades pop-up last month and my fix has been filled. Let's just say it will definitely make rainy days much more manageable.
Now if you've ever wanted to look into your closet and say "I can see right through you" (I can't be the only one, right?) then it's time you start shopping.
Photo via Vogue.com
You might want to check out...