When it comes to beauty, I feel the same way as I do about fashion — I'm always looking for that cool new emerging brand that's doing something no one else is doing (which is pretty difficult to do in either industry). Because this is ChiCityFashion (which is quite fashion-focused) I can't forget about my other love, beauty. I haven't touched on the subject in a while (with the exception of this) because there hasn't been anything that's really stuck out to me worthy of sharing on CCF. But that all changed last Thursday night…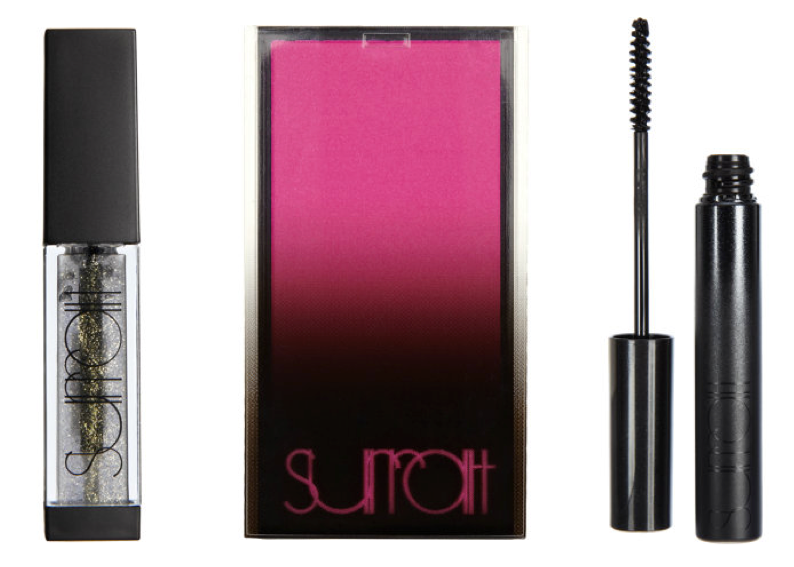 Last Thursday night I went to an event at Barneys where I had the chance to meet makeup artist Troy Surratt, who was at the store promoting his brand new line, appropriately titled Surratt. I thought we'd chat for a few minutes, I'd learn about the line, and be on my way. This turned into an hour chat, falling in love with the line (and Troy) and only leaving because I had a commitment afterwards (otherwise I would have probably been there for another hour, asked Troy to get drinks with the hopes of us becoming best friends because he is so fantastic).
So you're probably thinking to yourself "Why is Troy so great?" and "What makes Surratt so special?" Let's start with Troy. I love meeting people who are passionate about what they do but also appreciate (and not take advantage of) their success. Troy was truly humble (especially after telling me he worked for Kevyn Aucoin for over 3 years and now his makeup counter is placed directly across from him…Troy had goosebumps and my heart melted). But of course it takes more than being a great person to create a great brand. When I asked Troy why he decided to go into beauty (he had been working in the fashion industry for many years prior) he responded with "Japan." Apparently the Japanese are way ahead of us when it comes to beauty so he wanted to bring that innovation to America and he created Surratt.
So on Thursday night, I went a little crazy and decided I had to try, touch and/or feel every single product. I would be  more than satisfied to own everything in the line but because I don't buy beauty products unless I run out of another (with the exception of lipstick of course…that collection is getting a little larger than I'd like) I decided to take home the brow pomade and the eyelash curler (it's matte black…so obviously I was sold). But after hearing about the products and trying them myself, I do have my top five favorites that I hope you'll get a chance to try yourself…because they are truly superb.
Lip Crayon. Because it's the one beauty product I'll buy even before I run out of another (it's like shoes…you just need options) I'm always drawn to lipstick. I tried the Automatique Lip Crayon in Megalomane and I knew it was the one. I love a lip color that comes in this packaging because it's so easy to apply (like a liner and lipstick in one), it literally lasted all night (which it had to considering I tried it, wore it out but unfortunately it was sold out so I couldn't buy one that night) and this specific shade could not be a more perfect red. And if red's not your thing, there's six other shades to keep you occupied.
Brow Pomade. I've used brow gels in the past and although I was never their number one fan, I still continued to use them for some reason. That is until I discovered this brow pomade. Instead of a thick mascara-like wand and a sticky gel, it's a super fine brush with a pomade (like a wax) that's easier to control the brows without that "hard" looking finish. My eyebrows have looked exactly the same since high school (where I opted for Electrolysis…haven't picked up tweezers since I was 17) but sometimes I do wish they were a little fuller (it's that Cara Delevingne syndrome). Brushing your brows upward then moving it lightly across the top gives you the perfect full-looking eyebrows. I'm all about the big brows and bright lips so Surratt lip crayon + brow pomade will indeed be my go-to look (now if I can just get the lip crayon unsold out…that would be fabulous).
Artistique Eyeshadow. I'm not really an eyeshadow person, mostly because I'm just as good as applying eye makeup as I am at playing any sport (so…pretty bad). However, if I could master the art, these are the eyeshadows I'd buy. If you live anywhere near a Barneys I'd suggest heading there right now and just touching the Surratt eyeshadows. It sounds crazy but when you can't decide "is this suede or is this makeup?" Troy has to be doing something right. I've never felt any makeup quite like this and the way it blends is actually magical. My biggest problem with applying eyeshadow is the blending process. I feel like I never do it right. So I'm happy to see an eyeshadow that makes that process a lot easier (plus his choice of colors is just divine).
Lip Lustre. One of my favorite parts of Troy and I's conversation was about his glosses. I did find the typical pinks, red ands plums in the color palette but a few really stood out to me. One being this purple iridescent shimmer lustre called Amethyste. At first glance, it's a pretty color but not one you'd think to use as a lip gloss (at least not beyond age 8). But this alone or over a bold lip was surprisingly brilliant. It's more of a shimmer than a glitter (which is deceiving based on what you see in the bottle) but the results are extremely unique. He also has a black gloss and white gloss which Troy's reasoning for those two colors is simply art. When you add white, you get a lighter color. When you add black, you get a deeper color. These two glosses are meant to slightly alter the hue of your lipstick, depending on the look you're going for, without having to purchase multiple lipsticks. And of course with Troy's special touch, you can wear them each on their own.
Eye Baton. The fact that this beauty product involves the word baton already makes me love it, but of all the things I tried from Surratt, this is the one I was most impressed with. The liner itself is retractable and a creamy pencil consistency but the surprise is in the middle. You can twist off the top and on the inside is a complementary eyeshadow with an applicator attached. The point of this is to achieve the perfect smokey eye with just one tool. I'm not one for a smokey eye myself but the idea is quite genius. Troy even showed me this mauve color that I never thought would work as an eyeliner, but combined with the eyeshadow inside it resulted in this almost golden smokey eye. Never seen anything like it (which like I said, is nearly impossible to do in beauty or fashion).
If you want to hear from Troy yourself, here he is introducing his collection at Barneys (just launching your line at Barneys is impressive enough…wait 'til you actually try the makeup).
You can shop the collection below or at your nearest Barneys. If you've tried any Surratt products, I'd love to hear what you think!
Images via Barneys
You might want to check out...