If you keep up with the latest fashion news, I'm sure you've heard by now that fashion bloggers have become a HUGE deal within the past couple of years. They are getting invites to attend various Fashion Weeks worldwide which is VERY cool and getting other perks as well…but unfortunately, not everyone is a fan of fashion bloggers…mainly, the editors of big name magazines. Although I am a fashion blogger myself, I totally understand where they're coming from…"I've been doing this for 20 or 30+ years and these kids from out of nowhere are sitting front row with me when they have no professional experience and have been blogging about fashion for a year." I get it. But you know what…us fashion bloggers didn't ask for this. If designers/their PR companies invite us to shows, we're obviously not going to say no. Right?
With that said…I am dedicating this post to the fashion blogs I am currently reading. Keep in mind, these are just few of the many I keep up with (and ar currently my favorites).
Jessica Schroeder (www.whatiwore.tumblr.com)
Photo Credit
Jessica started off as a girl who posted pictures of her daily outfits to her website. Now, she's a well-known name in the fashion blogging world and she has really created a name for herself. Anyone can write a fashion blog, but she really took it to the next level by showing people what she likes to wear and where she gets her inspiration from. She's a cute girl with a great sense of style…who wouldn't want to see her daily outfits? Check out Jessica's blog and follow her on Twitter @whatiwore
Elisa Goodkind & Lily Mandelbaum (www.stylelikeu.com)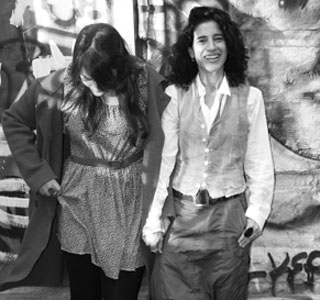 Photo Credit
The inspiration behind Style Like U is finding out what inspires the "regular" people; why they choose the pieces they wear and where these pieces come from. Anyone can read the "Editors Picks" in Elle and InStyle but what is the hipster in Brooklyn wearing? Or the surfer guy in LA? Style Like U finds these people and films them. It's a great interactive way to experience various styles from all over the country. You may see a familiar face or two on their site…Andrew Mukamal (from Kell on Earth) being one of them. Follow Elisa on Twitter @stylelikeu
Tom and Lorenzo (www.projectrungay.blogspot.com)
Photo Credit
There's no opinion like a gay man's opinion…and with Tom and Lorenzo you get a double dosage of the truth and nothing but the truth. They began blogging about Project Runway episodes and expanded their blog to cover everything from red carpet events to episodes of Glee and RuPaul's Drag Race. I really cannot begin to tell you how entertaining their site is and you have to see it for yourself to get the full Tom and Lorenzo experience. I've now added a new goal to my life…and that is to have lunch with Tom and Lorenzo. It would go down like this…we would bitch about awful celebrity red carpet moments, have a few cocktails, and 3 hours later become best friends. So anyway, you should follow them on Twitter @tomandlorenzo
——————————-
So, what are your favorite fashion blogs to read/who are your favorite fashion bloggers? Have you read What I Wore, Style Like U, and/or Tom and Lorenzo? Always love to hear from you!
You might want to check out...