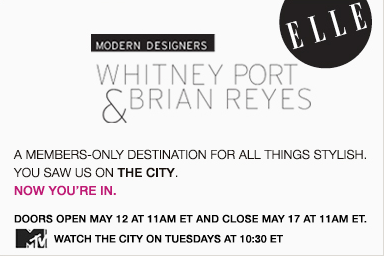 As we shed our woolen coats for flirtatious dresses and sweaters for voluminous tops in the hottest of hues, spring is the perfect moment to transition your wardrobe from cozy knits to modern, fabulous frocks. This week, Rue La La invites you to a special event, the ELLE Modern Designers Boutique, featuring Whitney Port and Brian Reyes — two designers with a fresh take on fashion.
 Whitney Port captures the essence of city chic, while Brian Reyes redefines American glamour. This ELLE Boutique includes a collection of innovative, in-the-now offerings to keep your closet current. Secure your perfect spring looks exclusively on Rue La La on Wednesday, May 12th at 11AM ending Monday, May 17th at 11am.
 
Whitney Port's West Coast ease meets her new-found city sophistication. Glam, body-skimming fabrics perfectly adorned with feminine details. Pieces that seamlessly blend the worlds of work and play. Party-perfect dresses, statement pieces in neutral tones that offer a blend of whimsy and architecture and frocks that offer unexpected details mark the stand-out pieces in the collection.
**Remember by celebs gone designer post? Whitney Eve made the cut 🙂
Brian Reyes Brian Reyes is renowned for his refreshingly innovative womenswear. His work showcases sophistication, femininity and modernity, coupled with novel shapes and extraordinary fabrics and color. His signature ready-to-wear collection appeals to women of all ages.
We're also inviting Rue La La fans to chat LIVE with ELLE Creative Director and The City Regular, Joe Zee, on our Facebook fan page <http://www.facebook.com/ruelala> , May 12th at 2PM EST. Fans can discuss latest trends and get Joe Zee's visionary take on fashion including top picks from the upcoming Whitney Port and Brian Reyes ELLE Modern Designer's Boutique. To chat with Mr. Zee, make sure you fan Rue La La's Facebook page. 

 Rue La La on Facebook: http://www.facebook.com/RueLaLa
Rue La La on Twitter: http://www.twitter.com/Rue_La_La
Not yet a member of Rue La La? Click here to join!
————–
You might want to check out...