So as you all know, the Grammys were last night. Not only was it a night of music, but a night of glamour. The best thing about the Grammys is that, unlike the Oscars or the Golden Globes, there is an opportunity to have more fun with your outfit and take a little more risk. Overall, I was underwhelmed by the risk-taking last night. The biggest fashion risk-takers, Lady Gaga and Rihanna, looked fabulous but I was expecting a lot more out of them. Lady Gaga took on the Red Carpet in a solar-system-looking Armani Privé gown holding a large spiky prop (very fitting for the Armani Privé Spring 2010 Couture show ). Rihanna came out in a long white Elie Saab gown with feathers along the front of the bodice and an open back. I would have actually liked the dress on a different celebrity if the feathers weren't coming all the way up her neck, but for Rihanna, it wasn't daring enough…especially for the Grammys.
Okay now it's time for my best dressed list. Let's keep in mind that I found most of these get-ups almost perfect but I found something wrong with just about everyone. I just wasn't that satisfied with the overall fashion at the Grammys but here are my favorites of the night. Also keep in mind that because the fashion at the Grammys is meant to be a little more playful and fun (yet risky), these are either outfits people loved or they hated. These are the ones I loved….
#5: Beyonce Knowles in Stephane Rolland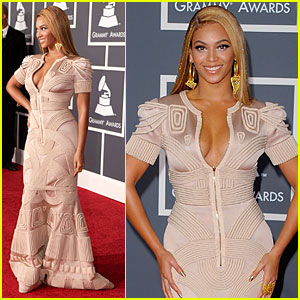 First off, I think the color of this dress looks great on Beyonce. It complements her skintone very well and the detailing is unbelievable. The one downfall of the dress is that you cannot appreciate the detailing by just seeing it on TV or in a photo. You really have to look closely to see all of the work that went into that dress. I'm also not sure if it's Grammy appropriate because it's a little dressy but that's my opinion. I also HATE the earrings with the dress. But…she did a great job simplifying her hair to balance the complexity of the dress and she obviously looks gorgeous as always. The dress is absolutely gorgeous so it had to make my best dressed list.
———————————————————————
#4: Taylor Swift in Kaufman Franco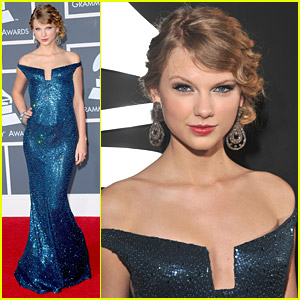 Unrelated to the dress (and despite the fact that I hate country music) I think Taylor Swift is adorable. I know a lot of people are bothered by her, which I can see, but after seeing all the same alcoholic, fame-crazed people in Hollywood over and over again, I find her quite refreshing. She truly appreciates her fans and loves making music which I think is just wonderful. Back to the dress…I love everything that sparkles so she definitely grabbed my attention. I thought it was Grammy-appropriate, especially because she was nominated (numerous times may I add), the neckline was pretty cool and the back was quite striking as well. I really liked her hair pulled back a little to the side; it was very old-Hollywood, which I love. Overall, I think she looked very pretty but I felt like there was a little something missing. Can't think of what…but something. She looked a little too skinny so that might have something to do with it. If you have a suggestion, let me know!
———————————————————————
#3: Fergie in Emilio Pucci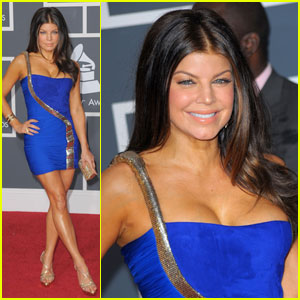 Obviously this dress shows off Fergie's body, which she can get away with because her body ROCKS. I love that color blue and I think it looks great with her skintone. I really like the silver going across the front because I love the contrast of that color blue with the metallic silver. It's also a little space-like (just like Lady Gaga but she was VERY space-like). The dress was a little too short and tight for my taste but if you really hard for a body like that, you gotta show it off!
———————————————————————
#2: Heidi Klum in Emilio Pucci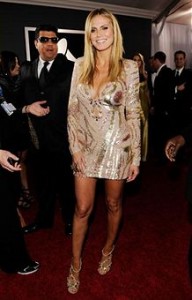 It's hard for someone so beautiful with such an amazing body like Heidi Klum to look bad in anything. She is always smiling and her skin is constantly glowing and radiant. I liked that she simplified her hair and makeup because there was a lot of sparkle in the dress. Again, I love anything that sparkles and I really like short dresses with long sleeves (although I wasn't a fan of Miley Cyrus in Herve Leger) especially when you have great legs like Heidi. She totally rocked this look and I absolutely adore her.
———————————————————————
#1: Lea Michele in Romona Keveza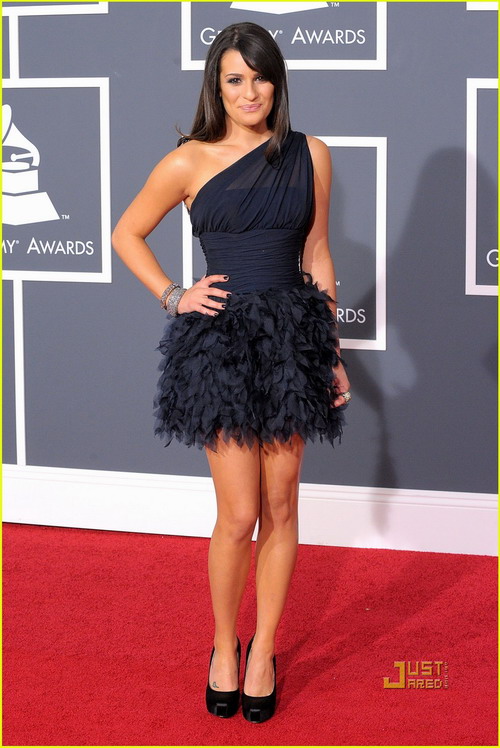 HELLO LEGS! Where have those been? YOU GO LEA MICHELE! She looked so fabulous I literally had to rewind when watching the Red Carpet to get another look. Wow. The dress wasn't too complex but it fit her perfectly. I love the sheerness at the top and the feathered bottom. It hugs her waist so perfectly and makes her look tiny (in a good way) and the one-shoulder does wonders for her arms. Her hair and makeup are both gorgeous. There is not one thing I can find wrong with this look (except maybe she could have done a funner shoe but I'm still satisfied with the ones she chose) and a big shout out to Lea who has made my best dressed list 3 times in a row. Woo hoo!
———————————————————————
I also have to mention Carrie Underwood and Keri Hilson.  Carrie Underwood wore a dress by Georges Chakra which I found was a little boring but I thought the neckline quite interesting. She also always looks gorgeous so I can't finish the post without a little Carrie shoutout. Same name, different spelling… Keri Hilson was looking smashing in Dolce & Gabbana but I thought the sequin belt looked a little cheap and the top of the dress was a little too tight. Otherwise, the color looked great on her and I love the mermaid silhouette.
———————————————————————
So, who are your best dressed picks for the Grammys? Least favorite dresses? I think there will be a lot of controversy over some looks so I really want to hear what you all think!