So now that I've returned in Chicago it's time to get back to real life (a life sans daily croissants and baguettes, unfortunately) and a regular posting schedule starts once again this week. I hope you didn't miss me too much but if you did, I sure as hell missed you. I don't think there's any better "welcome back" post than some red carpet commentary. I did not watch the Emmys last night because I was enjoying one final hoorah in London but I did look at all the red carpet photos.  The Emmys are by no means the fashion event of the year but I haven't seen dresses this bad since Facebook stalking my college classmates' prom photos. Seriously.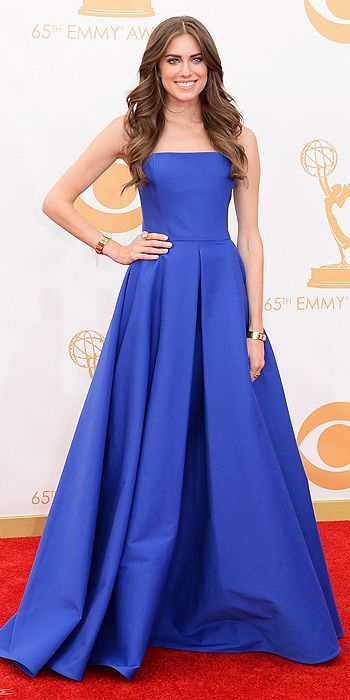 Allison Williams in Ralph Lauren 
I don't think anything screams basic bitch more than this. Center part, loose curls, strapless dress. When you're this famous you have to really try to be this boring. (or maybe she just takes this Marni thing super seriously?)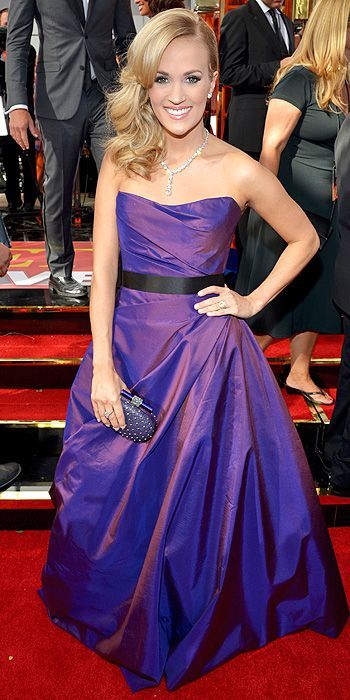 Carrie Underwood in Romona Keveza
Unfortunately it seems that jewel tone strapless gowns were a theme last night. Remember I told you about that Facebook stalking? (come on, everyone did it at least freshman year)…this is actually a step up from those prom dresses I saw. Sorry Carrie, it's that bad.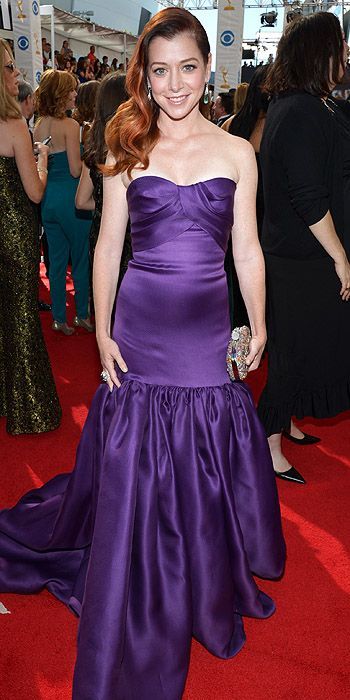 Alyson Hannigan in Marchesa
While we're on the topic of purple dresses, let's talk about this one. I think you know by now my despise for strapless on the red carpet (unless someone finds a way to do it differently, but that's just as rare as a sober Lindsay Lohan), but when it's shiny and a jewel tone, it just looks cheap (and we all know these dresses are far from).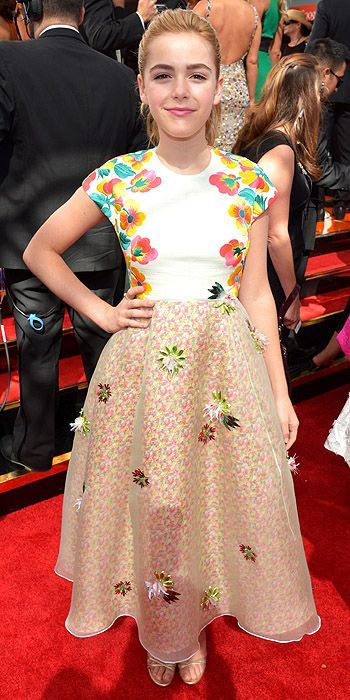 Kiernan Shipka in Delpozo
Although this is a slightly awkward photo, I appreciate her wearing something that's not a shiny strapless gown, and even better it's by a lesser known designer. Yes, everyone loves Vera Wang, Marchesa and Zac Posen but I always give celebs extra credit for choosing a dress from a designer you don't typically see on the red carpet.
Zosia Mamet in Honor
If you're looking for a dress to make your boobs look exceptionally tiny and awkward, here you go.
Sofia Vergara in Vera Wang
She's gotten to a point where she looks the same on every red carpet that she could repeat a gown and no one would notice.
Zooey Deschanel in J. Mendel
Is it just me or does Zooey tend to go for this ice blue color fairly often on the red carpet? (or maybe just at last year's Emmys) Not my favorite hue for her but there were many worse dresses last night…
Amanda Peet in Erdem
Speaking of worse dresses, here's Amanda Peet. If this didn't have that odd sheer dotted overlay or it actually fit her up top, I wouldn't totally hate this. But with those two major distractions on top of terrible bangs and 90s makeup, this is just unacceptable. Although I personally think just about everyone should have fired their stylist after last night, this should be Amanda's #1 priority.
Lena Heady in Alessandra Rich
And in more odd sheer dress news, how about Lena Heady? (who I'm not really familiar with but thankfully I have this thing called Google but unfortunately that whole Game of Thrones thing doesn't really do it for me). This dress would actually be really cool in an editorial but with those white shoes and odd hair and makeup choice, this just does not translate well to the red carpet. And because I've been extra bitchy so far in this post (although there's much more to come, promise) I have to say that I appreciate the effort to do something different. See, I can be nice.
Leslie Mann in J. Mendel
So clearly along with jewel tone strapless gowns, partially sheer gowns were also on trend last night. I normally love what Leslie Mann wears but this isn't my favorite. I actually think the dress would have been great if the pattern went all the way through without the sheer portion. It would be much more striking and way less distracting. These celebrities can modify anything they want when it comes red carpet dresses so it's not like I'm asking for too much here. Although if you ask Mr. Mendel, he may think otherwise.
Julianne Hough in Jenny Packham
I don't mind a sheer skirt over a granny panty every once in a while but things were a little out of control last night, don't you think? This looks like a Dancing With The Stars outfit…which I realize is perfect for her but not perfect for the Emmys red carpet.
Lena Dunham in Prada
Like the other Lena, I do appreciate the effort but come on…the hair and makeup, really? Did this actually happen? That's the kind of eyeshadow I played around with in junior high but my mom would never let me leave the house in. And if that hair cut was not done by Lena herself then she needs to see my girl Sarah at Salon 1800 ASAP.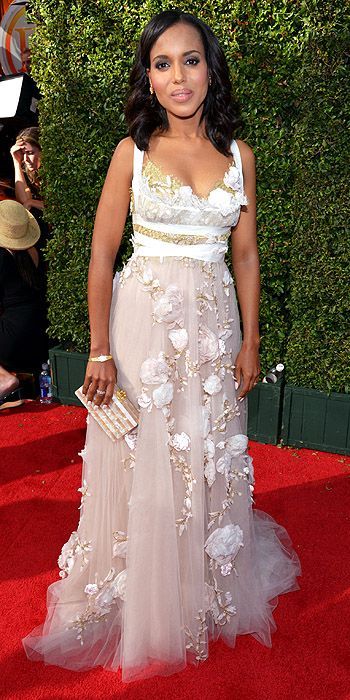 Kerry Washington in Marchesa
When browsing through all of the terrible dresses today, I thought I'd at least have a positive Kerry Washington moment because the girl always kills it. She takes risks and it always pays off. This is just an odd choice for her. With all of the fantastic dresses shown on the Spring '14 runways, I don't know how she ended up with this at the Emmys.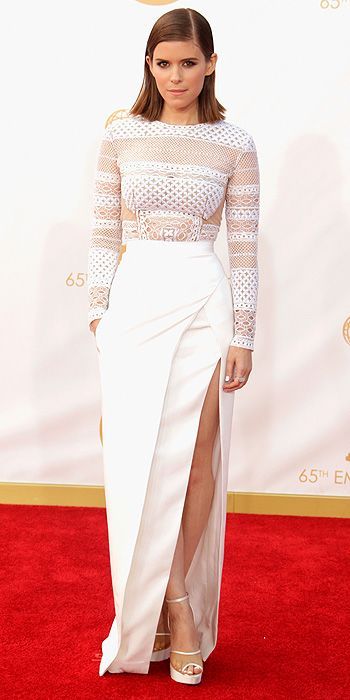 Kate Mara in J. Mendel
I like the idea of this dress but it's either on the wrong girl or needs to be modified for her. The top is a cool idea but to wear a tight, sheer paneled design like that, smaller breasts are ideal (sister Rooney could have definitely rocked this). I'm not totally loving the skirt; it just feels awkward to me. Would have been killer in the same cut but just above the knee. And are those stripper heels? I'm just making sure we're on the same page here.
Julie Bowen in Zac Posen
 I'm not a huge fan of ruffles so when I see them in this quantity I just can't look any further.
Danielle Brooks
Taking Orange Is The New Black a quite literally but she actually looks really great. I love her character on the show so I'm looking forward to seeing more of her on the red carpet. Okay now onto the important things…when do we get a season 2?
Aubrey Anderson Emmons in Tea Collection
I haven't watched Modern Family regularly in quite some time so I'm pretty shocked to see Lily all grown up. And I think it's safe to say that she was hands down the best dressed on the red carpet last night.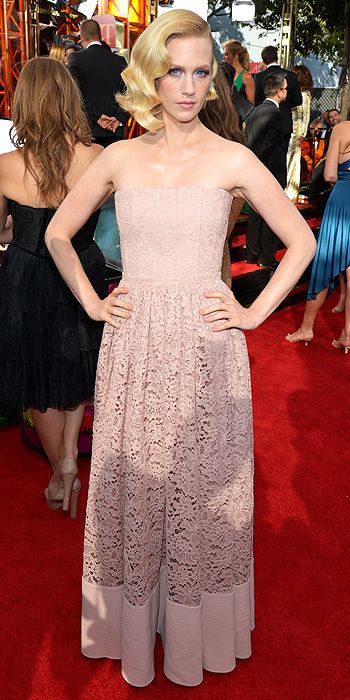 January Jones in Givenchy
It's a little pasty on pasty but I do admire the detail in the dress. The hair is pretty fantastic too (and you know I always hate the hair so this is kind of a big deal) but it's all kind of one note, which doesn't necessarily translate well in photos. But I give her an A for effort.
—
Any favorites from the red carpet last night? Thanks for being patient with me while I taking a little break from posting every day. Hope you enjoyed my Instagram updates while I was gone. Back to pictures of my dog, food and an occasional Chicago skyline photo.
Images via People.com
You might want to check out...