Two red carpet posts two days in a row? Thank you VMAs and Labor Day for forcing the Emmys on us a little early…and on a Monday. Last night was TV's biggest night (AKA the Emmys). It's not necessarily fashion's biggest night but there were actually pretty decent looks this year. Even I'm sort of impressed. But enough of this intro, let's see who wore what to the 2014 Emmys.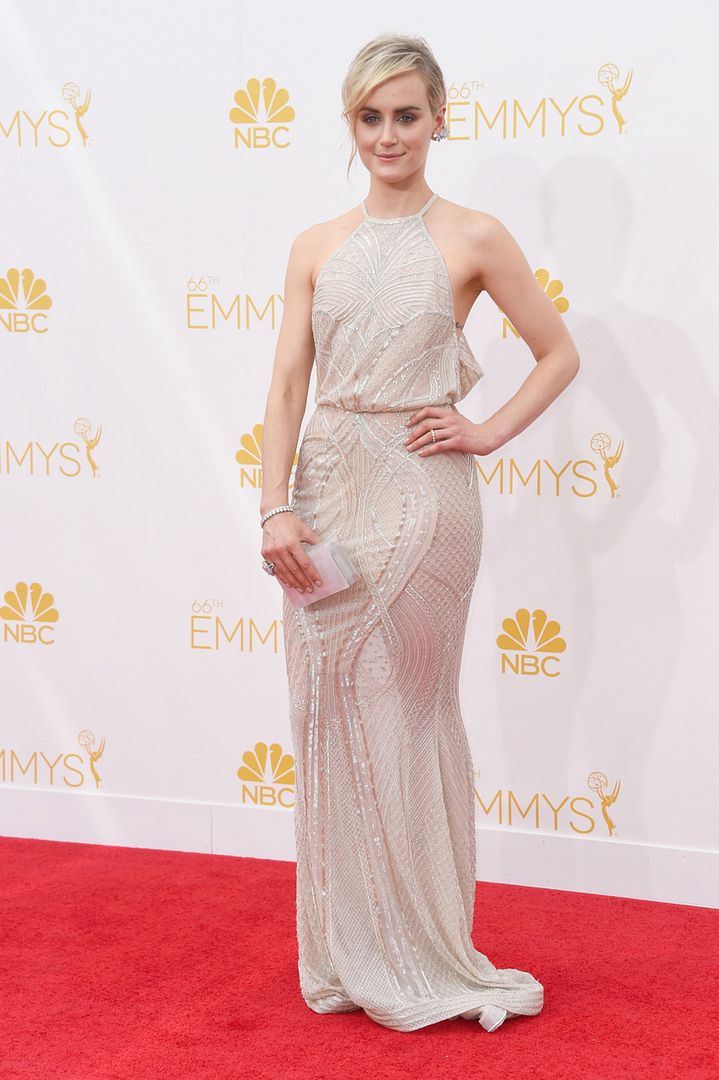 Taylor Schilling in Zuhair Murad
Not only is this TV's biggest night, but also Taylor Schilling's biggest night (or at least one of them. With that said, you'd think she would blow us away in the fashion department (it's not like she often disappoints on the red carpet) but this isn't all that exciting. Plus, the fit isn't great up top. BUT she almost makes up for it all with that sick Forevermark ear cuff (even though it looks exactly like Ryan Storer).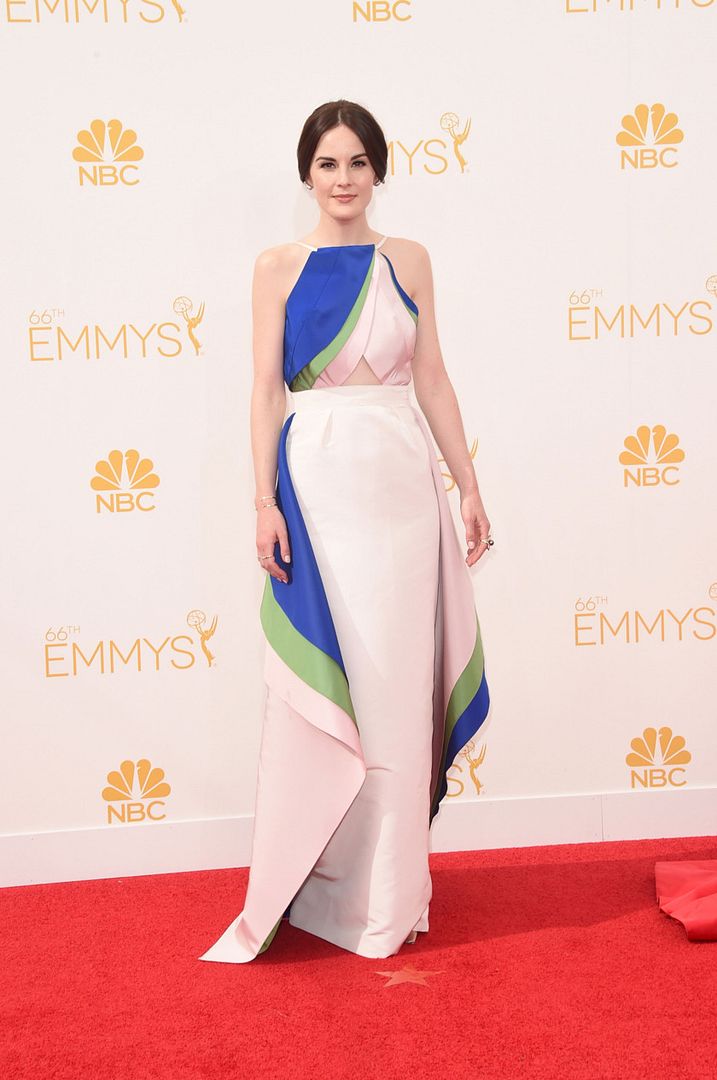 Michelle Dockery in Rosie Assoulin
I always appreciate more under-the-radar designers getting some air time on the red carpet and Rosie Assoulin worn at the Emmys does just that. The dress is a unique choice for such event, which I also appreciate. Would I see this dress on its own and go bananas for it? Probably not. But overall, I have no real complaints.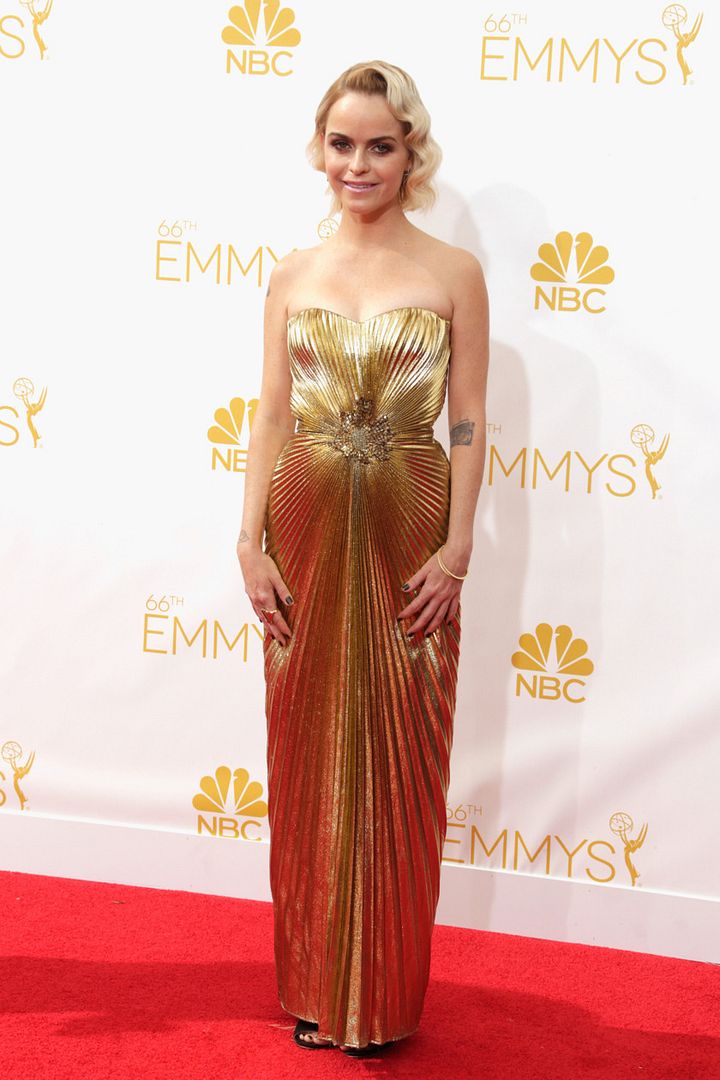 Taryn Manning in Azzaro
You know how sometimes you can't ever separate a show's character and the person in real life? This is what I imagine Pennsatucky looks like when trying to get dressed up for a special occasion…and that is not a compliment.
Melissa McCarthy in custom Marchesa, with Ben Falcone
Hey if Jay-Z and Beyonce probably aren't going to make it, at least we have Ben and Melissa right? But seriously, this is probably the best thing Melissa's ever worn on the red carpet. It's fitted where it needs to be and flares where it should — cinches at the waist with just the right amount of detail to make this not just another black dress. Two thumbs up and clapping emojis all around!
Zooey Deschanel in Oscar de la Renta
You know when you get used to someone wearing glasses then one day they get contacts and it totally throws you off? This is how Zooey looks here…except I'm not used to her wearing glasses. Oh and that dress? SO DONE.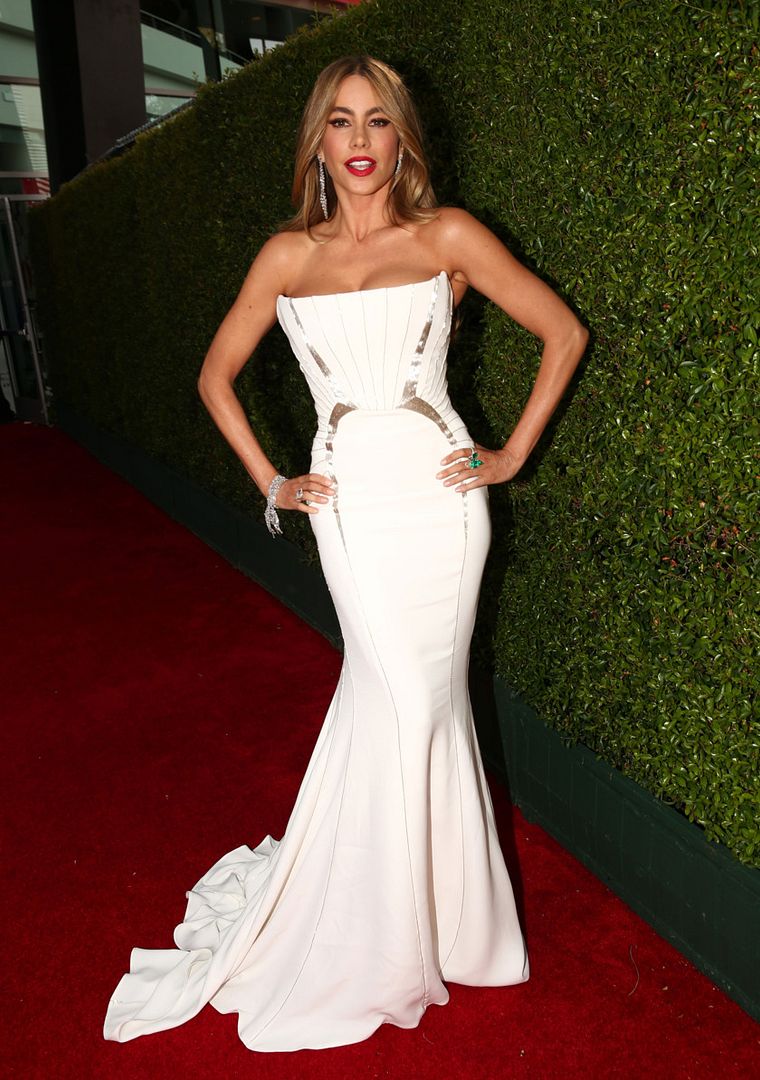 Sofia Vergara in Roberto Cavalli
She knows what silhouette works on her and she continues to werk it. Although I don't love a strapless mermaid gown, she always makes them look flawless with the absolute perfect fit. When it comes to fit, no one does it like Sofia (having that body though probably doesn't hurt the situation).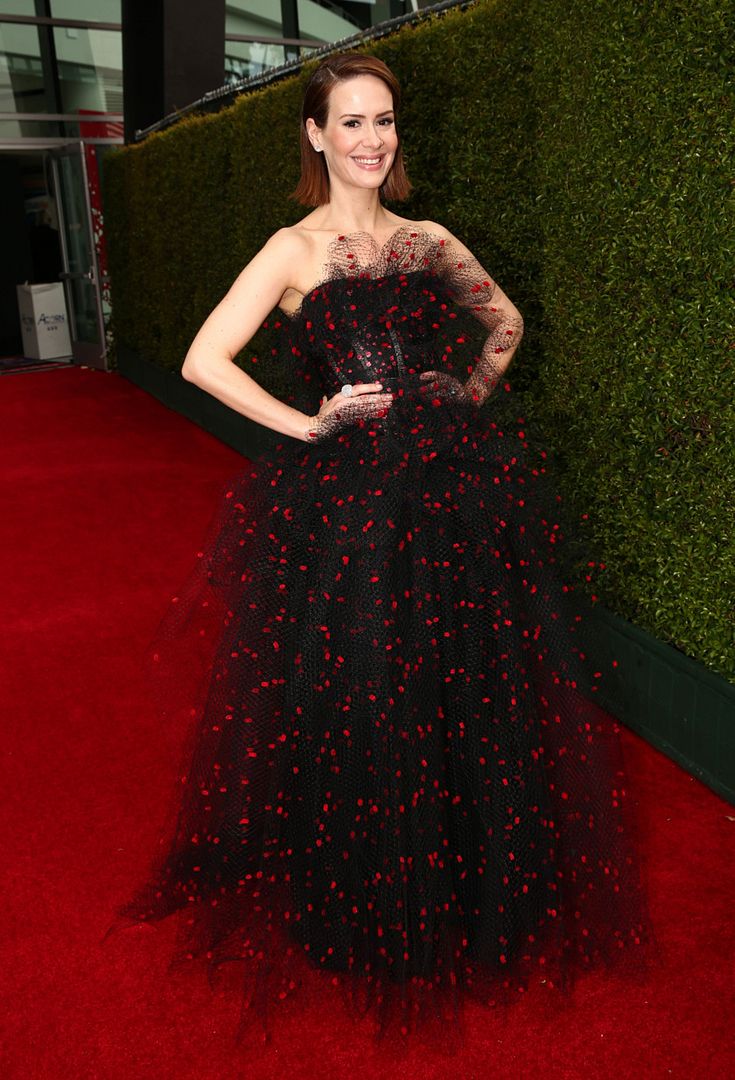 Sarah Paulson in Armani Prive
For the Met Ball or an editorial? Hell yes. For Sarah Paulson at the Emmys? Absolutely not.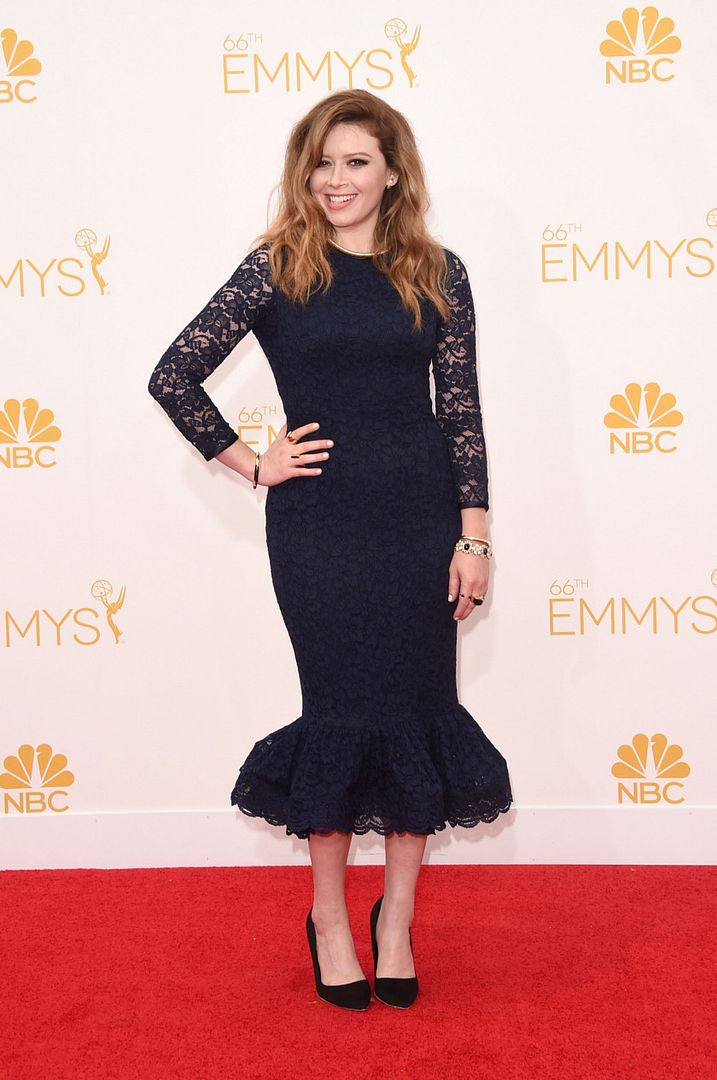 Natasha Lyonne in custom Opening Ceremony
Not the coolest dress or shoes but you rarely hear of Opening Ceremony on the red carpet so that's pretty cool in itself. Because the dress is feminine and a bit conservative, a funkier shoe would have helped. But as long as we still have OITNB (which can just never go away otherwise my life will be over…yes I realize that's quite dramatic), Natasha will have many more opportunities to step it up on the red carpet.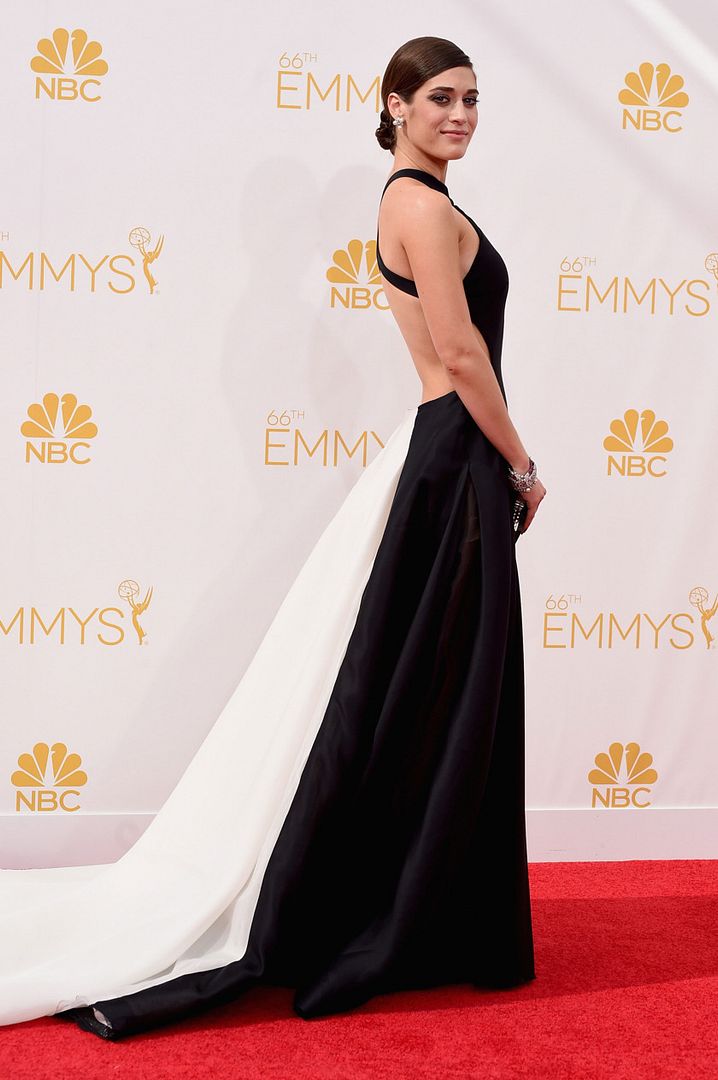 Lizzy Caplan in Donna Karan Atelier
Best Dressed Pick
One of those moments where I just go UGHHHHHH (in the best way possible). Black and white DONE SO RIGHT.
Laura Prepon in Gustavo Cadile
If you're wondering what the opposite of Lizzy Caplan at the Emmys would be…it's this. What's worse than bright colored, awkwardly placed shiny fabric at one of the biggest red carpet events of the year? Going to jail…and for something you did ten years ago. But this dress is a close second.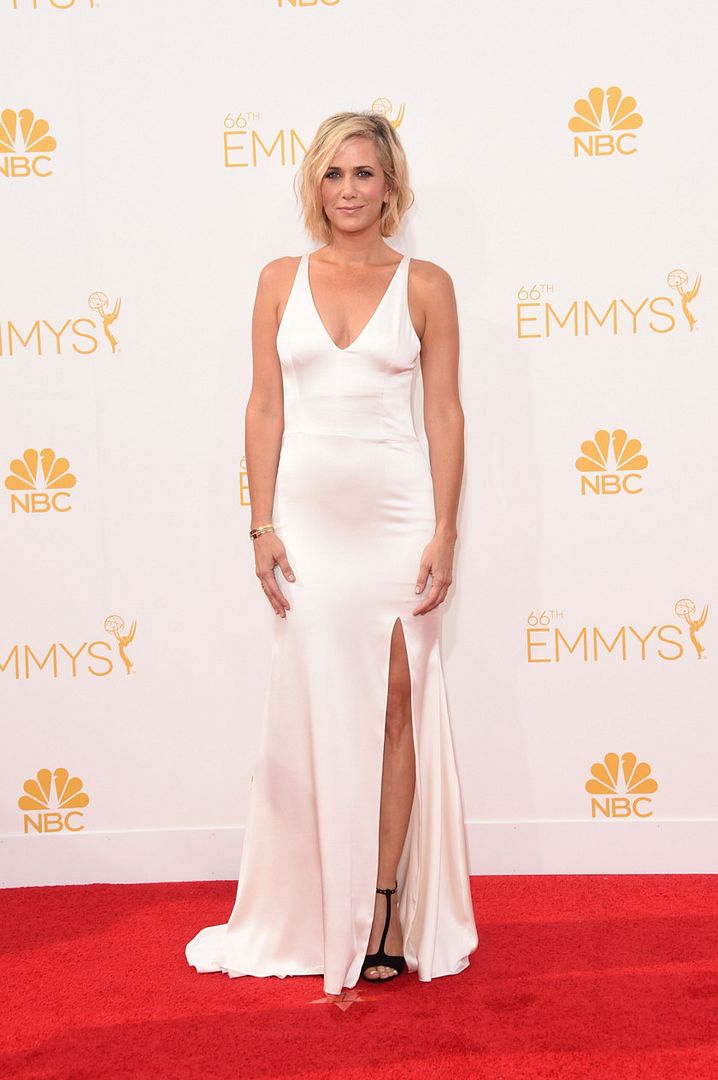 Kristen Wiig in custom Vera Wang
If you look up "meh" on Urban Dictionary, it's this (actually it's this but you get where I'm going…)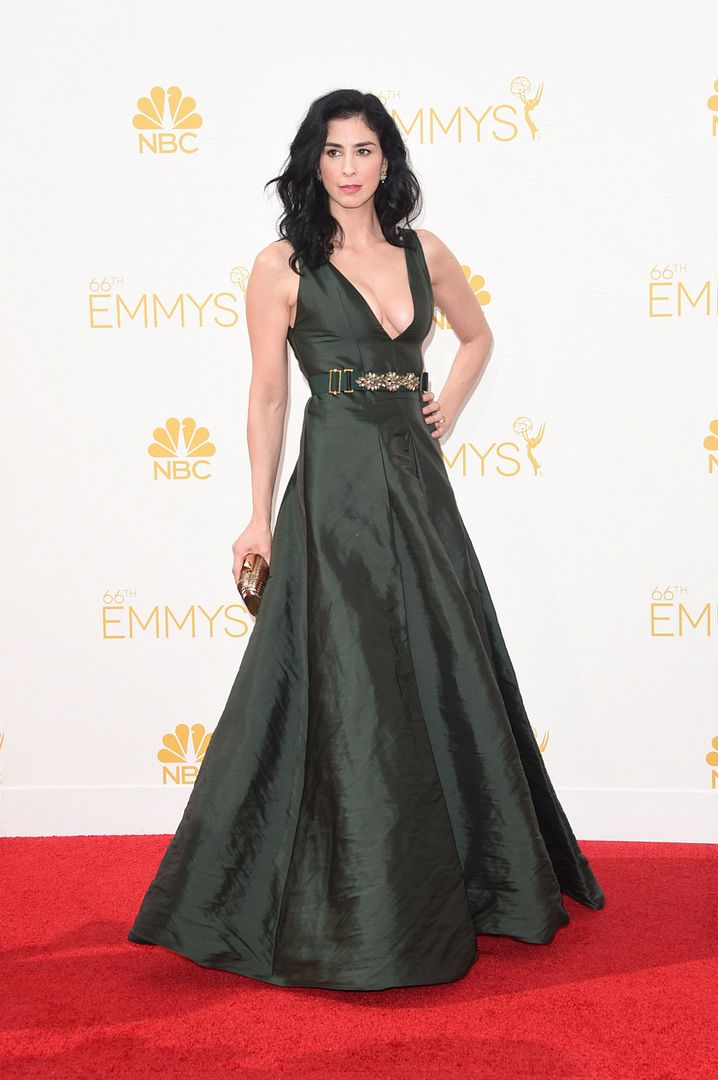 Sarah Silverman in Marni
I'm going to have to assume this dress is not supposed to be crinkled, but I guess that's what you get for wearing this material to anything unless you have easy access to a steamer or never sit down. I dig the color though…not something we see too often at these types of things. And the belt is a nice touch. This look is sort of like pizza — even when it's bad, it's good.
Michelle Monaghan in Giambattista Valli
Okay fine (no, really…it's just fine, okay?)
Sarah Hyland in Christian Siriano
I've never really liked what she wears on the red carpet (which is unfortunate because Modern Family is one of my favorite shows…and every time I take a "What Modern Family character are you?" quiz, I always end up with Haley) but she's definitely taking a step in the right direction. First with that Kaufmanfranco at the VMAs and now this. I mentioned in yesterday's post that the crop top (especially one in this specific sort-of 90s silhouette) and skirt combo has really been overplayed, but when I finally kind of like something that Sarah Hyland is wearing, I just have to end my complaints and leave it at that.
Lena Dunham in Giambattista Valli Couture
There is a lot going on here and I don't even know where to begin. I loved all those finale dresses from Giambattista's Fall '14 couture collection and it's unfortunate it was styled this way for the Emmys. I get she didn't want to do the exact shirt from the runway. Fine. But this needs some sort of fitted element or a belt at the waist. Take note from Melissa and CINCH the waist. It doesn't matter what size you are, but anyone can cinch. Here, there's no cinching therefore it just looks sloppy. And it's not easy to make Giambattista couture look sloppy but Lena somehow managed to do so. Also whoever does her makeup for these things needs to be fired immediately. From blue eyeshadow at last year's Emmys to way too much eyeliner at this year's…I just can't get behind any of this (although it gets me excited for the new season of Girls).
Kiernan Shipka in Antonio Berardi
I always love what this girl wears, especially because she's great at wearing age-appropirate dresses for the red carpet. But finally she chose something that actually ages her. It's not the worst thing I've ever seen but she's done way better….which I feel terrible saying about a 14 year old.
January Jones in Prabal Gurung
Best Dressed Pick
Guys, something crazy is happening right now. I not only like a red dress on the red carpet (although she's not exactly on a red carpet in this particular photo) but I LIVE FOR IT. This is one of the best red dresses I've ever seen at an awards show (and not just because it's by one of my favorite designers). The shade of red lipstick is just perfect and I like that she chose the all black version of the shoes the look was originally shown with for Resort '15. And that earring? GET IT GIRL. For the beauty though, I don't love the bangs but the dress is so good I don't even care. And it's not easy to find the right balance of eye and lip (especially when you're doing such a bold red) when you know you're having your photo taken…you don't want to look like a clown but you don't want to disappear. And January did it just right (Lena, take note!)
—
That's all for now…but wait, there's more! Be on the look out for part two coming soon. In the mean time be sure to tell me your favorites and/or least favorites in the comments. DO IT.
Images via The Cut
You might want to check out...