I'd like to thank the Academy everyone's stylists for not disappointing last night. Although I wasn't absolutely freaking out over anyone's look, I didn't totally hate anyone's look either…and that's quite the rare occasion.
As per usual, we saw a lot of embellishments, neutrals, embellished neutrals and just for fun a few pastels. As well as Jennifer Lawrence falling…yet again.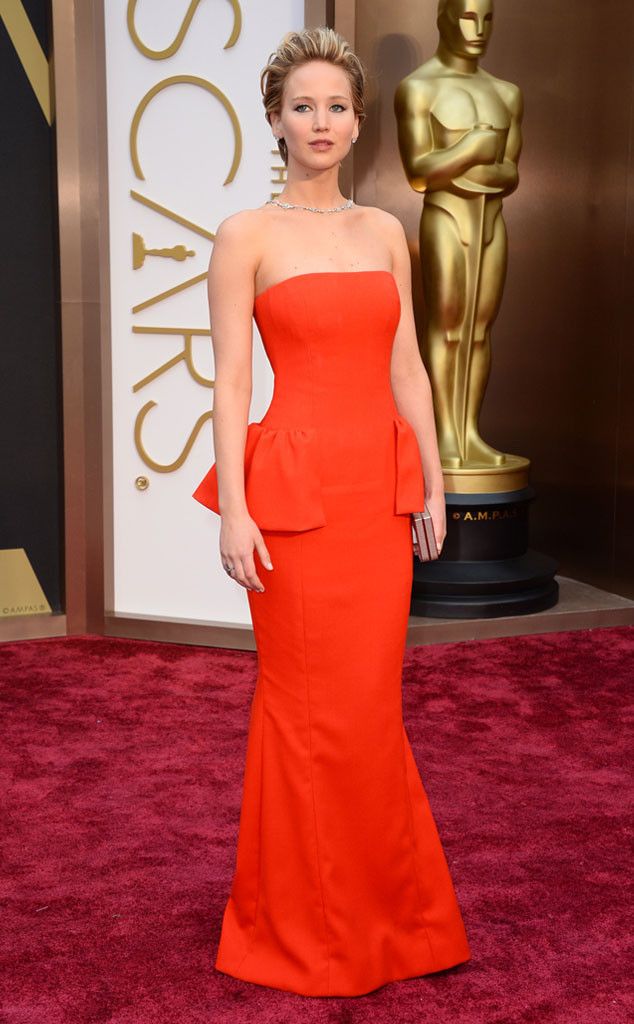 Jennifer Lawrence in Dior
Now that she's upright, we can get a better assessment here. Overall, she looks stunning. You can't deny that. However, she did a strapless gown with a drape-back necklace last year at the Oscars so to see that same type of look at the same event is underwhelming. Plus, I hate peplum…and she looks about 20 years older than she is. And let's be honest, do you really think she enjoys wearing these Dior gowns all the time? (although I'm sure she enjoys their paychecks).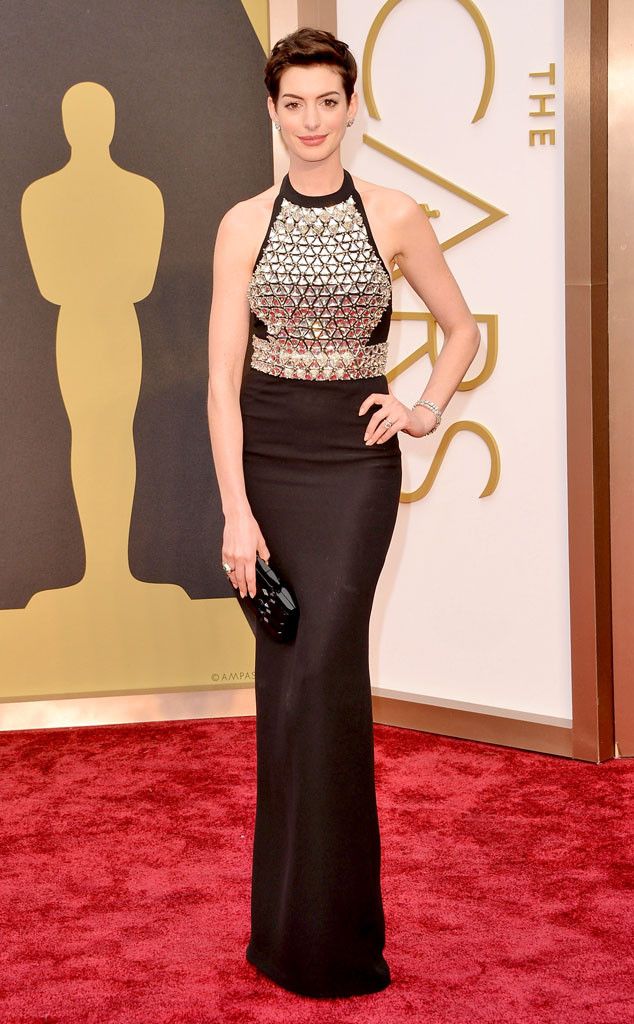 Anne Hathaway in Gucci
For something that's part disco ball, it should be more of a showstopper. And like Jennifer, she wore a similar silhouette last year (but thankfully, no shiny puckering satin…so I guess most improved is always a win).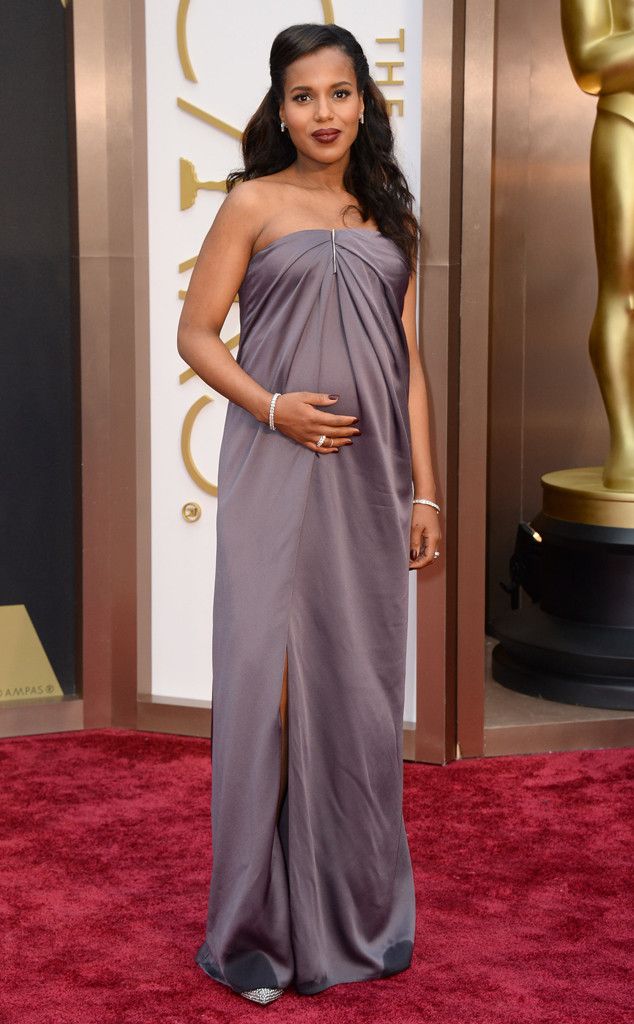 Kerry Washington in Jason Wu
This is something I should hate. It's strapless, it's wrinkled (although due to the rain that LA can't seem to handle), and I didn't like when pregnant Natalie Portman wore a drapey silk silhouette to the Golden Globes in 2011…yet for some reason I kind of like it on Kerry. The color is unique, I dig the messy hair and she's got just the right amount of accessories. But when can we finally judge her red carpet looks sans bump?
Lupita Nyong'o in custom Prada
Best Dressed Pick
When Zooey Deschanel wore a sparkly light blue dress to the Emmys a few years ago, I was not a fan. I don't find a sparkly pale blue dress appealing in any way. Yet somehow Lupita, being the fashion chameleon she is, makes me love it. There's just the right amount of sparkle (placed oh-so-perfectly in those pleats), it hits her in all the right places and the jewelry is spot on. Now, cue the headband revival…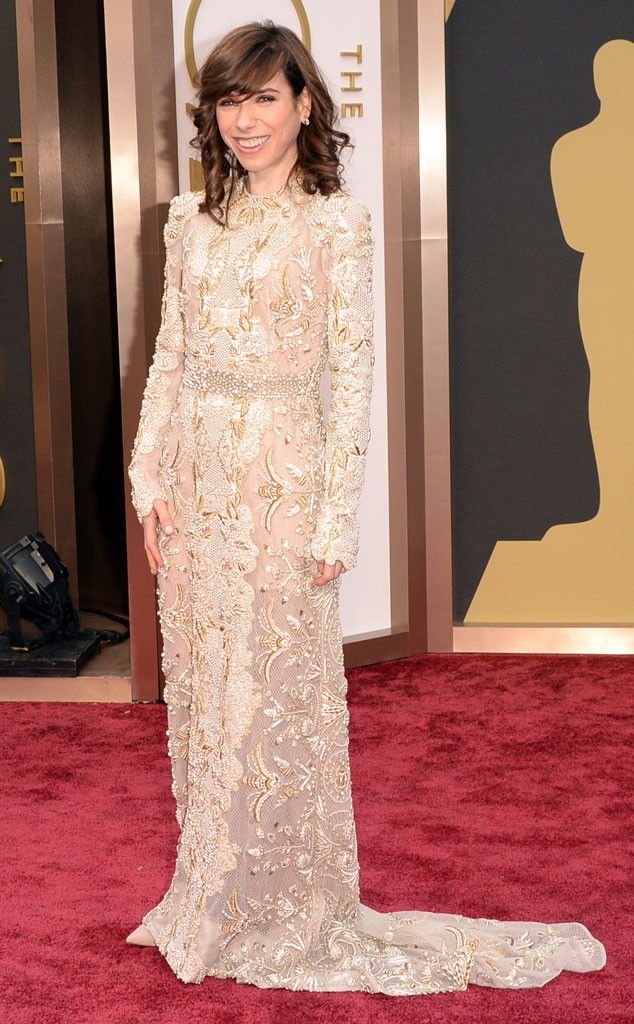 Sally Hawkins in Valentino
This dress is exquisite so it's hard to hate on BUT this is a situation where she's not wearing the dress, the dress is wearing her (plus, the sleeves are too long). Also, the hair and makeup aren't complimentary to the dress which seems to be an ongoing problem at all major red carpet events. I guess money can't buy everything…
Olivia Wilde in Valentino + Jason Sudeikis in Prada
Best Dressed Pick
Like I tweeted last night, I will only get pregnant if I'm guaranteed to look exactly like Olivia Wilde the entire 9 months (remember the Golden Globes?) If not, I'm just going to stick with being a dog mom. The dress accents her bump just right, plus the back is just flat out chic. Add the perfectly tousled hair and those gorgeous earrings and of course she'll be a best dressed pick (although I could have done without all those bangles but that's just me being picky). Extra points for dapper husband.
Anna Kendrick in J. Mendel
Props to Anna for wearing a Fall 2014 dress (specifically, the J. Mendel finale dress). It's a really cool piece (especially the back) but it seems better for editorial. There's a little too much going on in the dress for the red carpet (and peep toe platforms? come on).
Jared Leto in Saint Laurent
I usually don't care about the boys but…it's Jared Leto. It's really an unfair competition because this guy can do no wrong (I think his hair really is full of secrets). But he did so right in that white jacket and red bowtie he deserves a major CCF shout-out. BOW DOWN.
Giuliana Rancic in Paolo Sebastian
Although there were a lot of neutral embellished dresses on the red carpet last night, this was perfectly appropriate for the Oscars, it's flattering and I appreciate her going for an Aussie designer.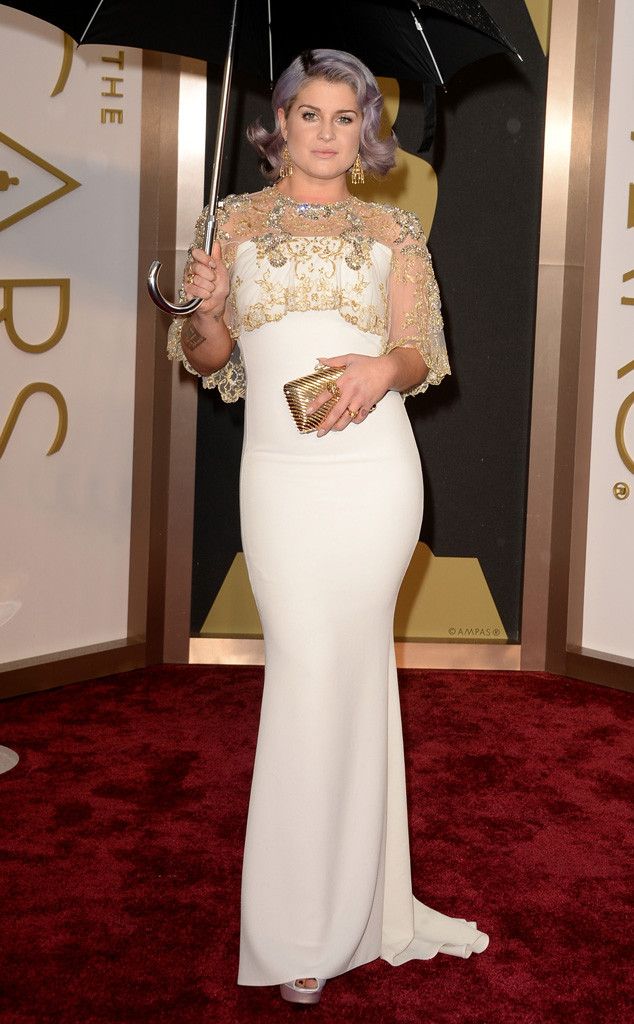 Kelly Osbourne in Badgley Mischka
Apparently Kelly only wore this for a few minutes because she couldn't get up the stairs in it BUT it was totally worth it because this is the best she's ever looked. The fit, the styling, the hair…we barely notice that obtrusive umbrella.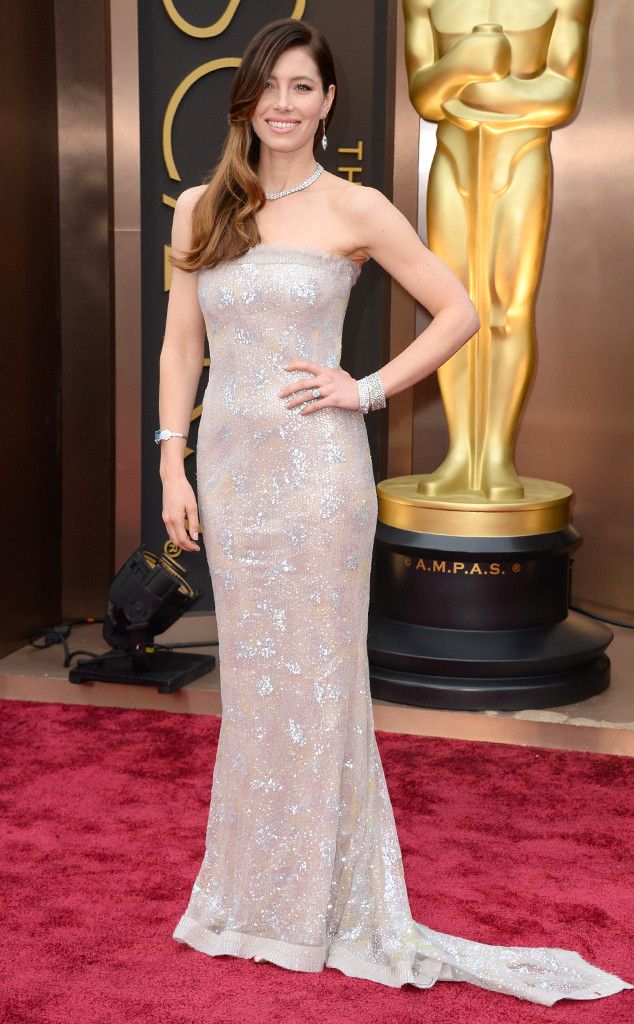 Jessica Biel in Chanel Couture
I shouldn't like this because it's strapless and sparkly, but it looks like one of those instances where the dress has so much detail that doesn't really come out in photos, you can't fully appreciate it. But she looks gorgeous and it's Chanel Couture. Enough said.
Julia Roberts in Givenchy
Between Jennifer and Julia, I'm thinking either they missed the memo on peplum being out or we missed the memo that it's back. Regardless, I hate the peplum but I do love the lace insert in the neckline. Also dig the hair. I give this a swing yet a miss.
Jennifer Garner in Oscar de la Renta
Is it me or is she always just "meh" on the red carpet?
Matthew McConaughey in Dolce & Gabbana + Camila Alves in Gabriela Cadena
White jackets seemed to be a trend with the guys last night but when Jared Leto does it, everyone else is basically on the worst dressed list. I appreciate the risk Camila took but like Anna Kendrick, the dress is best served in Vogue, shot by Patrick Demarchelier (AKA it should just be used for editorial).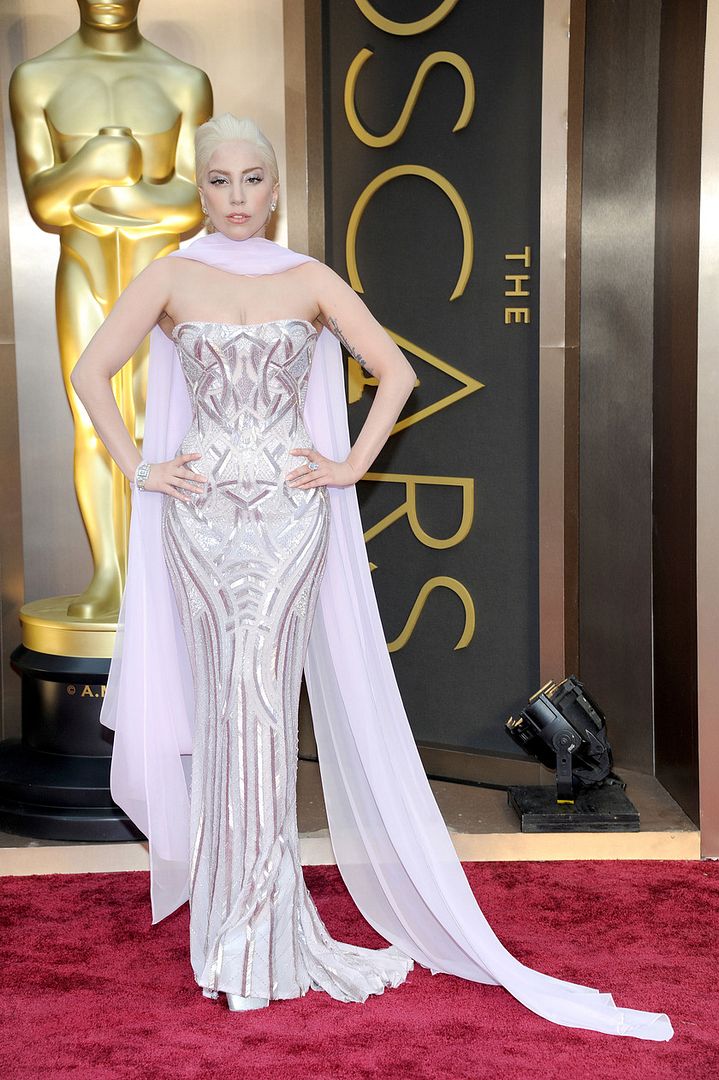 Lady Gaga in Atelier Versace
Who would've thought Lady Gaga is like a more elegant Donatella? We see a lot of metallic strapless gowns on the red carpet (especially at the Oscars) so it's refreshing to see one that's done a little differently.
—
Well that's all for now. Part 2 is coming soon! If you just can't wait, tell me what you think of the 2014 Oscars red carpet so far in the comments. Don't be shy…
Images via The Cut + E!
You might want to check out...