Last year's VMAs brought out quite some interesting looks but this year we have a Britney and Justin denim revival, Ke$ha looking more like a Kesha, and a lot of cleavage (as per usual for an MTV event). You ready for this? Here's a look at some notable looks from the 2014 VMAs…
Riff Raff and Katy Perry in Atelier Versace
I have a lot of questions, comments and concerns. Questions: Why did they arrive together? Are they dating or just like to play practical jokes? Comments: You did not have to relive Britney and Justin's denim days…it was terrible then and it's terrible now. Concerns: It concerns me that Riff Raff is a human — it's offensive to all other humans, including myself.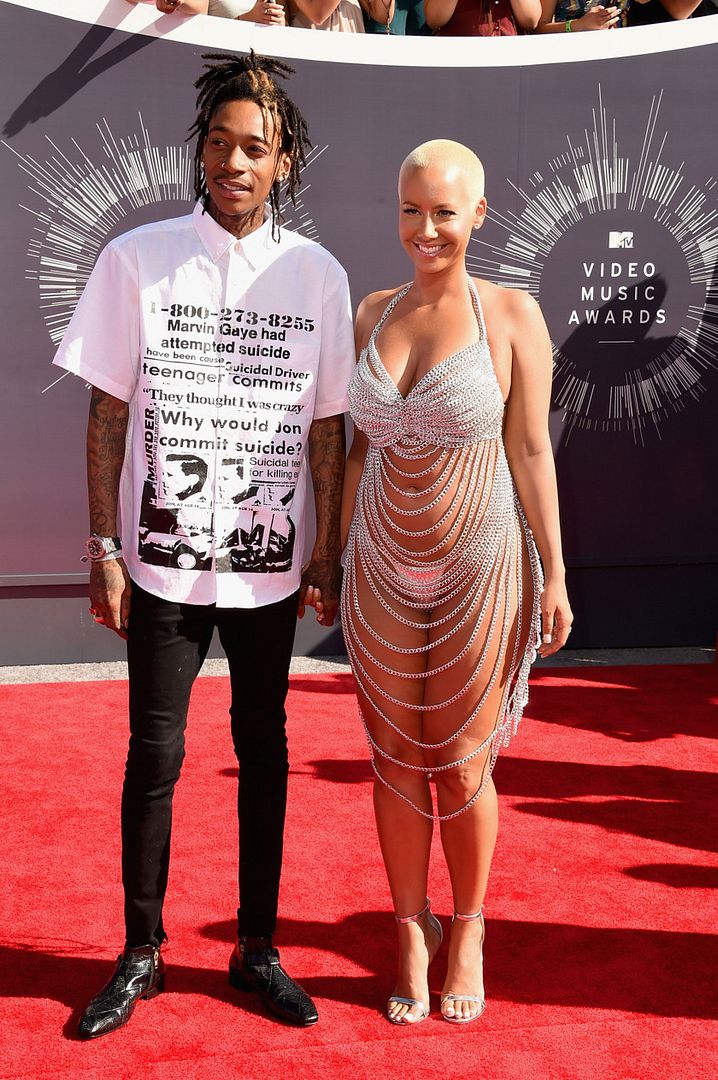 Amber Rose in Laura Dewit and Wiz Khalifa
Once you see that much denim, it makes these outfits look somewhat normal. But seriously, I dig Wiz's look (even the crazy ass hair) and for Amber, this outfit (can you even call it an outfit?) is no surprise…especially at the VMAs. It's pretty much expected at this point.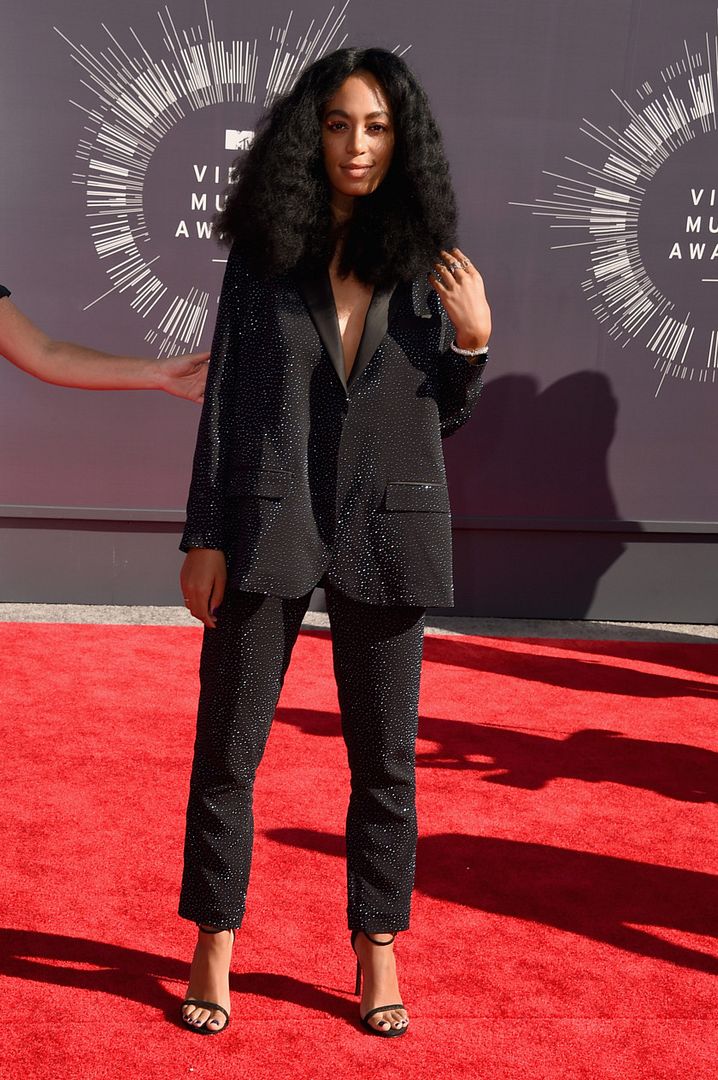 Solange Knowles in H&M
I almost like this but the pants needed to be a little more slim for this to totally work (and that's coming from me…the advocate for "bigger is better" clothes). I do appreciate the oversized blazer for a red carpet event and yeah, it's kind of cool to see H&M worn at the VMAs. Good for you Solange. Good for you.
Victoria Justice in an Alice + Olivia top, LUBLU Kira Plastinina skirt, & Edie Parker clutch
Crop top, high/low skirt… #TRENDSONTRENDS on hashtags. Kids these days…
Uzo Aduba
Not so crazy anymore, huh?
Ariana Grande in Moschino
She's not cool enough to wear this. Once you can stop wearing your hair in the exact same ponytail every single day, then I'll maybe consider you legit enough to wear an all leather Moschino look. Maybe.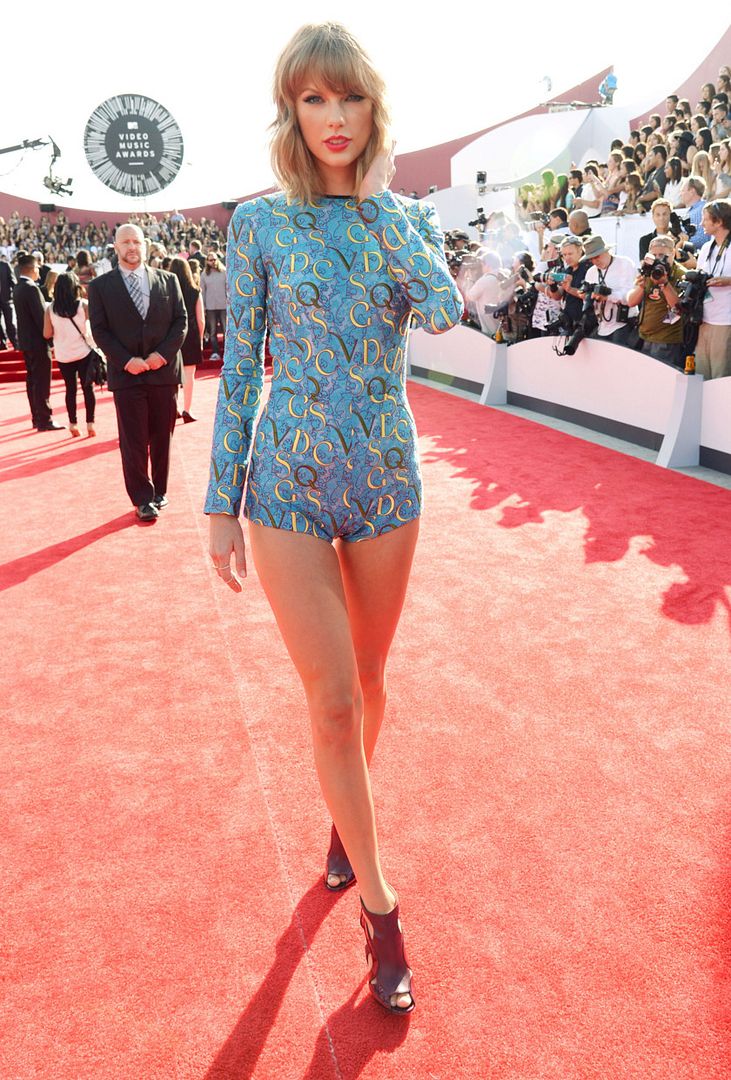 Taylor Swift in Mary Katrantzou
Bodysuit as an outfit — maybe a better fit as a performance look but I like where she was going with this. Much better than the nude sparkly dresses we've seen her in the last six years. And her hair and makeup has just been spot on lately, no?
Rita Ora in Donna Karan Atelier
Ah, a shiny red dress with a diamond choker. I'm sure she's wearing a good 5 or 6 figures worth of clothing and accessories right there (I love Rita Ora and almost always what she wears) but this looks cheap and tacky. I dig the hair and makeup though (one day I'll love someone's dress and their hair/makeup at the same time…one day).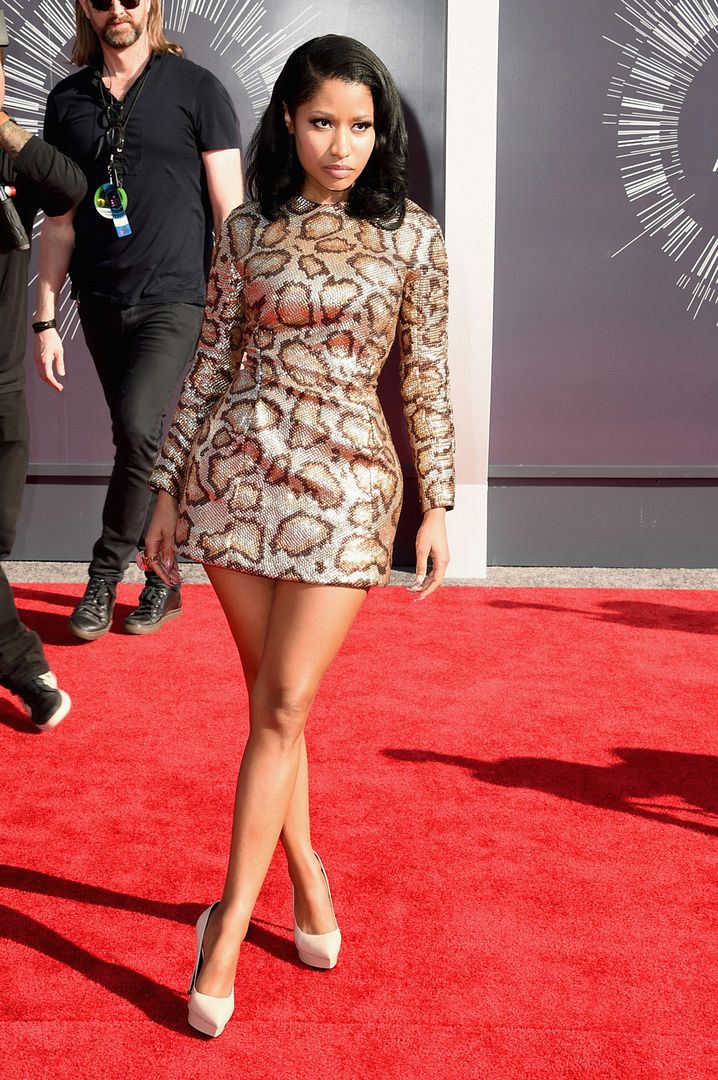 Nicki Minaj in Saint Laurent
How Nicki does normcore.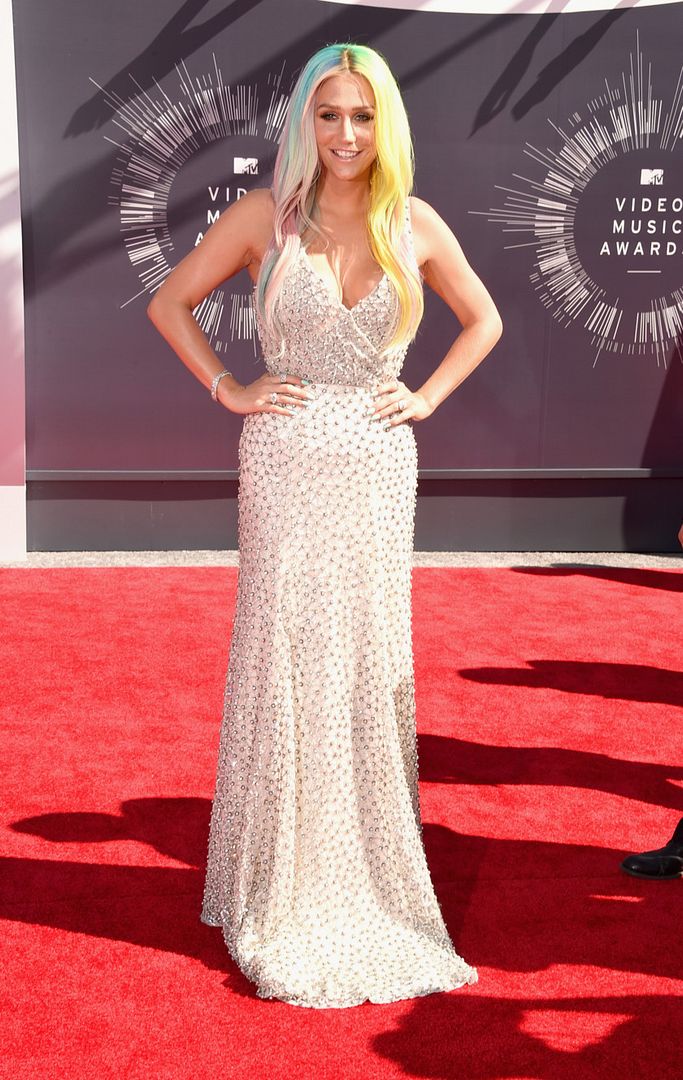 Kesha in Johanna Johnson
Like Nicki, she just seems so normal. Can't decide if I can get behind it or not. I miss that $.
Kendall Jenner in Alon Livine and Kylie Jenner in Alexandre Vauthier
Kendall's taking that crop top / bra top trend to another level with the sheer inserts so for that, I appreciate this look (and I'm kind of obsessed with her, although I hate to admit it) Plus, we have the same Jennifer Fisher choker so we're basically besties. Kylie's dress seems like something that would be cool in person but just doesn't photograph well…and she needs to stop with the brown lipstick and injection pouts. Girl, you're 17. Relax.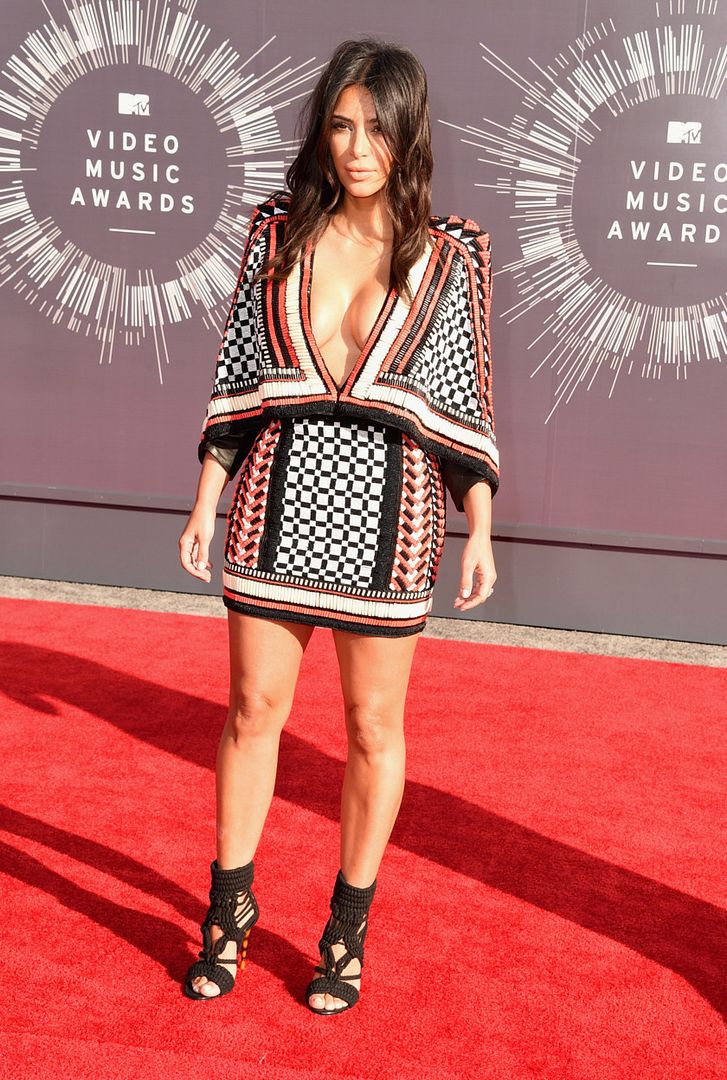 Kim Kardashian in Balmain
I just can't get behind super low cut dresses with a chest like that. If you're trying to be all "fashiony" in designers like Balmain and Givenchy (which ever since Kanye, is now her thing), you can't let it look like this. I want to appreciate all that detail Olivier has done so perfectly but all I can think is…BOOBIES (yes I realize I'm super mature).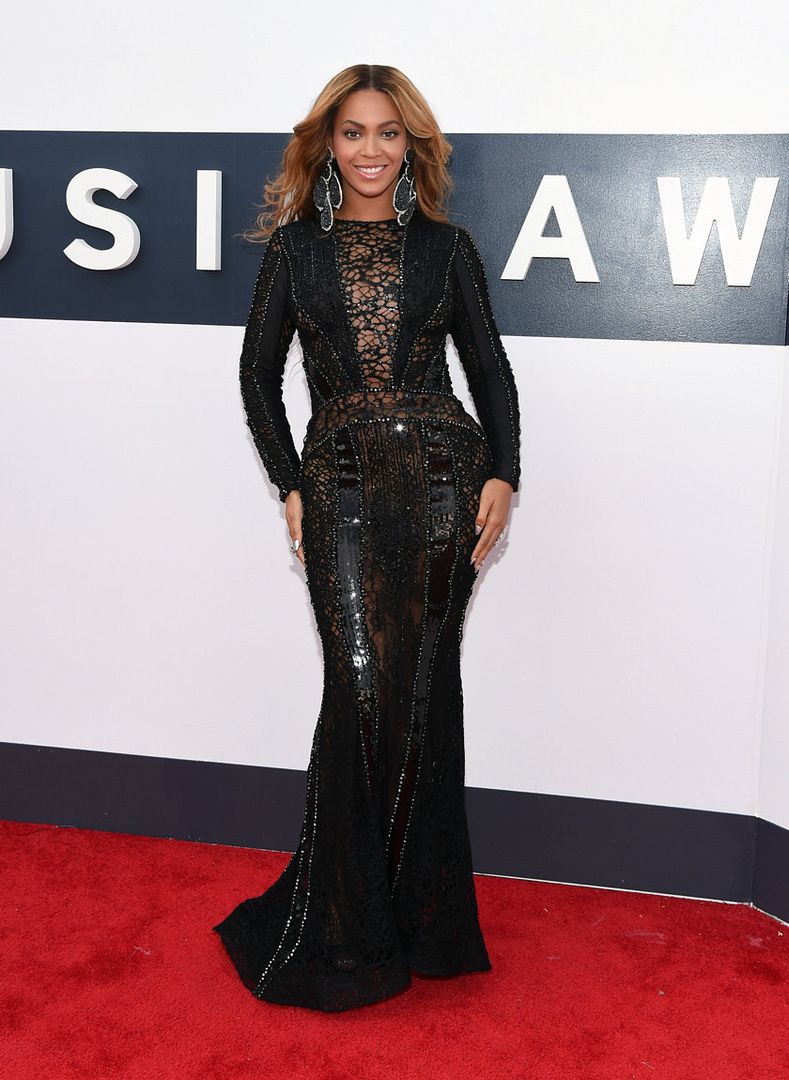 Beyonce in Nicolas Jebran Couture
Hate the earrings, love the dress…overall, [almost] flawless. But still, bow down.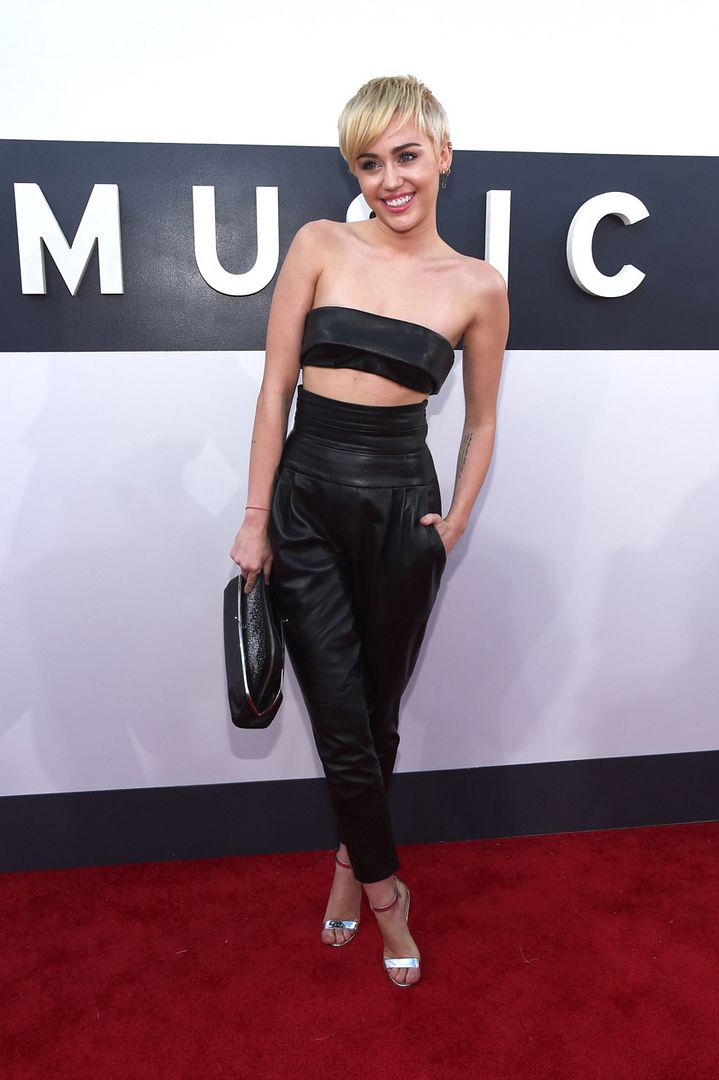 Miley Cyrus in Alexandre Vauthier
It's interesting that this year, the people you thought would look the craziest (Nicki Minaj, Kesha and Miley to name a few) actually kept it pretty simple. The idea of this look (a bra top and anything high-waisted) has been overplayed on the red carpet but hey, I don't hate it.
Chloe Grace Moretz in Louis Vuitton
Perhaps the most conservative thing you could wear to the VMAs and quite the odd choice for August in California. I loved this look on the runway but it doesn't fit properly here. I think she's adorable and I usually enjoy her fashion choices but the pants look off and overall she just isn't owning the look.
Iggy Azalea in Atelier Versace
Not my favorite dress but it's perfect for her and the occasion (although I could do without all the puckering…one day we'll live in a world without satin gowns and it will just be a much happier place…or at least I'll be happier).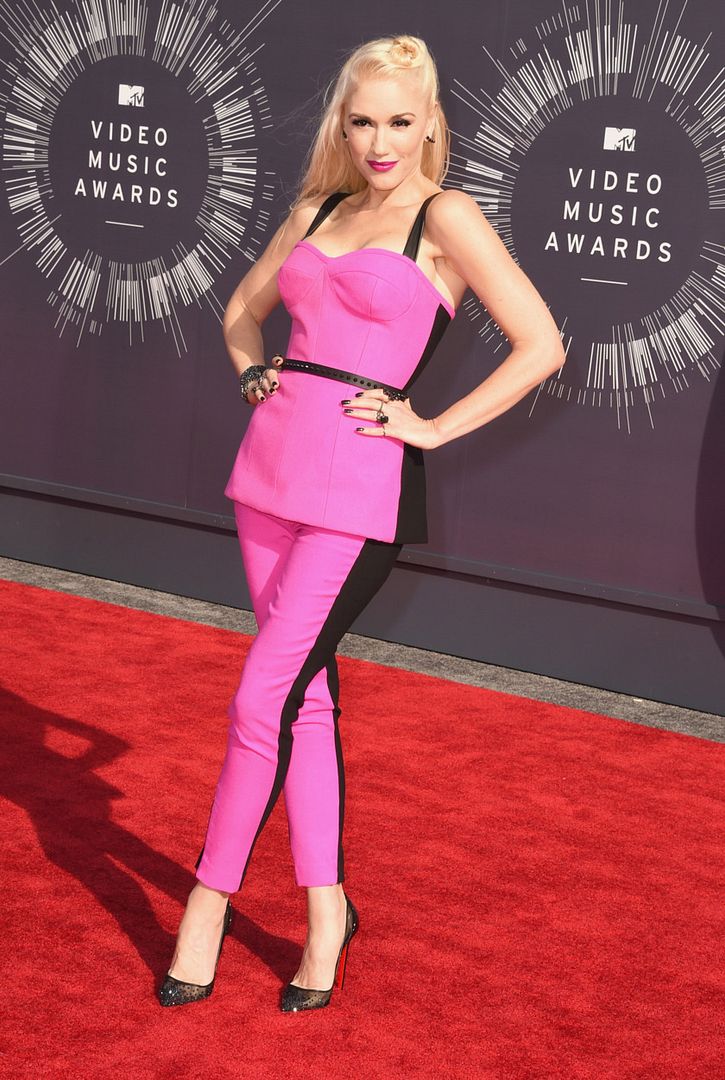 Gwen Stefani in L.A.M.B.
This wouldn't work on anyone except her but she's owning it…and it WERKS.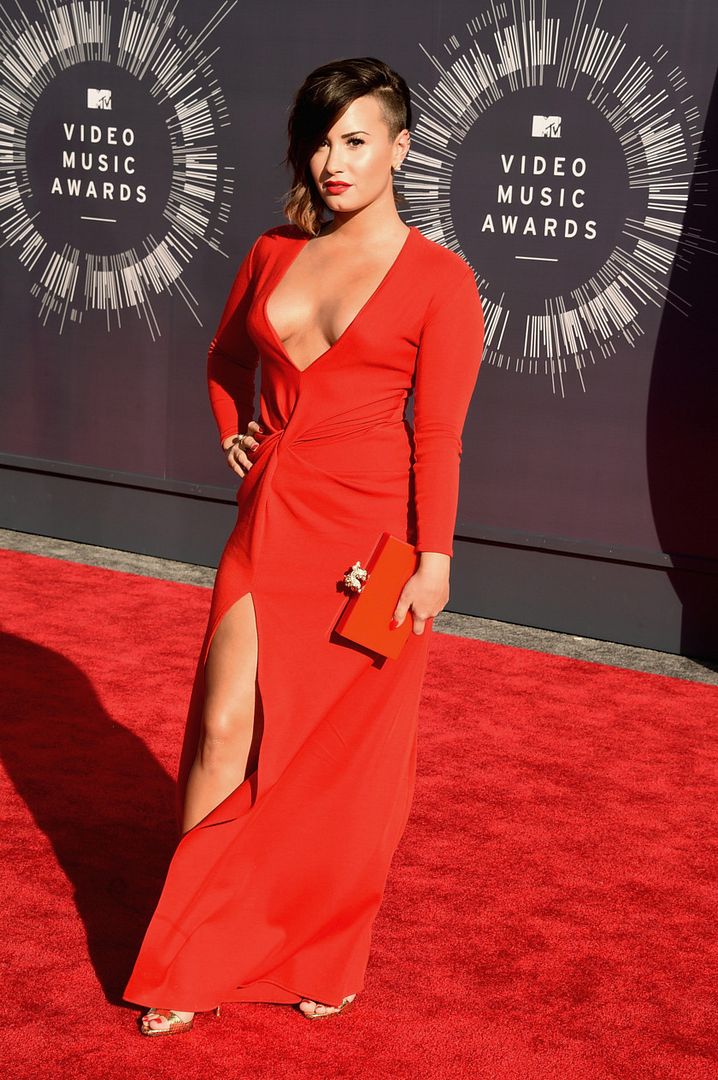 Demi Lovato in Lanvin
I hate to say it but if I had to get on board with any cleavage from last night, it would actually be Kim. If you're "chesty" and are wearing something low cut, it should be a slim V (like on Kim) but something so wide just looks like a mistake. And can we stop with the side shave thing? Either shave your head or leave it. Just like a high/low skirt, you can have it all…but you shouldn't.
Jennifer Lopez in Charbel Zoe
OF COURSE.
—
If I had to choose a best dressed, I'd say Kendall Jenner or almost Solange. I rarely have a best dressed for the VMAs so that's really all I can give you. But what are your thoughts on last night's VMAs red carpet? Any favorites? Looks that should be banned on all red carpets from now on? Most importantly…I need your opinion on that Katy Perry / Riff Raff denim situation. It was most definitely a situation.
Images via The Cut
You might want to check out...