Ah, the Grammys. A night where all these celebrities I've never heard of (plus Beyonce and a few others) gather in one place to celebrate music…as well as see who can out sparkle the other and show the most cleavage. So let's talk about that red carpet, shall we?
Lady Gaga in Brandon Maxwell
Wasn't lying about those sparkles and cleavage. It's nice to see she's dressing like a human and not arriving in some crazy vessel but I'm just never into boobalicious looks on the red carpet. That dress is so clearly taped to her boobs — it must be some extra strength stuff because it looks like it's about to bust (and I haven't heard about any wardrobe malfunctions that occurred last night so she's in the clear). Also, when it comes to showing skin, I always say you have to pick your battles — chest, back or thigh…never all of the above. And this is all of the above.
Ariana Grande in Versace
It would be a pretty dress if it weren't for that silver situation that looks like it was just slapped on there. It cheapens the whole look and suddenly reminds me of Wet Seal eveningwear (if that was ever such a thing).
Chrissy Teigen in Pucci
She looks gorgeous (when doesn't she?) but it's a dress we've seen before. It's not that special. Plus, it needed some cool up-do to show off the detail up top as well as the open back. Not sold but not opposed.
Jessie J in Ralph and Russo
I feel like I have to say this in every red carpet post because it won't go away but yet again…the sheer dress / skirt over the granny panties thing has been overplayed. HOWEVER, if anyone makes me not totally hate it at this point in time, it's Jessie J. The fit of the dress is on point, the detail is beautiful and I'm on board with that slick hair (and that bad ass ear cuff doesn't hurt either!)
Anna Kendrick in Band of Outsiders
YAY PANTS. I always get excited about pants on the red carpet because it's unconventional (although it's starting to get to the point where it's more common than it used to be). I've been on a suit kick as of late so of course I'm into this look. It's also nice to see Band of Outsiders on the red carpet…definitely not something we see often (or ever). Could've used a cool clutch or a bold lip but otherwise, I'm in.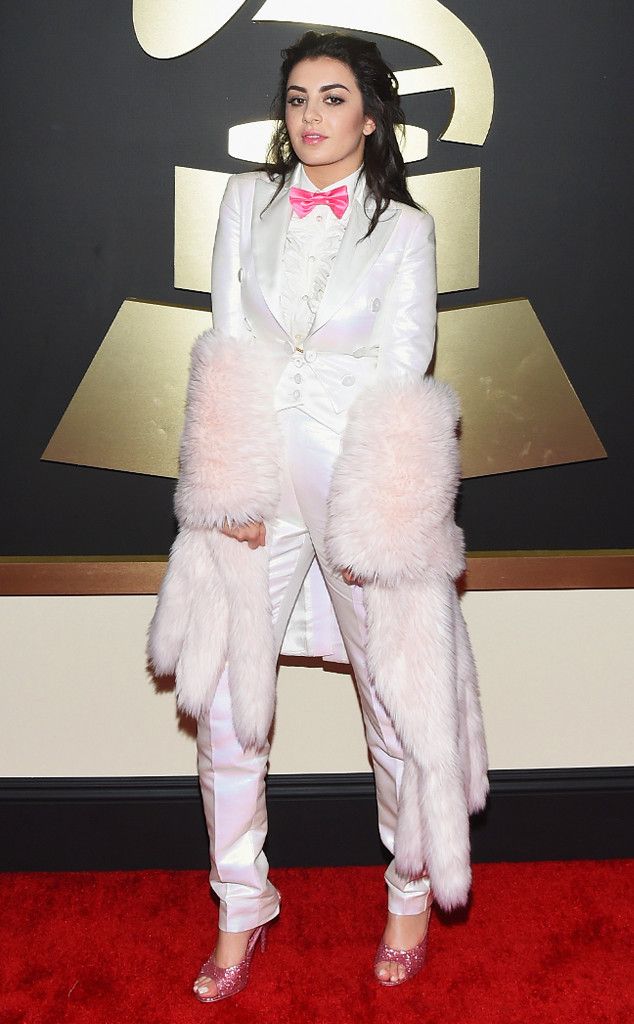 Charli XCX in Moschino
This is when I don't love a suit on the red carpet but I can't really knock her for it. She's wacky, she appreciates that "out there" Jeremy Scott Moschino vibe so this works for her. But if I were a stylist, would I ever suggest a shiny white tuxedo with a pink bow tie, pink glitter heels and a fur stole? Absolutely not.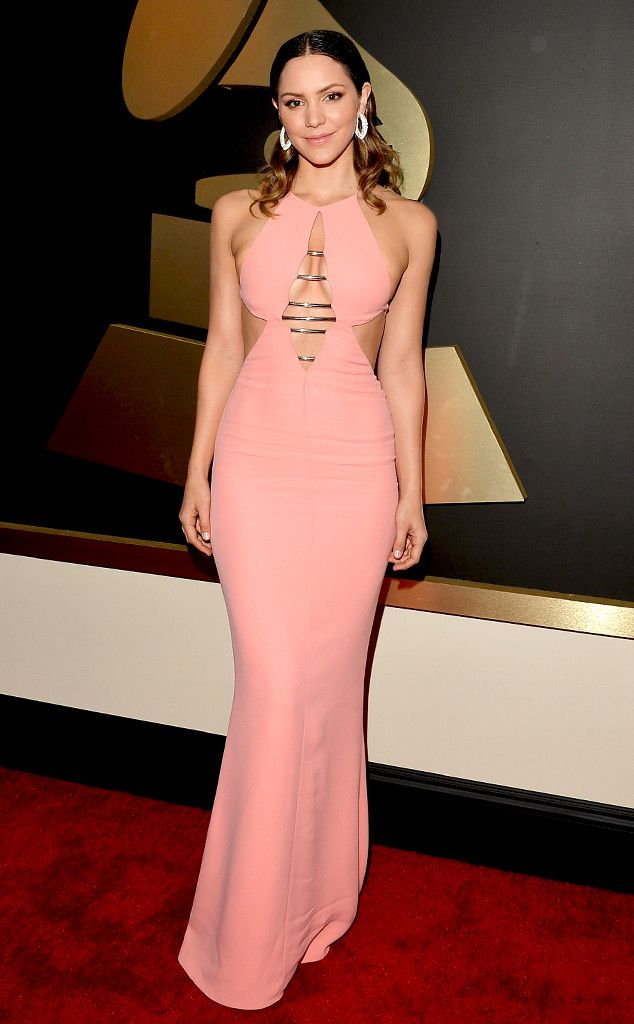 Katharine McPhee in Pucci
I do appreciate the risk. I really do. There's elements I like and I dislike. On one hand, the fit is nice (although a little bunchy in the mid-section), if you're going to go boobalicious this is a more tasteful way to do it (at least more tasteful than Gaga), and although I don't love it in this context, the ode to Alexander Wang's wet hair for Spring 2012 did not go unnoticed. However, that hair is best suited for editorial (or a more edgy celebrity), I hate the earrings and the dress, overall, isn't for me.
Jennifer Hudson in Tom Ford
From the neck up, I'm in love. That choker, her earrings, the makeup…all flawless. But the dress and shoes could not be more meh. Meh to the next level, really (which is just meh).
Gwen Stefani in Atelier Versace
Best Dressed Pick
I'm sure you think I'm biased as I chose Emma Stone in a Lanvin jumpsuit as my best dressed pick for the Golden Globes this year…but what can I say? I have a thing for pants and jumpsuits, okay? This is probably one of the coolest jumpsuits I've ever seen (along with Emma's Lanvin number). And this is me LOVING on a strapless garment, which is as rare as Kim Kardashian in clothes that actually fit…which is as rare as a diamond croc Birkin. That neckline is truly amazing and I thought it was a smart choice to make the pants more of a harem style (rather than the wide leg, as shown on the runway). It's much more Gwen and she looks UNREAL.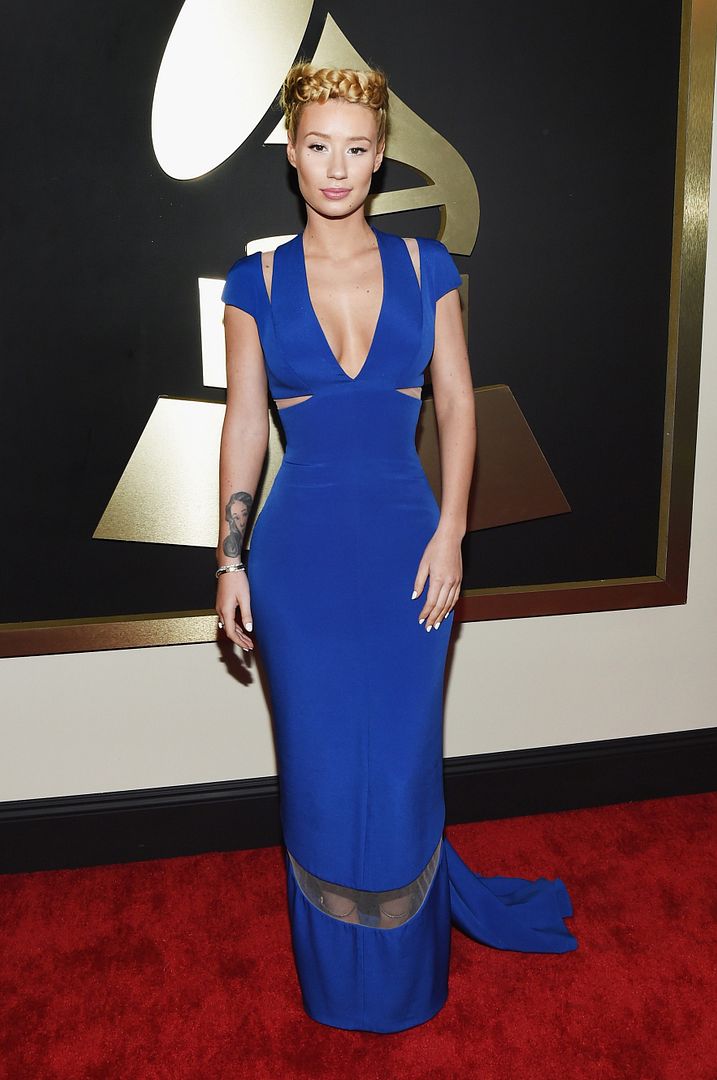 Iggy Azalea in Armani Prive
The fit of this dress is perfect. I'll give her that. Do I love the dress? No. But having a great fit helps you not look absolutely terrible. How can you even look at that dress, though, when there's such a distracting hairstyle that resembles a rope bowl? Seriously, how can you?!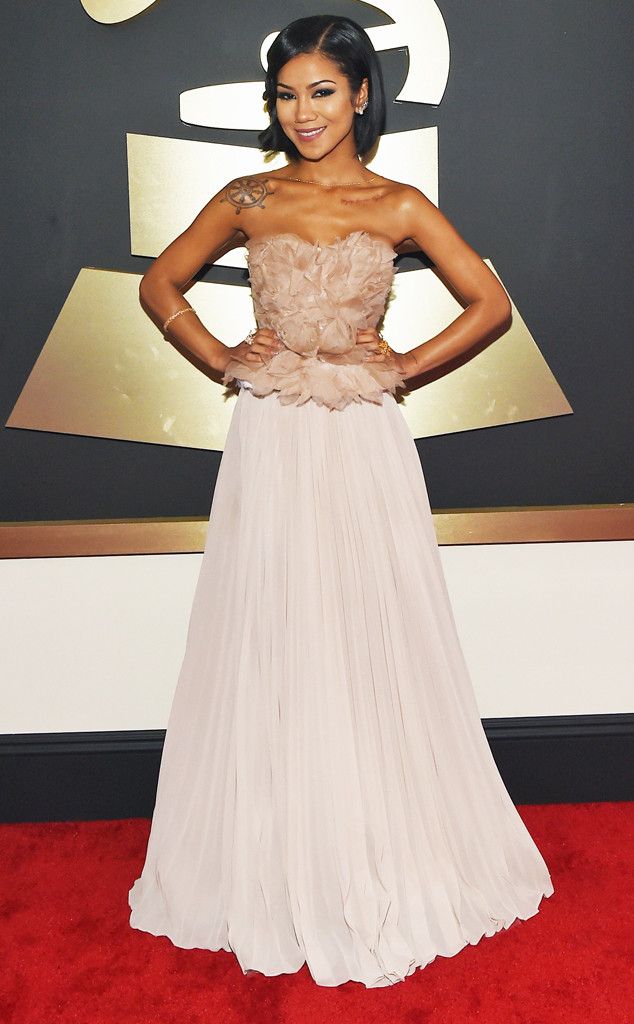 Jhene Aiko in Alberta Ferretti
If anyone else wore this dress I would have a "meh…pretty" reaction BUT with this girl's severe bob and all those tattoos, I absolutely love the contrast. And I'm the one who usually gets distracted (in a negative way) by too many tattoos when it comes to red carpet dressing but THIS is done perfectly. Way to go girl I've never heard of.
Nicole Kidman in Thierry Mugler
I get it's hard to dress for an event where you're pretty much only there to support your significant other yet you're known as a fashion icon BUT there's so many other dresses she could have picked. This is subdue enough for the task at hand but we all know she can do better. Killer Prabal Gurung shoes, though.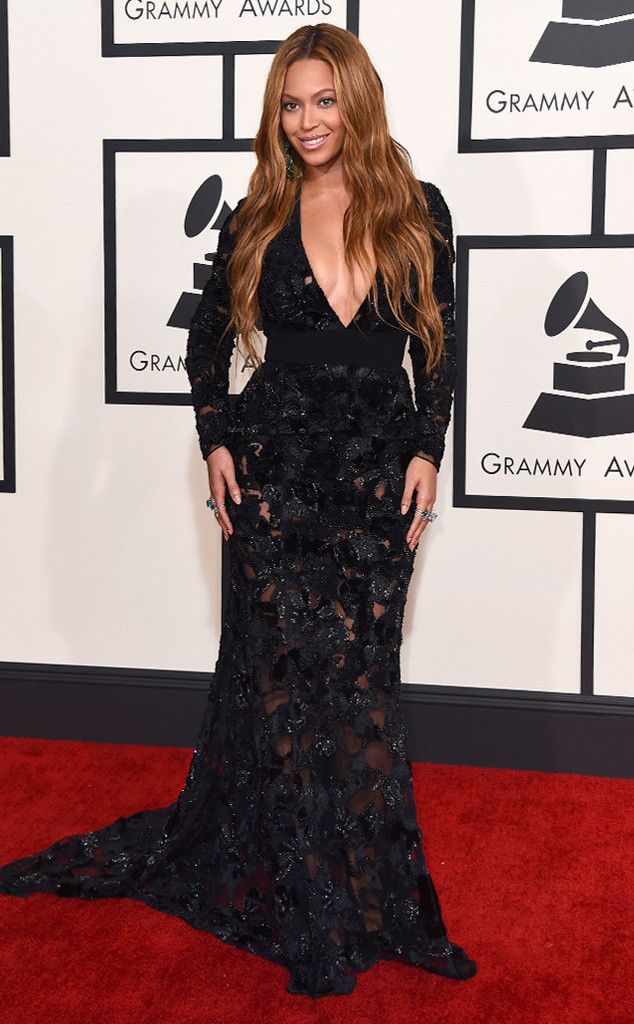 Beyonce in custom Proenza Schouler
Is it just me or does she always sort of look like this? (not woke up like this but just look like this). Long sleeve gown with a train? I'd like to see something different (and that random jumpsuit she wore to the Grammys a few years ago that looked like a very last minute decision doesn't count) other than a long sleeve sparkly black dress (remember the VMAs last year?) She looks great, as she always does but she's Beyonce…she should wow us. It pains me to say because this is PROENZA of all things but I am not bowing down.
—
Any favorites / least favorites so far? Be on the look out for part 2 coming soon!
Images via E! & The Cut
You might want to check out...