I don't think I've ever been more excited for the Grammys than I was last night. Chance The Rapper was nominated for SEVEN Grammys (and took home three…how perfect). I typically don't watch the entire awards show (there's way too much country music for my liking) but I stuck with it as I was NOT missing Chance's performance. And I'm sure glad I did (because of course…it was unreal). But this post isn't just about Chance (although it basically should be — he did steal the show last night…sorry Bey), it's about the red carpet (which was full of people I've never heard of in ridiculous outfits costumes). So here's a look at all the Grammys red carpet looks you need to know about…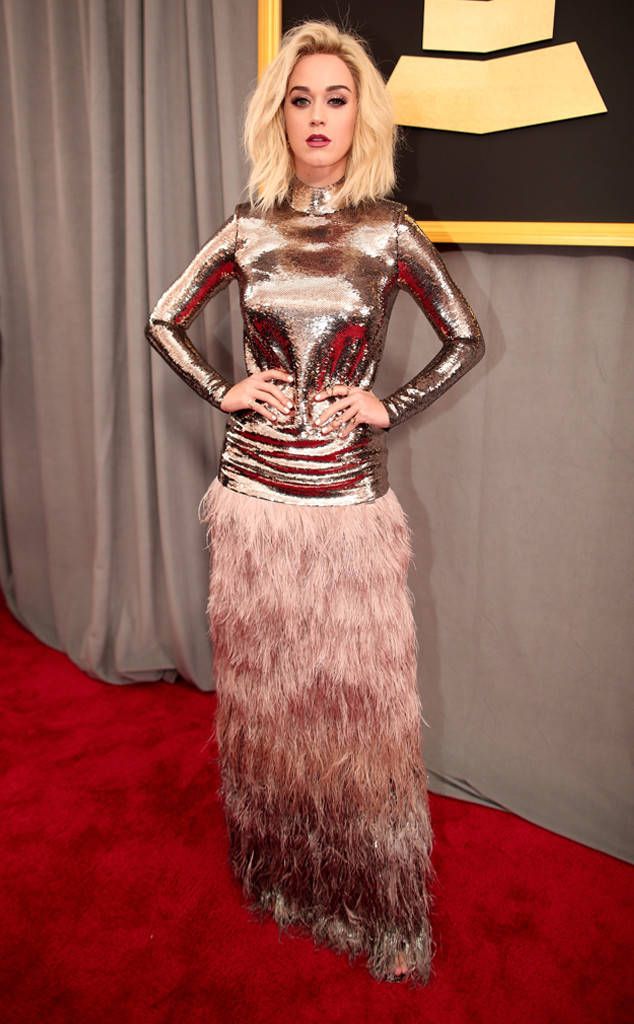 Katy Perry in Tom Ford
It's always disappointing when the one Tom Ford look of the night is a flop (as he only dresses one person per red carpet). I like both elements of this but there either needs to be more sequins or more feathers (where the sequin top hits at the hips is just super odd). Love it from the waist up though!
Lea Michele in Roberto Cavalli
I'm actually into this look (even though we've seen this sort of matching top / skirt with midriff thing for quite some time now) but what I'm not into is that eye makeup. I can't tell if it looks like she has two black eyes or if she hasn't slept in 3 days but either way, that's not how you want someone to describe your makeup.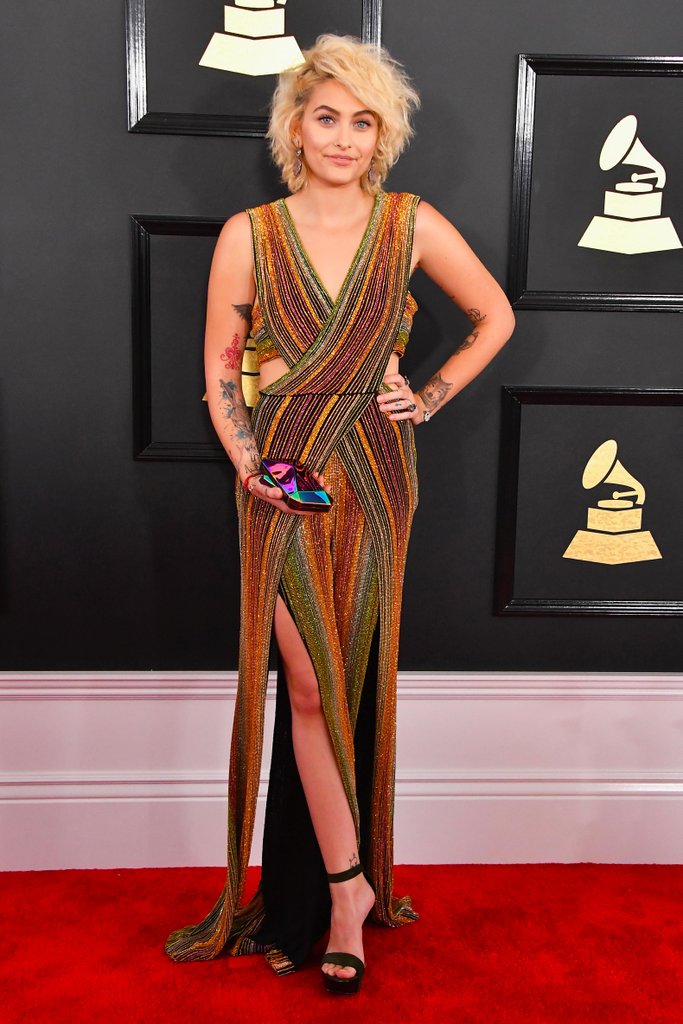 Paris Jackson in Balmain
Do we have a new fashion icon on our hands??
Rick Ross
He literally looks like a BOSS (and I'm assuming that was the goal?) That textured jacket is pretty sweet…and I want those loafers in my life ASAP.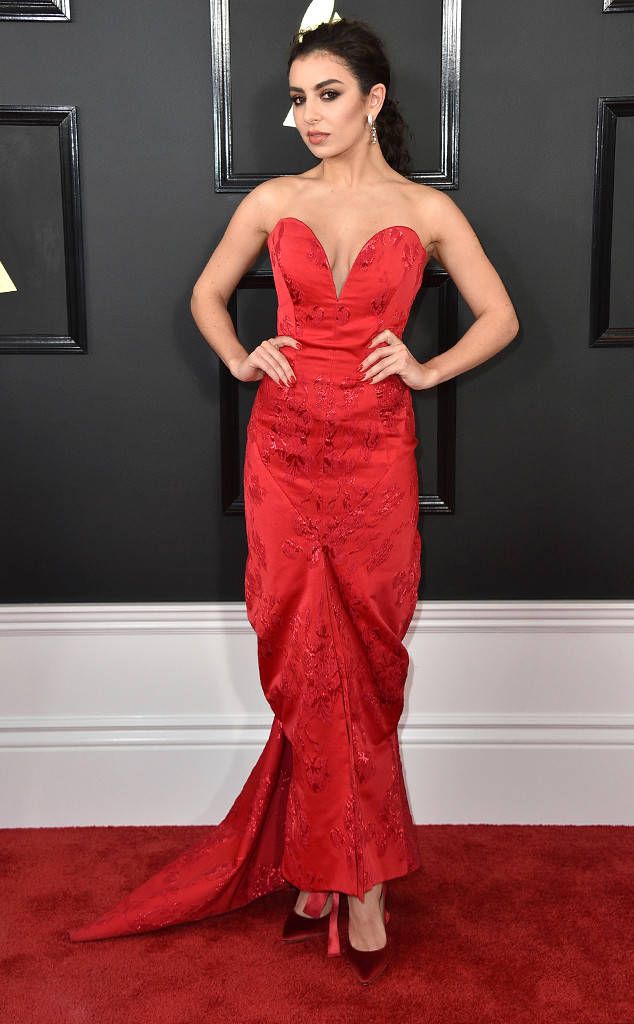 Charli XCX in Vivienne Westwood
Never going to love a red strapless dress…ever. BUT this isn't the worst one I've ever seen (so we'll count it as a win).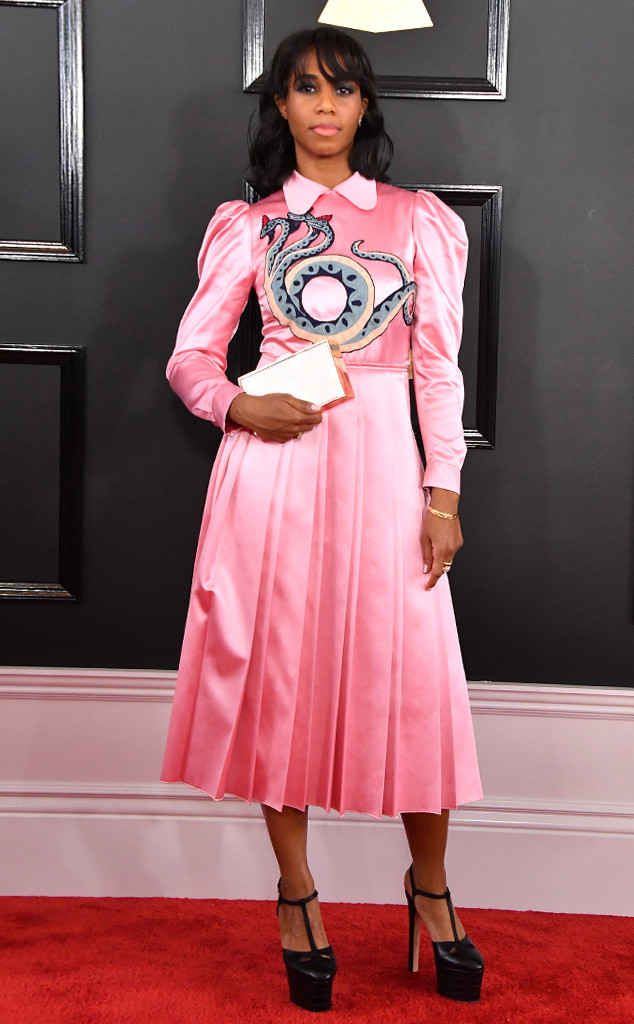 Santigold in Gucci
Best Dressed Pick
You know I kind of hate that shiny satin look but there's something about this that I just adore. I also sort of hate platform heels but for some reason, I am so into this. SEE WHAT GUCCI DOES TO A GIRL. It's just cool and unexpected for the Grammys (also doesn't hurt that her husband is GucciGhost).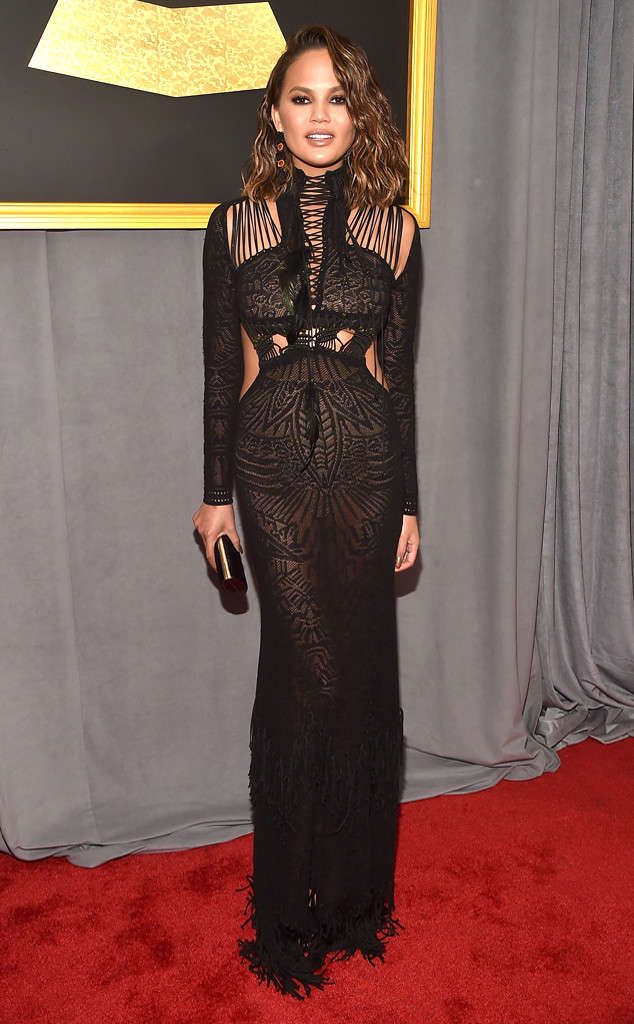 Chrissy Teigen in Roberto Cavalli
Is it just me or does she always sort of look the same at these things? (AMAZING but the same…)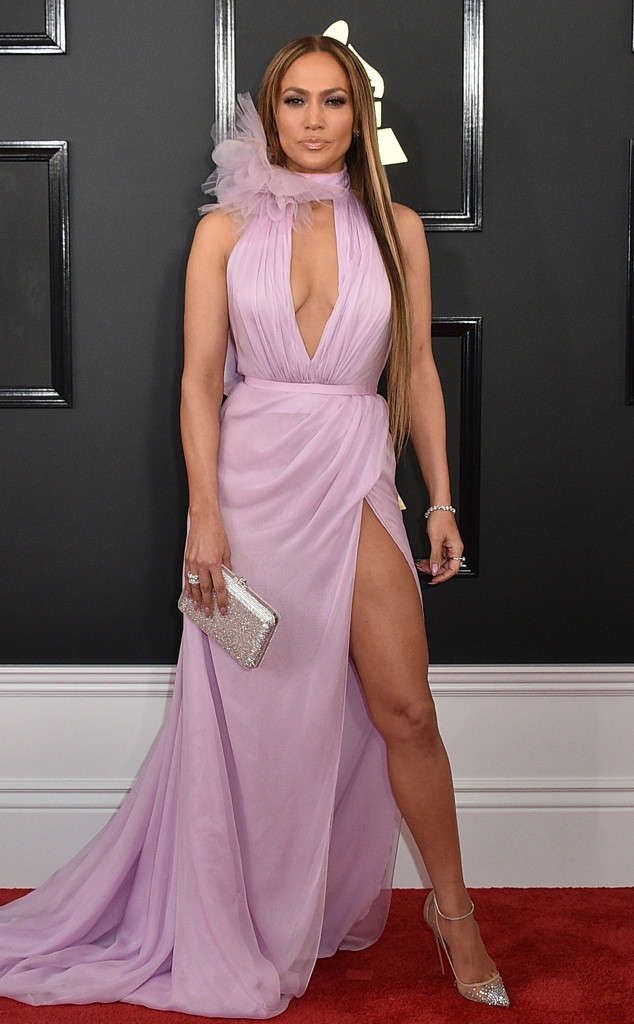 Jennifer Lopez in Ralph and Russo
I just don't see the point in having that much tulle around your face. Seems pretty distracting, doesn't it? Also this extremely long hair thing seems to be having a moment right now (thanks Kim). More to come…
Adele in Givenchy
Best Dressed Pick
You'd think this should be too much — there's pleats, beading, fabric going in all directions (and a whole lotta green) but DAMN it just works. I blame it on the fit…it couldn't be more perfect. It's flattering, it's special (definitely one you'll remember!) and you can tell she loves it (and so do I!)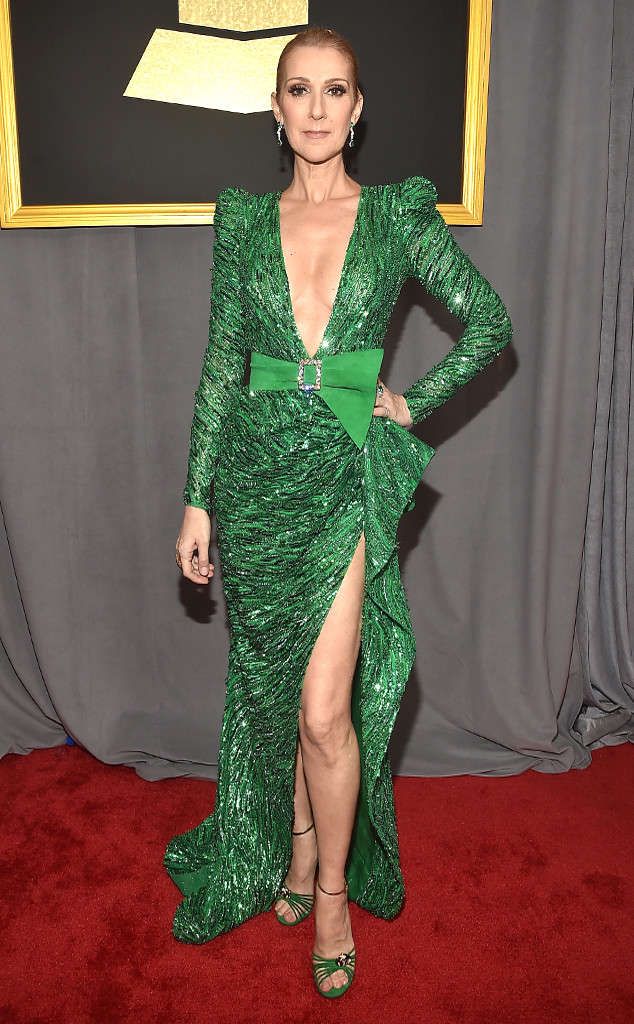 Celine Dion in Zuhair Murad
Going from the best green moment to the worst (and matching green heels? Yikes).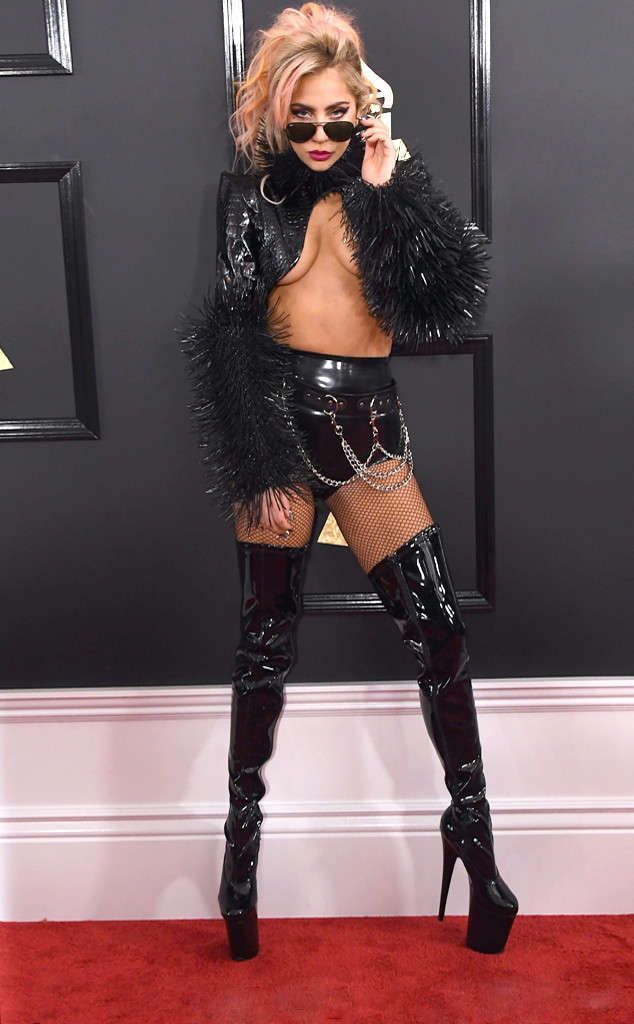 Lady Gaga in Alex Ulichny
Is this a look I want to be wearing? Absolutely not. But it is a look and you know she always has some sort of theme or statement in mind for a major red carpet. This was her version of "I'll be performing with Metallica in a few hours" (and it will be terrible). So with that in mind, I'm down.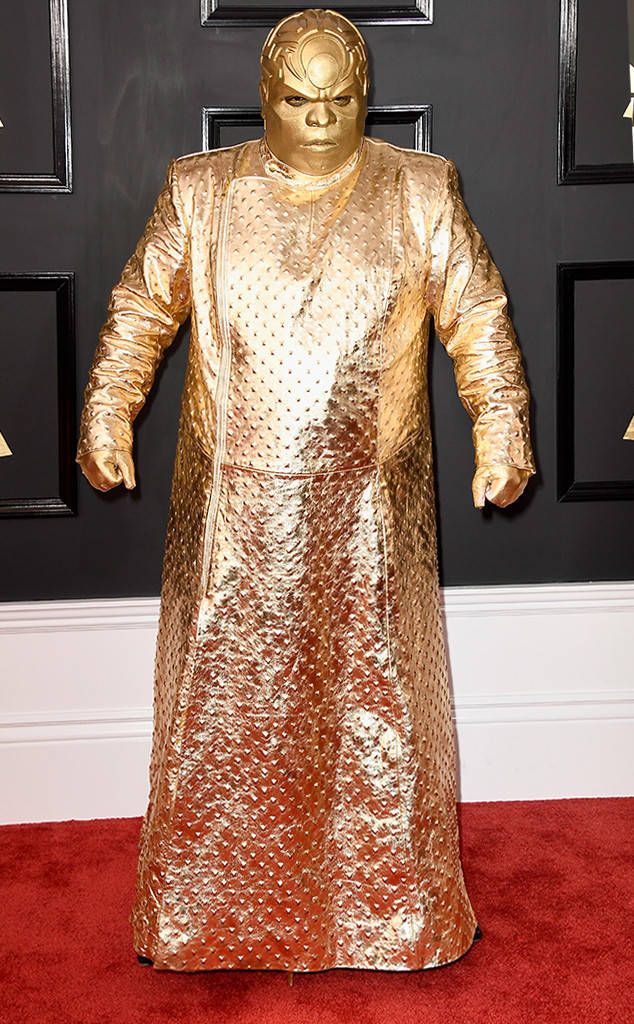 CeeLo Green
My fiancee asked if there was a new Power Rangers movie coming out after he saw this. Enough said.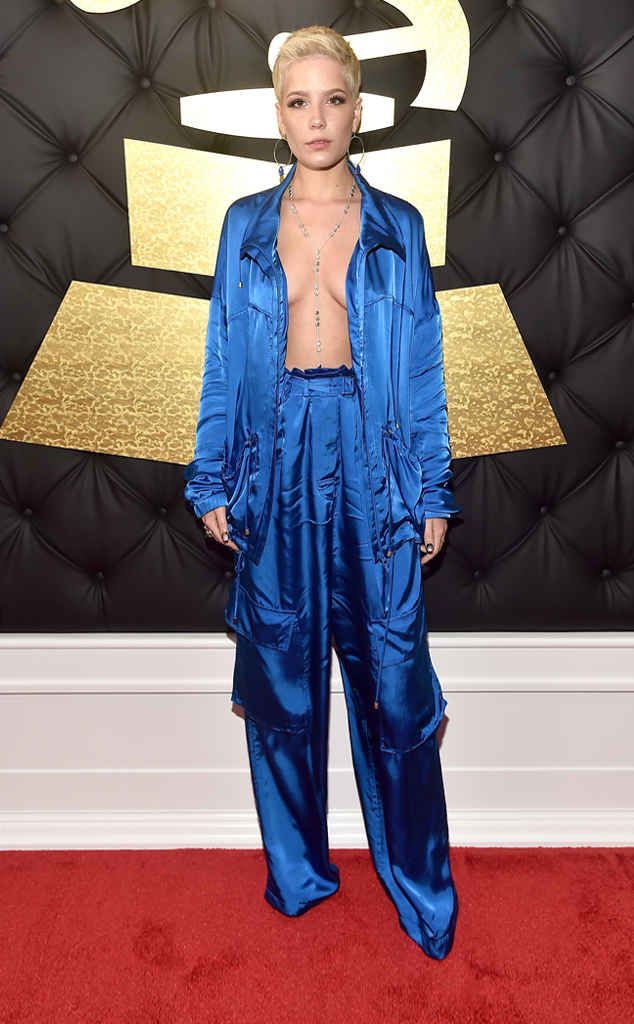 Halsey in Christian Wijnants
I love that she's giving major 90s vibes here and it could have been super cool in person, but in photos this material is just not translating — it's too shiny and wrinkled…and all those creases + shine (and in bright blue) is beyond distracting. Appreciate the TLC reference though.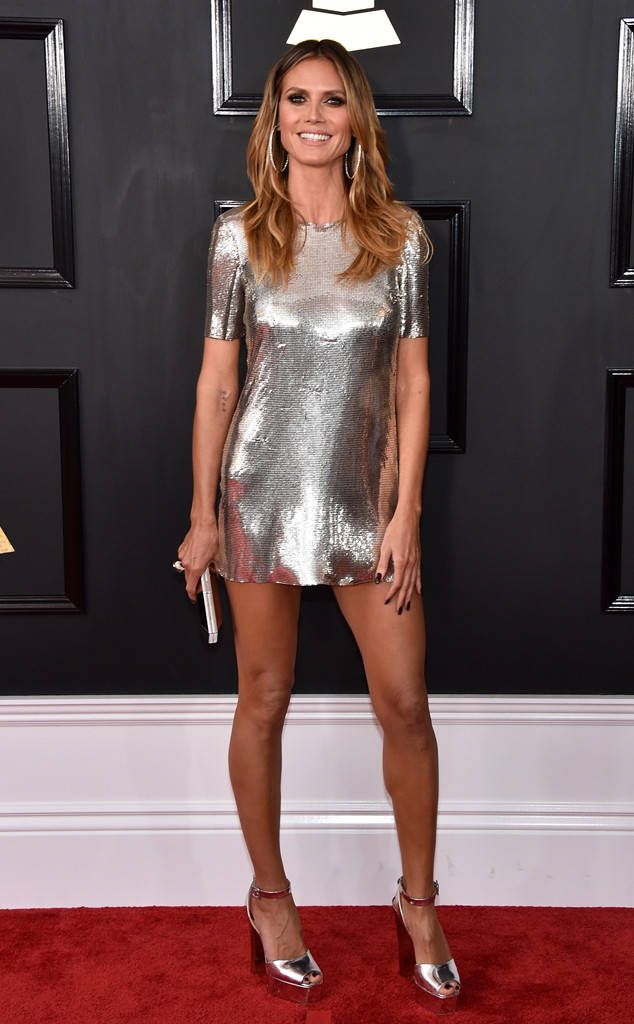 Heidi Klum in Phillip Plein
Just because Twenty One Pilots didn't wear pants to the Grammys doesn't mean we're all forgoing pants this year, Heidi.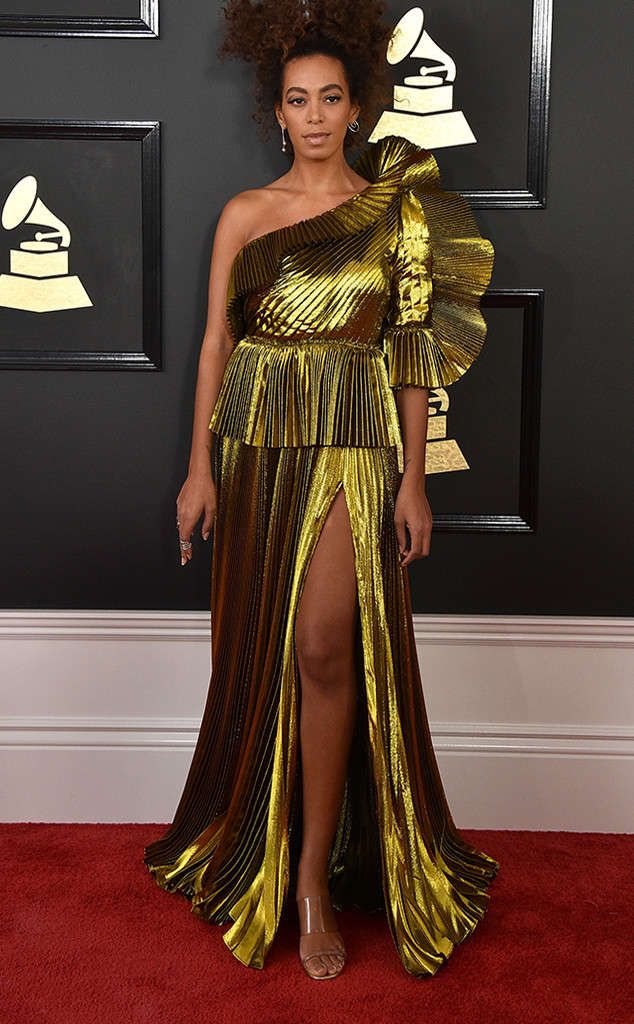 Solange Knowles in Gucci
This is one of those looks that I really want to like (it's gold and it's Gucci…two things I'm a big fan of) but considering I'm already not a fan of one shoulder things, it's kind of hard to get behind. Plus the pleats plus the ruffle plus the peplum (and then the one shoulder and the slit)…I think I just went cross-eyed.
Demi Lovato in Julien Macdonald
Tell me this is Balmain and I'd think this is Kim…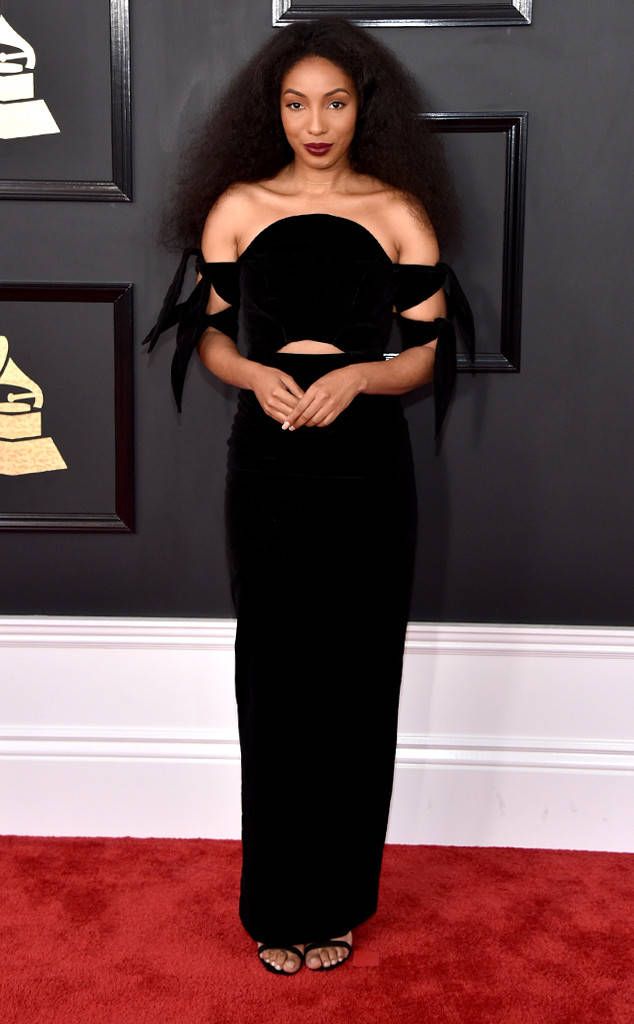 Diana Gordon in Loza Maleombho
Best Dressed Pick
I have no idea who this is but it's definitely a best dressed pick for me. It's certainly a more subdue look for the Grammys but I love the shape of the top and that alone paired with her hair and makeup is really doing it for me.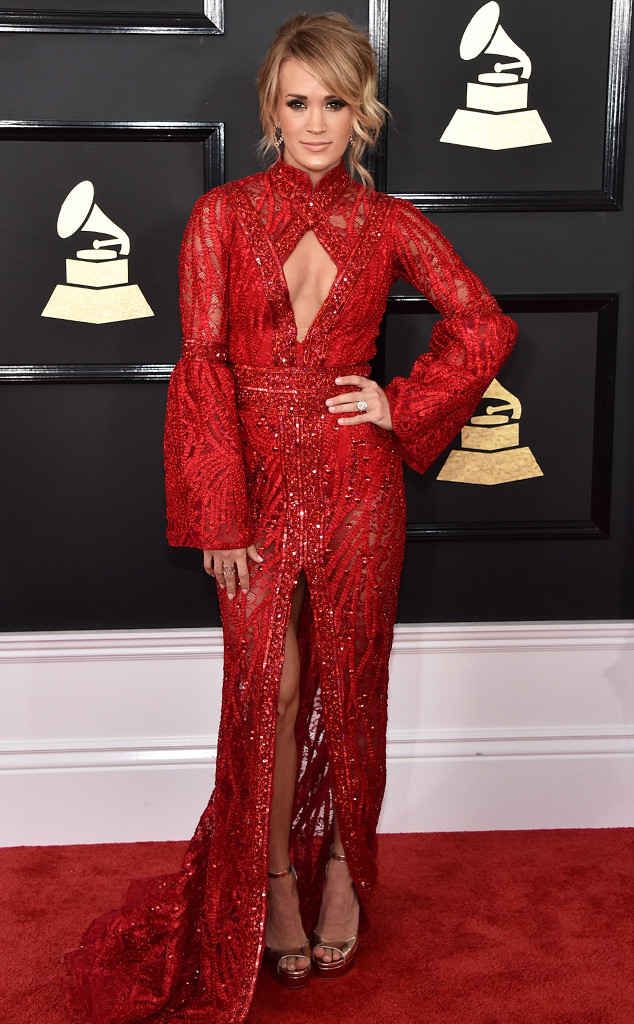 Carrie Underwood in Elie Madi
?!
Rihanna in Armani Privé
When it comes to getting dressed, I am all about balance. And as much as I like both elements of this (especially the fact that the top perfectly shows off her tattoo), the proportions are way off — it's too little top for that big of a skirt. But she definitely wins for best accessory of the night.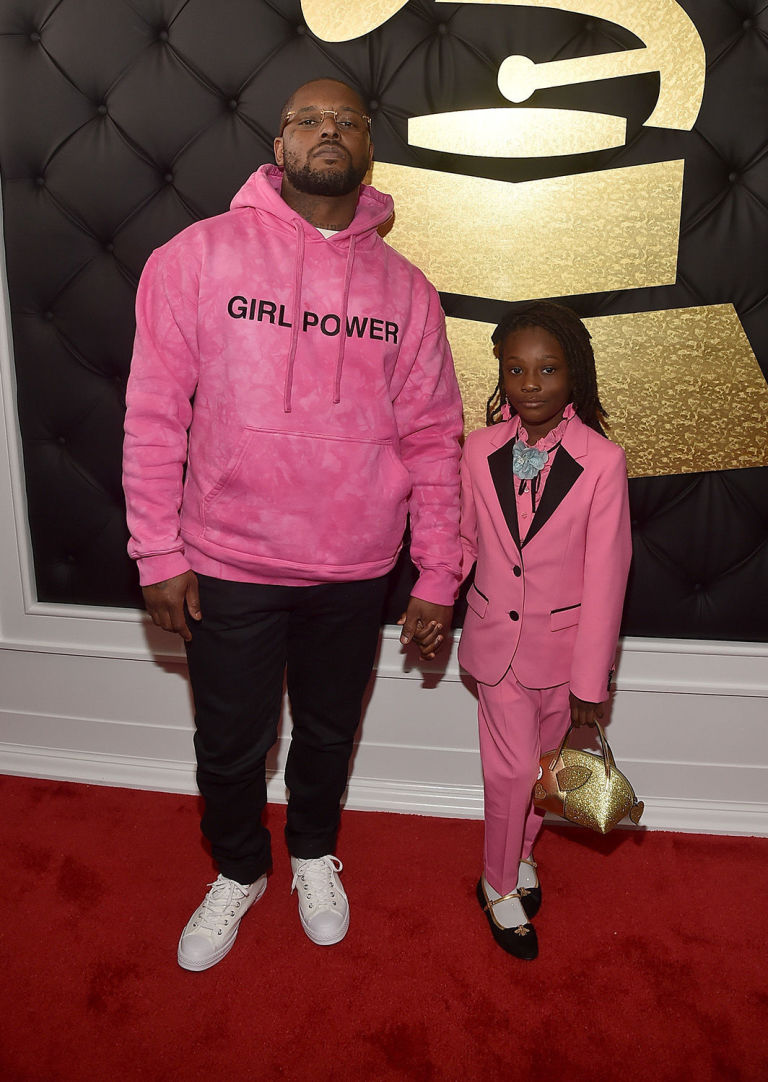 Schoolboy Q & his daughter Joy in Gucci
MINI GUCCI SUIT. THAT IS ALL. ?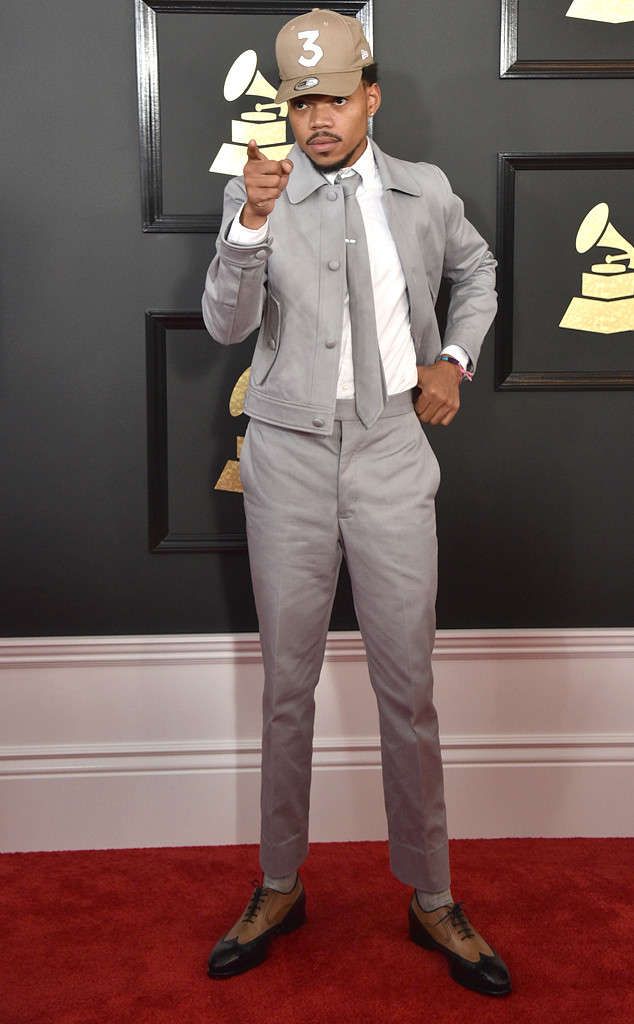 Chance The Rapper in Thom Browne
Best Dressed Pick
Definitely not what I was expecting from Chance but I am 100% in. I don't think I've come across anything he's worn yet that I dislike (thanks to his talented stylist, Whitney Middleton) and this is no exception. It's really the perfect balance of dressy and casual (and like I said, I'm all about that balance!) He really can do no wrong.
—
What did you think of the Grammys last night? Any favorite looks from the red carpet? Be sure to share in the comments!
Images via E!
You might want to check out...