I'm Jena Gambaccini and I'm [not] an actor…but I am a blogger. So let's get to what bloggers do best — post countless photos of themselves on Instagram WRITE ABOUT STUFF. Today's stuff is all about the SAG Awards red carpet. You ready?
Emma Stone in Alexander McQueen
I'm typically not a fan of the "identity issue dress" (it does look like someone just tore the dress off and she just so happened to be wearing a pretty amazing bodysuit underneath)…but leave it to Emma Stone to prove me wrong. I'd probably hate this on anyone else but IT'S EMMA ?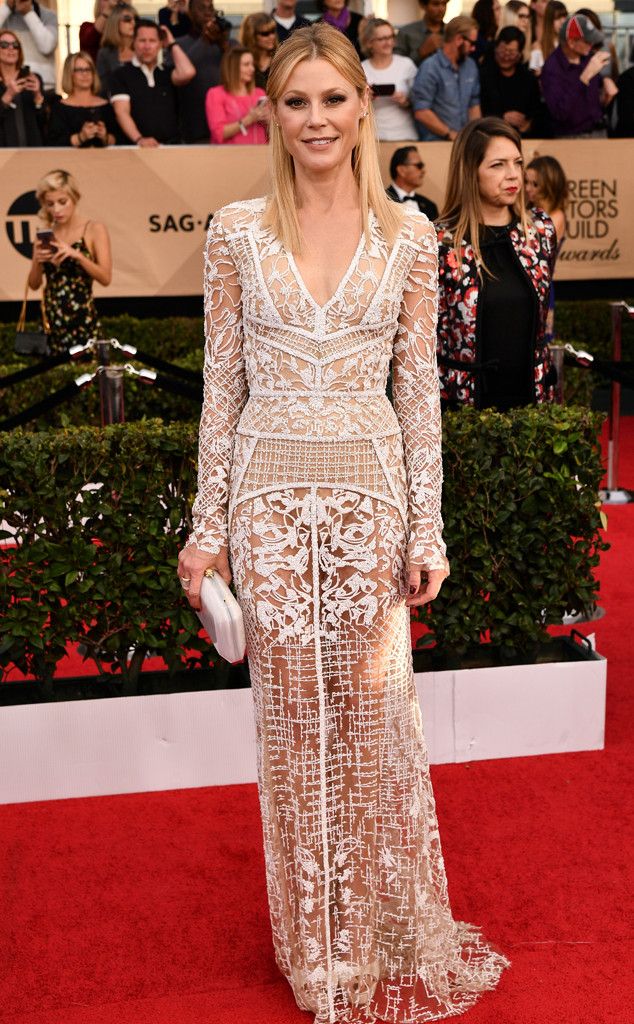 Julie Bowen in J. Mendel
I'm always torn about dresses like this — it either needs to be fully lined (and getting the right nude can be tricky) or leave as is. I actually prefer as is (basically a nude bodysuit) but it just feels like it's on the wrong girl (dare I say it's not so age appropriate?)
Emily Blunt in Roberto Cavalli
The detail in this dress is pretty incredible and it does fit her perfectly…but I can't get past the monochromatic feel with her hair and skin. Even with all the colored beading, it still washes her out a bit. But I have to hand it to her…if I wore this dress I'd have to go on the Emily Devil Wears Prada diet.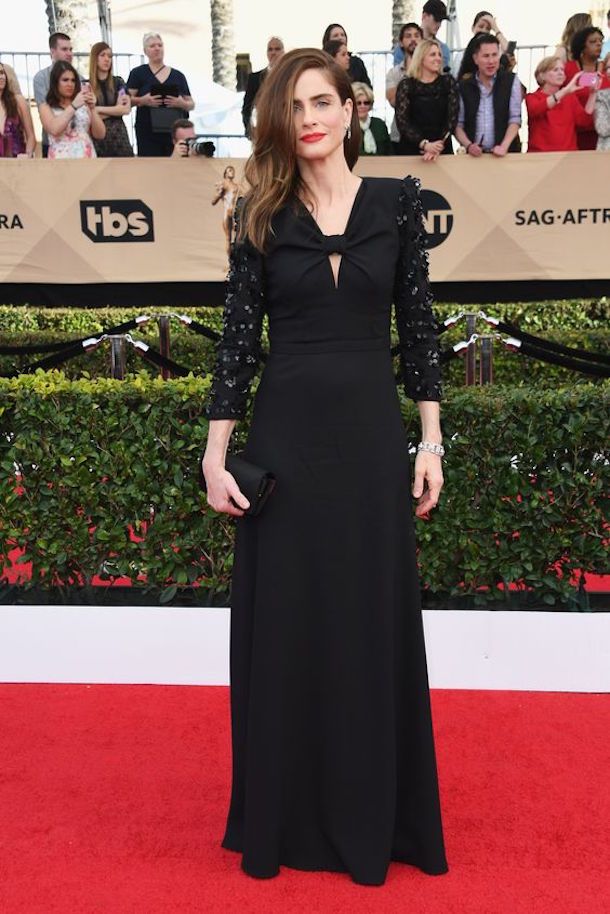 Amanda Peet in Michael Kors
She always looks like a hot mess on the red carpet and although this is quite the conservative look…I can't hate on it. Best she's looked in a while!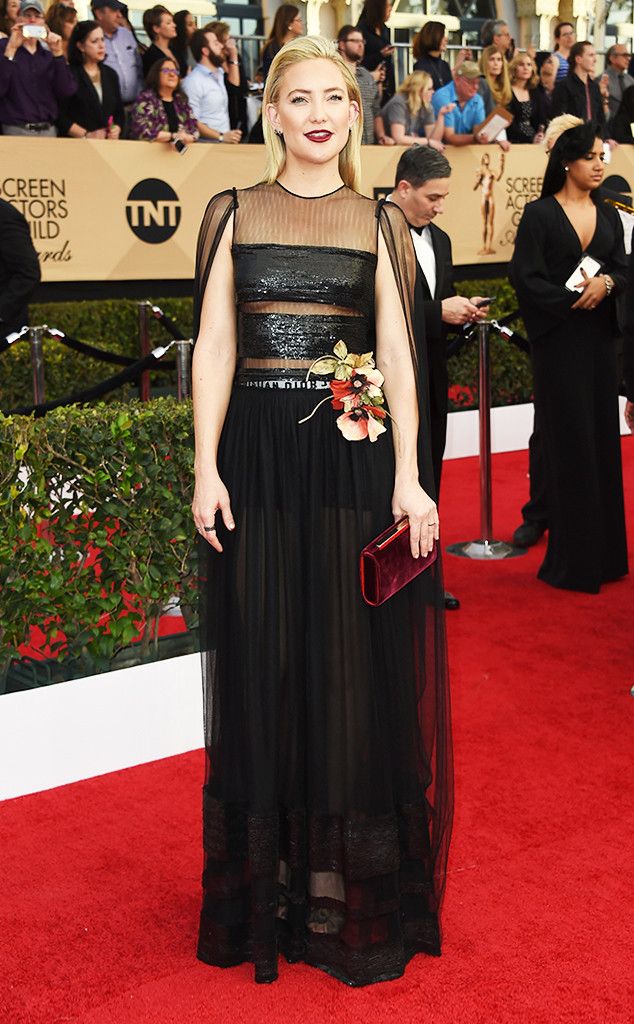 Kate Hudson in Dior
Doesn't it look like someone just used black duct tape to cover her boobs and stomach? Or when you have to edit out nudity for a photo with censor bars? Totally. Am I mad at that? Not really. It's the floral brooch that's throwing me off. This could have perhaps been a best dressed candidate sans blossoms (perhaps…)
Giuliana Rancic in Yousef Al-Jasmi
Best Dressed Pick
From the hair and makeup to the detail and the fit (especially obsessed with that neckline), I think Giuliana stole the show last night. I wasn't really obsessed with anyone's look on the red carpet but DAMN, GIRL…can you pick yourself for best dressed on Fashion Police tonight?
Brie Larson in Jason Wu
Her waist looks the size of my neck here (which is my way of saying this dress is incredibly flattering) but it's forgettable. Plus, I have a thing against black shoes with a white dress (black doesn't go with everything, friends…hate to break it to you).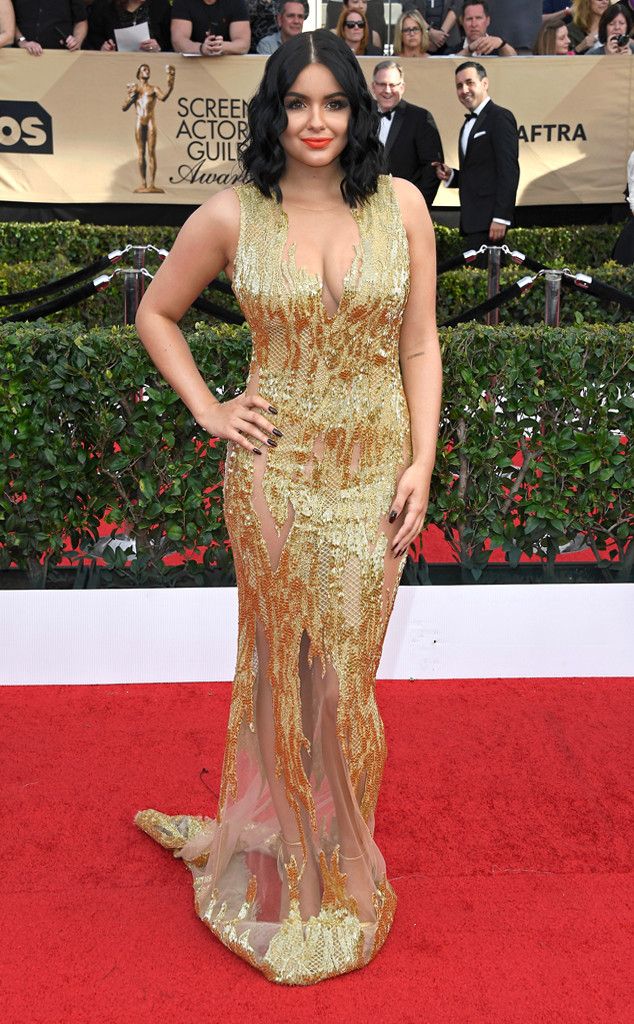 Ariel Winter in Mikael D
You know how I feel about nude mesh so I'll leave you with that (and if you don't, my feelings towards it are similar to my feelings towards a white dress with black shoes…and wedge sneakers…and animal print…and anything one shoulder…okay you get the picture).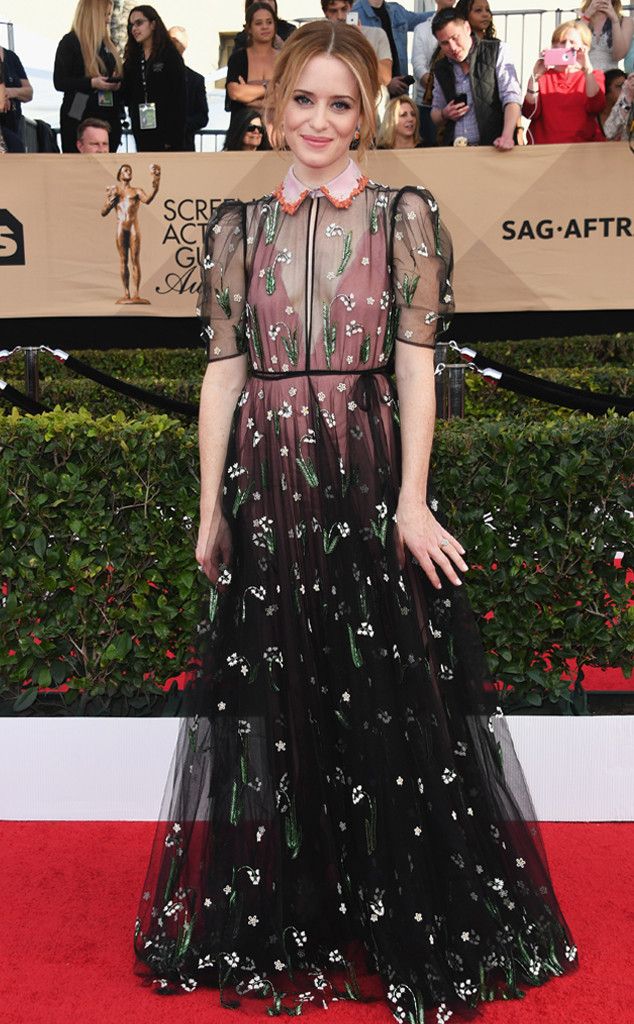 Claire Foy in Valentino
The SAG Awards this year seemed to be the night of great dress, wrong girl. Maybe it's just because I like a good balance / juxtaposition but a sweet dress like this needs a bit of edge (not more sweetness) and this girl looks as sweet as a kid's stash on Halloween night.
Danielle Brooks in Christian Siriano
I love the idea here but it could have been done so much better. I would have loved to see this with a trouser (instead of a wide leg pant) and maybe even more structure to the train, as it doesn't really do anything from the front. I'm a fan from the waist up, but from the waist down it's a bit of a mess.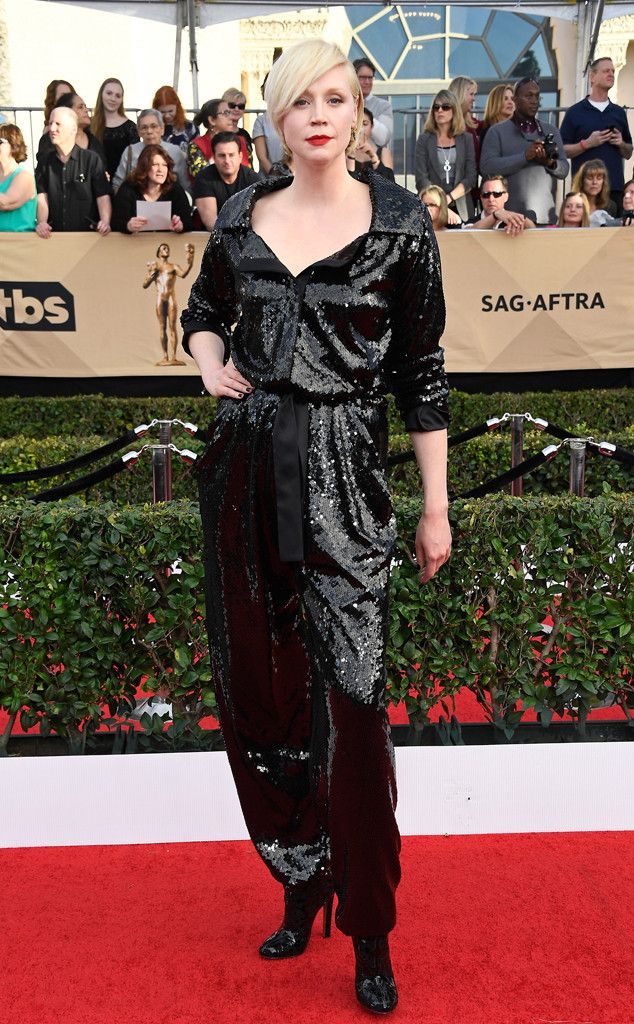 Gwendoline Christie in Vivienne Westwood
You slay in your sequin jumpsuit, Gwen!
Kathryn Hahn in Adeam
From the mixed textures and the rings to those ridiculously perfect waves…I think I love everything about this. I'll probably forget it ever happened by the morning…but I dig it for now.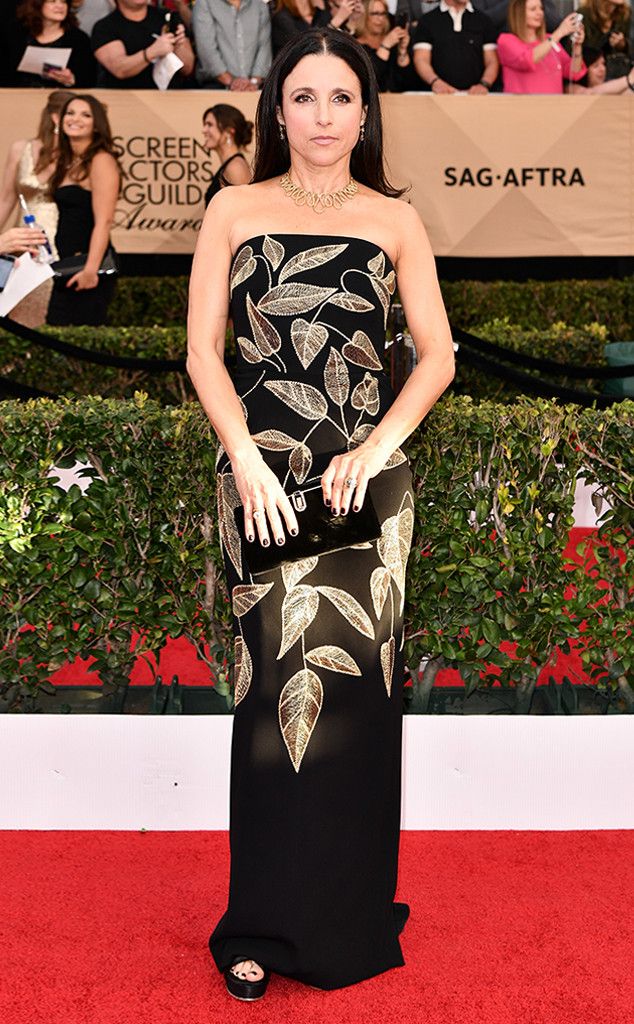 Julia Louis-Dreyfus in Lela Rose
Not opposed to that gold foliage…definitely opposed to those platform sandals peeking out underneath ?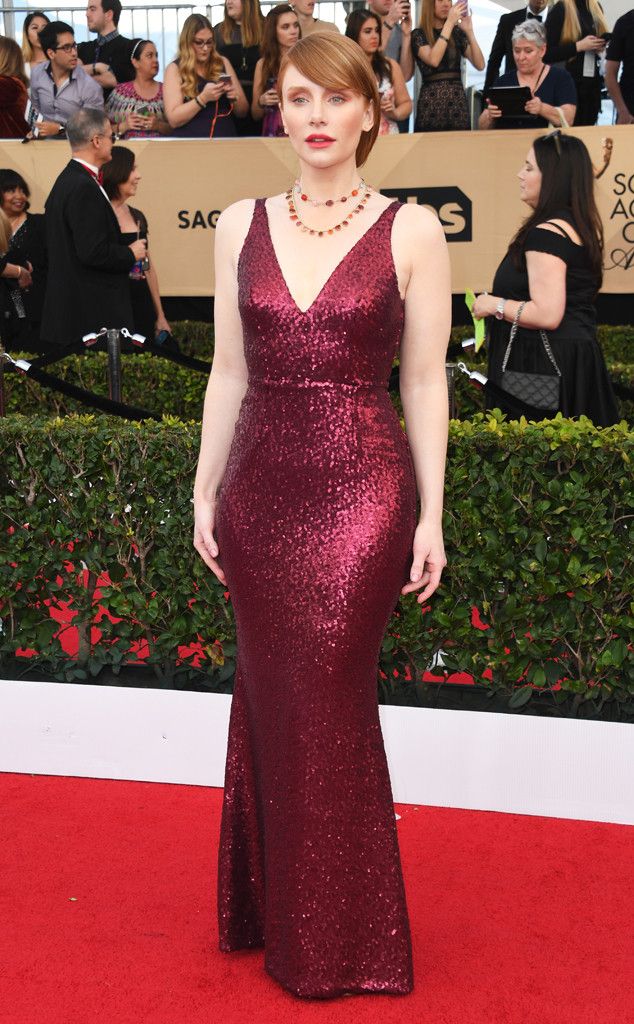 Bryce Dallas Howard in Dress The Population
I do enjoy the color scheme happening here (and the makeup is pretty amazing) but the dress is just meh. Apparently she bought it for a whopping $309…makes you wonder how many celebs actually purchase their dresses for these things? (Remember Hayden Panettiere??)
Cara Buono in Georges Hobeika
Not the easiest color combination to pull off (thankfully Valentine's Day is just around the corner) but I'm not mad at it (but if Emma Stone wore this I'd be ALL about it…girl knows how to rock her red and pink).
Amy Adams in Brandon Maxwell
A matching jewelry set…in 2017?! In more ways than one we are reverting back to ways we just shouldn't be.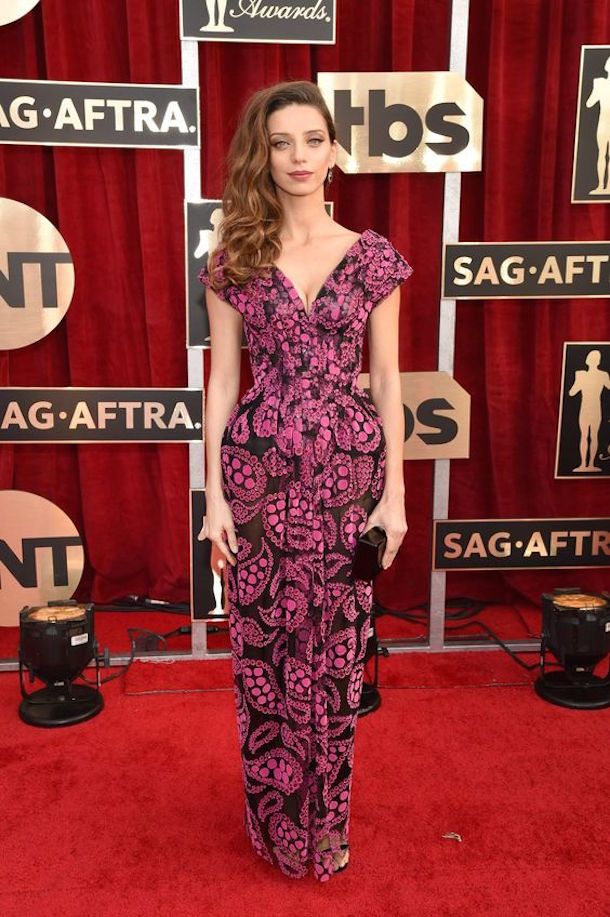 Angela Sarafyan in Zac Posen
I do appreciate any subtle tributes or themes (I said subtle…talking to you SJP at the Golden Globes) and this is done just right. The structure at the hips is the perfect ode to old west AKA Westworld (how long do we have to wait for season two?!) and not sure if this was on purpose but her boss on the show, Maeve (Thandie Newton…who we'll get to in part two), always wears a pink and black outfit…so I have to wonder if that's purely coincidental or her stylist was just spot on for this red carpet?
Michelle Dockery in Elie Saab
Giving me Hailee Steinfeld in Prada vibes (but like the B-team version…maybe even C-team).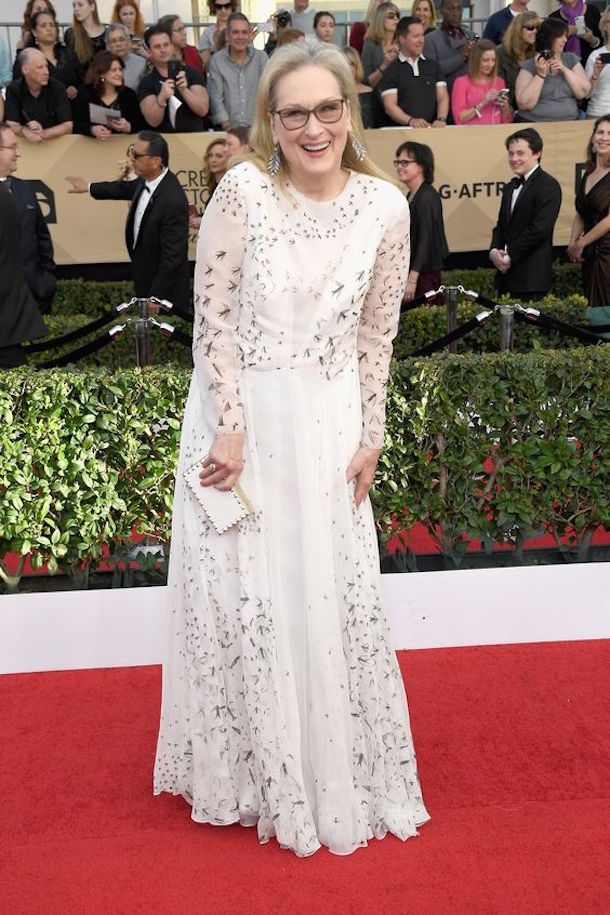 Meryl Streep in Valentino
This is a super cool dress…it's just unfortunate that the fit isn't great. Definitely not her most flattering moment…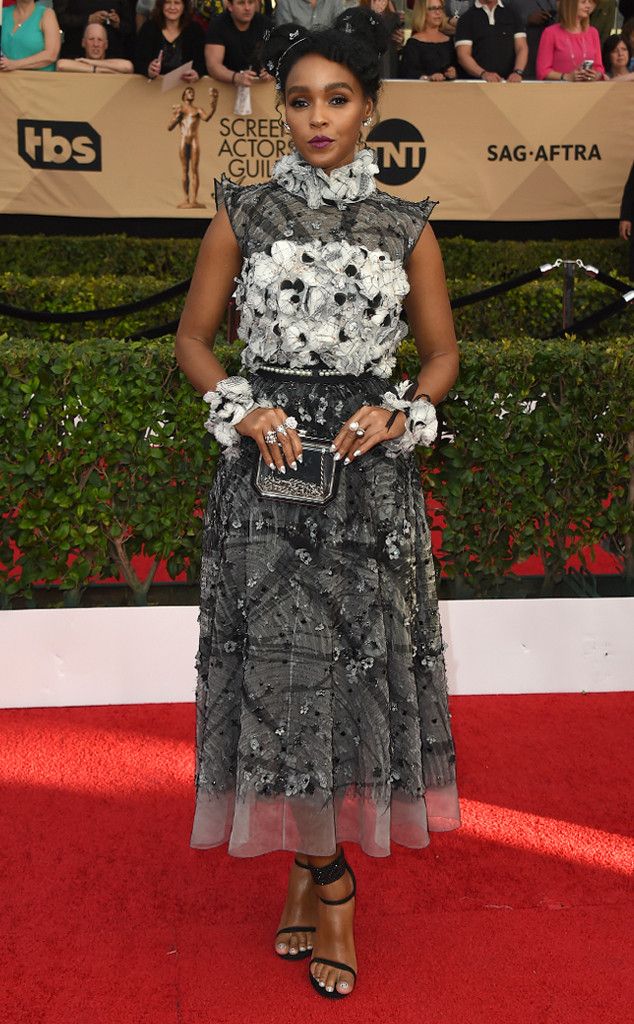 Janelle Monae in Chanel
Ironically it was Coco Chanel who said, "Before you leave the house, look in the mirror and take at least one thing off." That's what I would tell Janelle here with those cuffs. Now I know it's how it was shown on the runway, so…sorry Karl, but for the red carpet this would have been perfect (a best dressed pick for sure!) without them.
—
That's all for part one! Be sure to let me know your favorite looks from the 2017 SAG Awards red carpet in the comments. Be on the lookout for part two coming soon…
Images via E! & Vogue
You might want to check out...