What happens when you finally go for the all-white outfit you've been waiting for against a backdrop of a hot dog stand that happens to be red, white and blue? I like to call it…accidentally patriotic.
Seriously, the background wasn't even my idea…and I wasn't planning on doing a WWW post for the 4th. But when the photos came out like this, how could I not post today? So I guess this is my take on "4th of July style."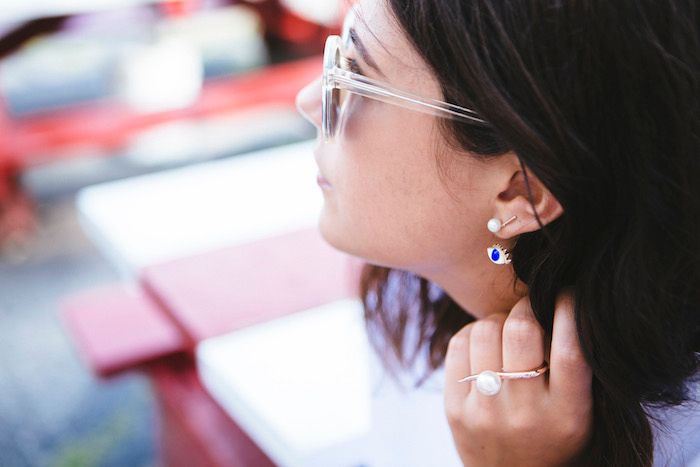 WHAT (am I wearing):
Blazer: ASOS. Tank: Zara. Shorts: ASOS. Sunglasses: Illesteva. Sandals: Ancient Greek Sandals. Bag: APC. Rings: Delfina Delettrez, Ryan Storer. Bracelets: Dana Rebecca, Paula Mendoza. Earring: Delfina Delettrez. Necklaces: Alison Lou, Dana Rebecca.

WHY (am I wearing it):
I think I've mentioned a few times here on CCF I've been wanting to try an all white look. And after a little trip to ASOS.com (who's having a 20% off sale this weekend, by the way), I made it happen. This cropped blazer/shirt thing is super light and comfortable, as are the shorts — making it the perfect summer outfit. I've also been in the market for some white sandals and I've had my eye on this Ancient Greek pair for a while now. I figured I'm half Greek so I can get in touch with my culture while completing my all white look at the same time. Because this look is quite simple, this is my opportunity to spruce it up with some accessories — cue Paula, Dana, Alison, Ryan and Delfina…plus a pop of color with the sunglasses (always need that pop of color). The bag is where I struggled most — I don't own a white bag and I didn't want to go the black route or add another color…and when you're in this situation, metallic is the only way to go. But my favorite accessory here? THE FRIES. It just doesn't get more patriotic than that…
HAPPY 4TH, FRIENDS!
WHERE (can you get the look):
Photos by Heather Talbert
You might want to check out...