Any awards show whose winners are based on the general public's votes (as opposed to an academy of some sort) is bound to be terrible. But if a red carpet is involved, I suck it up because it's not every day I get to judge one of these things. So just sit back, relax and enjoy some good, bad and 90s American Music Awards red carpet fashion.
Katy Perry in Oscar de la Renta
Way too much makeup. Hate the dress. Love the Olympia Le-Tan bag.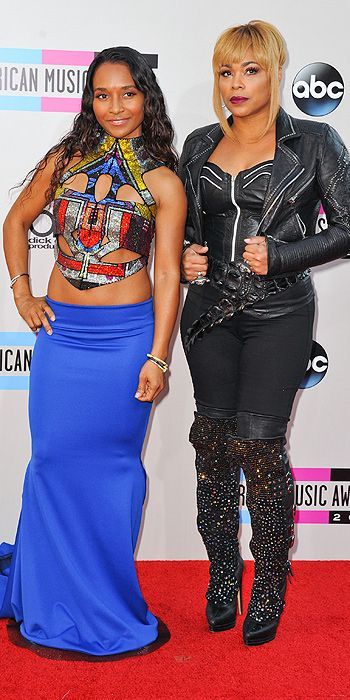 Chilli and T-Boz of TLC
Clearly in the mindset of "if we dress like we did when we were popular, maybe people will still think we're famous."
Jennifer Hudson in Dior
I thought we were done with that whole high/low hem thing. Oh, we're not? After this, we definitely should be.
Ke$ha in Michael Costello
I don't particularly love the dress (the unnecessary amount of fabric on the hip and the one shoulder thing aren't really my favorite qualities in a garment) BUT for Ke$ha, she looks fantastic (also kind of into that Pinterest-worthy hairy).
Lady Gaga in Versace
Deranged mermaid whose bandeau top is two sizes too small.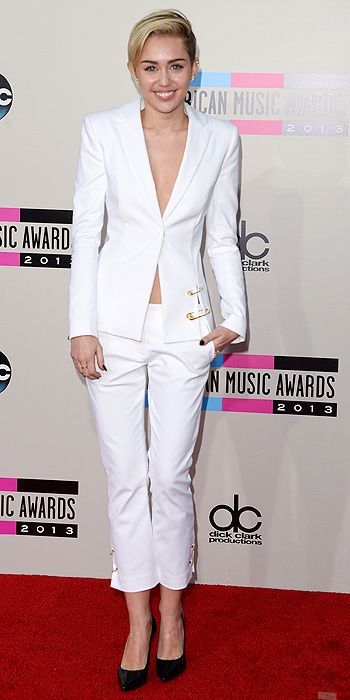 Miley Cyrus in Versus
We can all hate on Miley but at the end of the day she knows exactly what she's doing, and whether you hate her or you love her, you talk about her…and that's all that matters. How many people can shock you in both a nude latex bikini and a white pants suit? Girl knows how to work the system. But anyway, this is kind of perfect for her. The only thing I would have liked to see is a red lip and/or a different shoe. Clearly she wanted to scale down for this event but it's a little too scaled down for me…and even for her.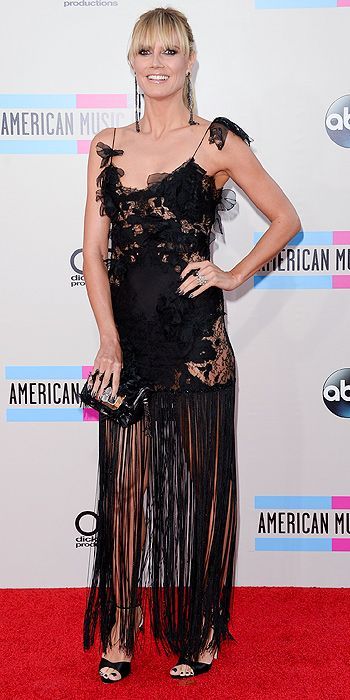 Heidi Klum in Marchesa
If there's an award for worst post-divorce style, Heidi is the clear winner.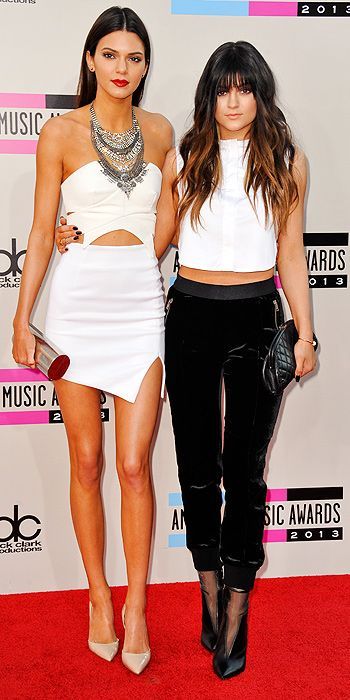 Kendall Jenner in Keepsake and Kylie Jenner in Maiyet + Giambatista Valli
I hate to be pro-anything-Kardashian but I guess they're technically Jenners so it's kind of a step up (but I guess with Brody as a relative, it's basically a level playing field). Regardless, they both look awesome. Yes, Kendall is showing a lot of skin but if you have the body and can do it without looking slutty (unlike her older, newly-Givenchy-wearing sister) then I say go for it. Also, is that some Dylanlex I'm seeing here? So down with that. And Kylie's killin' it as well in the crop top and high-waisted pants (again, showing skin in the right places) as well as those badass shoes. I can't help but notice though that Kendall looks like an exact morph between Kourtney and Kim and Kylie is a spitting image of Khloe. And now my thoughts are starting to run in a series of K's…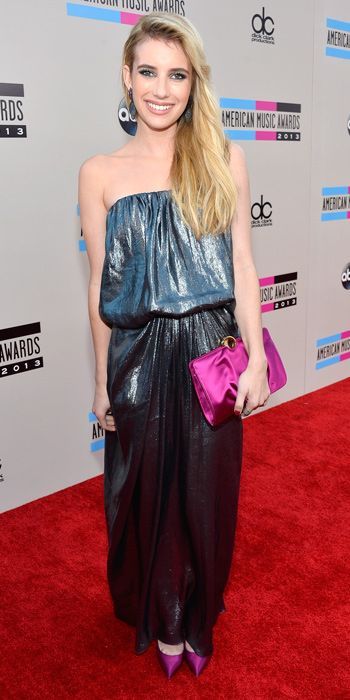 Emma Roberts in Lanvin
I love this girl but I have a lot of problems here. Not a huge fan of that shade of blonde on her and the length is odd. Maybe I'm just not used to Emma Roberts with long blonde hair but I hope I don't have to get used to it. The color of that metallic Lanvin number is unreal and I absolutely love the pairing with that fuchsia but MATCHING YOUR BAG TO YOUR SHOES?! In 2013 (and almost 2014)? No. Just no.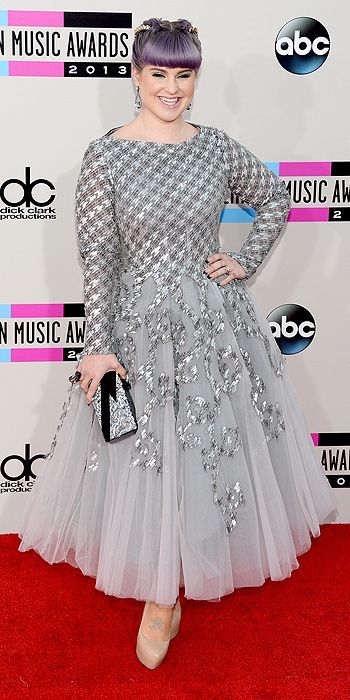 Kelly Osbourne in Rami Al Ali
I always appreciate Kelly's comments on Fashion Police, but then when she hits the red carpet it's like all her authority is thrown out the window. I can just see George now, shaking his head at those platforms…throwing his hands in the air screaming "WHY COULDN'T YOU HAVE WORN A DAINTIER SHOE?!"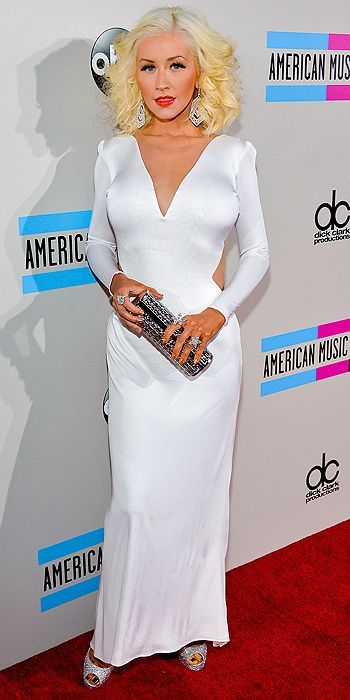 Christina Aguilera in Maria Lucia Hohan
She may have just finished a serious spray tan and chosen the most unflattering and horrific material on the planet, but she actually doesn't look that bad. I guess when you show up to the AMAs just one year ago looking like this, it's hopefully only up hill from there.
Taylor Swift in Julien Macdonald
If I could get past the 70s haircut (which I certainly cannot), I never like dresses with nude paneling. I understand the effect it's supposed to give but I either need a real cut-out or nothing at all…not this illusion shit (I don't like to be tricked!)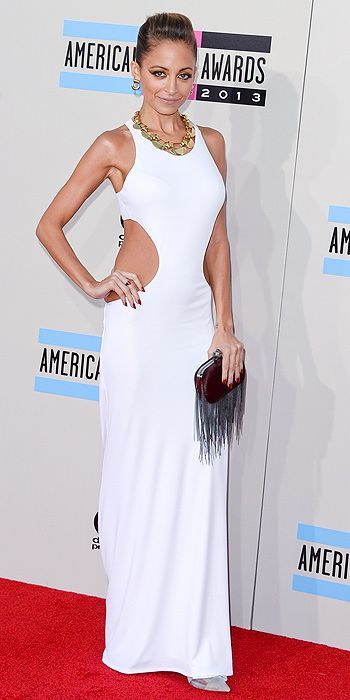 Nicole Richie in Emilio Pucci
See what I mean but real cutouts? Makes all the difference (although these are a little large for my liking but I'll take it). The fit is perfect, the jewelry is awesome and I absolutely love the bag. Nicole's fashion icon status has probably caused many tears in Paris Hilton's nightclub room while pouring her feelings to one of her tiny dogs that she only purchased in the first place to fill her Louis Vuittons with.
UPDATE: Just caught glimpse of the back of this dress…when you have a tramp stamp, I'm hoping you regret it therefore I don't recommend showing it off.
Naya Rivera in Michael Kors
The world does not need another Kim Kardashian. Please, spare us.
Zoe Saldana in Roland Mouret
She can do [and has done] so much better. But it's the AMAs, why bother?
—
Any favorites (or least favorites) from the AMAs? Spill it in the comments.
Photos via People.com
You might want to check out...