The way we get dressed is such a personal thing. Unless you have to wear a uniform everyday, there's an entire thought process that is choosing an outfit. Of course this process differs depending on the occasion (for example, you'll probably spend more time on putting together a look for a wedding as opposed to what you'll wear running errands on the weekend). But how exactly do we go about this? Have you ever really thought about it? Let's go ahead and break down the art of getting dressed.
I've had people casually ask me how I think of putting together certain outfits, I've even had some interviewers ask me "what is your process of getting dressed in the morning?" and it's something that can't really be said in a few sentences so I thought I'd take it to the blog to do a little more explaining.
You already know what I won't wear and that my outfit choices heavily depend on the weather but how do I get from pajamas to leather pants? For me, it always starts with one piece. It could be a new shirt I got that I'm dying to wear, or I know there's rain/snow on the ground so my look will be based around a certain pair of boots (even though I all want to wear are some new shoes), or maybe there's something I haven't worn in a while and I want to bring it out for a spin. This is where it all begins then I start building. But we all have those "I have nothing to wear moments" which I think is captured perfectly here (although it was really a "I don't want to take pictures anymore" that just looks like "I have nothing to wear").
But no one does it like Cher Horowitz…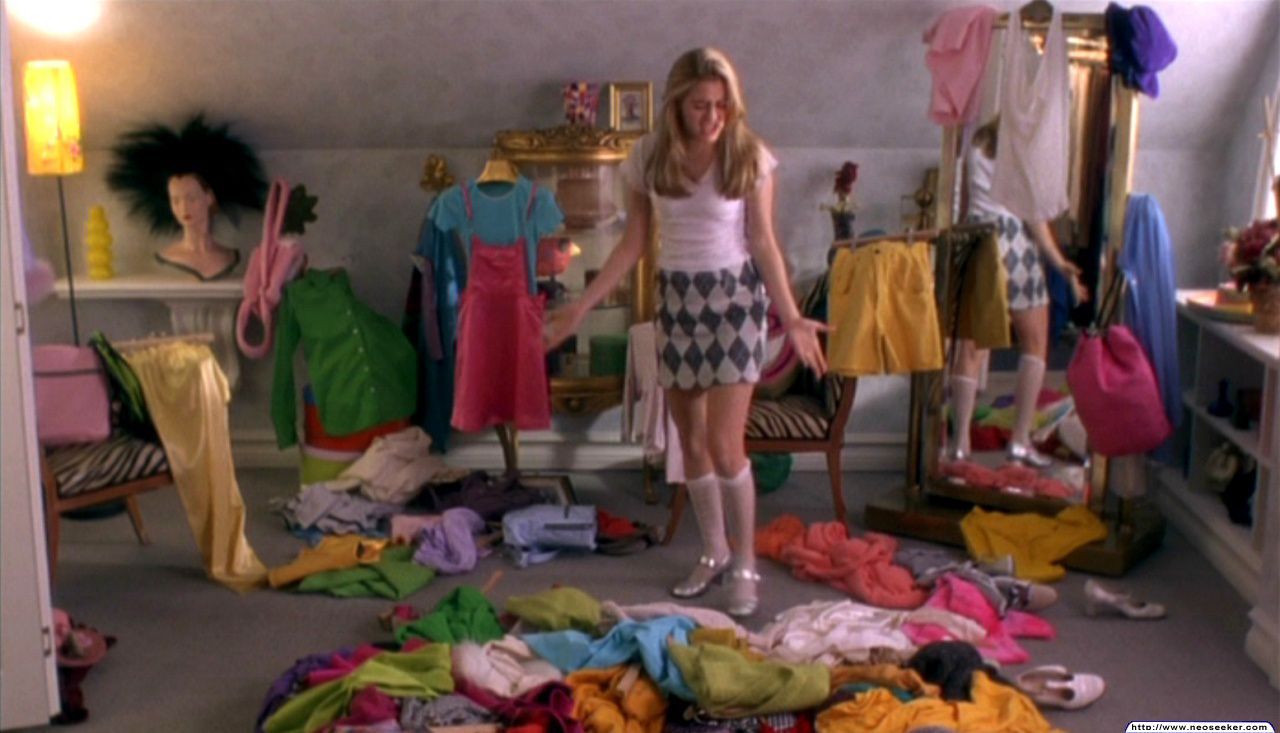 As if!
I've more than likely beat it into your head by now that I'm drawn to looks that are well-balanced (as mentioned SEVERAL times in my What Why Where posts). But what does that mean, exactly? I try to make all of my outfits a balance of style (feminine, edgy, sporty, etc.), proportions (wide leg pants with a fitted top, for example) and occasion (mixing dressy and casual elements). I always have a difficult time answering the question, "how would you describe your style?" because I think it's so mixed and that's not easy to define. My best friend in high school used call my style "funky fresh" and of all the ways I could put the way I dress into words, I think she says it best. Now having good proportions is important for any outfit on any body type. Yes, I wear a lot of loose-on-loose things (which isn't technically "balanced") but if I'm showing a little ankle or roll up my sleeves to show some skin, the look instantly becomes less heavy. For the most part, though, I'm focused on the fit (something loose paired with something more fitted) and where the clothes meet (crop tops only with high-waisted bottoms). And although it may seem odd to pair a fur coat with sneakers and drawstring pants, it's got a little bit of everything and that's just how I like to roll. My least favorite thing to wear is a fancy dress and heels because for me, it's all too…fancy…and I don't feel like myself in an outfit like that (so basically, I'm pretty screwed for when I'm a bridesmaid). Regardless of all these different elements of getting dressed, the number one priority is to feel like yourself and to be happy with how the outfit looks on you. I've also called this the "power of getting dressed" (see the about page) and how looking good makes you feel good. And who doesn't want to feel great?
And if this is all just way too confusing, you can always go straight to the effortless elements — the things that instantly make you look like one of those girls who just rolls out of bed looking fabulous and doesn't have to think about her outfit; she just looks good in everything she wears (so basically, Kate Moss). Things like a streamlined oversized coat, a leather jacket, loafers, a no-fuss bag, undone [but done] hair and minimalist jewelry can always do the trick. There's nothing worse than seeing a someone you know put a lot of effort into their outfit and it's just an epic fail (too much effort can actually be a bad thing!)
So I guess this is what happens when I get dressed (in the most detailed, broken-down form it will ever be in). It sounds like hours of work but really takes anywhere from 3-30 minutes (depending how indecisive I'm feeling that day, which as a Gemini can happen quite often). So, am I overanalyzing this process or is this how it goes down for you too? How exactly do you choose your outfits? Tell me your art of getting dressed.
Images via Pinterest
You might want to check out...