Ever since The Row made a $39k alligator version, it seems like backpacks have been on our minds ever since. Thankfully Mary-Kate and Ashley have created a much more "affordable" leather version and pretty much every other designer has come up with some sort of backpack to fit the hands-free lifestyle we all wish to have. But sometimes this style can be a bit too sporty, and can make us look like we're going to the gym (which is cool for some but not for everyone…like me, who loathes such a place) so today it's all about the sophisticated backpack or as I like to call it, the bagpack (and I promise none of them will cost you five digits).
Don't get me wrong, I'm down for all sorts of backpacks and this isn't the first time I've talked about them on CCF. But if you're going to make the investment and/or are looking for one you can literally use for any occasion (except black tie…although if I had that croc backpack I would never take it off, no matter what the dress code calls for) the "bagpack" (a word I just made up) is the way to go. Why does it even need its own word? Because it's not your ordinary nylon bag with two straps you wear on your back. It's so much more than that — a no-fuss carryall with clean lines that you can wear in any season (unless you're one of those who refuses to wear light colors in winter…then I wouldn't opt for a white or pastel backpack). A bonus for the bagpacks? Many of them have a top handle so if you for some reason want to forgo that hands-free privilege, you can carry it like a regular bag to avoid feeling like you're heading to your first day of school.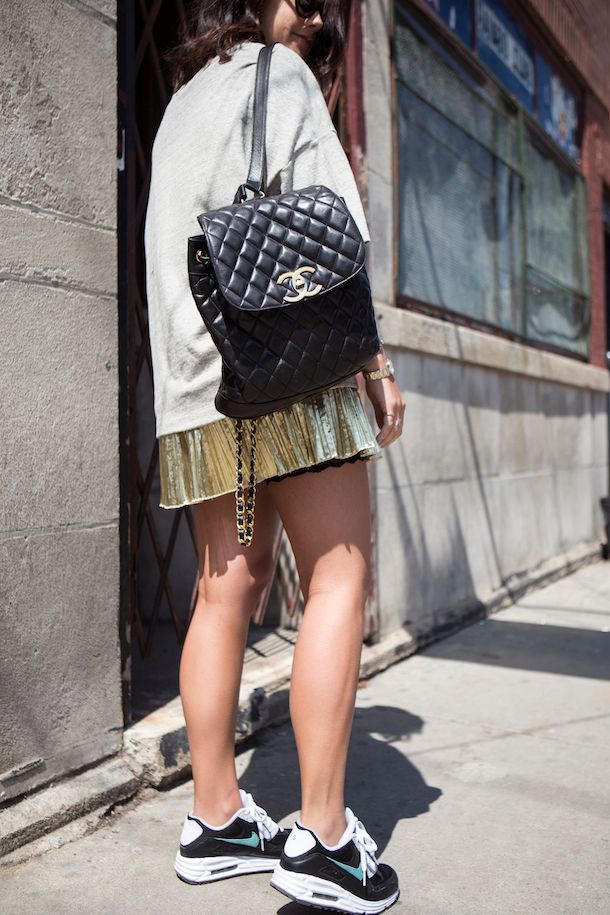 If you do want a sophisticated backpack with a little more "umph" try something with a bit of hardware (and if you're looking for a bag that looks like a leather jacket, there's always Moschino). Topshop also has some great options (with most of my favorites under $100, see below). I do believe that if you're going to spend money on anything, though, it should be a bag. They retain their value more than any other fashion item, plus it's something you wear everyday so why not make the investment?
Whether you're looking for a cheap thrill or are in the market for a new splurge-worthy bag, here's some fantastic bagpacks that will keep you looking extra stylish AND you'll be able to carry everything you could possibly need (no bag edit required!)
What do you think about backpacks? Will you be investing in a bagpack this season? Or do you feel like Adam Sandler singing back to school…to prove that you're not a fool.
Image via Net-a-Porter
You might want to check out...