When it comes to a beauty routine (whether it be hair, face, body, etc.) I like to keep things as simple as possible. Of all regimens, though, I probably spend the least amount of time on my hair. There's always just been a lot up there (a little less now that I've chop chopped) and it's just too much to deal with. But I think I've finally figured out what products I need, which I don't, and the right occasions to use them.
Are you ready for this?
[insert "whip my hair back and forth" pun here]
Now just because a beauty product works for me doesn't necessarily mean it will work for you. BUT I do have a hunch that you're going to love these (especially the one that almost guarantees you'll be photographed by a major street style photographer the second you spray it in your hair).
So first, let's start with general hair care. Yes, I get mine cut regularly (details of where I go and who I see here), I wash it when it needs to be washed (basically I just go as long as humanly possible until I can no longer look in the mirror or cover it up with a hat), and I use either a serum or a hair oil. I used to be big on the Rodin hair oil (although the face oil is my everything) but I've more recently gotten into the David Mallett hair serum. It's really just rocked my world. One pump in almost-dry hair and it feels soft, healthy and ready to take on the world (or any heat and/or styling products you decide to throw at it).
Then we move onto the spray department. Like I said, I like to keep all things beauty pretty low key (except for #manimonday of course) so the less amount of product in my hair, the better. If I'm actually curling my hair (which really just ends up being somewhat controlled waves) or doing something where I need it to kind of maybe stay that way, of course hairspray is the way to go. I switch off between BioInfusion (it's nice because it doesn't smell like it's going to poison you) and Redken Fashion Work 12. Finding a hairspray that isn't sticky and has good hold but doesn't make your hair look crunchy (this isn't 2002) isn't easy, but these are the two I've found that get the job done. After all that, if I still need a little extra control (especially for frizz and fly-aways), Fekkai Glossing Cream is the only way to go (and if you get the full-size bottle it will more than likely last you a lifetime). Then of course there's the always talked about dry shampoo (a love/hate relationship for me). Considering I despise the look of perfectly clean hair, dry shampoo should be my jam but it almost always leaves me with even greasier looking hair. So far, my favorite has been Oribe Dry Texturizing spray however I'm still taking applications to find "the one." But none of these products compare to this…
I recently read about Bumble and Bumble Cityswept Finish and I though it would be too good to be true. They claim it "creates lived-in, 'street-styled' looks with separation and sheen." So, basically it adds texture and doesn't make your hair look so clean/perfect…which is ideal for me. I've been using Bumble and Bumble Semisumo for the last year or so to achieve this look but I thought I'd give the new guy a shot, thinking nothing would happen. HOLY SHIT MY FRIENDS — it is the Jay-Z of hair products (meaning nothing is better and it never will be). A few quick sprays and you instantly have second-day hair (the best kind of hair) plus it feels like there's zero product weighing you down. Disclaimer: getting photographed by Tommy Ton not guaranteed.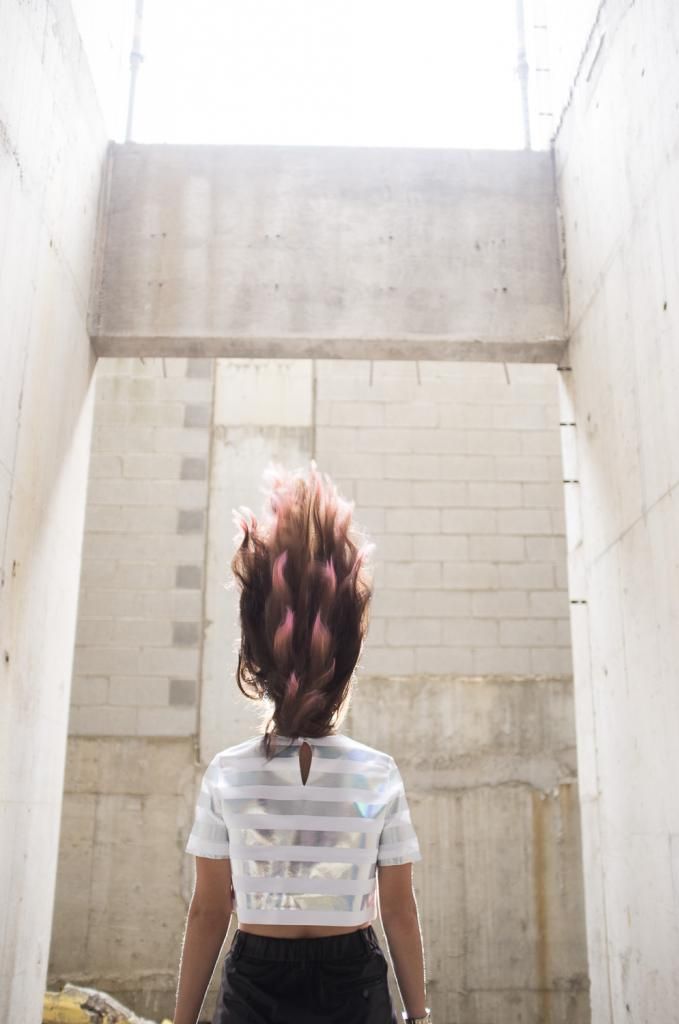 But I can guarantee you'll want to whip our hair uncontrollably once you start using some of these products.
So, that's pretty much it. I guess my hair is no longer full of secrets (although I doubt it ever was). If you like to keep it low maintenance and effortless, I personally think these are some of the best hair products out there and they're definitely worth a try. If you like your hair big, curly, full of hairspray and perhaps even with a Bump It I would just disregard everything I said (but maybe consider not using so much hairspray).
You might want to check out...