The CFDA Awards happened last night. If you were wondering what all those pictures of Rihanna practically naked in a sparkling gown were from, that was it. A few months back, I made my predictions for who might win in the six main categories. So before we get to the red carpet let's see how I did.
WOMENSWEAR DESIGNER OF THE YEAR NOMINEES: Alexander Wang. Joseph Altuzarra for Altuzarra. Marc Jacobs.
My prediction: Altuzarra. Winner: Altuzarra!
MENSWEAR DESIGNER OF THE YEAR NOMINEES: Maxwell Osborne and Dao-Yi Chow for Public School. Marcus Wainwright and David Neville for Rag & Bone. Thom Browne.
My prediction: Public School. Winner: Public School! (2 for 2)
ACCESSORIES DESIGNER OF THE YEAR NOMINEES: Alexander Wang. Lazaro Hernandez and Jack McCullough for Proenza Schouler. Mary-Kate Olsen and Ashley Olsen for The Row.
My prediction: Proenza Schouler. Winner: Mary-Kate and Ashley Olsen for The Row (and then I'm wrong about everything else…)
SWAROVSKI AWARD FOR WOMENSWEAR: Shane Gabier and Christopher Peters for Creatures of the Wind. Rosie Assoulin. Wes Gordon. 
My prediction: Rosie Assoulin. Winner: Shane Gabier and Christopher Peters for Creatures of the Wind (which I could not be more thrilled about — they are from Chicago after all)
SWAROVSKI AWARD FOR MENSWEAR: Tim Coppens. Todd Snyder. Shayne Oliver for Hood by Air.
My prediction: Shayne Oliver for Hood by Air. Winner: Tim Coppens.
SWAROVSKI AWARD FOR ACCESSORIES: Irene Neuwirth. Jennifer Fisher. Marc Alary.
My prediction: Jennifer Fisher. Winner: Irene Neuwirth.
Congrats to all the nominees and and winners — let's remember, you're ALL winners 🙂
So now let's get to the good stuff…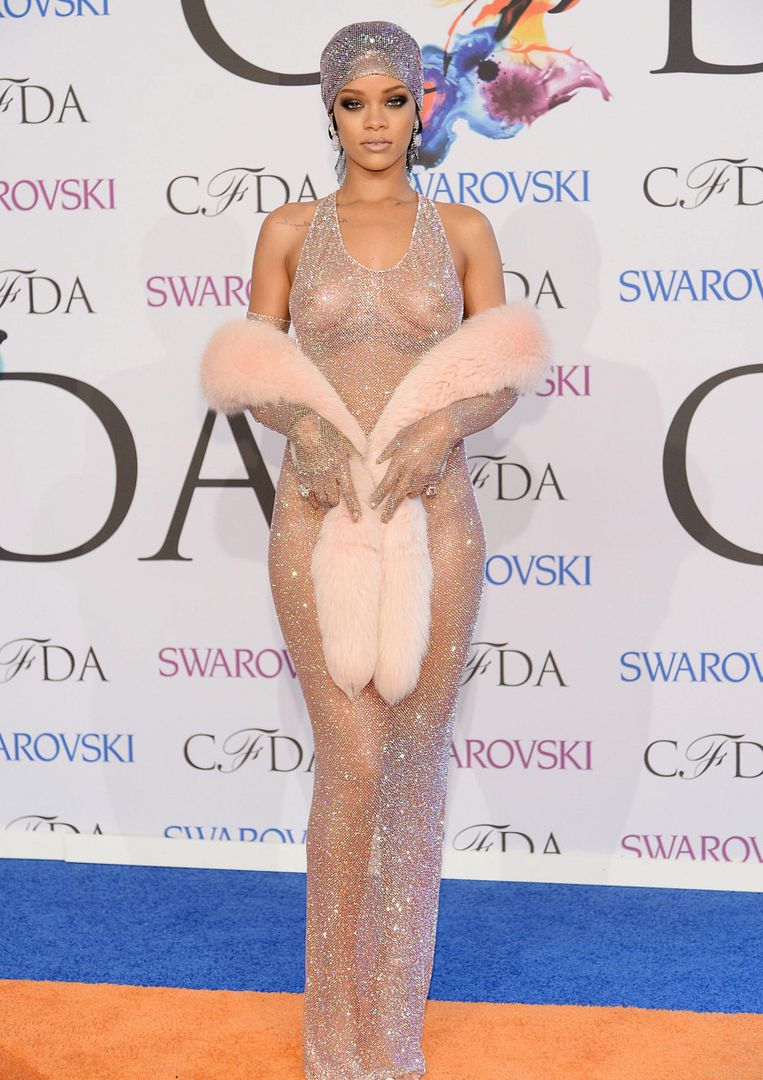 Rihanna in Adam Selman
It's like a more naked version of Karolina Kurkova's 2012 Met Gala look (which was one of my favorite looks of all time, so it's hard to top that when comparing but she still looks awesome). Very risqué of course but it's Rihanna…do you expect anything less? She was honored last night as the Fashion Icon of the Year so this is the perfect look for her to wear when receiving such an award. Too bad she couldn't post this to Instagram.
Sophia Bush in Marchesa and DANNIJO jewels
From the neck up, I love it. It's a different hair style for her and she's pulling it off well, the DANNIJO necklace is fantastic but the dress looks like a wedding table runner. Not a fan.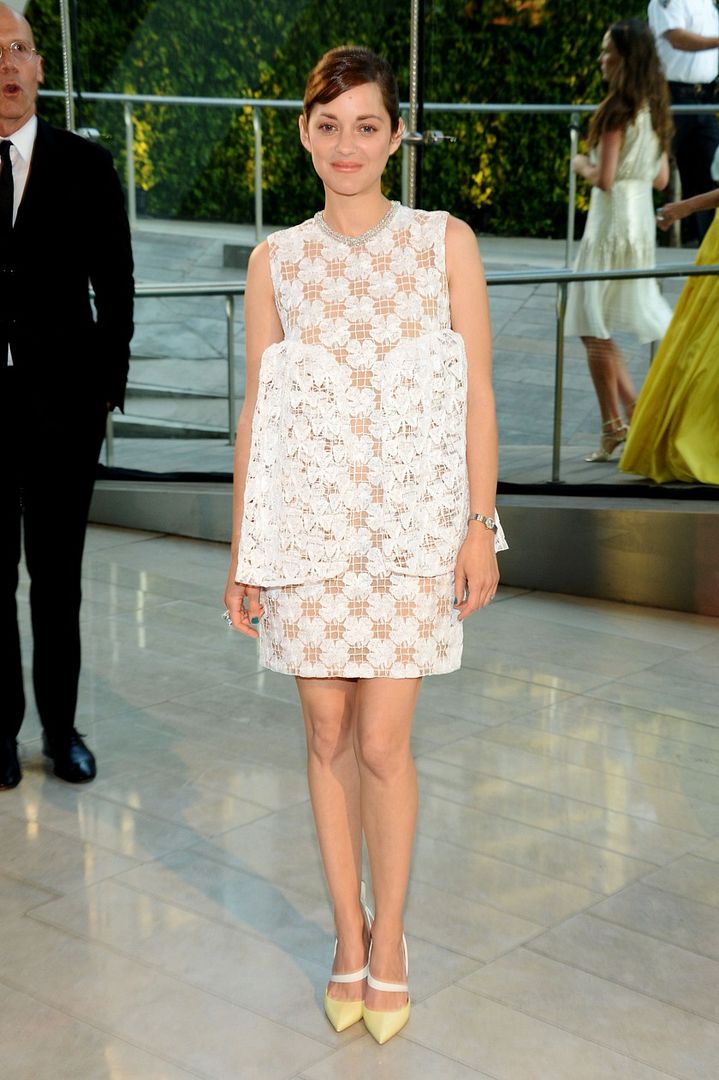 Marion Cotillard in Dior
Opposite Sophia, really not loving the hair and [lack of] make up here (side swept bangs? what is this, 2007?) BUT with the dress and shoes, it was one of my favorites of the night. I realize the dress kind of looks like her boobs are producing lace by the foot but isn't that the beauty of it? Plus, those shoes are REALLY good.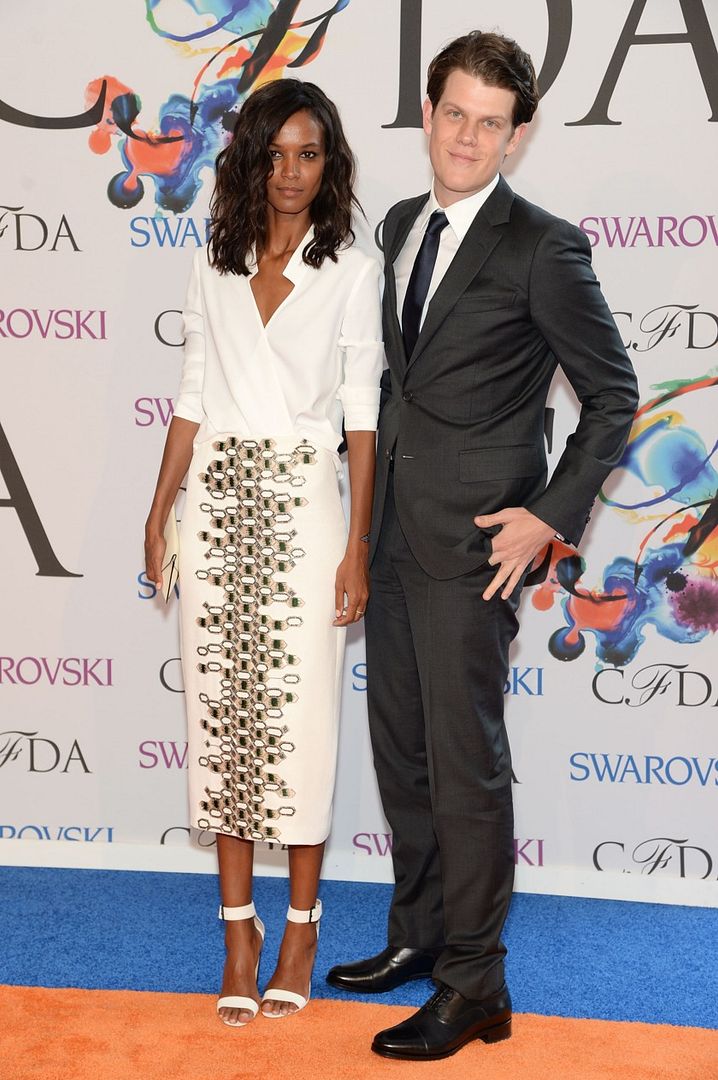 Liya Kebede in Wes Gordon, pictured with the designer
Best Dressed Pick
Unlike the Met Gala, this fashion event brings out some more casual looks…which I kind of love because anyone can do a fancy ball gown. Liya is definitely on the more casual side compared to other guests but everything is so perfect, it had to be one of my best dressed picks. Hair and makeup is all right (not like so-so but ALL RIGHT), plus it reminds me of funky office attire which I weirdly appreciate. And Wes, you don't look so bad yourself.
Joan Smalls in Prabal Gurung
This is either the exact same or a very similar version of what Emma Watson wore to the Met Ball last year (I can't tell due to the bad hair here) and I have to say, I think Emma did it better (and not just because I'm girl crushing on her). I really can't get on board with Joan's hair, so that plays a huge roll in my opinion. You can't admire the neckline at all. And I realize models can and should be able to pull off everything but sorry Joan…bangs aren't your jam.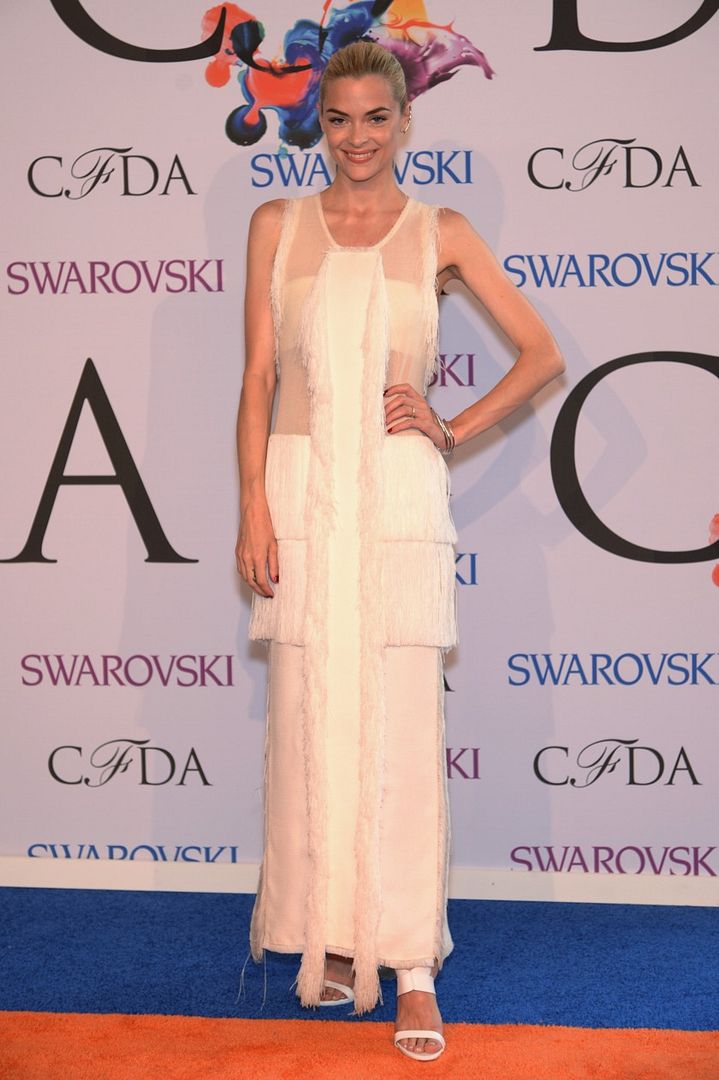 Jaime King in Calvin Klein and Casadei shoes
That's a lot of frayed hems. And we're just going to leave it at that.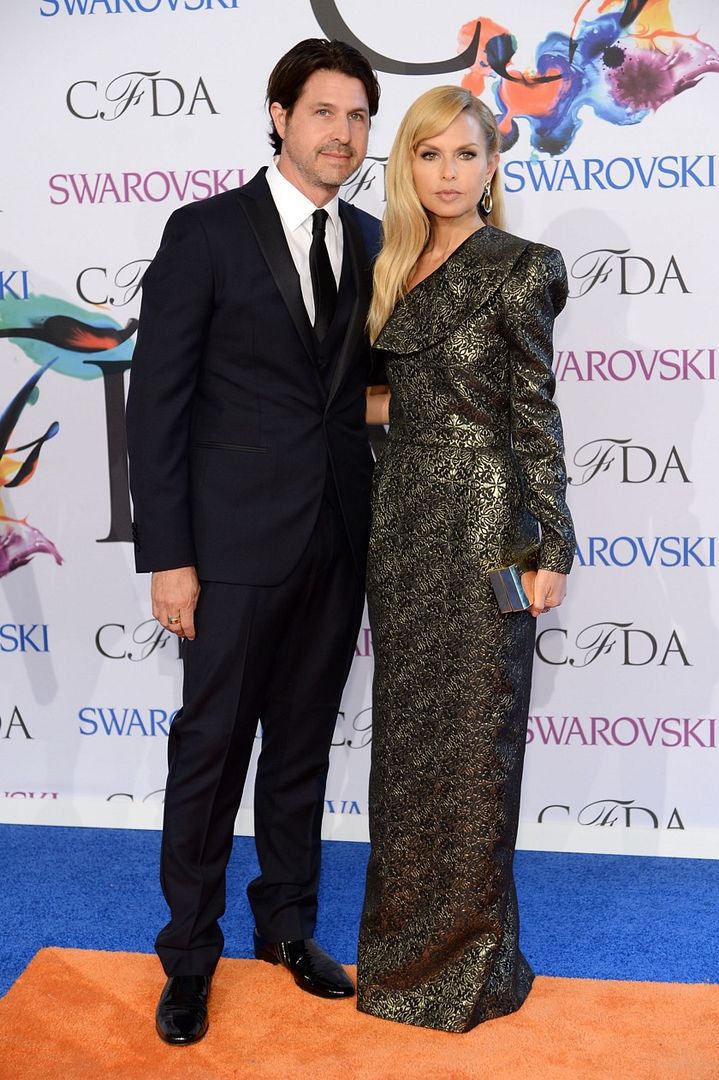 Rachel Zoe in her own designs, pictured with Rodger Berman
This appears to be a long sleeve one-shoulder dress (which I absolutely despise…more than a regular one-shoulder dress) but it's Rachel, she was probably LIT-RALLY dying for this…and it works (although she is really small and that heavy fabric isn't necessarily the best choice for her…okay maybe it's not totally working).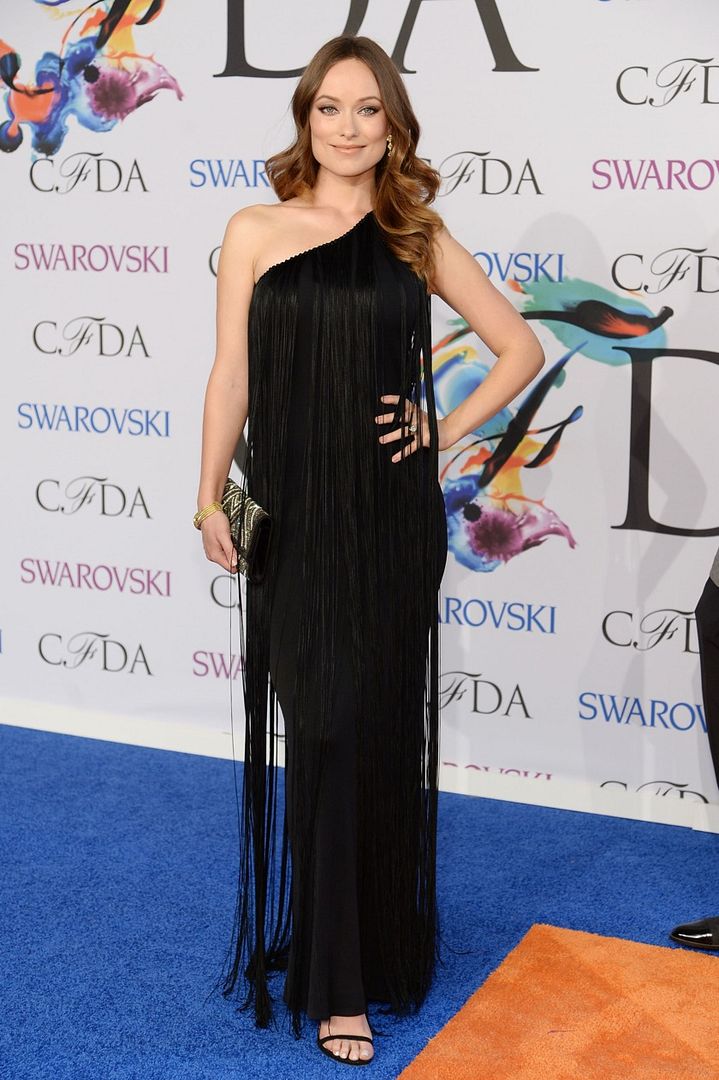 Olivia Wilde in vintage (from Decades LA)
She looks good but she's definitely done way better.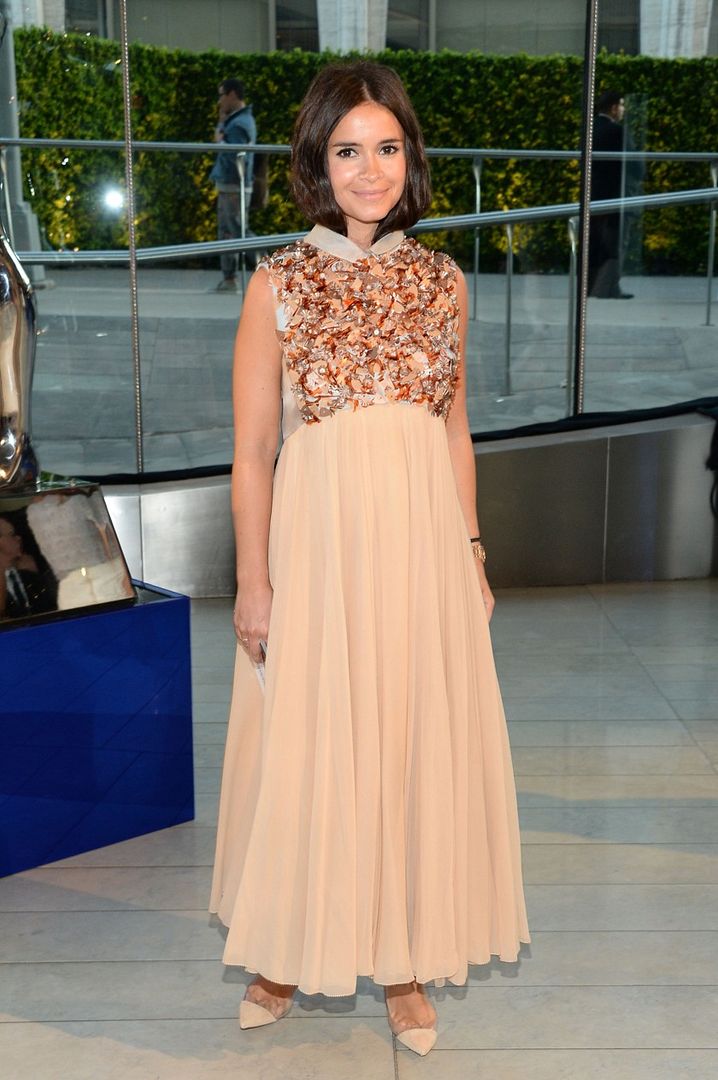 Miroslava Duma in DELPOZO
Cute. Love hair tucked into a jacket, not sure how I feel about it tucked in a dress. But like I said…cute.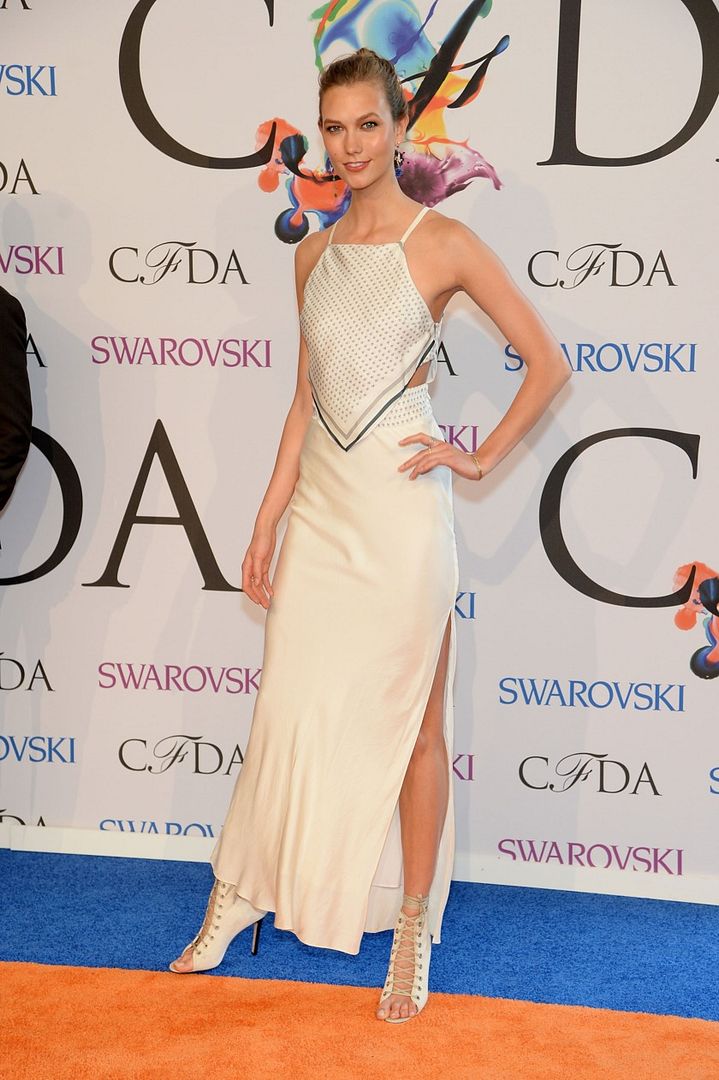 Karlie Kloss in Band of Outsiders
Hmmm where to start? I didn't realize triangle bandana tops existed post 1999 so let's hope this does not become a thing again. Those shoes are not only terrible but clearly too small. Beyond disappointing.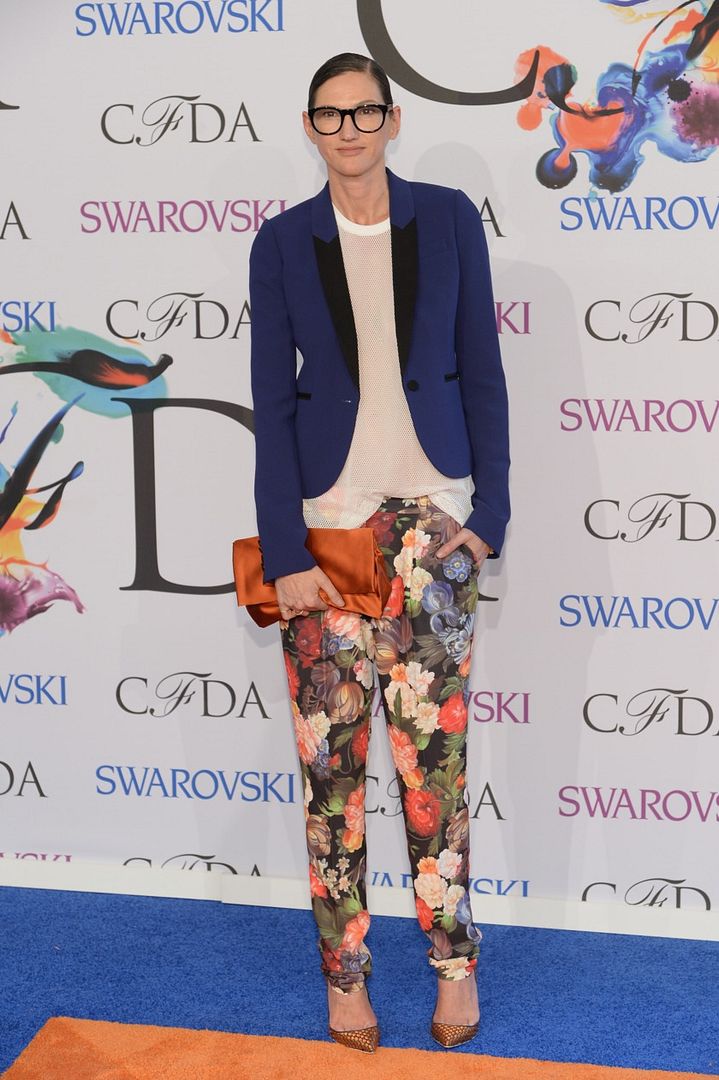 Jenna Lyons (in what I'm assuming is J. Crew)
Always. Killing it.
Jessica Stam in Giulietta
Love the overall outfit but the styling with those earrings and the shoes…not her best work.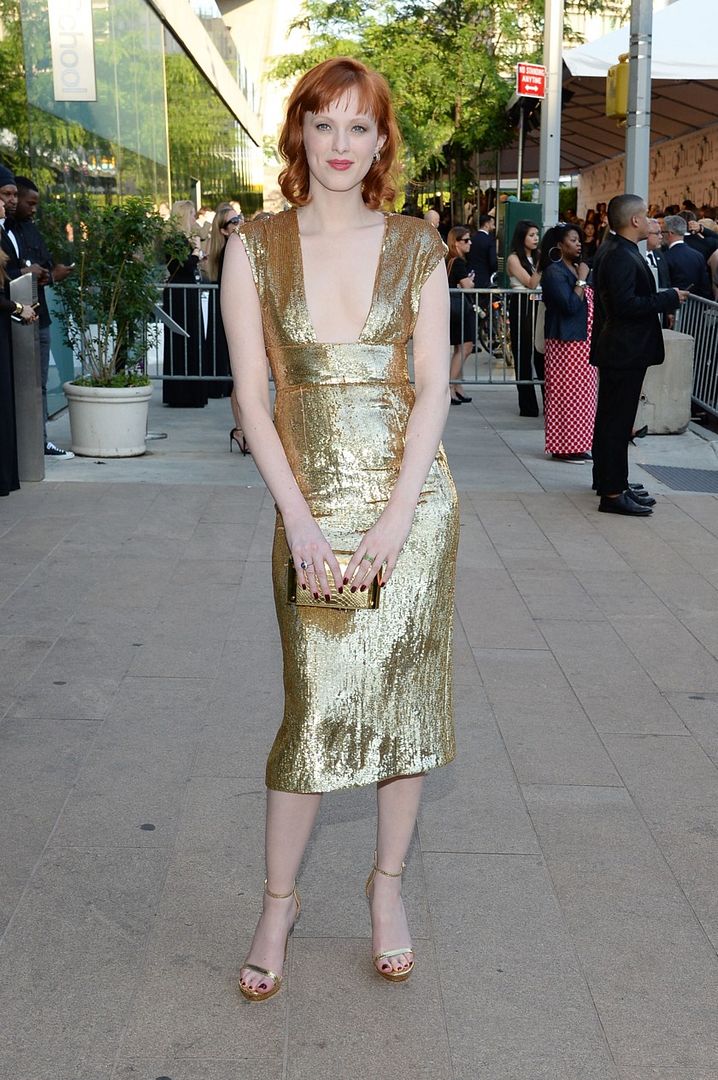 Karen Elson in Michael Kors
If a whole bunch of shiny gold can be meh, this is it.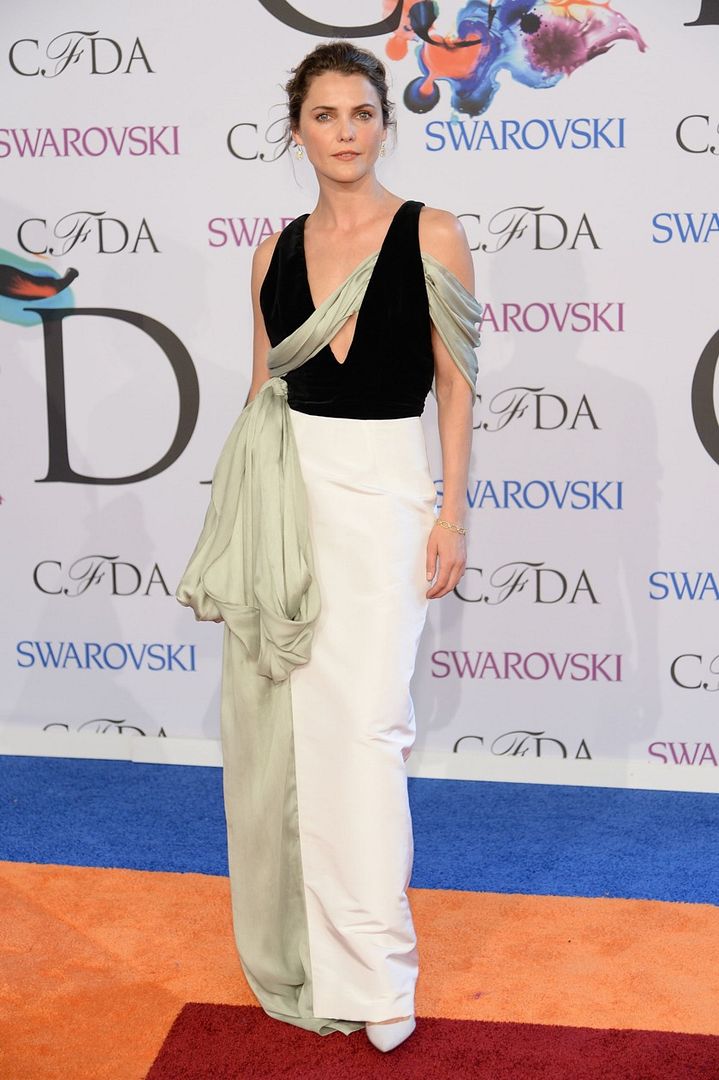 Keri Russell in Rosie Assoulin
That draped piece looks like a last minute addition. I know it's kind of Rosie's thing but I just don't get it.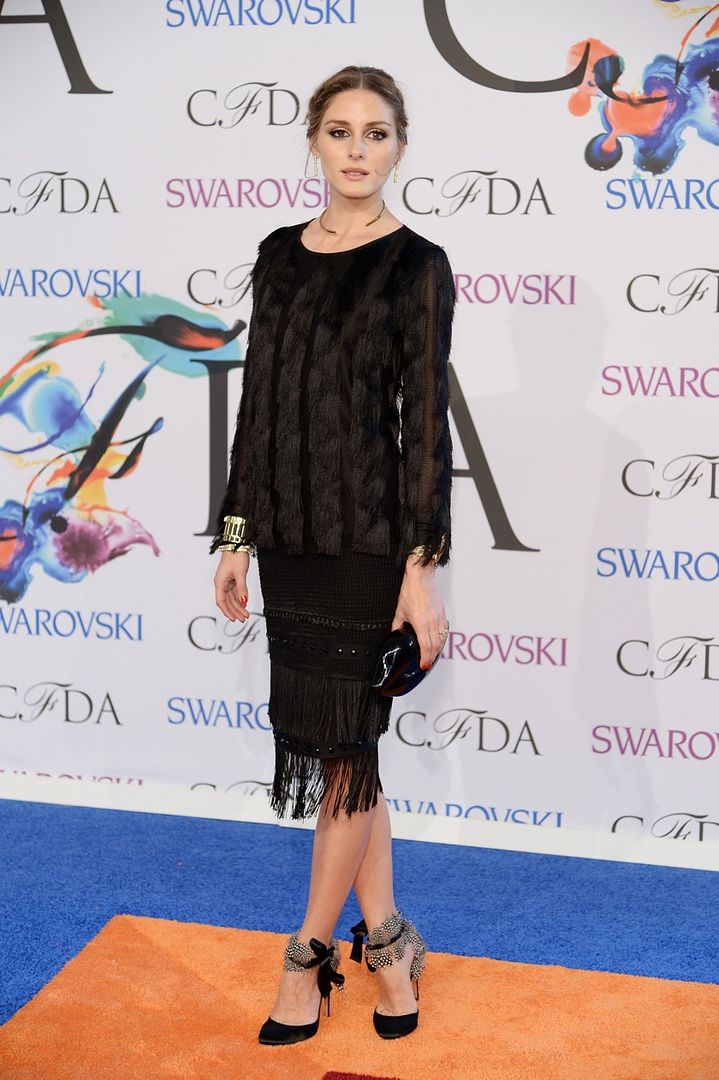 Olivia Palermo in Ann Taylor
Only Olivia Palermo could show up to the CFDA Awards in an Ann Taylor top and skirt and look incredible. The shoes are amazing and that choker? So on point.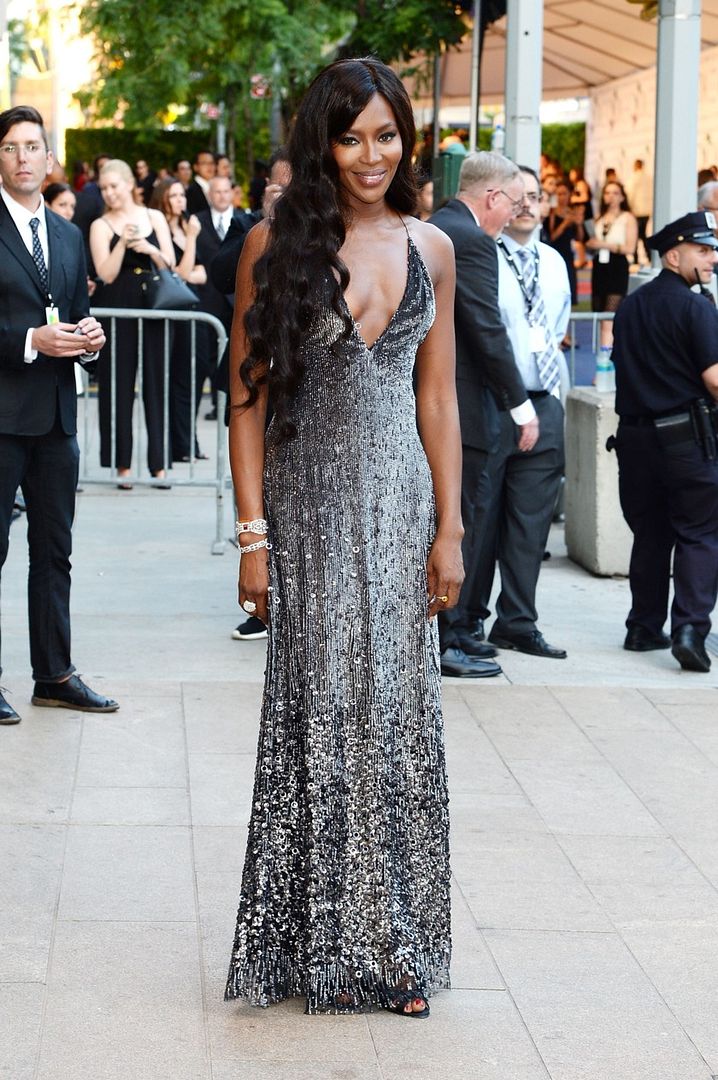 Naomi Campbell
I know she's one of those that "can do no wrong" (mostly because she'd make you cry if you told her she did wrong). So because Naomi will never read this and I doubt we'll ever be following each other on Instagram, I have to say I really hate the hair. I just don't like super long hair extensions on any woman and I won't make an exception for Naomi. Sorry girl (love the dress, though).
Jennifer Hudson in Kaufmanfranco
One shoulder? Cap sleeve? Bad hair cut? This is all sorts of wrong.
Lupita Nyong'o in Suno, Sophia Webster shoes & Jennifer Fisher jewels
Best Dressed Pick
Matching prints, red satin shoes, blue eye shadow and cropped pants? Should be a DISASTER. But it's EVERYTHING. I'm so glad she didn't do a crop top because matching prints showing your midriff is just so done (I love it but the Kardashians went way overboard and now I unfortunately associate the trend with them). The pants are genius. I can't believe I'm saying I love the red satin shoes because I hate both red and satin. All three of these designers are wonderful on their own but put them together and it makes THIS…and it's glorious!
—
What do you think of the CFDA Awards red carpet so far? Favorites? Least favorites? Be on the look out for part 2, coming soon.
Images via The Cut & Style.com
You might want to check out...