All caught up with part one? Made your stance on whether or not you agree with this year's CFDA Award winners? GREAT! Now let's move along to part two.
Jourdan Dunn in Jonathan Simkahi
Can you believe this is Jonathan Simkhai? If it wasn't the CFDA Awards (the Council of Fashion Designers of AMERICA) I would think this is Givenchy but damn, Jon…you clean up nice. My only issue is the underwear — it looks like literal underwear and not "meant to be seen" underwear and for that I can't deem it a bet dressed…but it's close!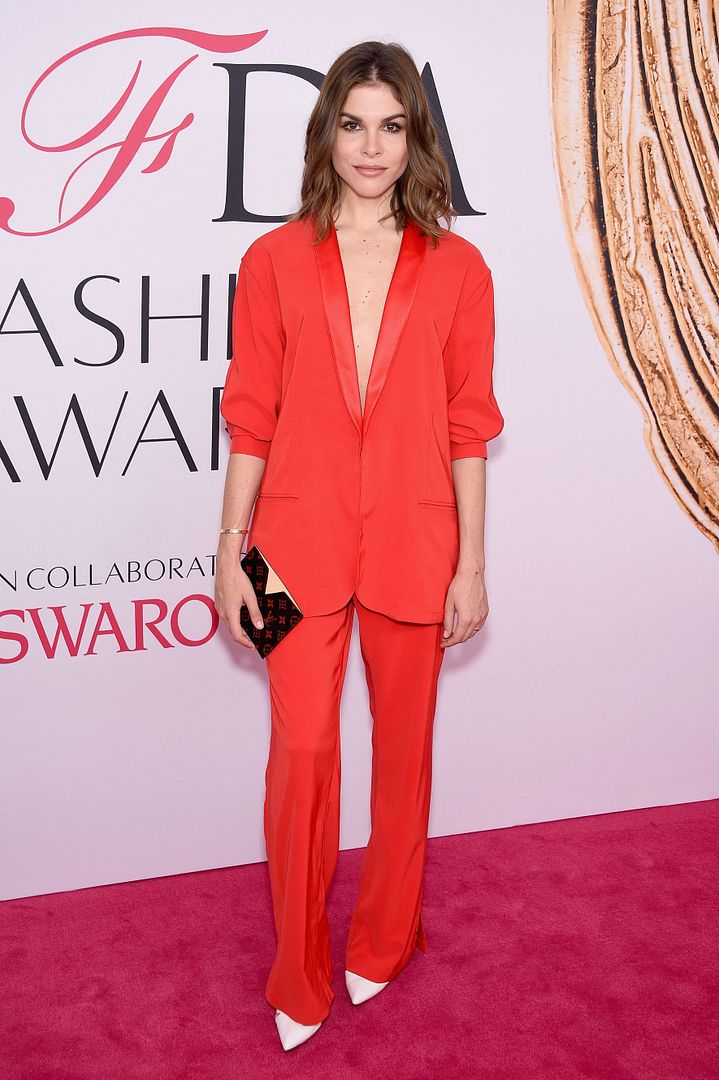 Emily Weiss in Baja East
Best Dressed Pick
You realize that for me to pick something red (my least favorite color on earth) as a best dressed pick is kind of a big deal. BUT this suit is is pretty baller (love the "nothing underneath my blazer" kind of look), serious hair goals, and pairing with white pumps is not one I would ever think would work but damn girl…it's killer.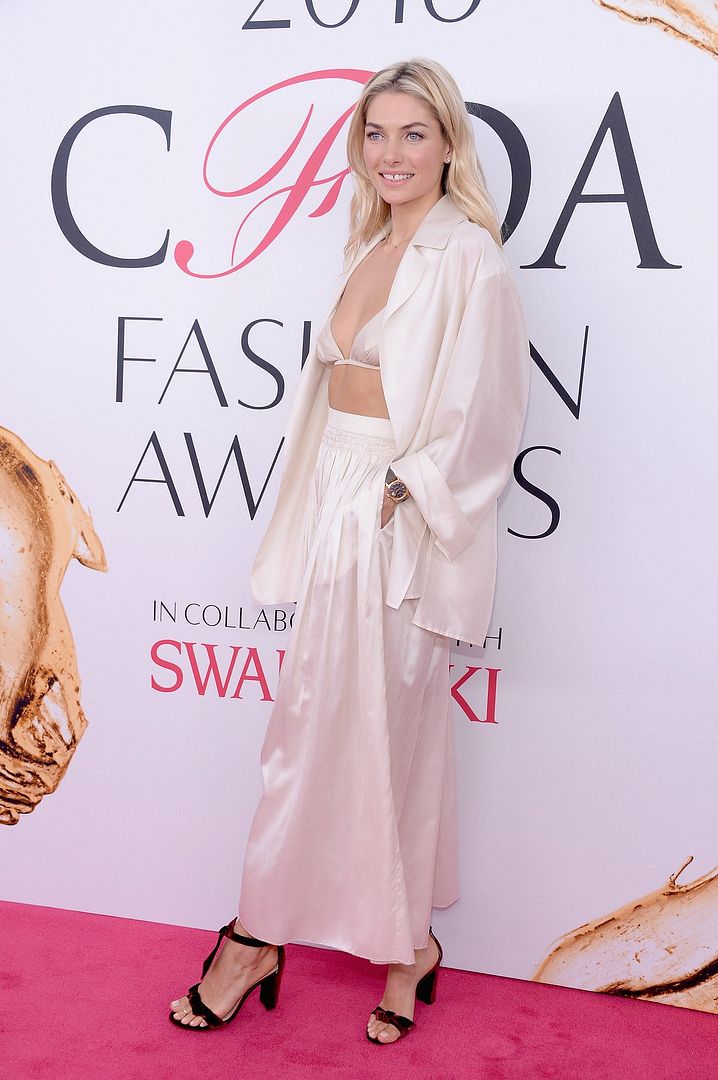 Jessica Hart in The Row
Best Dressed Pick
She's basically wearing the most luxurious pajama set you've ever seen (which is pretty much what The Row is all about) and for that, Jessica Hart, I THANK YOU.
Irina Shayk in Misha Nonoo
Best Dressed Pick
Guess who no longer hates red and clearly is biased towards pants? THIS GIRL! The fit of this is absolutely perfect and although I'm not a huge fan of a super boobalicious neckline, it just works here. Plus the hair and makeup are my kind of hair and makeup — simple yet effective.
Emily Ratajkowski in Jason Wu
I like the idea of a simple black slip dress on the red carpet but this just needs something more…
Constance Jablonski in J. Mendel
Best Dressed Pick
This is so ugly that I'm actually obsessed with it. I don't even like shoulder cut outs and polka dots but LOOK AT ME NOW!
Ciara in Roberto Cavalli
That is A LOT of ruffle for one person. It sort of looks like a fancy Coachella dress (more so here) that you wear to the parties but not to the actual festival…with a last minute addition in the back (as the fashion standards for music festivals and the CFDA Awards are much different).
Alessandra Ambrosio in Michael Kors
Why a sparkly gown would EVER be made in this color is beyond me…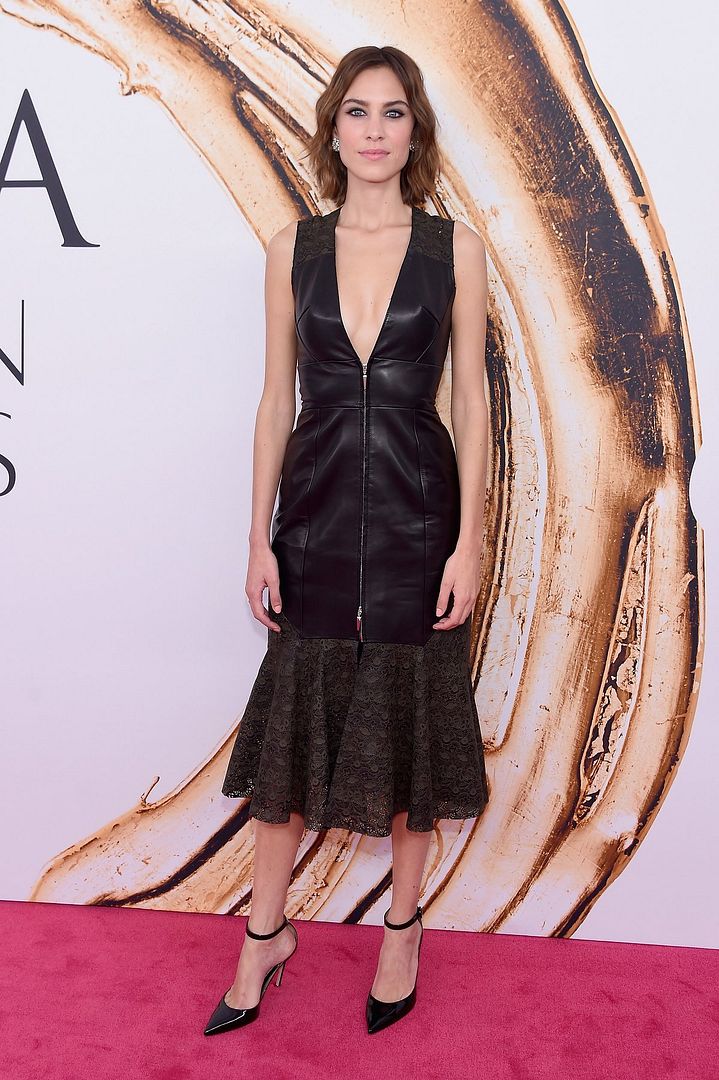 Alexa Chung in Prabal Gurung
The leather and lace is cool but is it special enough for such a fashion-forward event? I say emoji thumbs down.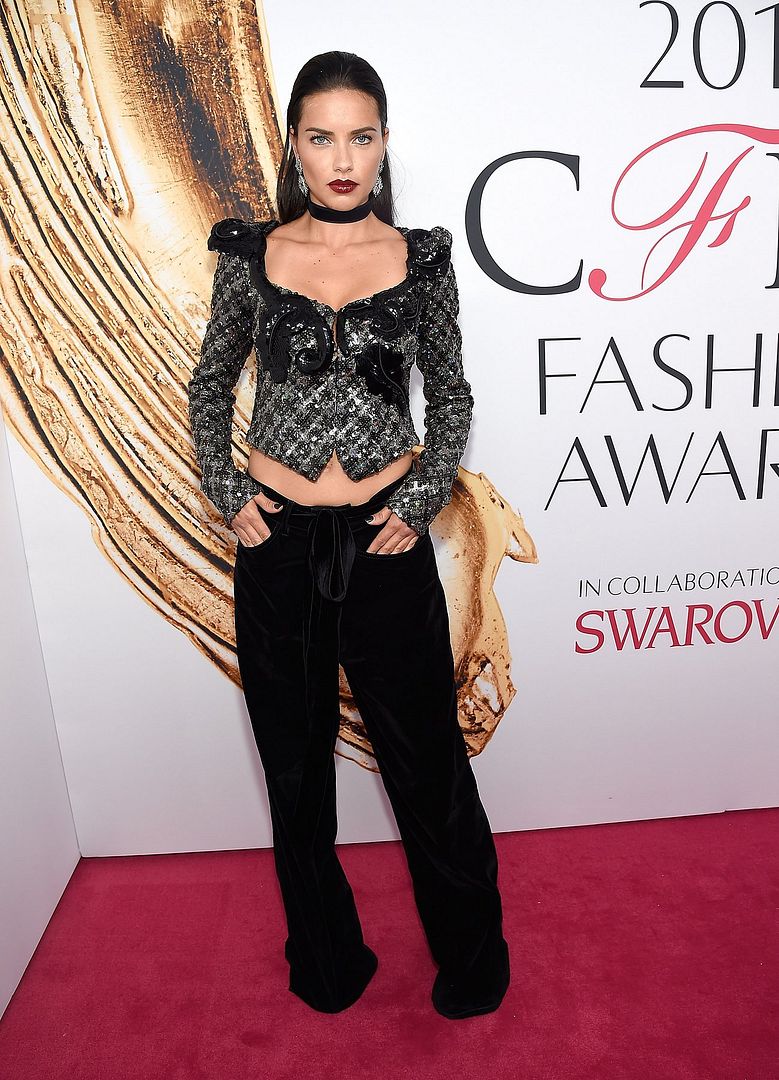 Adriana Lima in Marc Jacobs
Hair and make up could not be more fierce if they tried. Outfit could definitely be more fierce if it tried — with some higher waisted pants perhaps? It's like an 80s style jacket with 90s style midriff (and 90s / 2016 choker obsession)…none of which I'm mad at, but I always find the belly button to be an award midriff to show. Above the belly button GOOD, exposed belly button BAD (especially if there's a ring…but that's a story for another day).
Anna Wintour & Bee Shaffer in Gucci
GUCCI GIRLS, PRESENT!
Coco Rocha in CO+CO
If you have your own line, you have to promote it by wearing it yourself, right? And if you're going to do that, at least make sure it's interesting enough to get people talking about it…and this? Totally forgettable (like I already forgot it).
Elsa Hosk in Naeem Khan
STUDIO54, HERE ELSA COMES (that's a major compliment FYI)…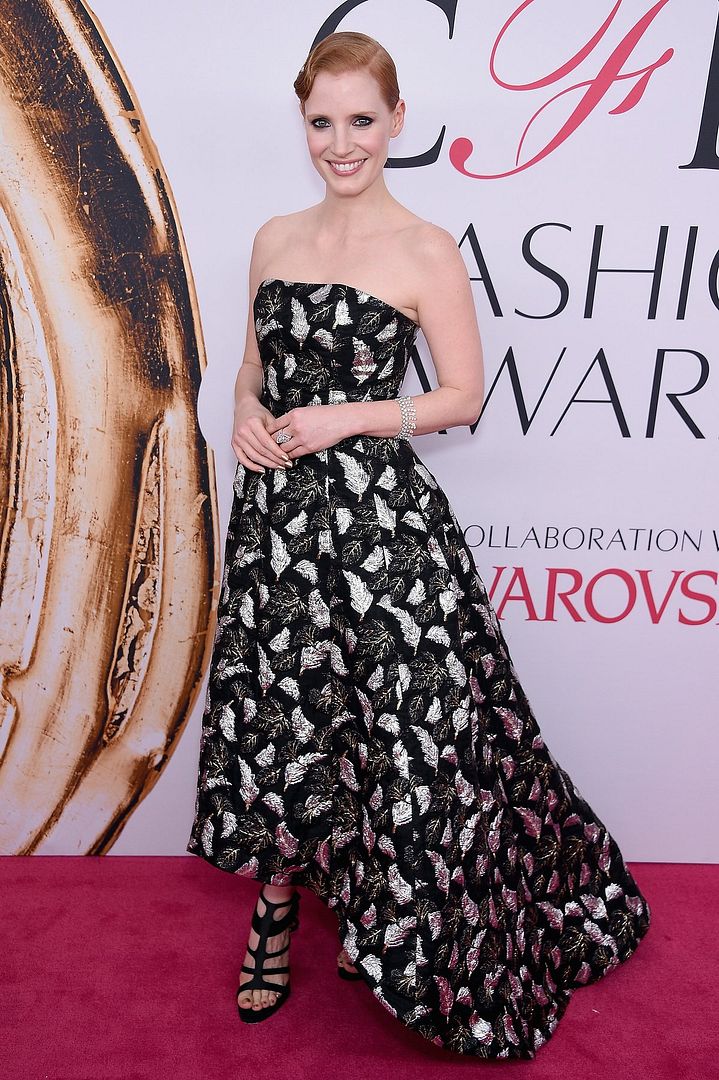 Jessica Chastain in Prabal Gurung
Meh.
Doutzen Kroes in Calvin Klein
Meh².
Claire Danes in Calvin Klein Collection
It's like the ultimate LBD…accented with a really chic pregnancy ultrasound.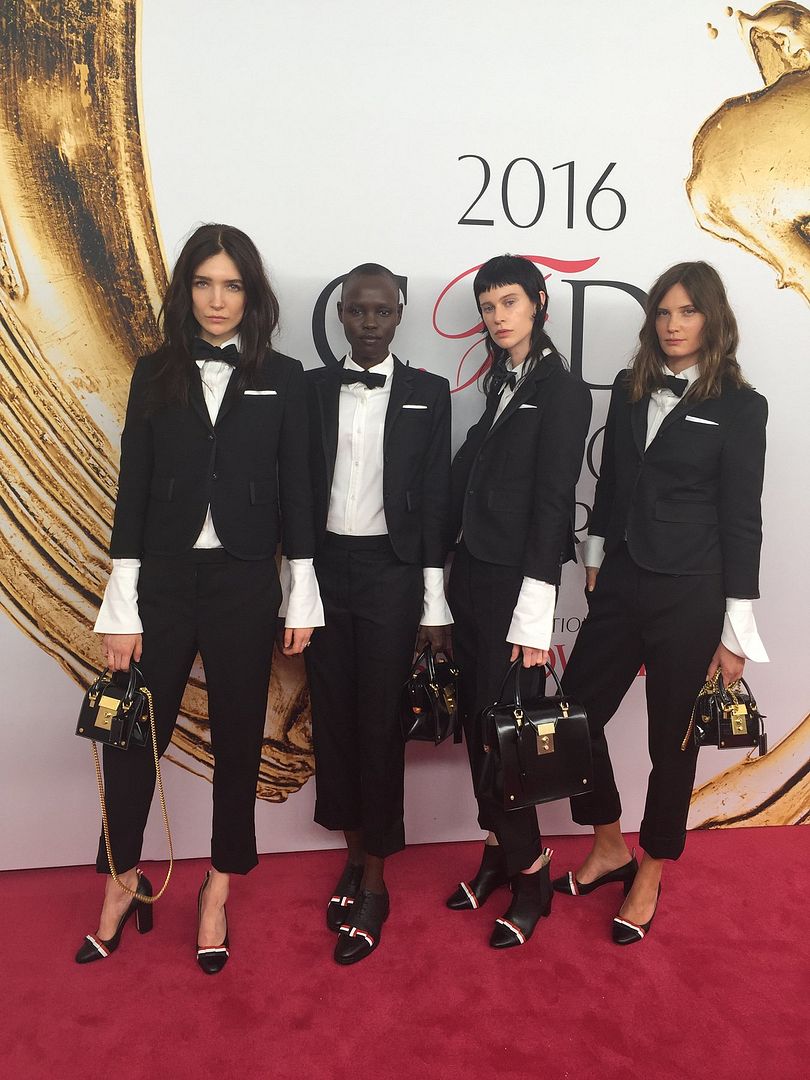 Janice Alida, Grace Bol, Sarah Abney & Drake Burnette in Thom Browne
I don't know what's more squad goals — Olsen sisters or the Thom Browne quartet. Either way, this is everything.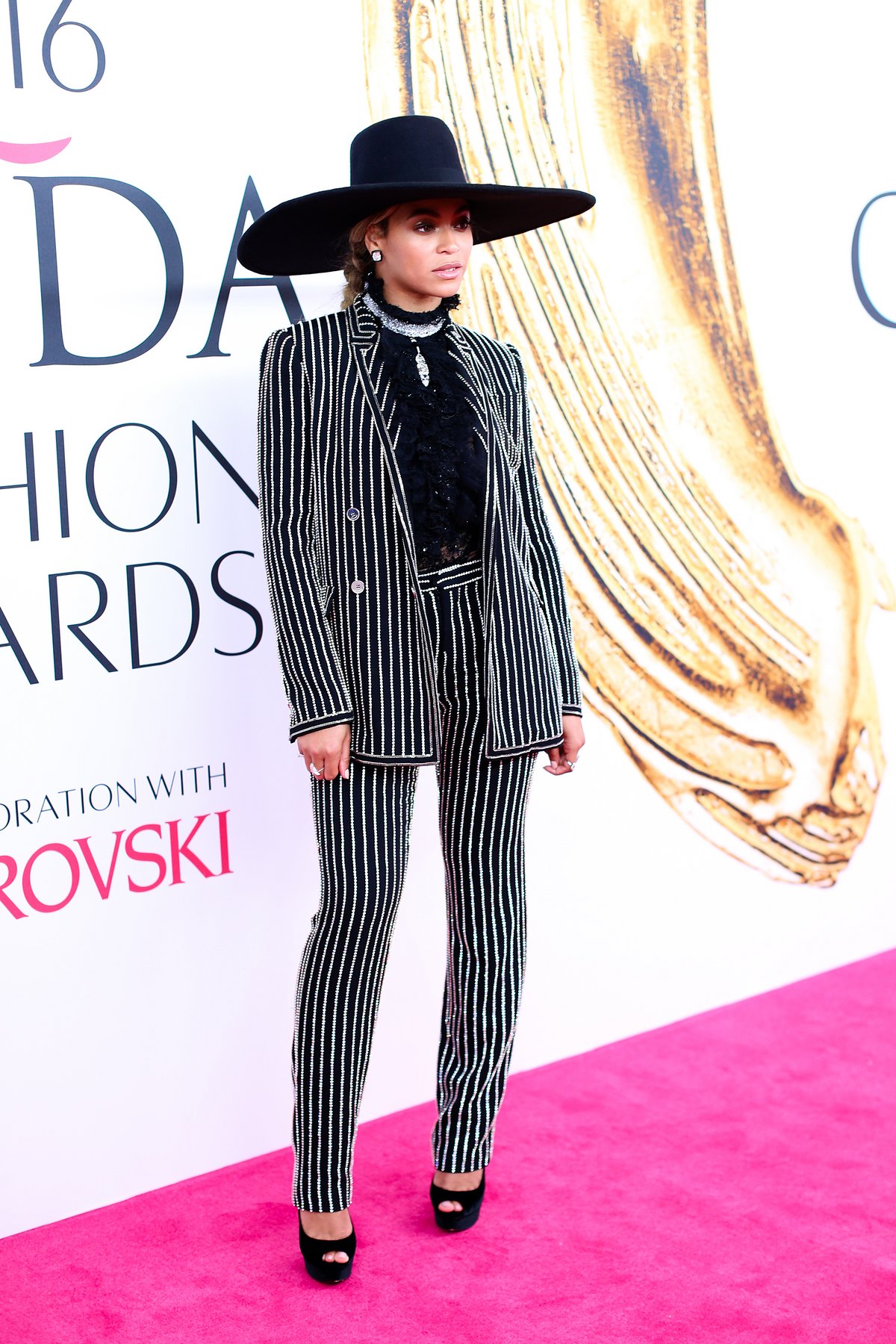 Beyonce in Givenchy
You could wear that hat with pretty much anything I will love the outfit regardless…although a Givenchy haute couture suit that took 1250 hours to make complete with hand embroidered crystals is definitely going to help the hat situation 🙂
—
Until next year my friends…be sure to let me know your favorites / least favorite / squad goals in the comments!
Images via The Cut & Vogue
You might want to check out...