When crop tops first came back into style a few years ago, people seemed to be a little skeptical. Show my stomach post-2003? As if! Now, you can't flip through a magazine, browse a blog, look on any e-commerce site (or see a Kardashian) without noticing an array of midriffs and belly buttons.
We know that crop tops are quite the popular choice for festival season (even before the trend was "back") but it's grown into more a sophisticated look, that you never thought you'd see from an "exposing" piece of clothing.
But when will it be enough? Don't get me wrong, I love this trend. I've even worn it a few times myself here on CCF (once with faux fur and sneakers, as well as with leather trousers and pink hair) but it seems to be getting a little overdone. Thankfully, there's a ton of different ways you can wear a crop top…but there's a few trends within this trend (sub-trend?) that we've seen way too many times.
The whole fitted crop top with a skirt thing is an updated and I guess you can say classier way to wear this look. But thanks to street style blogs and Kim Kardashian, I say enough is enough.
Kanye, it's time to put Kim in something else. Please.
When I first started seeing this look on celebrities, I thought it was a cool, fresh way to rock the red carpet. Everyone does a cocktail dress or a gown but a crop top and a long skirt seemed so new and innovative. Now, I'm all like "we get it…you have great abs and we hate you for it." Know what I'm saying?
So, what to do about this overdone trend? Make it new again. Like I said, I'm into the crop top and fitted skirt thing but I think we can do better. Here's a few ideas we can take from the streets that will update your cropping and upgrade your topping (I realize that makes no sense but it's Monday…it doesn't have to).
Try: a crop top with a blazer.
How? I realize not everyone is this willing to show off a large portion of their mid-section, so try either a longer crop top (I know that sounds like an oxymoron) or a higher waisted bottom and show whatever amount of skin you're comfortable with. Add a loose-fitting blazer or jacket and you're instantly the coolest girl on the block (sorry, Jenny).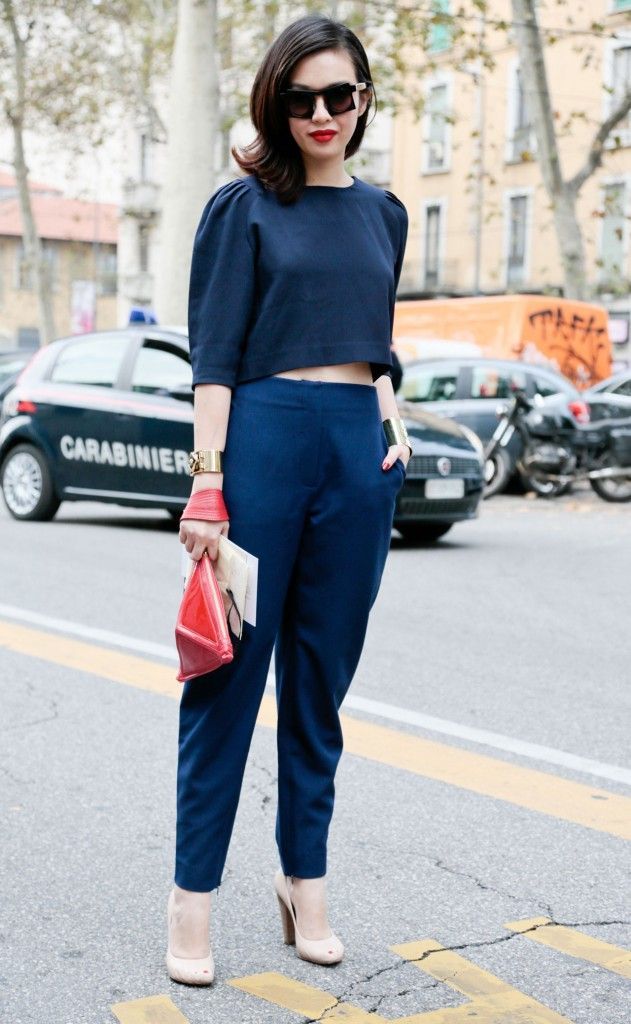 Try: similar hues
How? We've seen many crop tops with fitted skirts in either the same solid color or the same print. So to spruce it up, try a crop top with pants in a similar hue without being the exact same color. That way, it looks like you didn't try so hard to make your outfit match…and in fashion, we never want to look like we're trying (effortless is key…even if it took you 3 hours to get ready).
Try: something avant-garde
How? If you're new to crop topping, this may not be at entry level status but if you deem yourself a seasoned crop topper, try something that makes absolutely no sense and just make it work.
Try: a flared crop top
How? Because the top flares at the waist, you want to make sure whatever you wear on the bottom is fitted at the waist (and then anything goes for the rest of the garment) for maximum flattery. I love this look done with all stripes — definitely puts a unique spin on the whole matchy matchy trend (especially when it comes to crop tops).
Try: a collared crop top
How? This one's ideal if you're skeptical of looking on the trashy side when it comes to sporting a crop top. A collared shirt always adds a bit of class, so paired with high-waisted pants or a fit-and-flare skirt (if you're looking for something more feminine) would be the perfect way to go about achieving this look.
—
Remember, you can always just go for a bra top if you're feeling extra ambitious (although that's been quite overdone as well). Whatever crop top you choose, just have fun with it and don't be afraid to try something new. There's a ton of ways to wear this trend — the question is, how will you wear it?
Images via Vogue & Pinterest
You might want to check out...