Every year around this time, I have to make that decision — to gift guide or not to gift guide? I myself struggle with finding the perfect gift so does that mean I have no authority to put these things together or I'm the perfect person to do so? Regardless, because I've never done a weekly gift guide (maybe one or two sprinkled throughout the last few holiday seasons), I decided that starting today you will get a gift guide on CCF every week until Christmas (and if you celebrate Hanukkah, you better get going).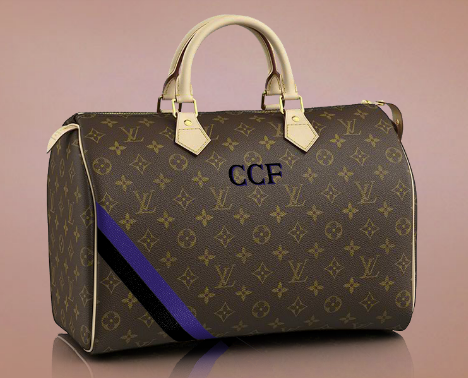 Each of these weeks leading up to the big day will have a different themed gift guide. If you haven't caught on yet, this week's theme is all about custom gifts. And the best part is…you don't have to have a Louis Vuitton budget to give one of these this holiday season (but if you do have an LV budget, then I say go for it). I searched high and low to find [what I think are] pretty awesome gifts that any friend or family member would love. Whether it's custom from start to finish or just something with their name or initials, there's nothing better than having something made just for you.
If you're looking to give a gift with a little quirk (and your budget is on the higher end) these Urania Gazelli clutches on Moda Operandi right now are genius. There's ready-made options as well as six styles where you can add someone's initials (this one's my favorite). You don't necessarily have to be a poker fan to appreciate these whimsical bags.
BaubleBar has an entire monogram shop with every style jewelry, metal and script you could ever want. Whether it's a nameplate necklace, an initial bracelet or even a creative hashtag, these are the types of gift you can give to everyone on your list (there are even cufflinks for the guys!) Not only are there a ton of options, but just about everything is under $170.
For the shoe enthusiast in your life, how about some made-to-order Manolos? Neiman Marcus recently started a custom Manolo boutique online where you can pick the heel height, color, and material…and next thing you know you have custom Manolos. What more could a girl ask for?
If you prefer a custom piece of jewelry that's not necessarily initials or a nameplate, try a customized silhouette pendant. Who should the silhouette be of? You can be totally narcissistic and give a silhouette of yourself to a friend, you can pretend they're narcissistic and gift them a silhouette of themselves or get creative and gift a silhouette of a co-worker or their yoga instructor. The possibilities are endless, really.
For those on your list who enjoy bright colors and bright lights at the same time (and they somehow haven't moved to Vegas yet), may I suggest a custom neon piece? I don't know about you but I would LOVE for someone to give this to me. I could put Karl Lagerfeld's face in neon lights in my living room. Maybe even get Choupette in there (even though I'm not much of a cat person). If it's possible to recreate the Proenza Schouler Spring 2010 collection composed of neon tubing, then I know exactly what I'm asking for this year…
If a fairly easy and inexpensive gift is more up your alley, there's many options for custom iPhone and iPad cases, and if you'd rather not have any say in the design process, you can always gift a RuMe cCover so the giftee can design the cover themselves. But if you want to have a say in the look of this one-of-a-kind tech accessory, I suggest checking out Uncommon. It's super easy and you can literally make anything into an iPhone or iPad case (even Proenza SS10).

Back to the "if you don't have a budget" type of gift, how sweet would it be to have a custom Burberry trench? It's possible…but it will cost you (but it's totally worth it). I already played around with what I'd choose — all black, black leather sleeves, black shearling under the collar, black lining…in case you're wondering.
Any fashion enthusiast would appreciate one of these — a personalized sketch by Jamie Lee Reardin. There's something about fashion illustrations that people seem to be drawn to (including myself…have you seen the header on this website?) so how cool would it be to have one sketched for a friend? A big plus with these, the illustrator is always very flattering with her drawings. Not only a meaningful gift, but also boost of confidence!
Not everyone has welcomed technology that makes our lives either such as Google calendar (although I don't understand those people…I don't know how I survived so long without it) and for those people, there's a custom leather agenda cover. It will make up for all those times you teased them for actually writing down their appointments intend of mindlessly entering them in their iPhone.
If you think about it, you almost have to like any gift that's given to you if it's personalized or custom. Even if it's hideous, that was made for you…so at least it's kind of special, right? So give that gift that someone can't totally hate…and go custom this holiday season [insert thumbs up and cheesy smile here].

Image via Louis Vuitton
You might want to check out...