My feelings towards designer collaborations (re: Isabel Marant x H&M, 3.1 Phillip Lim x Target, etc) have been very mixed. There's been plenty of articles written either for or against them but after reading a certain story on Fashionista.com yesterday it inspired me to think of this debate in a whole new way. This is a big topic in the fashion industry right now so I'd love for you to weigh in.
Fashionista wrote a story called Are Designer Collaborations Doing Consumers a Disservice? and although I had thought about this in the past, I could never put my finger on what exactly bothered me…and Fashionista showed me the light (specifically author Alyssa Vingan…thank you for that). You can argue for these high/low collaborations because it brings fashion to the masses and people can finally afford those designers they never could in the past. And I think that's fantastic. You can argue against the collaborations because it "dumbs down" the fashion and it can de-value the designers, especially coming from people who own their high end designs. So I'm here stuck in the middle…
What I find most interesting about this whole debate is where it all started — Halston x JCPenney in 80s. This was the first anyone had heard of a high end designer collaborating with an "accessible" brand and it ultimately diluted Halston's line and many luxury stores ended up dropping the label. Then Isaac Mizrahi for Target came along in the early 2000s and really paved the way for these mass-marketed collaborations (also expanded beyond fashion into home, accessories, etc). But no one thought Karl's brand was worth less after Karl Lagerfeld for H&M, same with Proenza Schouler when Proenza Schouler for Target happened. So clearly between Halston and Isaac there was a movement in fashion happening that unfortunately Halston created before its time. But he took one for the team, and we should all appreciate that.
So now, where do I stand? I don't think these collaborations are going away and I do support them, however I wish the designers would find that right balance of making something very unique to the diffusion line so their regular customers don't feel like you can now just buy cheaper versions of the original. I'm not saying the designers should completely lose their aesthetic when designing the line for Target, H&M or whoever it may be…because that obviously wouldn't work. People want to buy it because it looks like it came from that designer. However, if you're someone who owns the $425 Phillip Lim Ka-Pow sweater then you see this being sold for $20, to be quite honest…it kind of sucks (I don't own either but I wouldn't be too happy about it if I did). Same goes for that Marant jacket (see below). You spend close to $1,000 retail on the real deal but then this becomes available for a fraction of the price (although I still think over $300 USD is a little much for H&M, don't you?) When you own real Missoni and you can't walk down the street without seeing this, it makes you think twice about those zig zags.
In my ideal high/low collaboration world (which by the way this discussion only pertains to that…I'm totally cool with Adidas x Jeremy Scott, Prabal Gurung x Linda Farrow, etc.) I'd love to see it continue but only if designers can figure out a way not to recreate their recent designs so literally. To have that designer's touch but make it unique to the store (whether it be Target, H&M, Gap, JCPenney, etc.) is where I hope to see this movement in fashion go. That way, everyone's happy. Side note, only according to the lookbook images, Marant x H&M appears to be the most high end (as far as quality goes) of any collaboration I've seen to date so I'm curious to see the collection in real life. Also hoping this jacket is just as good in person because I can always use more oversized things…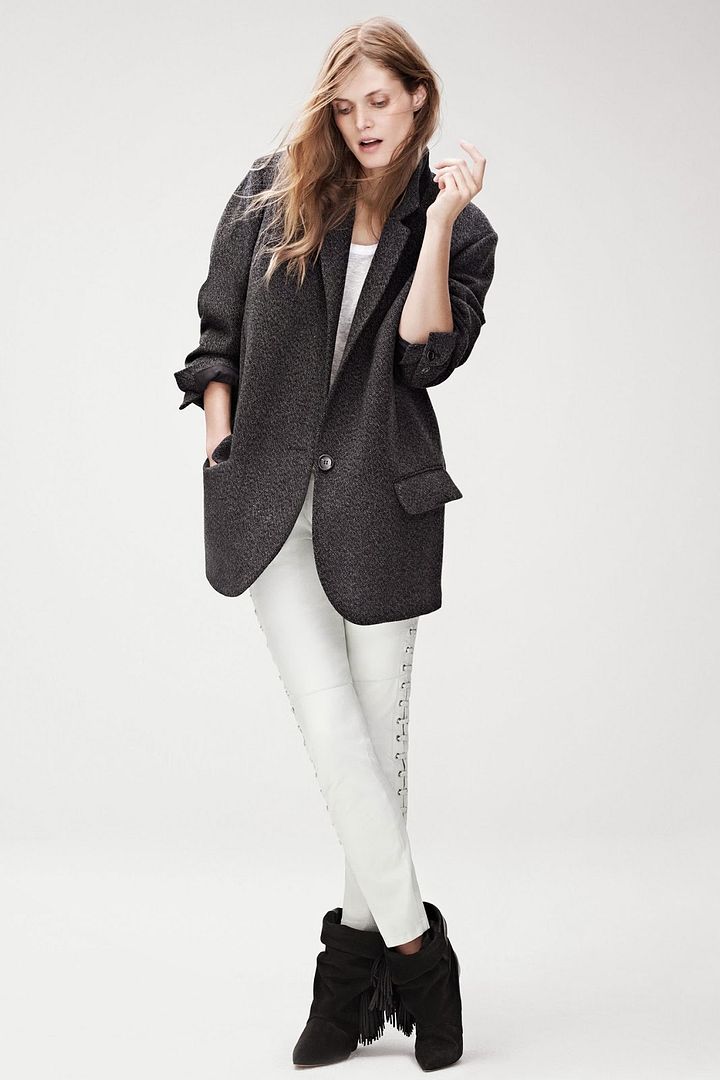 So that's me getting all serious for a moment. What do you think about this designer collaboration debate? I'd love to hear your thoughts. And just for fun, if you have a favorite past designer collaboration (or wish to see a certain designer and store pair up in the future) tell me in the comments!
Images via Styleite, Mosamuse, H&M
You might want to check out...