All caught up with part one? Great…because we still have a lot to get to in part two (including my #1 best dressed pick of the night!)
Priyanka Chopra in Jason Wu
Although she clearly looks amazing, if you know me / my style at all you know I'm never going to be a fan of something one shoulder, with cut outs and in red (although this particular hue isn't bad). It's pretty, but in a pretty basic way.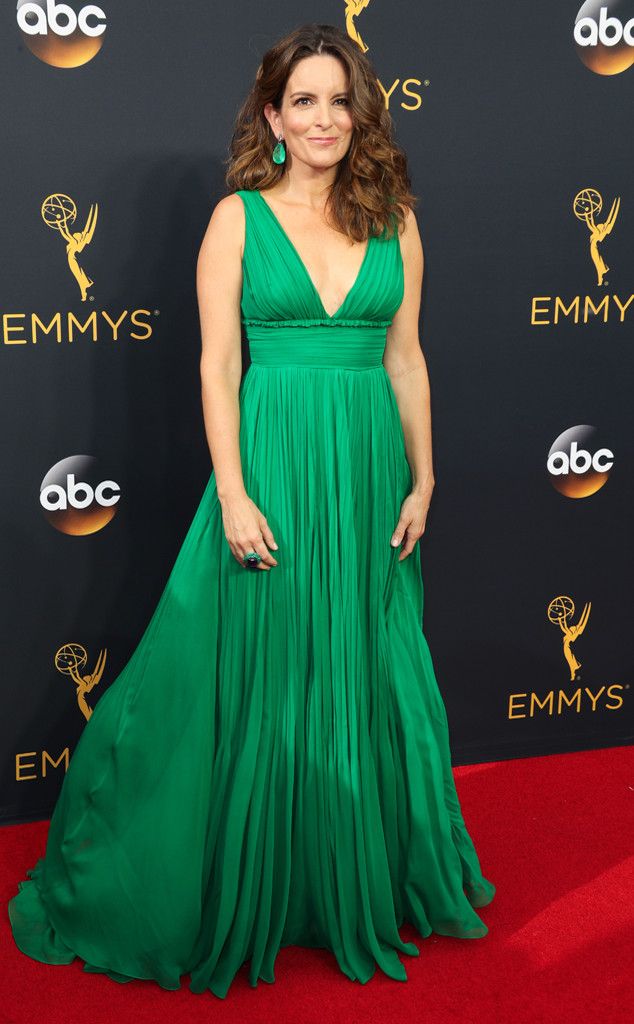 Tina Fey in Oscar de la Renta
This silhouette is doing her GOOD but I'm just not a huge fan of emerald frog green.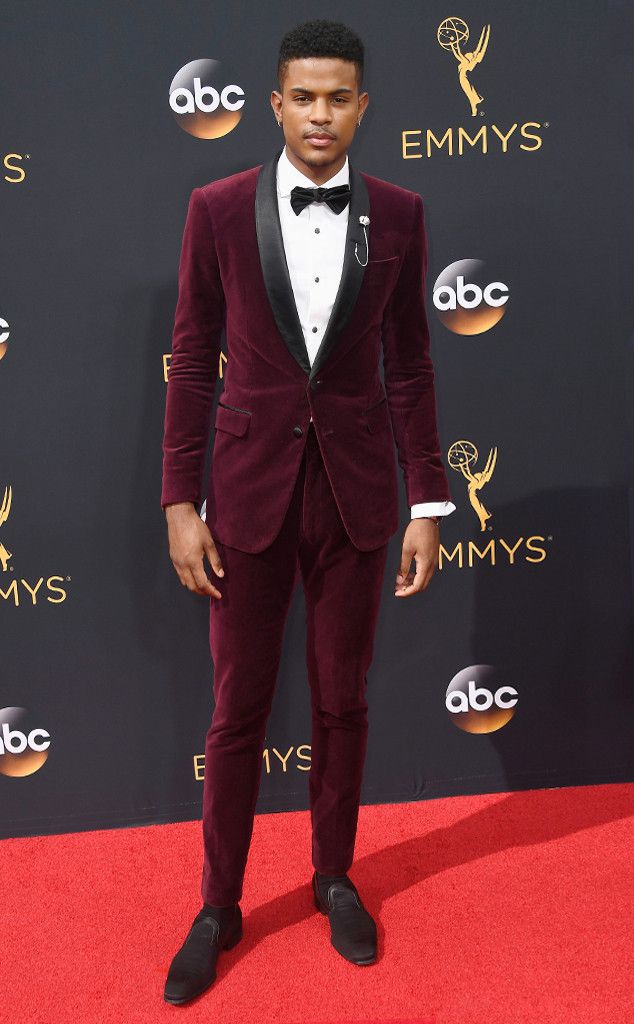 Trevor Jackson in Anthony Franco
You know I never really talk about the guys (unless there's someone we just have to discuss) and DAMN, TREVOR…you killed it. Maybe because I too would wear a wine colored velvet suit with loafers but regardless, I dig the skinny fit (and really just everything about this).
Tatiana Maslany in Alexander Wang
It's nice to see some Alexander Wang on the red carpet (and if you know his designs at all, you could spot his signature cut outs from a mile away). This particular dress is fine but could have use more exciting styling to make it amazing.
Tracee Ellis Ross in Ralph Lauren
See previous comments about one shoulder and cut outs.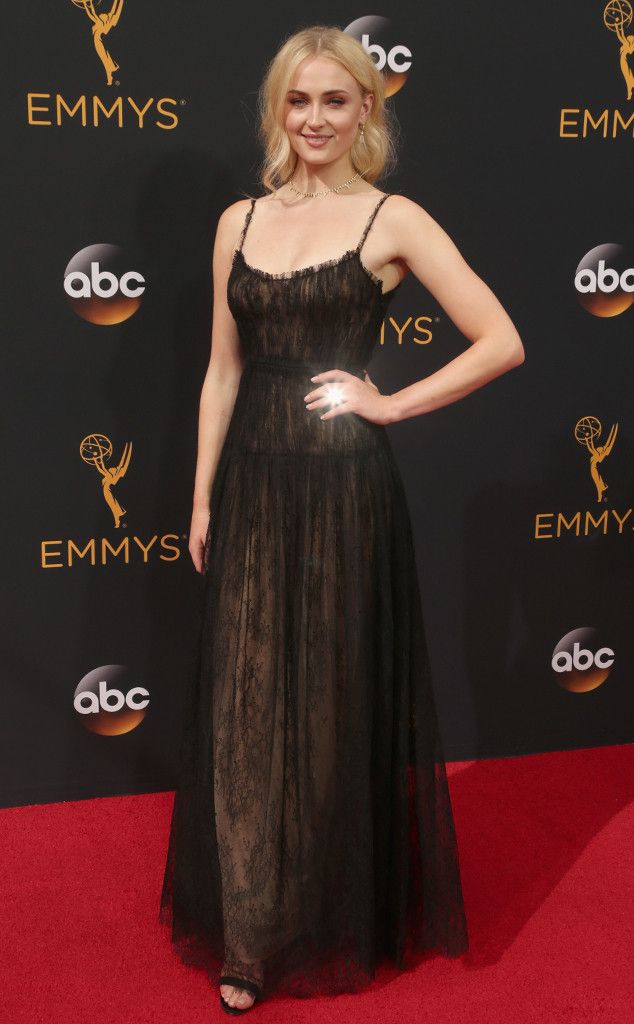 Sophie Turner in Valentino
Simple. Elegant. Effortless. Not mad at this.
Natasha Lyone in Sally LaPointe
I like the idea here but it takes a tall, statuesque figure to wear something like this and Natasha is a bit too petite for the amount of fabric up top. I appreciate her red carpet risks though (and it's cool to see Sally LaPointe at the Emmys).
Sarah Paulson in Prada
Best Dressed Pick
Hands down my best dressed of the night. It's almost like the fully finished version of Lupita Nyong'o's Met Gala dress in 2014 combined with JLo's Versace number from the 2000 Grammys (which has its own Wikipedia page by the way). It's exciting, it's fashion forward, it's unique, it's styled to perfection. FINALLY!!!! I watched two hours of red carpet for something.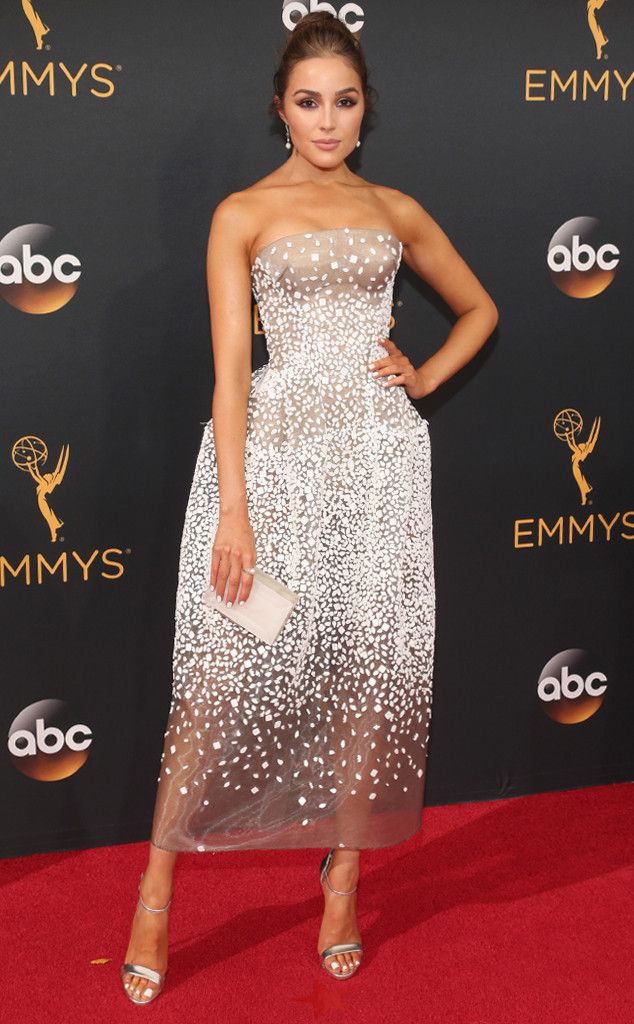 Olivia Culpo in Zac Posen
She might be one of the most gorgeous humans on earth and this Zac Posen dress is STUNNING on her. I'm personally not a huge fan of Zac's dresses (as they're mostly strapless gowns that don't cut it for me) but this is a little different for him and I'm OBSESSED. The perfect nude hue with just a bit of sheerness.
Sarah Hyland in Monique Lhuillier
I'm always down for a good dress with pants moment but this was a total miss. There's a few things off here and even if one was on, I might be on board. I wish the hemline was a true high low (even though I don't love high low…but I'm thinking Lady Gaga at the Oscars) instead of the long sides and short front / back. The black pants were also an odd pairing…it should have just been an all white outfit (the black is a little harsh with the white / floral).
Padma Lakshmi in Naeem Khan
You know you're spoiled with fashion when a gown like this is considered boring.
Michelle Dockery in Oscar de la Renta
It's not my style but it's working for her (the belt is a nice touch too).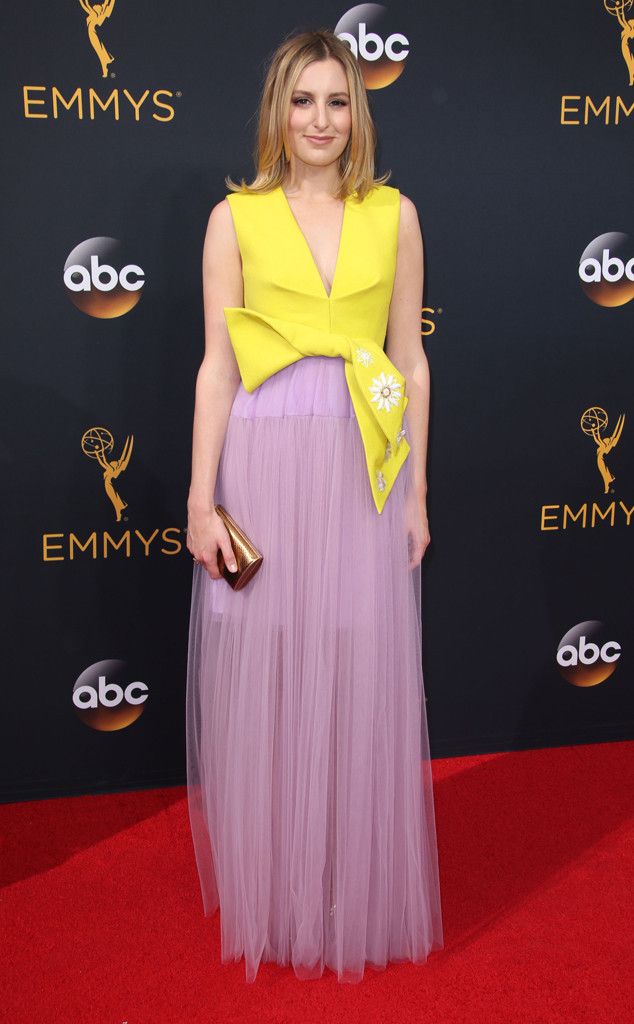 Laura Carmichael in Delpozo
Delpozo is one of those designers where you have to be a true fashion person to pull it off. And this is a tough dress for anyone to wear (like I can't even tell you who should wear this dress…but I can tell you it's not Laura Carmichael).
Gaten Matarazzo, Caleb McLaughlin & Millie Bobby Brown (in Valentino Red)
Considering Stranger Things is my jam, these three are everything…especially Millie (or should I say Mi11ie…get it?) Anyway, I've been following her style lately and I'm liking what I see. It's quirky, a little eclectic and perfectly age appropriate…and it all works so well with her pixie cut. This Valentino Red look was no exception!
Kristen Bell in Zuhair Murad
Hair and makeup are on point and I adore the silhouette of the dress but the garden motif isn't doing it for me.
Laverne Cox in Naeem Khan
Slay.
Maisie Williams in Markus Lupfer
If her hair wasn't so heavy I think I'd be all about this this…but it just covers her cute face and drags down the entire look. Was really bummed about this one (especially because I love Markus Lupfer!)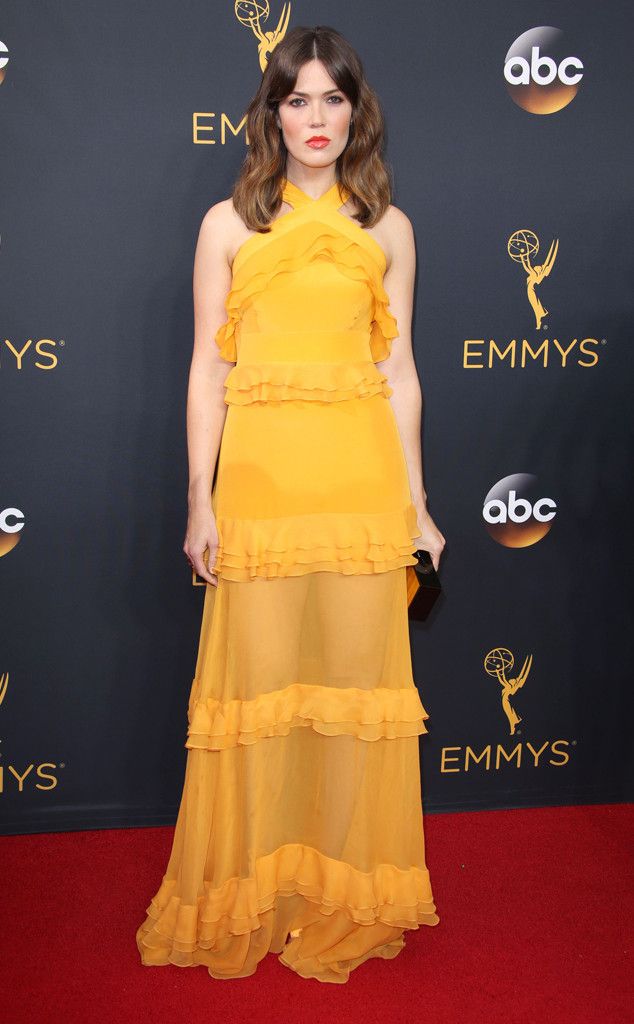 Mandy Moore in Prabal Gurung
The more I look at this, the less I hate it. I actually kind of dig the color…I'm just not a ruffle person. BUT I am really feeling this hair (I might just have to try it myself).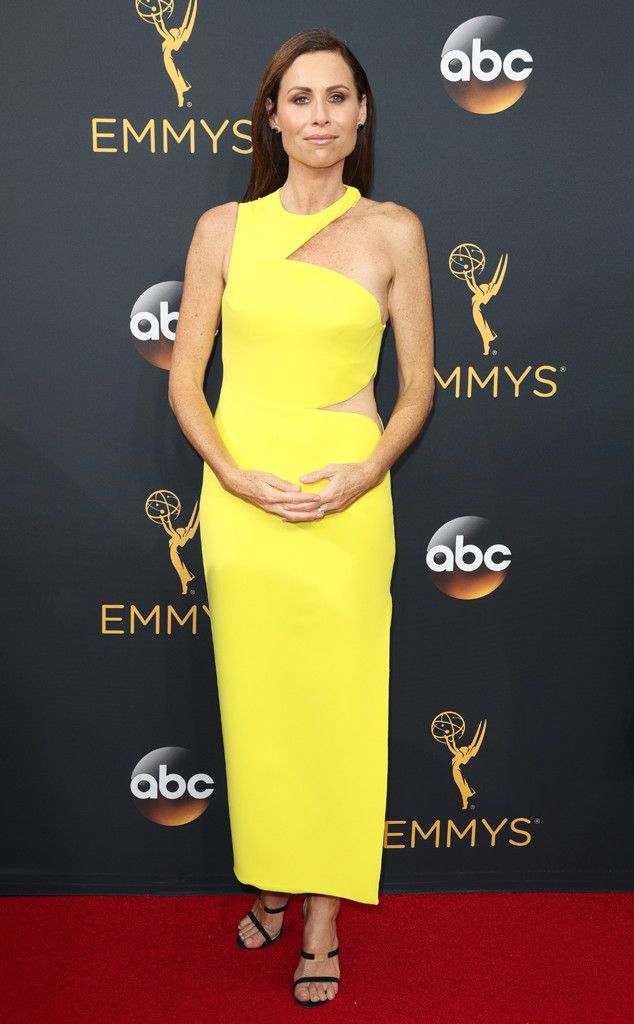 Minnie Driver in Versace
Although I praised yellow not too long ago, it's not my favorite color to see on the red carpet (especially in this super bright variety, as it really clashes with the carpet). Also, when are we going to be over the cut outs? They seemed to have died down for a bit and now they're back in full force. I don't mind them in a cool way (like in an Alexander Wang, re: Tatiana Maslany, way) but these side cut outs and one shoulders, man. Let's move on!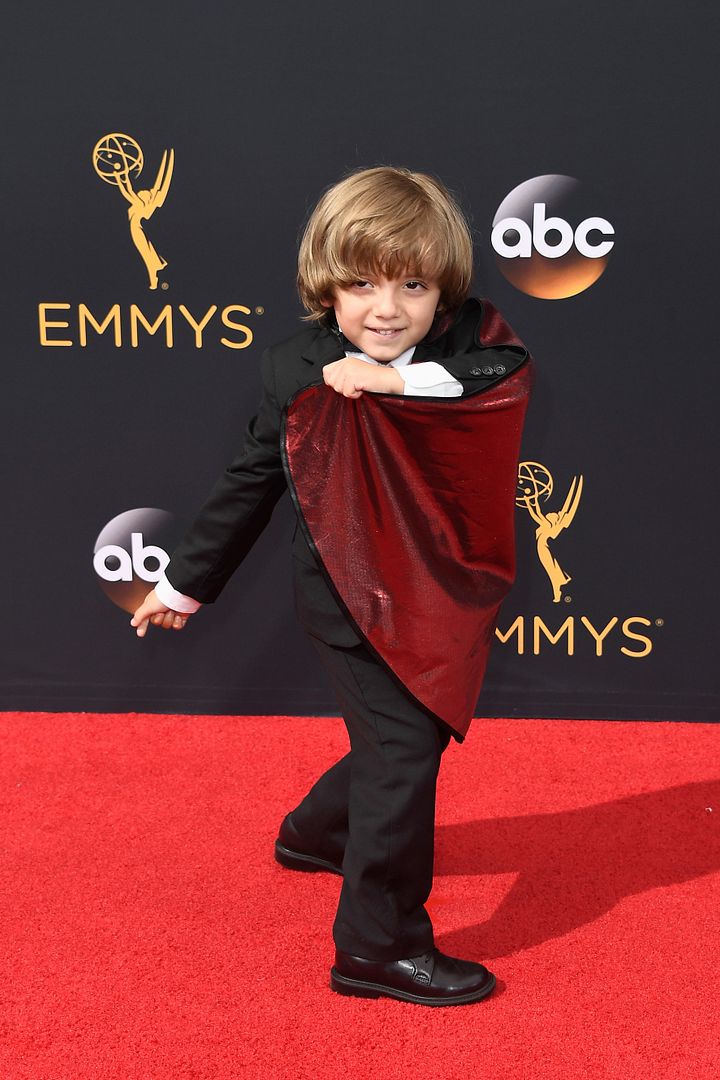 Jeremy Maguire
Cape goals.
—
Alright, that's all for now, friends. Until the next red carpet! Be sure to share your favorites / least favorites / overall thoughts of this year's Emmys red carpet in the comments!
Images via E! & The Cut
You might want to check out...