It's always exciting to talk about the new trends (whether it be on the runways or the streets) post fashion month, but there's an equally as important category that doesn't get nearly as much attention, and that's what today is all about. The craziest, coolest, freshest, and WTF beauty moments from the Fall 2016 shows…right this way!
As my Fashion Friend Emily Ferber had mentioned in her episode, the direction designers have been going for runway beauty in is that "fresh face" look. Not saying every designer is doing it, but you see plenty of it every season. Even though it's been done so many times, I personally can't get enough. It's nice to have a relatable hair / makeup look that anyone can pull off. And just when you think your simple makeup routine is getting stale, you can still find inspiration from these collections.
Derek Lam: It doesn't get more fresh than this!
Alexander Wang (favorite!): Just the slightest bit of metallic around the eye makes all the difference.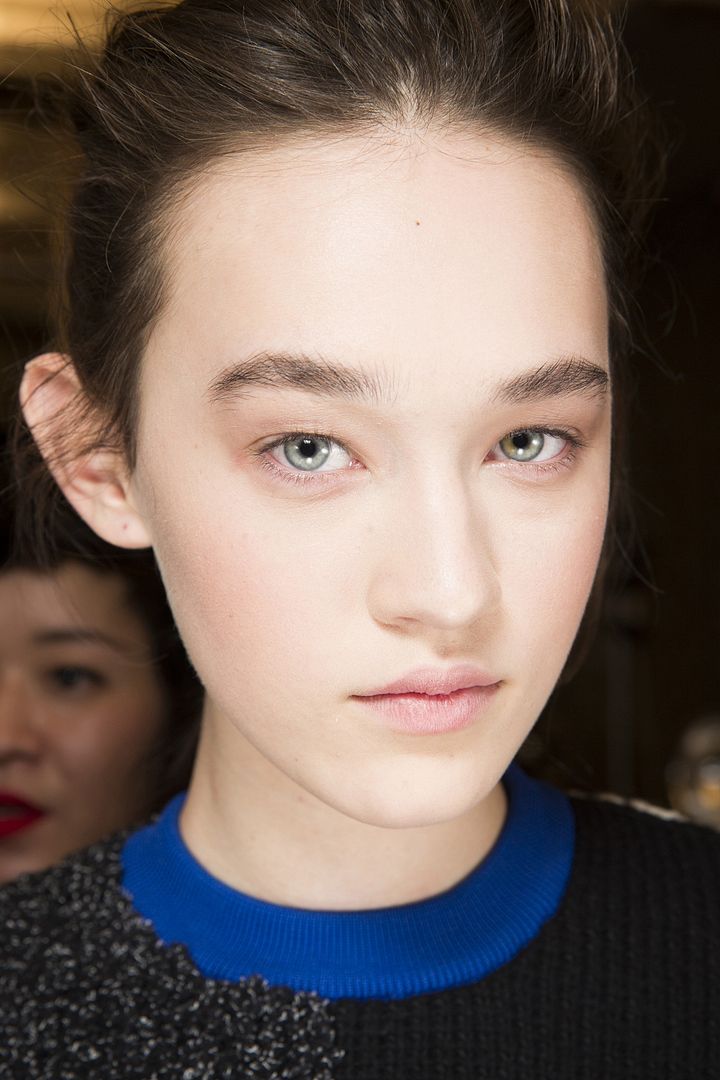 Prabal Gurung: The ultimate "no makeup" makeup look.
Isabel Marant: A little bit of coral to brighten things up (ideal for spring too).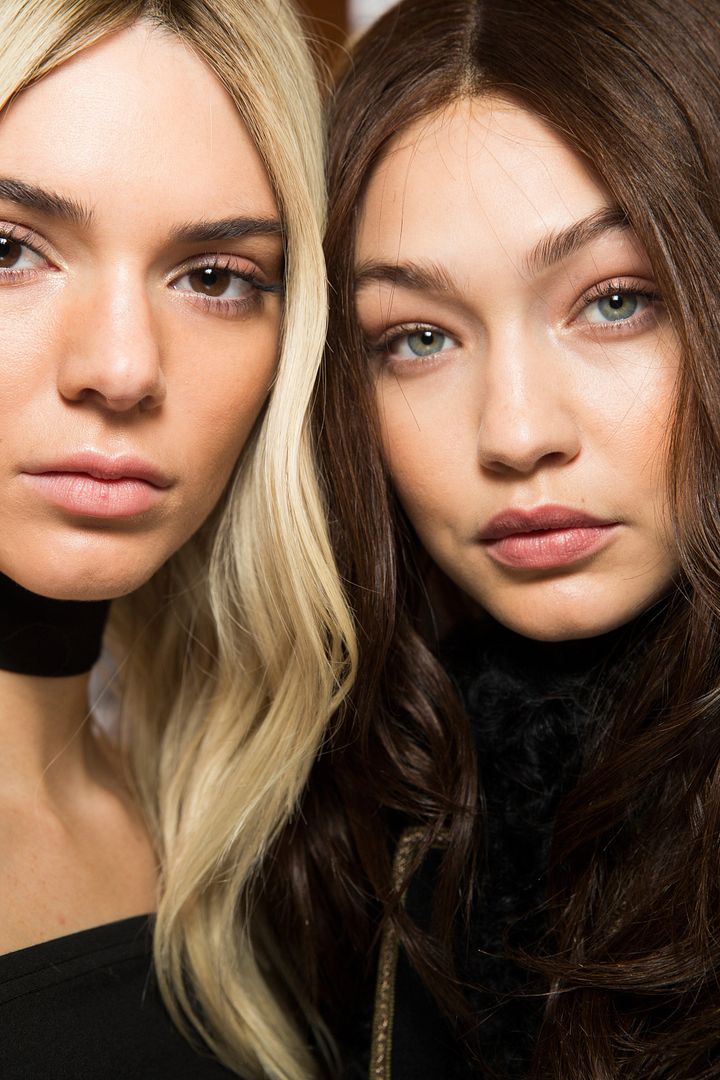 Balmain: Basically breaking the Internet by switching hair (and that freshly spray tanned face with a hint of rose lids really finishes it all off).
If you're digging any of these looks, here's a few of my favorite products to help you achieve them…
Now if you're into that bare beauty look but maybe want to take it to the next level (especially for night), there's still plenty of inspiration in that department too. Think fresh but glam, simple yet turned up a notch…and Gigi realness.
Diane von Furstenberg: Will be taking this photo to your next hair and / or makeup appointment, I presume?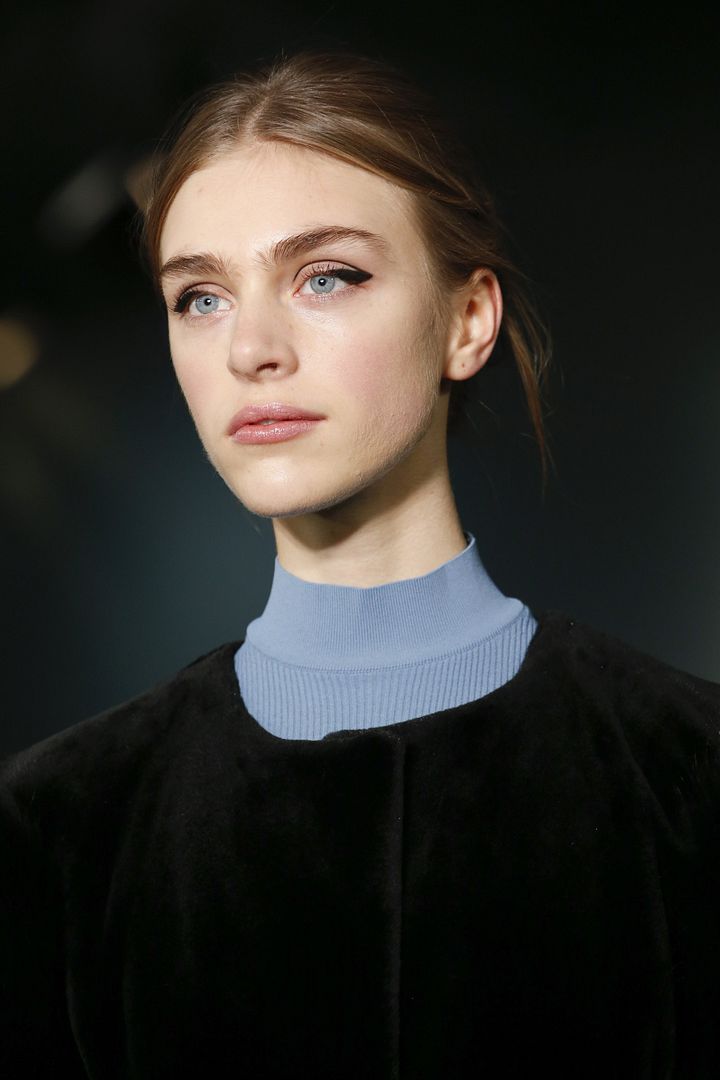 Oscar de la Renta: Fresh face with just a slightly bold eye (perfect for those who don't like to look too overdone but want to try something new).
Dolce & Gabbana: When it comes to makeup, I always say choose an eye or a lip (never both) but when you do each so minimally (a tiny cat eye + poppy-tinted lips), you really can have it all.
Giorgio Armani: Remember when I said fresh but glam? EXHIBIT A (or I guess technically, exhibit D).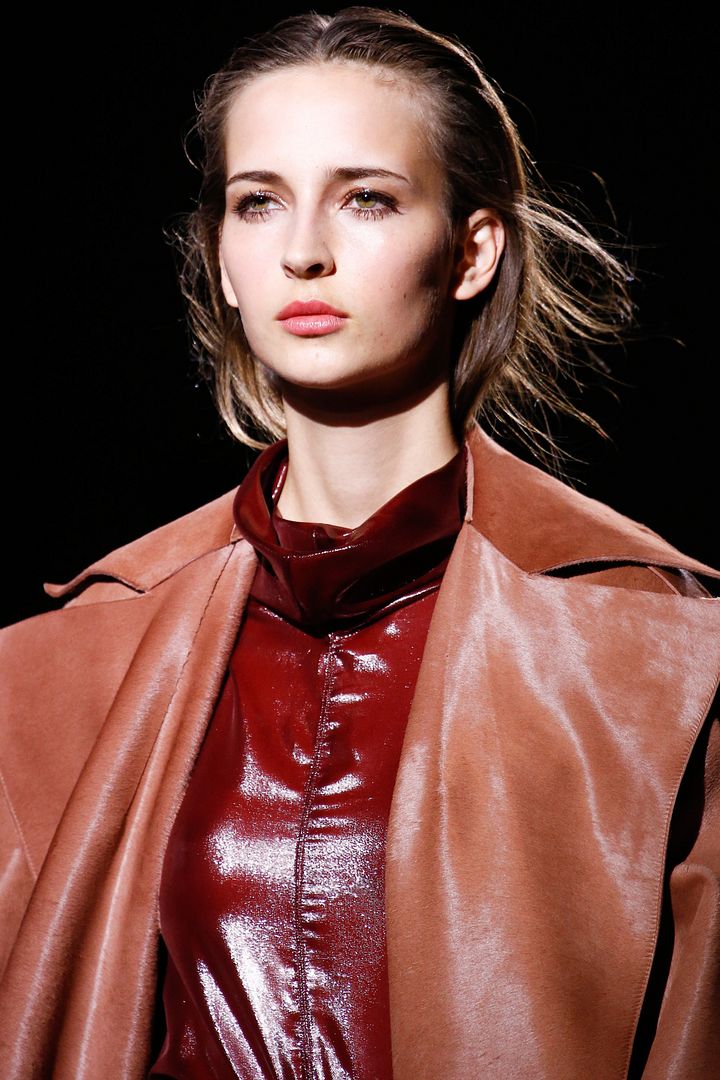 Nina Ricci (favorite!): Like I said, I typically wear the least amount of makeup I can possibly get away with BUT if I was looking for something more (which every once in a while I am, I just have to find someone to do it for me considering I'm eyeliner / shadow challenged) THIS is exactly what I'd want.
A little eye or a bit of lip is all you need. And if you want even more, a fresh blow out won't hurt the situation 😉
Getting into some deeper details, my favorite way to spruce up a makeup look is with a bold lip. I'm horrible at applying anything to the eyes (even mascara trips me up to this day) so a bright or deep lip is the easiest way for me to change up a look. Here's a few of the many designers did some really good lips this season (I might actually end up with five new lipsticks by the time I'm done writing this post).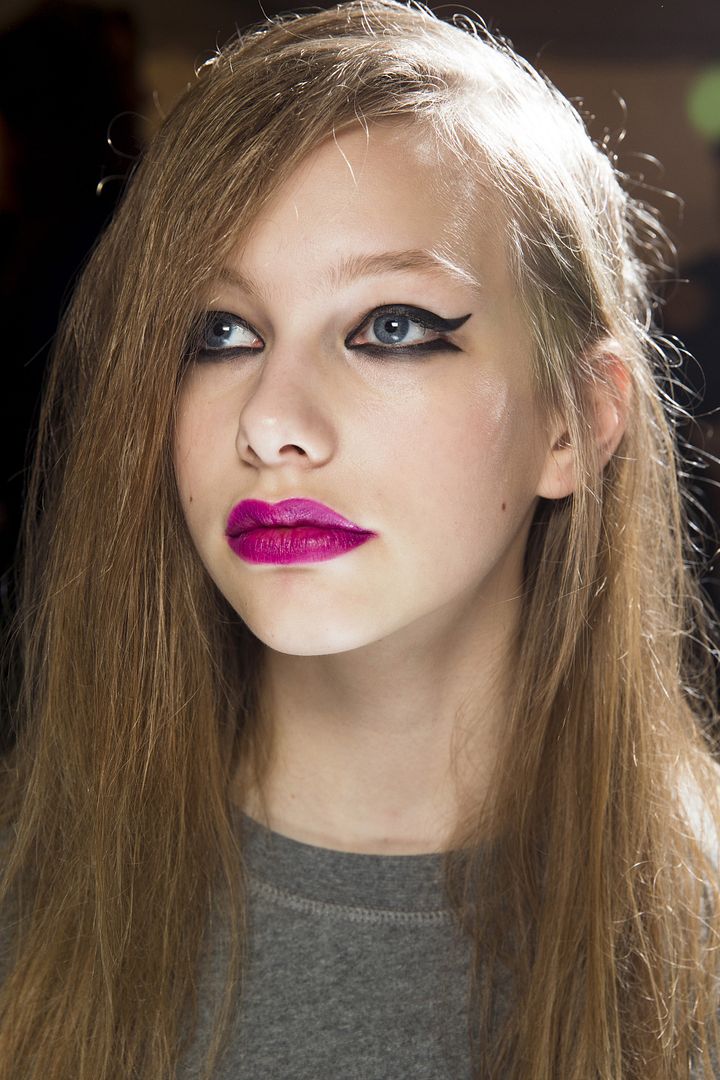 Topshop Unique: Although this is quite bold in both the lip and the eye department, I appreciate this lip because it's a color we don't see too often (and I happen to own one very similar, which you can shop below!)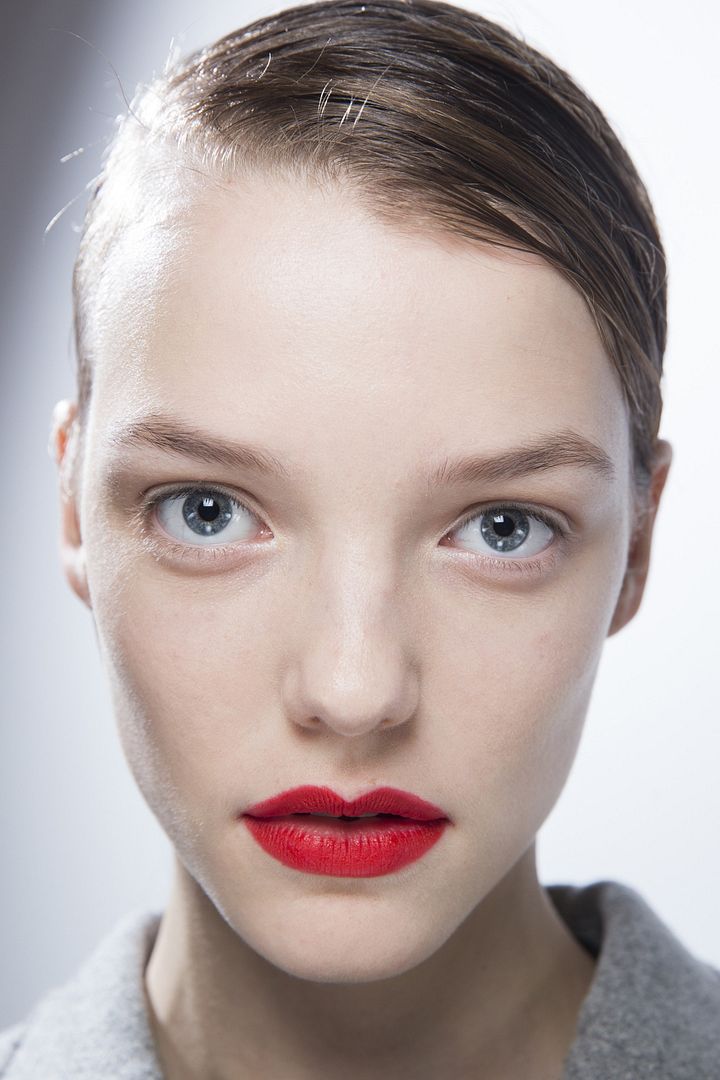 Proenza Schouler: This is the ideal look when you want the full focus to be on the lips — no mascara, no eyeshadow or liner, zero color on the face except for the pout.
Prada: This sort of reminds me of my hair in the mornings during college (well afternoons, really) after I woke up from a late night. Not necessarily the I'm trying but not really trying waves but the matted down bangs. Man, I miss those days. But this is about the LIPS…there are so many reds / berries out there, and although they all sort of look the same, you typically have to shop by skin tone. This is one of those hues that would look good on LITERALLY ANYONE (now if I could just found out the three that were used, my life would be complete…yes THREE shades were used for this look, according to Vogue).
Louis Vuitton: Unless it's a neutral lip, a glossy finish isn't as common as its matte counterpart when it comes to the runways. So this is actually refreshing to see for Fall (and paired with those eyebrows…I mean…it doesn't get much better than that).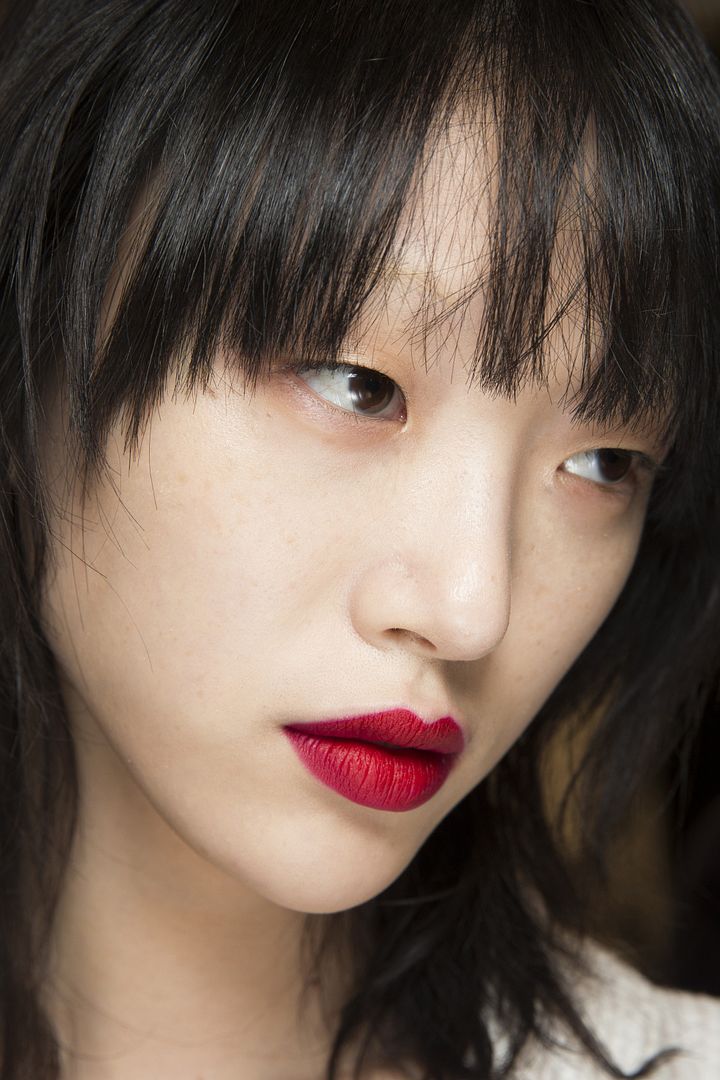 Gucci: You can't go  wrong with a matte red…EVER.
Fenty x Puma (favorite!): I talked about this look in that Fashion Friends episode with Emily Ferber, as it was one of my favorites from fashion month. It's far from conventional but it just stuck with me. Plus, I'm a big fan of a super dark lip and I'm hoping I'll have the confidence to try a black pout eventually. Will be a close second on tomorrow's post (so stay tuned!)
Dior: Not sure why I'm so in love with chunky lashes and an almost black lip but I'm kind of j'adoring it.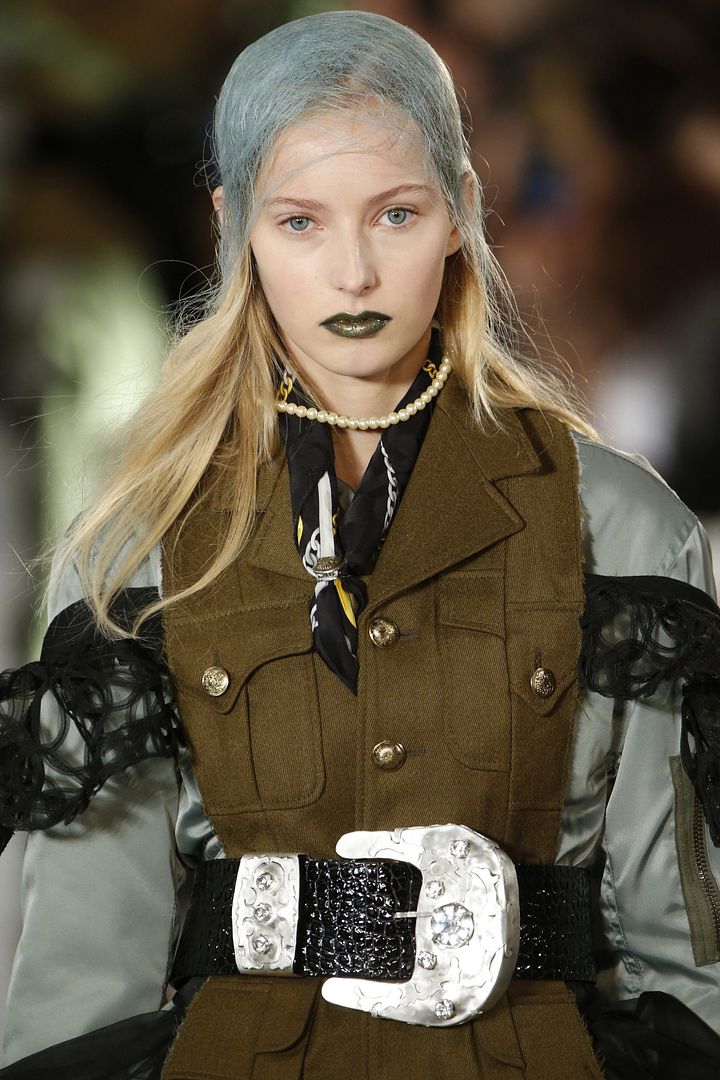 Margiela: Perhaps the weirdest of the bunch (close to Fenty x Puma), I'm feeling this green lip. It's not so bright where it's like HOLY KERMIT LIPS but it almost makes you look twice and think, wait is that green lipstick? This particular hue has a golden tint (which could be a gold gloss…not opposed to that). It's definitely a look but one I'm willing to try!
And this was just me trying really hard to edit down. Red, berry, plum, black, green, pink…I want it all…and good thing I don't have to wait until Fall!
For those who are lucky enough to succeed when applying eye makeup, just wait until you see what showed on the runways this fashion month. This isn't your basic smoky eye…there is some cool shit happening from the nose up that actually gets me in the sparkly / glitter / bedazzled mood (in a surprisingly non-tacky way).
Anthony Vaccarello (favorite!): One glam bad ass.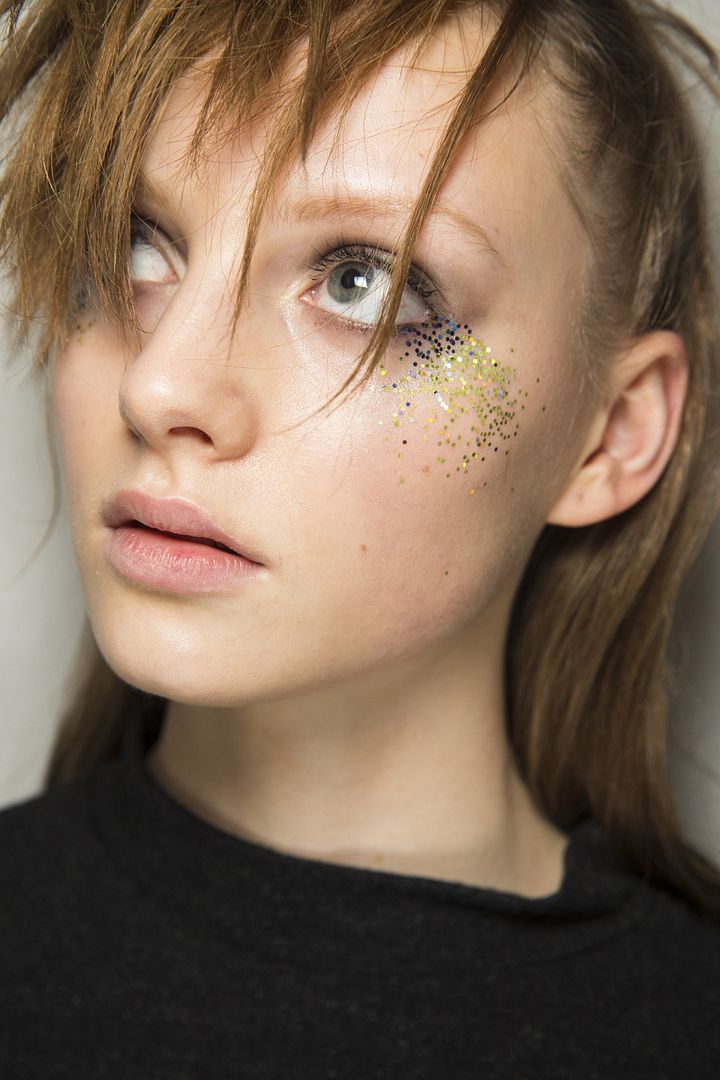 Burberry: If you've always wanted to cry glitter…
Chanel: The signature quilting isn't just for their bags!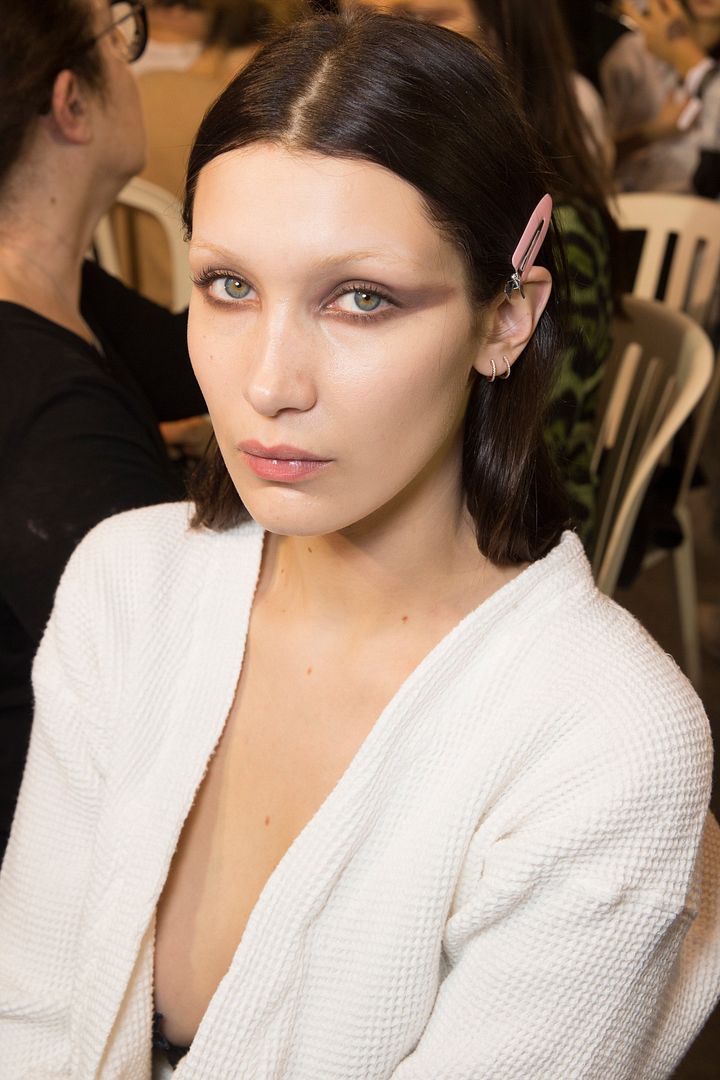 Givenchy: It's like rubbing your eyes after you just played in the dirt but in the chicest way possible.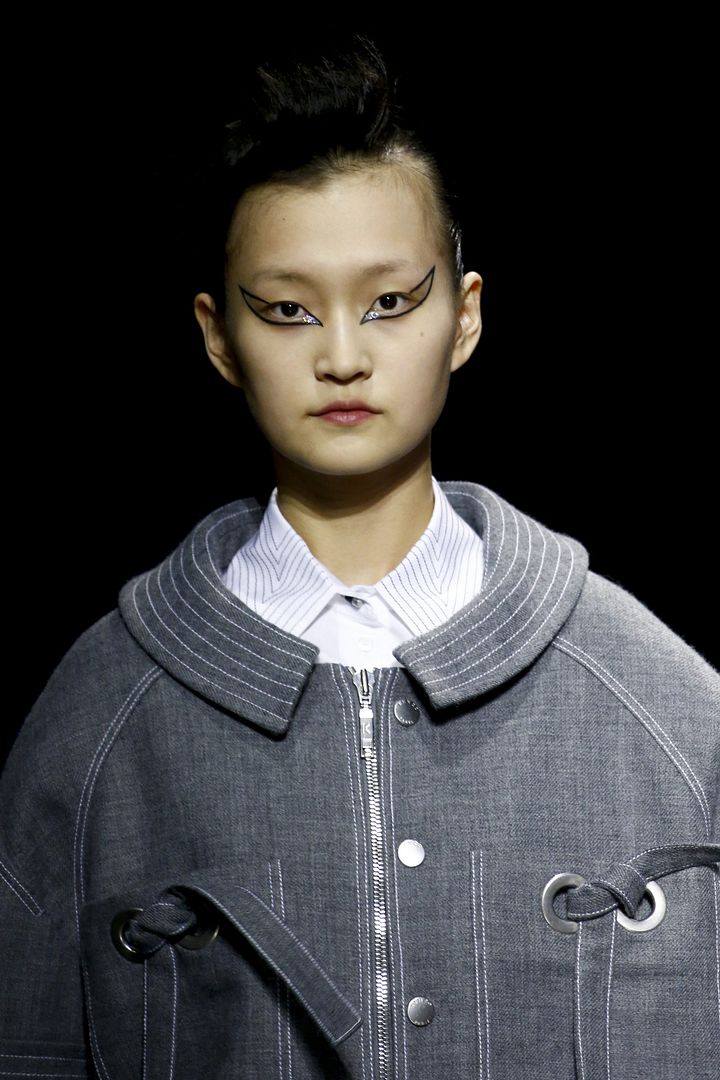 Kenzo: Putting all other cat eyes to shame.
Giambattista Valli: What's better than a strong brow? Strong brows with a second GLITTER BROW.
Last, but not least, we can't forget about the hair. Whether you're looking for something you can actually do yourself (re: Proenza) or that isn't super wearable but you're dying to try anyway (Fenty x Puma, for me!) there's hairspiration for all this Fall.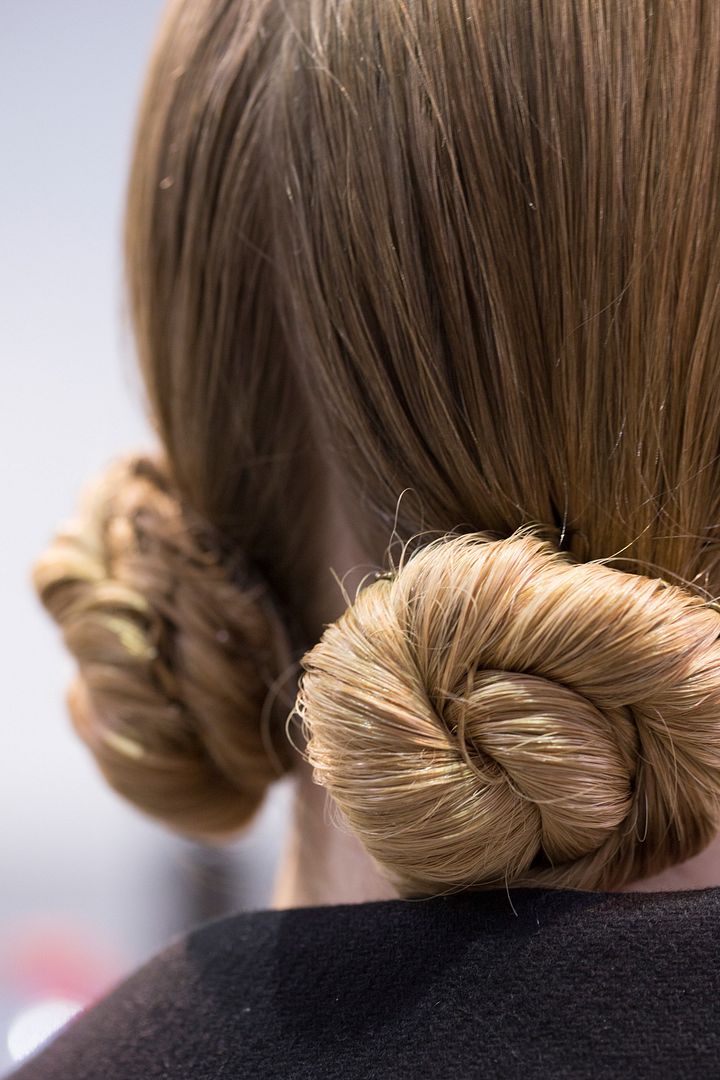 Dior: A more doable Princess Leia, if you will.
Christopher Kane: Ideal for those days where you haven't had your brows done in a while, you didn't get enough sleep that night or your forehead is breaking out like crazy.
Fenty x Puma: At it again! Seriously obsessed with this hair. Festival season, maybe? Can I do it??
Alexander McQueen: When you own a hair accessory but don't know how to do your hair so you just whip some strands into place and hope for the best.
Rodarte (favorite!): Always one of my top contenders for best beauty look during fashion month…Fall '16 was no exception. Brows, lips, hair…I'll take it all.
Proenza Schouler: Side part. Low pony. Done.
Margiela: GREEN HAIR DON'T CARE. It's like Fenty x Puma but messier / piecier (which I don't think is a word but that's cool) and of course…green.
It's clear that hair accessories are still very much a thing (especially ideal for those days where you just have no idea what to do with that mop of yours) but what I'm extra excited to see is a colorful take on the slick back look I love so much. Not sure if I'll ever have the balls to try that white or green paste but I'm sure going to consider it.
—
Overall, the main hair / makeup themes we saw this fashion month would be creative eyes (your standard eyeshadows and eyeliners are no longer cutting it), berry lips (which can be worn in any season by the way), chunky lashes (Dior and Jason Wu to name a few), embellishments (for the face and hair) and slicked back hair (which again, I'm down for 100%). Of those trends, or any of the looks seen here, which are your favorites? Any you'll be trying soon? Any you're sick of seeing? Want to see more of? TELL US.
Images via Vogue Runway
You might want to check out...