The last few weeks have been one big game of fashion industry musical chairs, except not all of these names in fashion have declared their new seat…yet.
If you're wondering who these people are, where they are going, why they're important and maybe even who I'd pick for my fake magazine masthead, then today is one of those days you should really keep reading (although shouldn't you always?)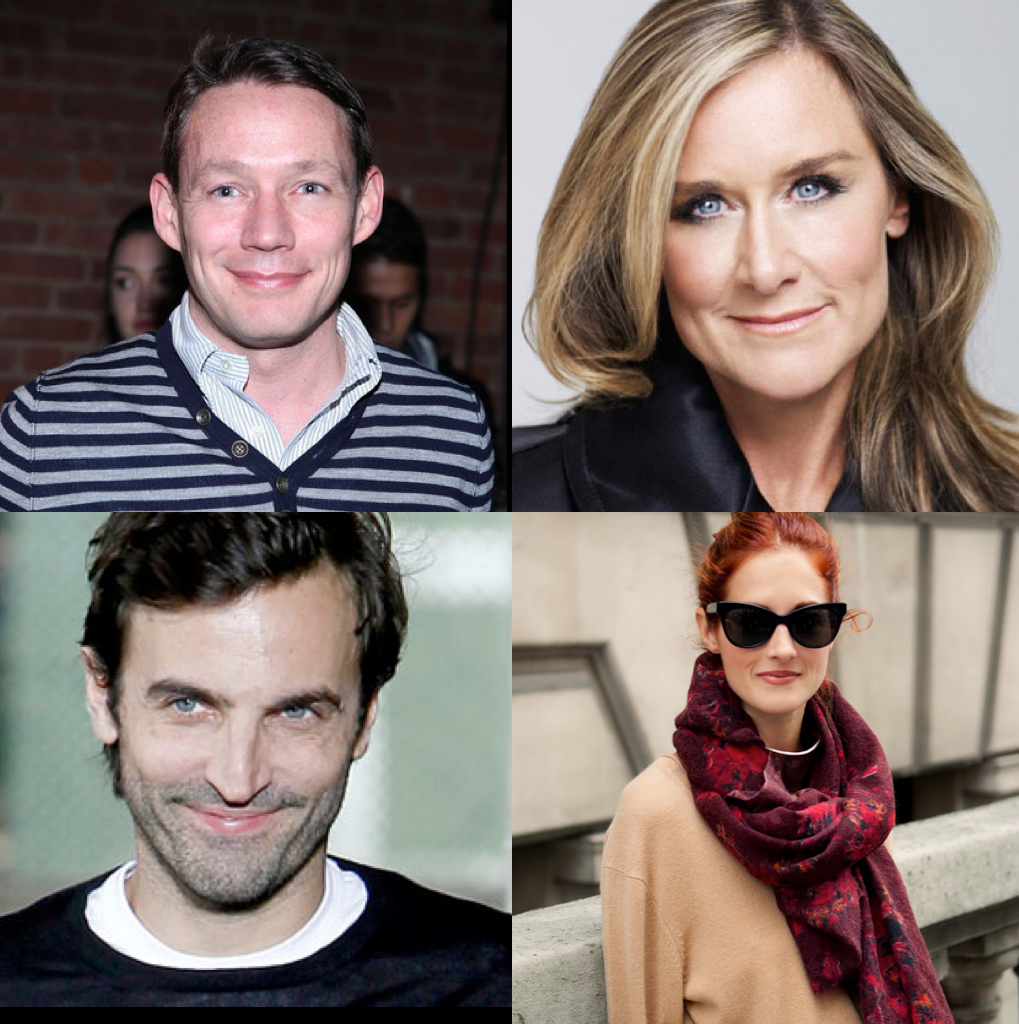 Let's start with Eric Wilson (upper left) — fashion reporter for the New York Times since 2005 (was at WWD prior) and as of November 18 he'll be the first ever fashion news director for InStyle. I'm quite curious to see how his skills translate to a magazine that's typically known for celebrity fashion and "how you can get the look" (neither of which are really NYT or WWD material).
Then I found out the same day Burberry CEO Angela Ahrendts is moving to Apple. She's known for making Burberry the digital global brand it is today so the move is definitely in Apple's favor. Christopher Bailey will remain creative director of Burberry but also take on the role of CEO (there goes his social life). What I'm hoping to get out of this is a Prorsum iPhone.
Nicolas Ghesquiere and Balenciaga parted ways just under one year ago and with Marc's recent move to leave Louis Vuitton, everyone was convinced Nicolas would be in at LV. There were even confirmation stories all over the Internet a few weeks ago (but LVMH claims "nothing has been decided"). From what I've seen in the past though, these rumors almost always seem to be true. So maybe we'll soon see Louis Vuitton monogram motorcycle bags…you never know.
Last week Moda Operandi's Taylor Tomasi Hill announced her departure from the luxury e-commere site but no confirmation has been made with regards to her new gig. Maybe Eva Chen will snatch her up? (she did get famous French stylist Carlyne Cerf de Dudzelee on board as Lucky's fashion editor at large) TTH was previously at Marie Claire so she might revert back to her magazine days (or go the Carine route and start her own). What I do know is that the girl could definitely put together a year's worth of issues full of just her street style photos (seriously, the photogs love this girl).
So now that you're up-to-date on this super fun game of fashion musical chairs (and in this game the seat cushions are either python or croc), let's play another game. Guys get to do their whole fantasy football thing, so why can't we have a fantasy masthead? Well guess what ladies? YOU CAN HAVE IT ALL.
So this is my fantasy magazine masthead (although this seems like a pretty small magazine having such major players…but it's fun to pretend, right?)
Editor-in-Chief was the one I had the most difficult time coming up with. Of course most people would choose Anna Wintour and I'm not saying that's a bad choice but my magazine is a little more international and younger so Emmanuelle Alt (EIC of Vogue Paris) seemed to be the way to go.
Kate Davison Hudson is best known as being the accessories editor for both Harper's Bazaar and Elle but with her new venture The Editorialist (online magazine meets luxury e-commerce), she clearly knows what she's doing in the creative department, hence my choice for Creative Director. She'd work closely with leather-loving Christine Centenera (currently the Senior Fashion Editor at Vogue Australia, which has nothing on the faux CCF magazine…obviously) while Editor at Large (who really just needs to look good and know what they're talking about) Miroslava Duma would capture the hearts and lenses of street style photographers worldwide (which is how I plan on obtaining a global audience for my fake magazine, clearly).
Sorry Wonderland but I think Julia and I can take it from here. Her unique eye for style is exactly what any fictitious magazine would need (it also helps that she's one of my style icons). For beauty, I look to no one else other than Emily Weiss, founder of Into The Gloss (her face is actually perfect, and whether that has to do with makeup/skin care or she's just genetically gifted I still trust her in the beauty department). Eva Chen really knows what she's doing when it comes to all things digital (even though she was previously the Beauty Director at Teen Vogue…she can just do it all). And lastly, when you have Instagrams such as this, this and of course this…I think we're going to mesh well. 

—
Now it's your turn…who would you put in your fake (or maybe one day real?) fashion mag masthead?
You might want to check out...