I hate to be another one of those websites that talks about Kendall Jenner and Gigi Hadid…but today, I just have to be another one of those websites that talks about Kendall and Gigi (KenGi?), and here's why…
Athleisure has been going pretty strong for a few years now, and although some try to say it's over…these two prove that theory very wrong (and so does this). Even if a sporty look isn't your thing, doesn't this make you at least want to consider it?
There's quite a few benefits to the continuing athleisure trend. Like what? (you might ask). Well first and foremost…isn't it nice to have something actually comfortable be in style? (unlike, you, skinny jeans…)
It also makes working out a little more manageable. I used to force myself to go to the gym in a sorority t-shirt and Soffe shorts…and it was miserable. And after I figured out traditional gyms aren't for me (I prefer activities like yoga, boxing and Flywheel), I now don't totally hate all exercises and I kind of like my outfits too. So much so that I even wear them for other occasions besides profusely sweating. Although I can't say I look anything like this…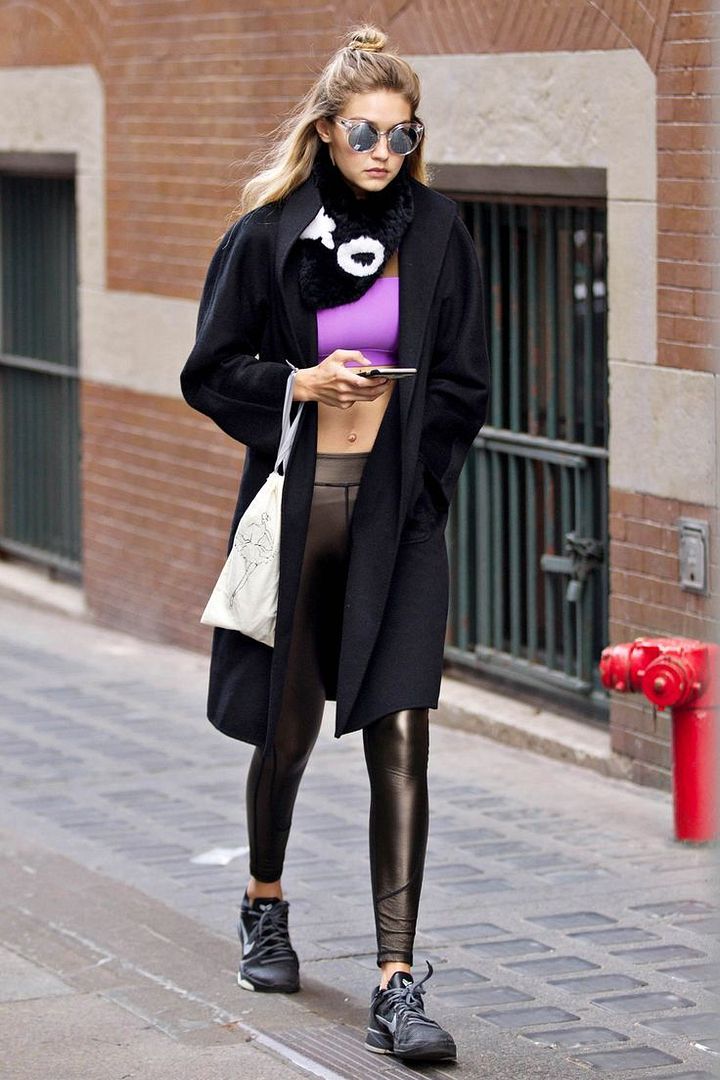 But we can all try…
It's not like athleisure is anything new but there's something about the way Kendall and Gigi rock their sweatpants and sports bras…that just make me want to wear gym clothes ALL THE TIME (which I've never said before in my 27 years on earth). Yes, I realize they are both models so of course everything looks great on them, but that doesn't mean you can't look awesome in leggings too.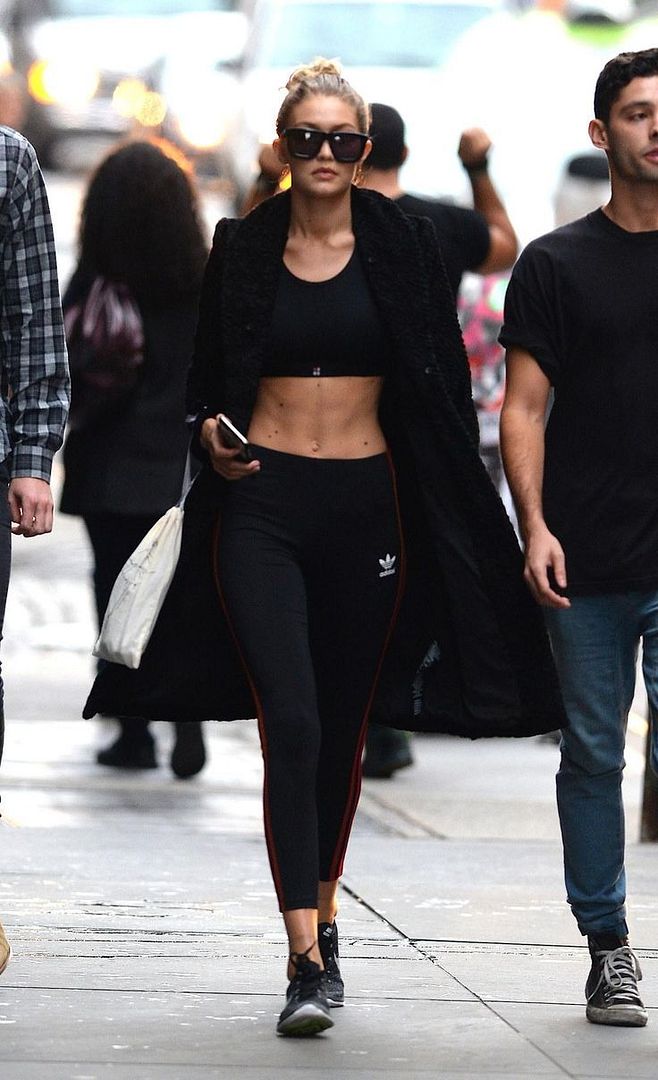 So how can you look like KenGi when you work out (or don't?) I would love to tell you how to get abs without doing a sit-up or drinking a green juice…but I have the opposite of abs so I'm probably not your best consultant. However, I can be of some assistance in the style department.
Let's start from the top. If you're not super comfortable wearing a sports bra and leggings in public, you're definitely not alone. But if you're even just considering the look, trying a longer bra (more of a bra top) with high-waisted leggings and some sort of jacket (leather or bomber looks best) then you have much more coverage and you won't feel so…exposed.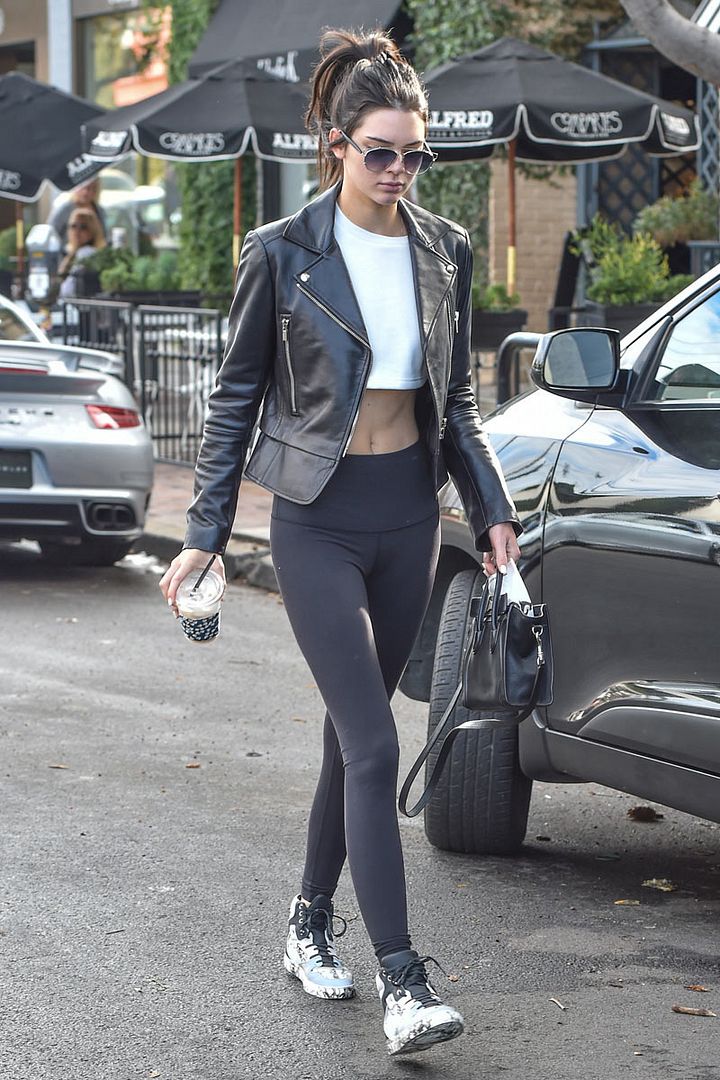 You can also go the Gigi / North West route and try more of a ballet-inspired look. Not sure if you want to be walking around the city in ballet slippers but these or these will get the job done (along with a leotard, tights, and a super chic coat).
You can also always try a sweatsuit (which I obviously endorse). This one you have to be careful with as it can easily look sloppy. So try something with a slightly cropped or tapered pant so you can really have fun with the shoes.
Overall, I think there's a lot we can learn from Kendall and Gigi's athleisure-ness. Not only am I encouraged to step up my game at my next yoga class (Downward Dog is much more exciting in adidas by Stella McCartney, isn't it?) but I might just be more likely to experiment using the clothes found in my "exercise drawer"…even on the days I don't work out (which would be most days).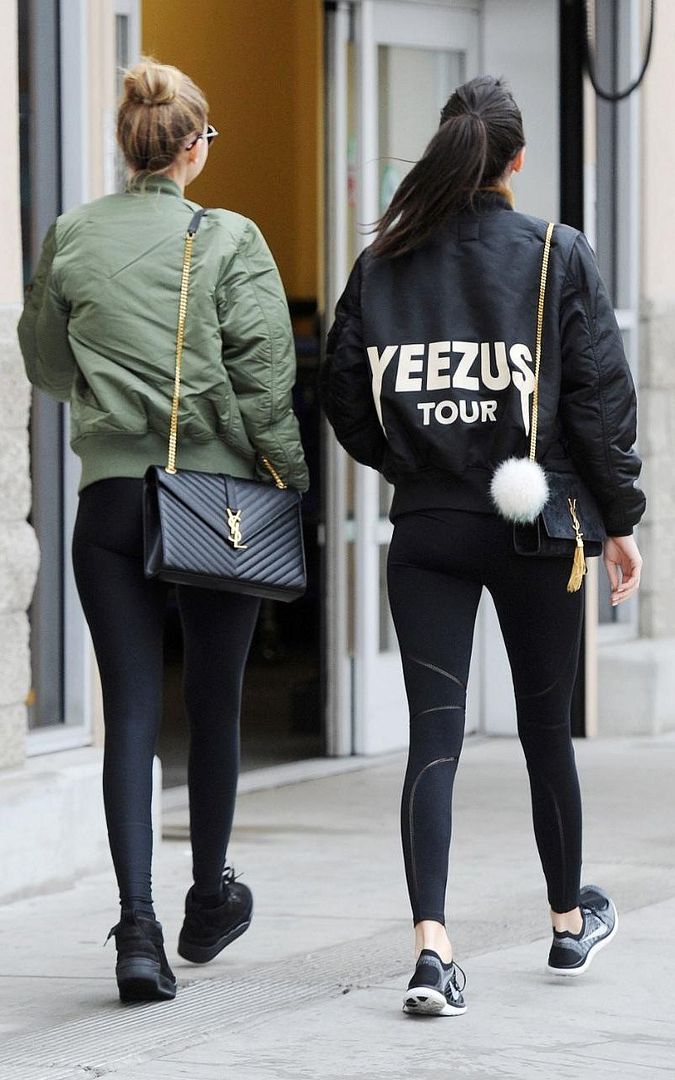 If we're on the same page (if so, let me know in the comments…and if not, let me know in the comments!) you can shop some of my favorite gym-to-street pieces below. And if you want even more, Nike is always my go-to and you should also check out Bandier, Net-a-Porter, Outdoor Voices, Carbon38, Live the Process, and to get your inner ballerina on like Gigi and North, Ballet Beautiful.
Images via Elle, Vogue & Pinterest
You might want to check out...