The red carpet may have gotten a little damp, Jennifer Lawrence almost lost one of her many borrowed pieces of jewelry, and if you don't know the name Lupita Nyong'o you're going to know it now. The 2014 Golden Globes happened last night and if you missed it, you're not going to find out who won here on CCF but if you want to know who wore what then you've come to the right place.
Let's do this.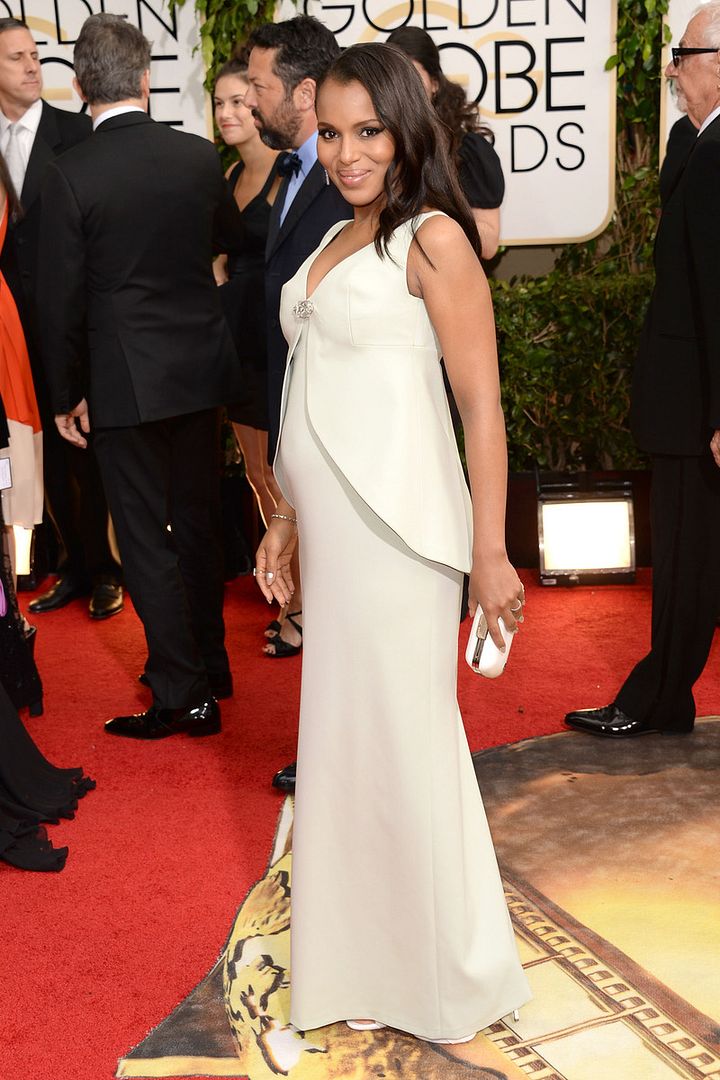 Kerry Washington in Balenciaga
It's definitely an interesting silhouette to wear when you're pregnant. It's not unflattering but there's definitely better options (you'll see when we get to Olivia Wilde). The boob area is what I can't get past (unless "flattened breasts" is what you're going for).
Julia Roberts in Dolce & Gabbana
Strapless dress over a crisp white shirt, huh? (and don't forget the rhinestone belt!) Not exactly Golden Globes material (or appropriate for any occasion, really). Sorry Jules, but this is one of the worst red carpet looks I've seen in a long time (but I'm sure your movie rocks).
Naomi Watts in Tom Ford
Minimal makeup, easy hair, well-fitted dress. This is how you do shiny on the red carpet, folks. Side note, you'll be seeing a lot more of that blue peplum in the background. Just wait.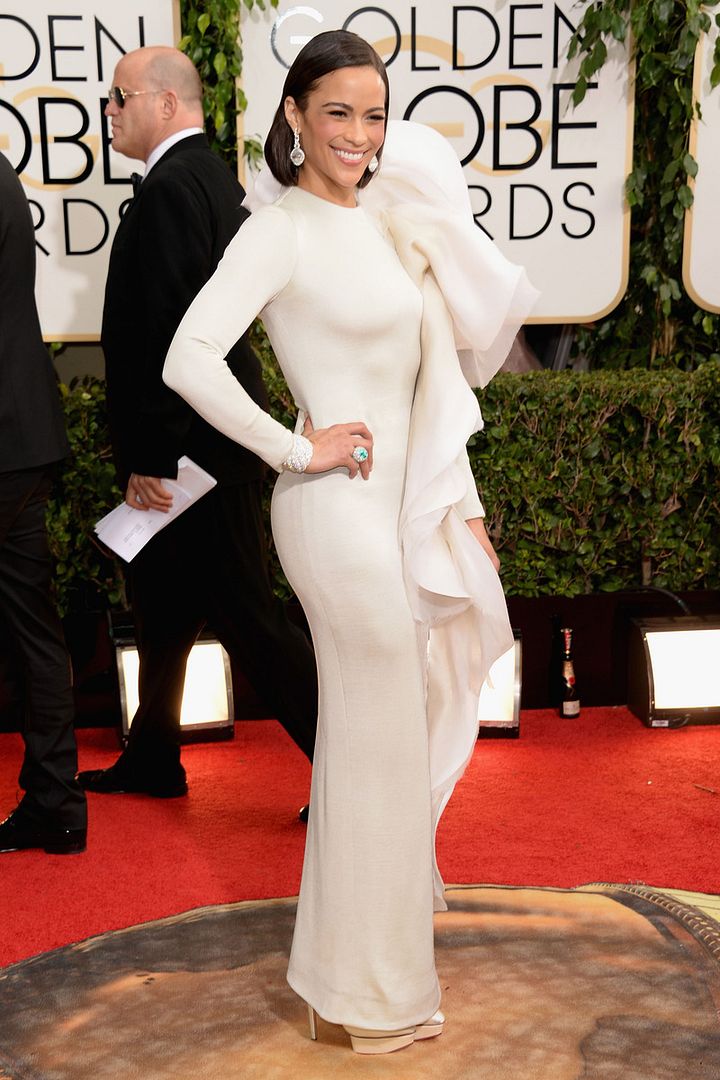 Paula Patton in Stephane Rolland Couture
It's so frustrating when someone so beautiful never gets it right on the red carpet. She either has bad taste, a terrible stylist or both. Props for wearing Charlotte Olympia shoes though? (trying not to be a huge bitch here).
Taylor Schilling in Thakoon
I appreciate the color, not something we see often on the red carpet. It's great for her first Globes but if she's going to keep doing this Orange Is The New Black thing, she'll have to step it up a notch.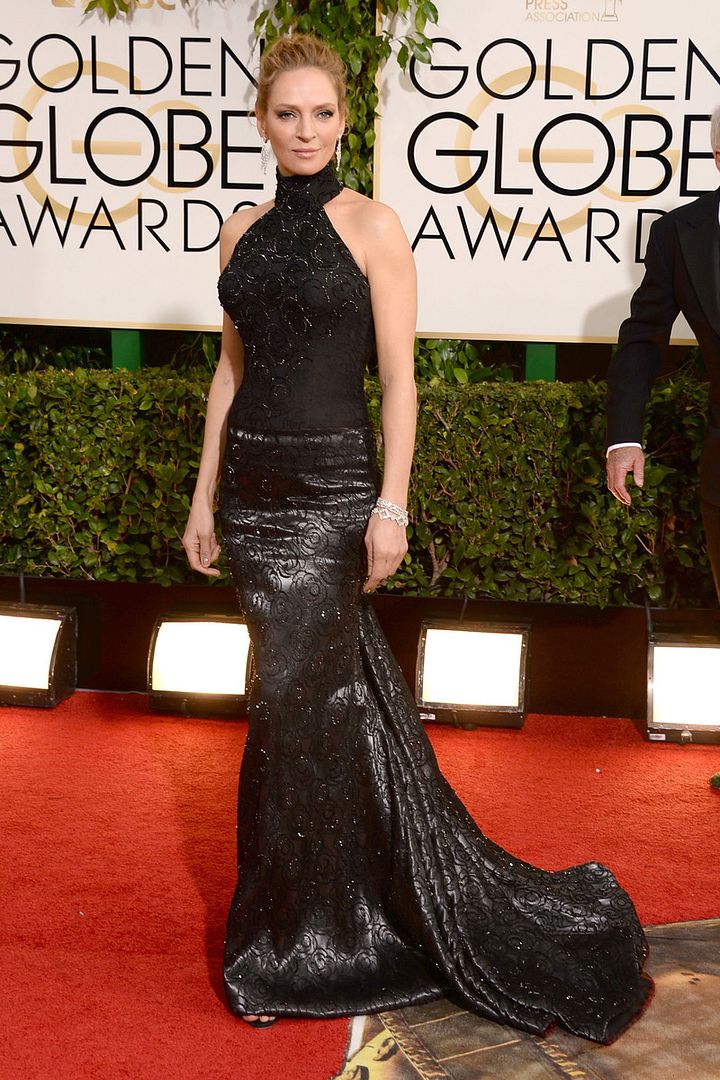 Uma Therman in Atelier Versace
The dress just looks so…heavy. I mean, when I ask myself "What Would Donatella Do?" This is not it.
Julianna Margulies in Andrew Gn
I adore this silhouette. It's flattering, it's effortless and ideal if you want to actually eat your dinner at the awards show (plus, it has pockets!) Although the print looks like a gold coral reef or deformed snowflakes, I'm somehow into it. The matchy black and gold earrings aren't necessary but the dress I'm on board with.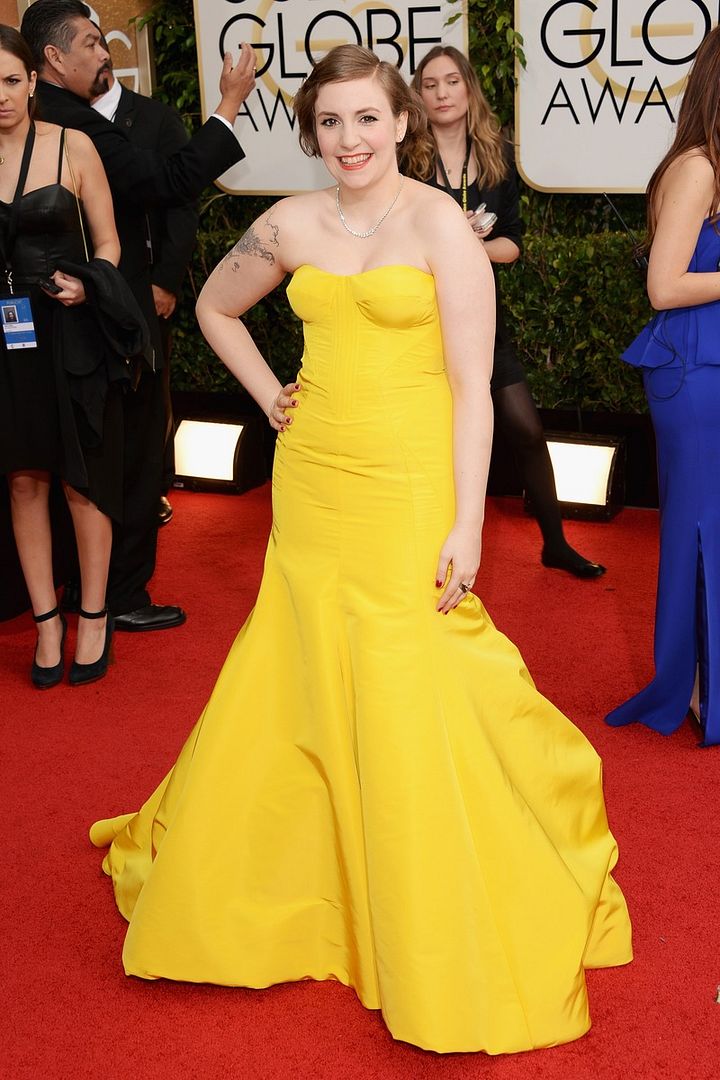 Lena Dunham in Zac Posen
That's a lot of yellow. Like more yellow than I ever want to see on the red carpet. But between Lena's dress, the carpet and blue peplum lady, we have all the primary colors covered. So…yeah.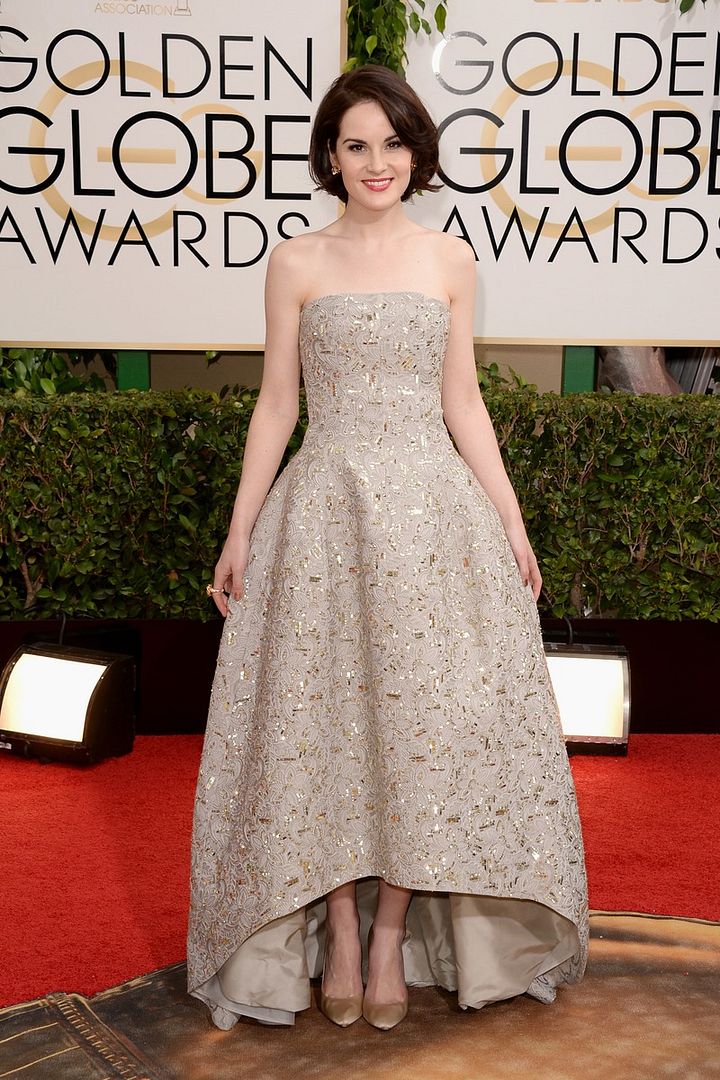 Michelle Dockery in Oscar de la Renta
Pretty, I guess?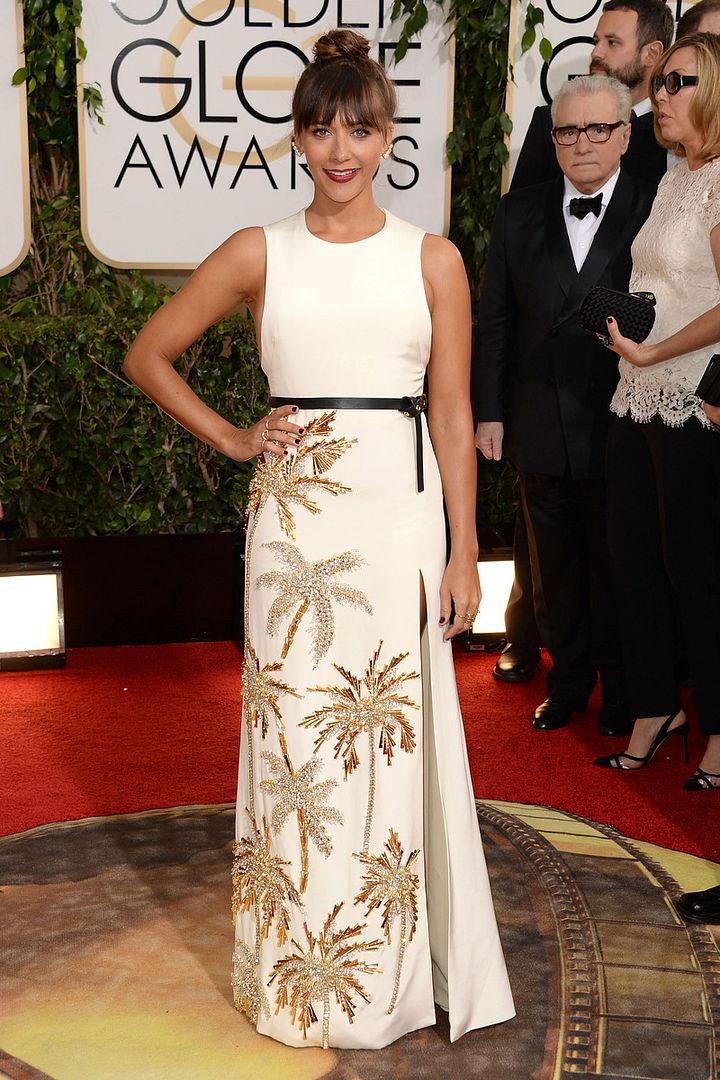 Rashida Jones in Fausto Puglisi
Just like I'm surprisingly into the golden coral reef, I'm into this strange palm tree dress. It could be the fact that I live in Chicago and the very thought of a palm tree really excites me, or perhaps that I just like weird things. But regardless, I'm loving this entire look (hair, makeup, jewelry and everything) 99%. I wish the belt was a little simpler without anything hanging/tucked in (although that is how it was shown on the runway). Otherwise, I appreciate the use of palm trees on the red carpet (kind of like when Anna wore lobster).
Sofia Vergara in Zac Posen
All I see here is necklace and boobs (but I'm quite thankful for this not being a mermaid dress).
Zoe Saldana in Prabal Gurung
She always takes a risk on the red carpet and this most definitely is not an easy dress to pull off. If the hair was down and straight (it's currently just a little ballerina for me) and the bag was either black or metallic (not totally sold on the pink), this would be one of my best dressed. But hey, you can't win 'em all.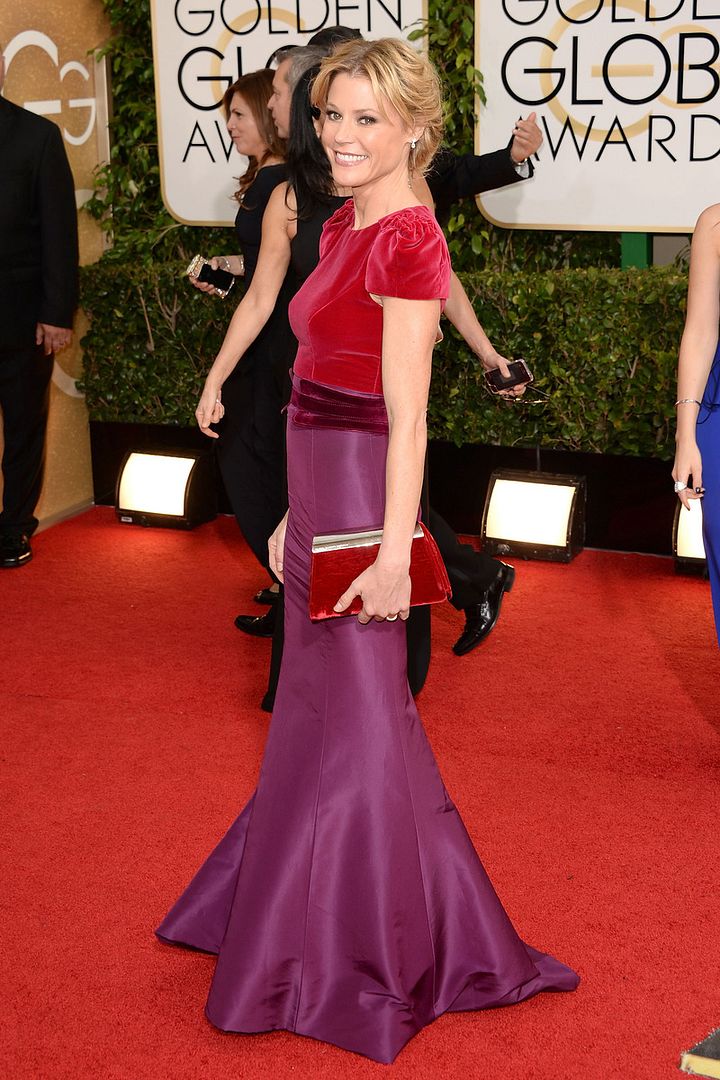 Julie Bowen in Carolina Herrera
Red velvet and satin plum. Not my favorite combination in the world but she's looked worse (remember last year's Golden Globes?)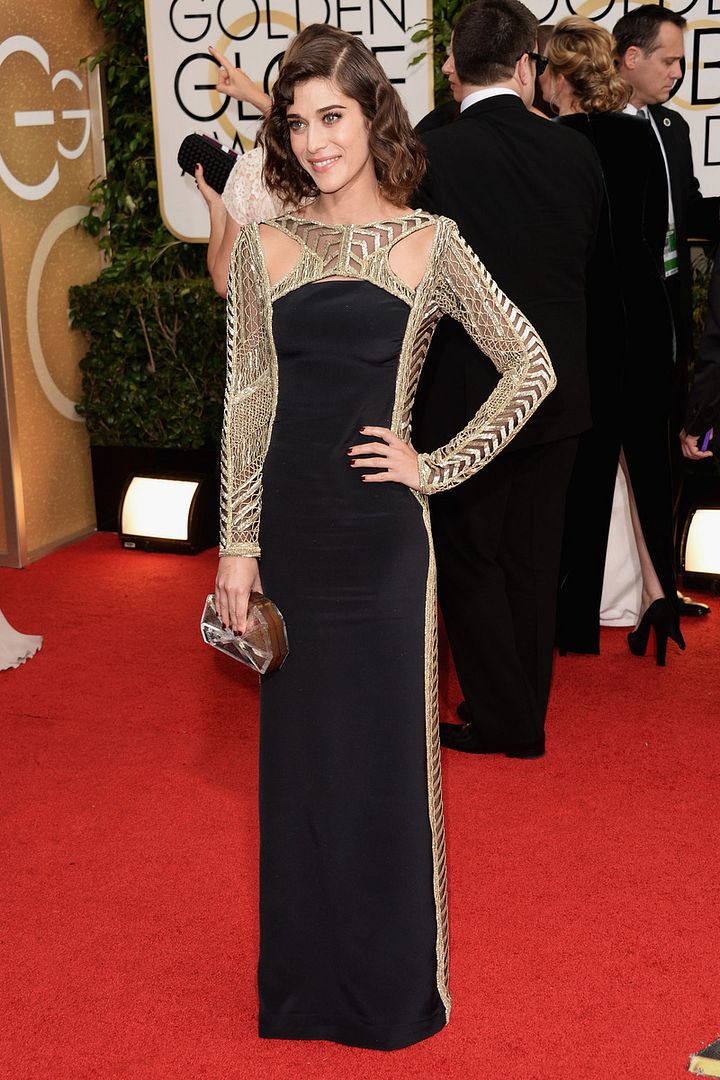 Lizzy Caplan in Emilio Pucci
Best Dressed Pick
Just Janis Ian killin' it in Pucci. No big deal. For someone we never see on the red carpet, this is a huge risk (and one that paid off!)
—
With so many dresses and only so many minutes seconds to capture your attention, be on the look out for more Golden Globes fashion. Parts 2 and 3 coming soon.
Images via The Cut
You might want to check out...