If you're reading this and have not yet studied part 1 and part 2 of my Globes red carpet commentary, then I suggest you get on that (this is very important stuff).
Done? Let's wrap this thing up.
Lena Dunham in Zac Posen
I love Lena so I feel bad saying this…it's terrible. The color is straight up bad and she's too cool to wear a traditional gown. Funk it up girl, because you can.
Kerry Washington in Miu Miu
Best Dressed Pick
She rarely gets it wrong so I'm not surprised to include her as a best dressed pick. I love the detail in the dress, she's doing the sheer trend in the RIGHT way, and the styling is simple and elegant. PERFECT.
Naomi Watts in Zac Posen Pre-Fall 2013
I have mixed feelings about this one. It's not my favorite color but it works for her. Looks pretty from the front but it's much more of a statement from behind. I love the open back but the butt drape is a little weird. It's like a crimson waterfall coming straight from your ass…and who wants that effect?
Nicole Kidman in Alexander McQueen
Not in love with the hair and makeup but that is a damn good dress.
Nicole Richie in Naeem Khan Spring 2013
I almost chose this as a best dressed pick until I looked more closely. Although the color is great, dress fits her like a glove, and her hair is the best it's ever looked…the matching blue eyeshadow is completely throwing me off. Mimi from The Drew Carey Show has forever ruined blue eyeshadow for me. Not like that's a bad thing.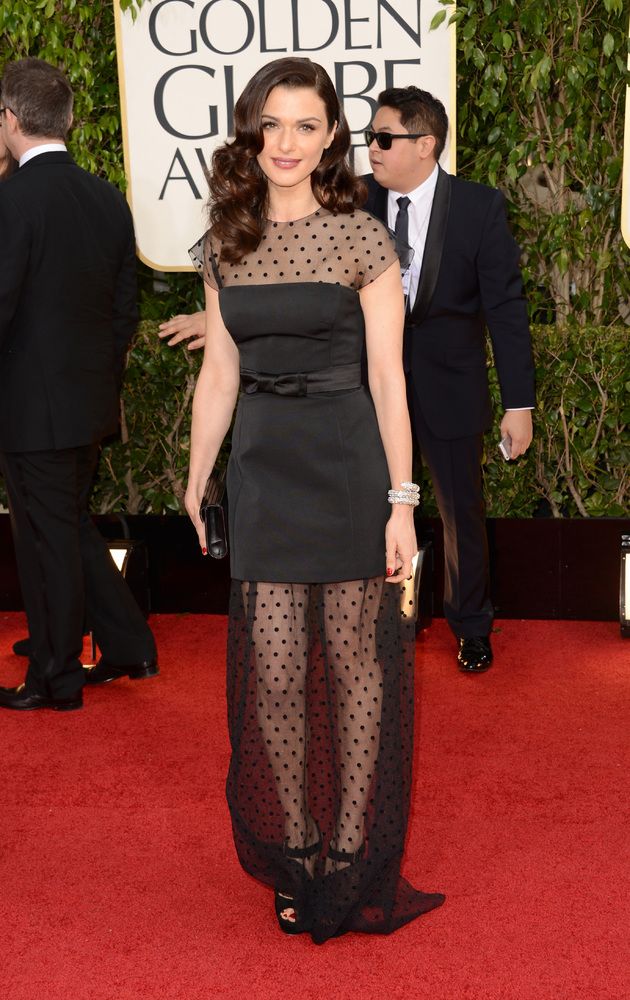 Rachel Weisz in Louis Vuitton
Gorgeous. Could use a different belt though (maybe borrow from Jennifer Lawrence or Marion Cotillard? You know…because it's the same belt).
Sarah Hyland in Max Azria
It's like she said to her stylist, "I going for that junior prom/Kardashian look." Well, Sarah…look achieved.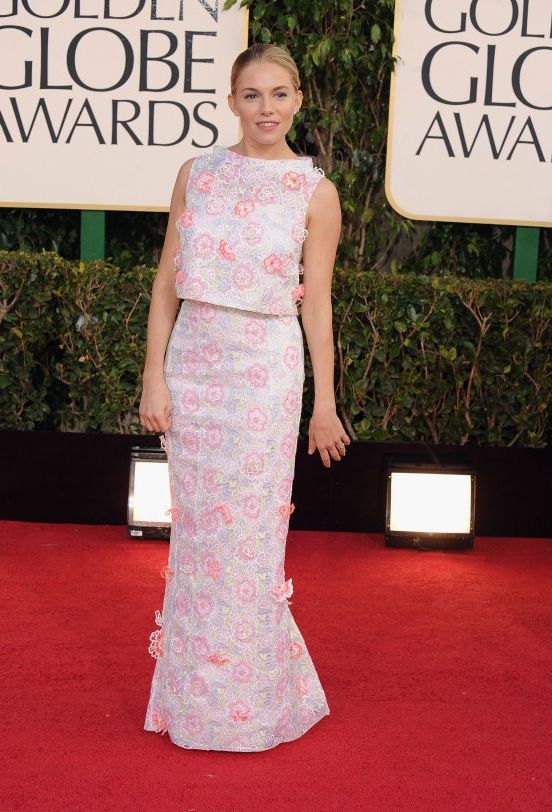 Sienna Miller in Erdem
I wanted to like this so bad because Sienna is such a fashion icon, but there's something about it that's a little flat. When Giuliana Rancic interviewed her on the red carpet, she said she hates her for looking so beautiful with barely any makeup on. While this may be true, she could have used a little extra something in the hair and makeup department to pull this look together. So close yet so far…
Taylor Swift in Donna Karan Atelier
What is with this awful color last night? Let's leave the late 90s red carpet looks in the late 90s, please. But I must give Taylor major snaps for wearing something OTHER THAN A SPARKLY NEUTRAL DRESS. It really is a miracle.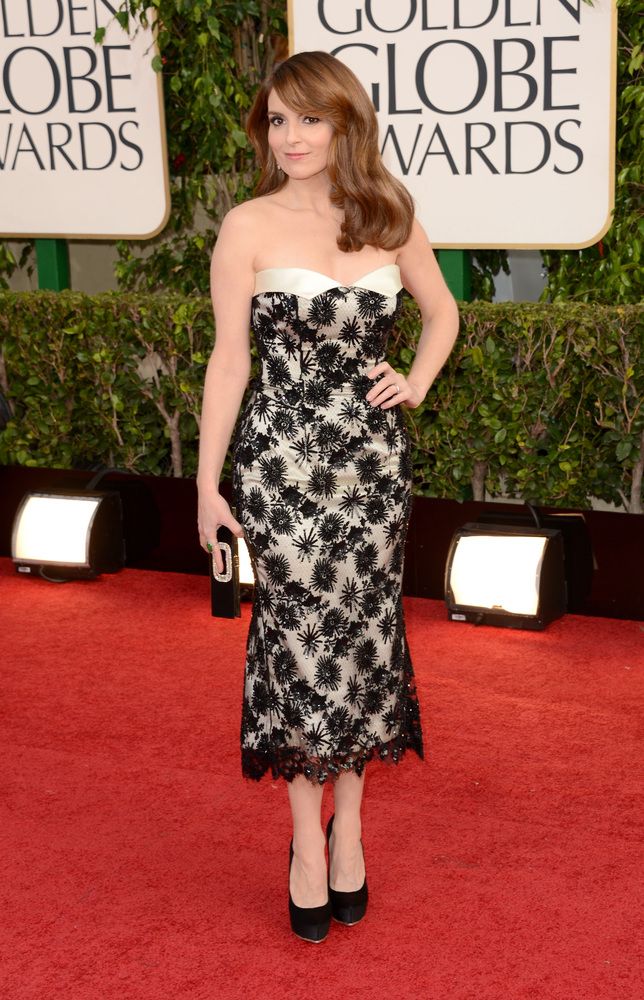 Tina Fey in custom L'Wren Scott
Turn the round toe into a pointed toe and lose that white collar over the boobs situation and you would have been a best dressed pick, Tina.
Zooey Deschanel in Oscar de la Renta
With all the quirk Oscar brought for Spring '13, I'm surprised Zooey went with a strapless red dress. Looks 47, 57, 59…they scream ZOOEY! And pearls? Really? I can't.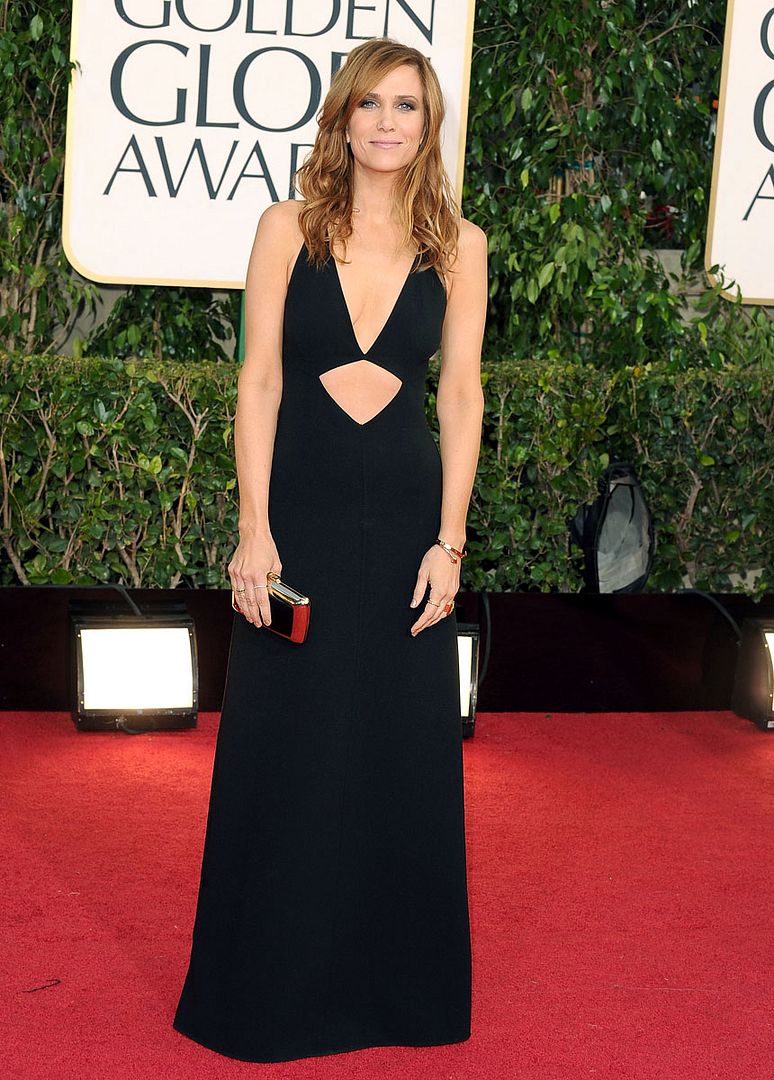 Kristen Wiig in Michael Kors Spring 2013
Hell yeah, Kristen! She never does color, and that's okay. But after two terrible attempts at a nude dress (see Oscars and SAG Awards), this is actually refreshing. Best she's ever looked on the red carpet.
Who were your best dressed picks at the Golden Globes this year?
Photos via Huffington Post
You might want to check out...