Isabel Marant is known for designing the "it" shoes. First it was the Dicker boot, then the Bekett sneakers and now we have a new trendy friend in town — the Carol sandal.
I am so fascinated by the fact that Isabel Marant has had her line since 1994 yet the phenomenon of her super trendy shoes has only been around for a few years. Let's take a look…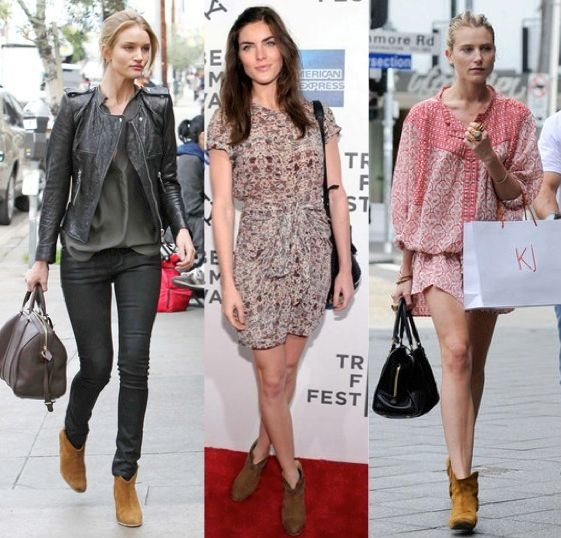 Kate Bosworth is who I associate with making these boots happen, but they were equally as popular with models. Probably because they have to wear extremely uncomfortable shoes all the time, so if you can get a little height and be comfortable at the same time…then why not?
Then Marant decided that sneaker wedges are going to happen…and everyone followed. Now, you can't go to fashion week without seeing 8-10 pairs in one single rush out of Lincoln Center. Again, it could be comfort thing. No one really wants to wear high heels 12 hours a day for 7 days…but you know how I feel about sneaker wedges. And I'll leave it at that.
And now we move onto the new Carol sandals (which I think should be renamed the Blogger Sandal). Seen here is the same shoe on [going clockwise] on Tuula Vintage, The Blonde Salad, Peace Love Shea and Fashion Toast. It's like before I can even enjoy the shoe, I'm over it. Ya know? But I haven't seen anyone wear the high heel version yet. So there's still time.
So basically where I'm getting at here is…how did the fashion world decide that the "it" shoes of celebrities, bloggers and everyone in between is going to be Isabel Marant? The Marant evolution continues to intrigue me on a daily…and now I'm curious to see, what/who will replace Carol for next season? Also, who is Carol?
What do you make of the Marant shoe phenomenon?
Images via Net-a-Porter, Modelinia, Style Snooper Dan
You might want to check out...