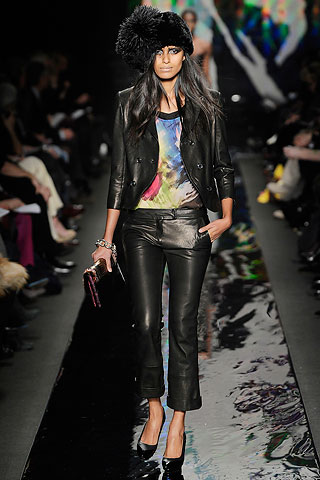 Photo Credit
The Diane von Furstenberg Fall 2010 RTW collection was one of my favorites to come out of New York Fashion Week. Not only is Diane a very powerful, successful and influential women in the fashion world, her collections are always young, modern, and very chic. I absolutely loved the hats from this collection (see photo above). Not sure if I'd ever wear one but I thought it was great for the runway and it was a fun accessory to add to her collection. Although there were many pieces I obsessed over from this collection, this is my favorite look because it encompasses a variety of styles. The leather pants and blazer make it edgy, the colorful top makes it flirty and the hat makes it fun. What more can you ask for? That's just my opinion though…what's yours?
[polldaddy poll=2772597]
You might want to check out...