After countless red carpet photos, including those who really shined (quite literally) and embraced the theme, it's the moment you've all been waiting for — best dressed at this year's Met Gala!
Zoe Saldana in Dolce & Gabbana
Of all the feathers we saw on this year's red carpet (Rita Ora, Anna Ewers, and Saoirse Ronan to name a few), this was by far my favorite feathered moment. The bustier gown was wrapped in tulle with a silk organza skirt embellished with multi-colored feathers and THAT is exactly what you need to have a moment on those famous steps. Not only a best dressed pick but I'd say she wins for most dramatic (outfit) too.
Karolina Kurkova in Marchesa
She seems to always end up in my best dressed picks for the Met Gala and this year she almost didn't. This is a stunning dress, but at first glance it's not groundbreaking. But wait…IT IS! This "cognitive dress" was a collaboration with Marchesa and IBM and although you can't see it very well in this particular photo, the flowers light up. A dress with a battery pack can easily be super tacky (remember the episode of Modern Family when Lily wore the light up flower girl dress?) but somehow Keren Craig and Georgina Chapman made it look super elegant. And it's especially lovely from the back…
Jourdan Dunn in Balmain
Although I already deemed Kim Kardashian a glambot of the Met Ball, Jourdan is definitely the best dressed glambot of the night. It's just such a high impact dress, and with all the silver and sparkle that saturated the red carpet, this one stood out the most. And I'm starting to realize that many of my best dressed picks aren't just best dressed from the front, but from the back too!
Alicia Vikander in Louis Vuitton
I've already mentioned for several dresses (at this red carpet event and others) that there's too much going on and the competing elements can ruin a look. There should be too much going on here — a shiny red bra top sewn into a gold sequin asymmetrical dress with a black overlay…and chunky red and black lace up boots?! WHAT?! Somehow, it just works! It's a little casual but I fucking LOVE IT!!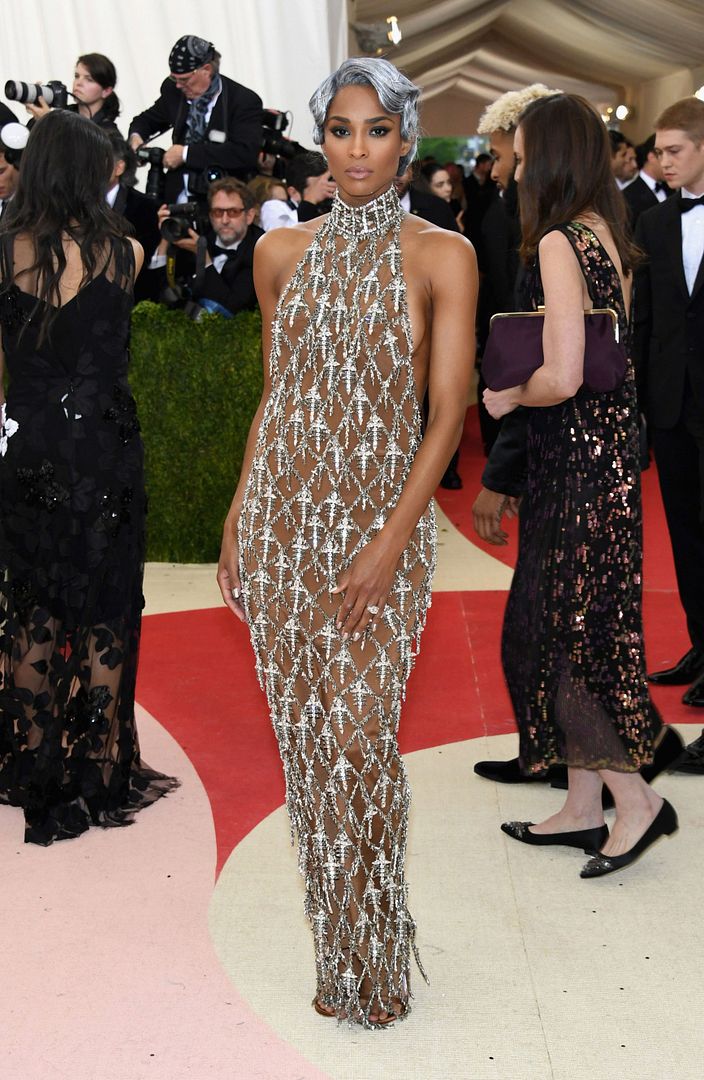 Ciara in H&M
Another one of my new(ish) style crushes, Ciara always brings her A-Game. If she didn't do the silver hair, I'm not sure if I'd be as into this as I currently am but it goes to show how much the beauty look matters. It's like a machina version of Nicole Richie's hair from the punk themed Met Gala a few years back. Okay now I want silver hair (not to be confused with gray…I already have those).
Brie Larson in Proenza Schouler
It's everything Taylor Swift's dress should have been…and more. I realize it's even MORE side cut outs (it's madness at this point) but I adore the silhouette with the perfectly proportioned tiers, and the shoes were a great match with those little ankle ties. Top it off with a dark lip, and I think this is my favorite Brie Larson red carpet moment yet!
Alexa Chung in Thakoon
If I were invited to this year's Met Gala, this is exactly what I would have worn (but it would be Proenza and I'd have Jack and Lazaro on either side of me ?).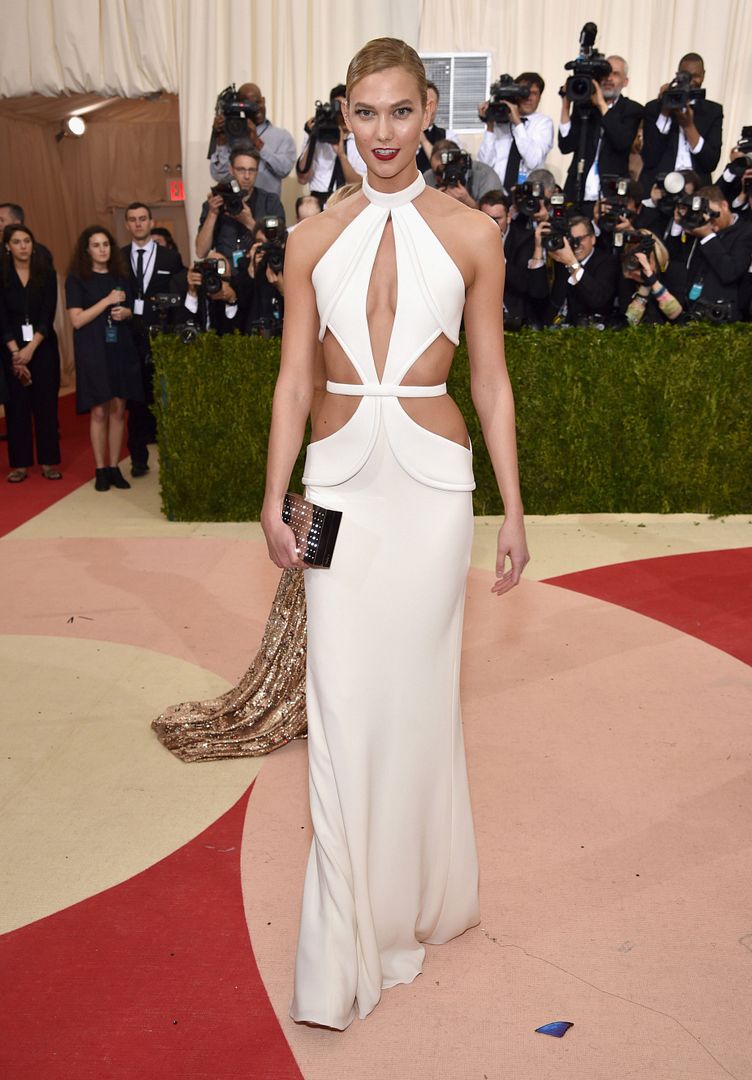 Karlie Kloss in Brandon Maxwell
Three outfits in one? Who needs a twofer when you can have a THREEFER?! If I had just seen one of these, I would think she looks great but probably not include on best dressed, but the fact that she had three outfit changes (one by mistake, as she spilled wine at the bottom of her dress so they had to cut it short last minute) makes me love everything about this. From chic, sophisticated and covered up to a major reveal…and then another major reveal. HELL YEAH KARLIE!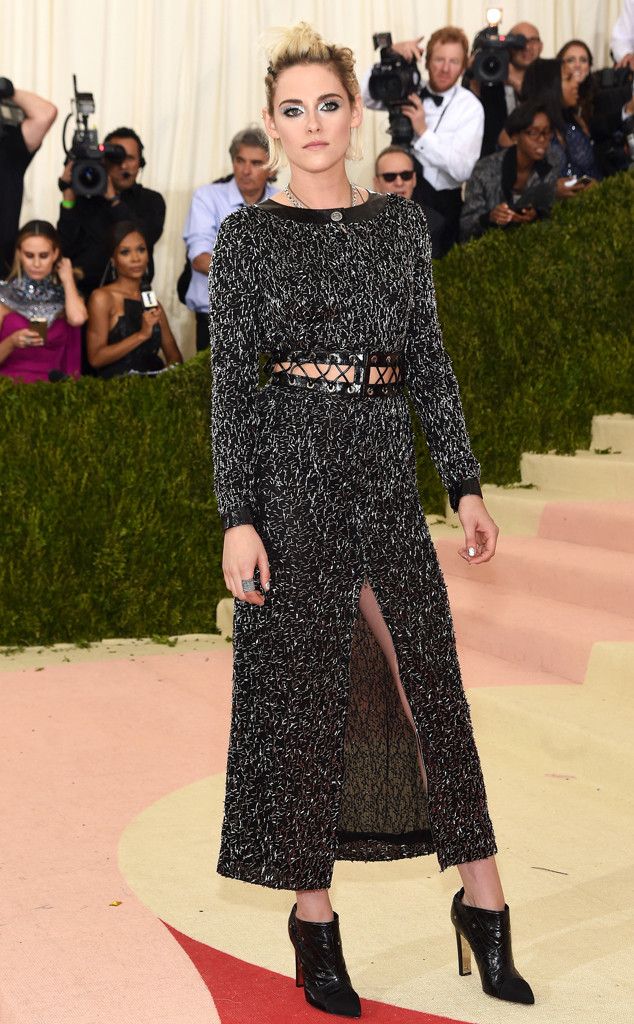 Kristen Stewart in Chanel
I'm not even a big fan of K-Stew but I do like how she edged up this Chanel look. 99.9% of the time I hate heavy eye makeup but I have to hand to her…it looks damn good here.
Kylie Jenner in Balmain
Can you believe all the Kardashian / Jenner compliments I'm handing out in these posts?! This never happens, but when you impress me…I'm not going to lie about it! I'm sure we all expected Kylie to be showing a lot of skin, be wearing a smoky eye and a bold lip, probably some crazy ass wig…yet she looks so on theme, sophisticated yet still true to herself. The severe bob and "natural" makeup look (I use the term "natural" very loosely) is the ideal match for this intricate dress. It was her first Met Gala too so we're off to a good start!
Kate Bosworth in Dolce & Gabbana
It's dresses like this (and pretty much every look in this post) that if you appreciate fashion, you're probably freaking out over this year's red carpet. Even though there were a lot of similar dresses, the details and man hours (or machine hours!) that went into these gowns blow me away. This Dolce piece was no exception. It was constructed with tulle and adorned with crystal embellishments, silk ribbon, and glass pearls…it looks like it weighs at least 15 lbs but at least you can work on your upper body strength while you walk those steps, right? And those hair accessories are ON POINT.
Selena Gomez in Louis Vuitton
You might think I'm crazy (you wouldn't be wrong) but of all my best dressed picks, this might be my #1 for the night. It's not a metallic show stopper like some of the others, or has millions of embellishments and detail like we've seen in this post but it's really cool and something I would want to wear. From the gorgeous hair and makeup to the edgy meets feminine dress and those boots I need in my life right now…I'm feeling it!
—
So now I leave everything in your hands. Five posts in 24 hours. After all this, I have to hear from you! What were your favorite / least favorite red carpet moments at the Met Gala this year??
Images via The Cut, Elle & E!
You might want to check out...