With this year's Met Gala theme being Manus x Machina (man made vs. machine made fashion) we've seen a lot of different interpretations. From extreme beading and other intricate details to all silver everything (I guess when people hear "fashion in an age of technology" they immediately think METALLICS!) we've seen it all. But have we? That was only the beginning. So let's take a look at the most "on theme" and / or over the top looks from the 2016 Met Ball red carpet.
Beyonce in Givenchy
The prettiest condom I've ever seen.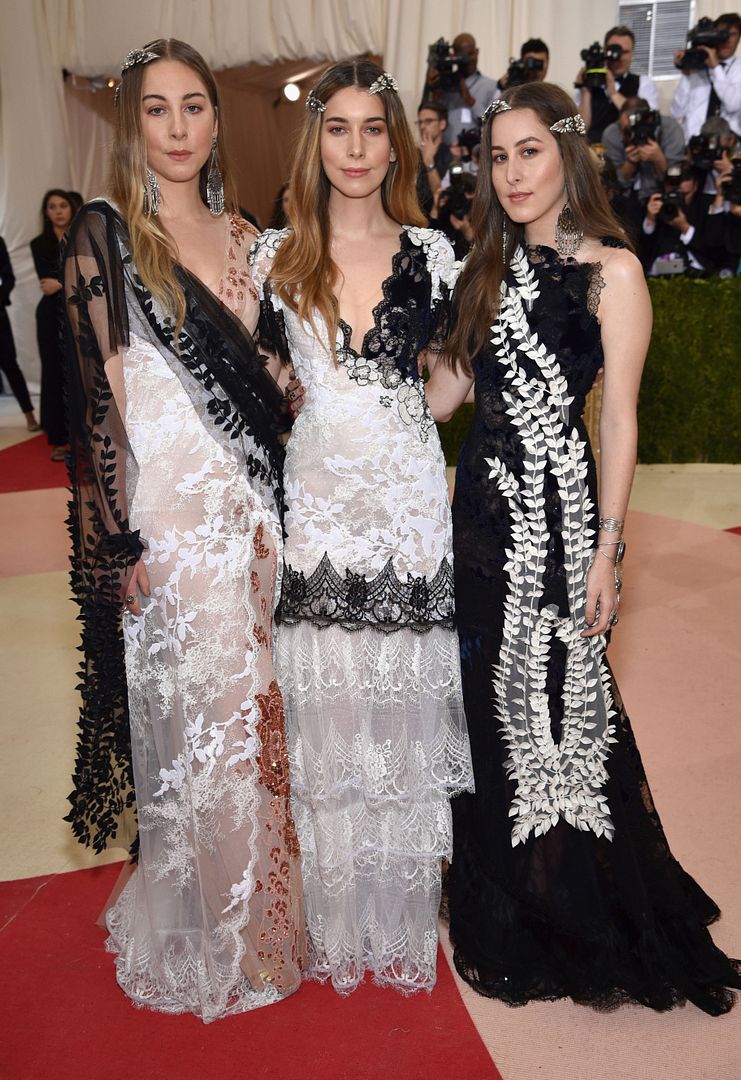 HAIM in Rodarte
If I saw any of these individually I'd be like okay cool…but all together I'm like hey it looks like you need a fourth sister!
Claire Danes in Zac Posen
When I first saw this I thought she was two years too late (the Charles James theme was so 2014). It's way too traditional of a ball gown to wear for such a fashion event, especially with this year's theme. But then the lights went off and I shut my mouth (actually the opposite happened…my jaw dropped). What was extra special about this is that it's not like you flip a switch and it plays a light show — the organza and fiber optics create an illuminating effect in the dark…and the result? PURE GENIUS.
Kate Hudson in Atelier Versace
This looks like a Project Runway dress that wasn't finished in time. Tim Gunn says "make it work!" but in this case, you just can't.
Katy Perry in Prada
Remember the case of the disappearing eyebrows I told you about in my previous post? I can't think of anything worse to do to your face so I can't even properly judge this look because the beauty component is just so…bad. The bangs, the beehive, the eyebrows (or lack there of), the lip…it's like Taylor Swift's outfit but in face form. It is a velvet open back gown with gold enameled collage embroidery so I appreciate the garment but the styling is just…not good.
Kendall Jenner in Atelier Versace
Looks like the Balmain Army lost a good one, but look what Team Versace got out of it. I KNOW I hate side cut outs but I'm so intrigued by the strategic placing of the little blue panels here, I just can't help myself!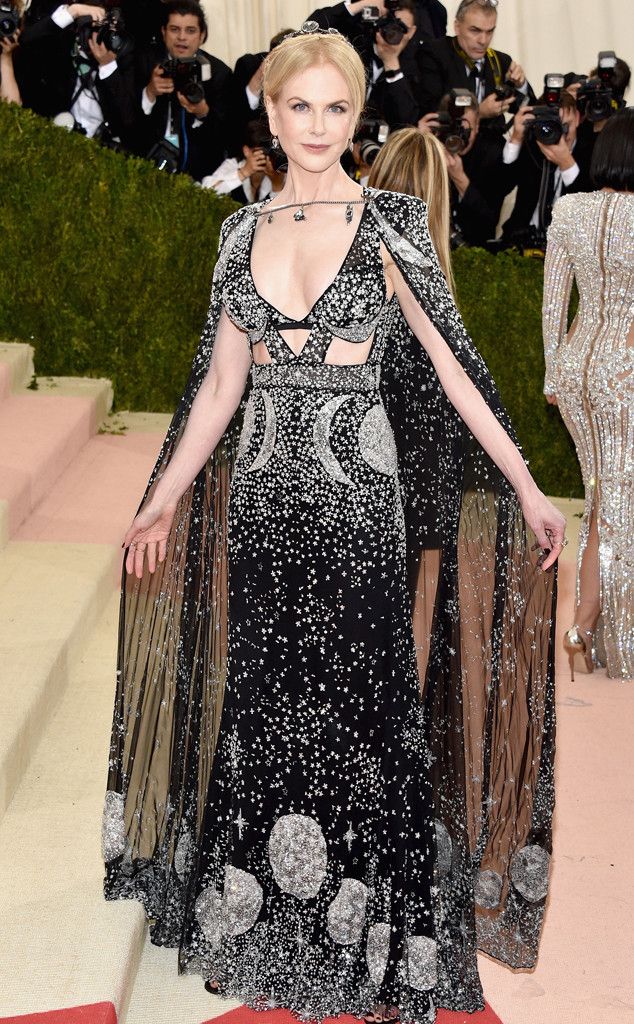 Nicole Kidman in Alexander McQueen
I feel like she's going to cast a really fabulous spell on me or tell me my future (and the future is FASHUN).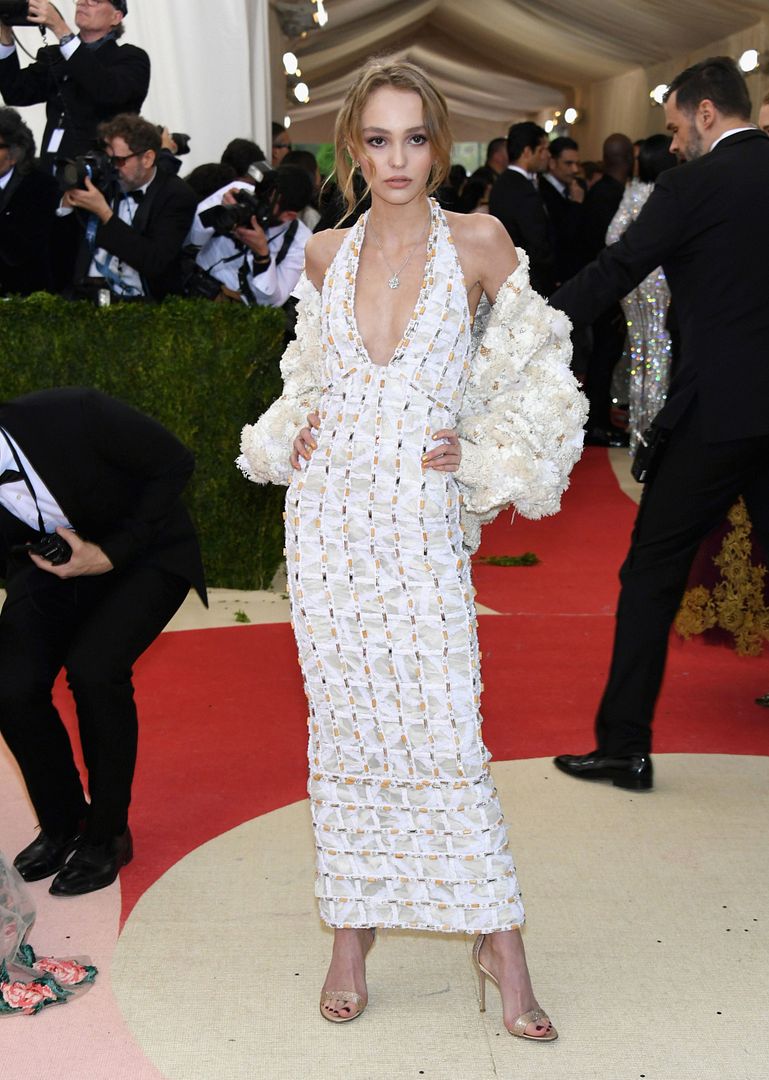 Lily Rose Depp in Chanel
When it comes to both food and fashion, I'm all about texture…and when it comes to Lily's look, there's plenty of it! Can you believe she's WERKING her Chanel like that at only 16? I could barely rock my Michael Stars at that age!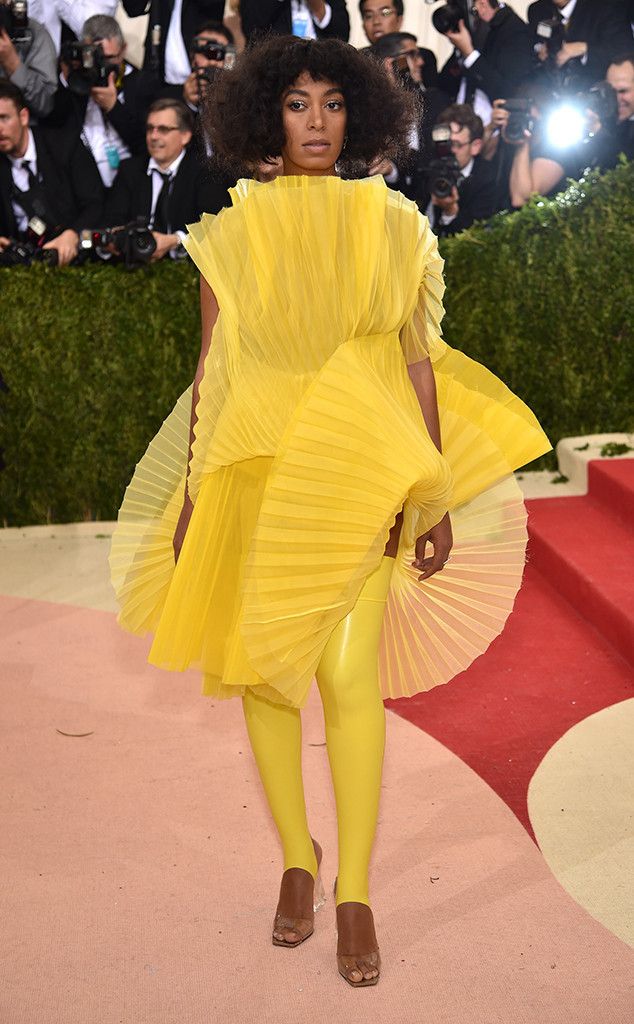 Solange Knowles in David Laport
Remember what I said about yellow? And oddly enough, it's yet another round of round(ish) pleats for Solange at the Met Ball…
Poppy Delevingne in Marchesa
Can you believe this is even Poppy?! I've been debating this look all day and I couldn't figure out why I loved it so much yet hated it at the same time. And of course…it's the hair. I'm not mad at the color but with such a detailed dress, you want the hair out of the way to let the dress do its thing. All that beading and fringe paired the crazy long straight hair…they're competing (and the hair is winning). A shorter, maybe slicked back style would have been SPOT ON. And I would have loved this FOREVER AND EVER.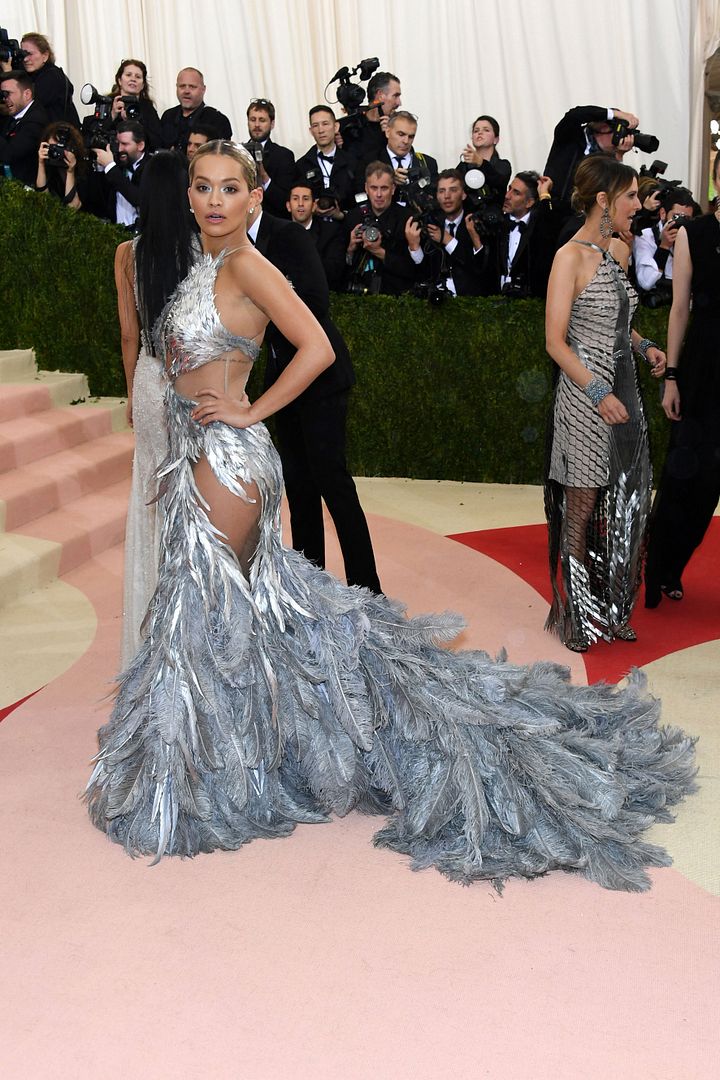 Rita Ora in Vera Wang
You wanted more feathers? YOU GOT MORE FEATHERS.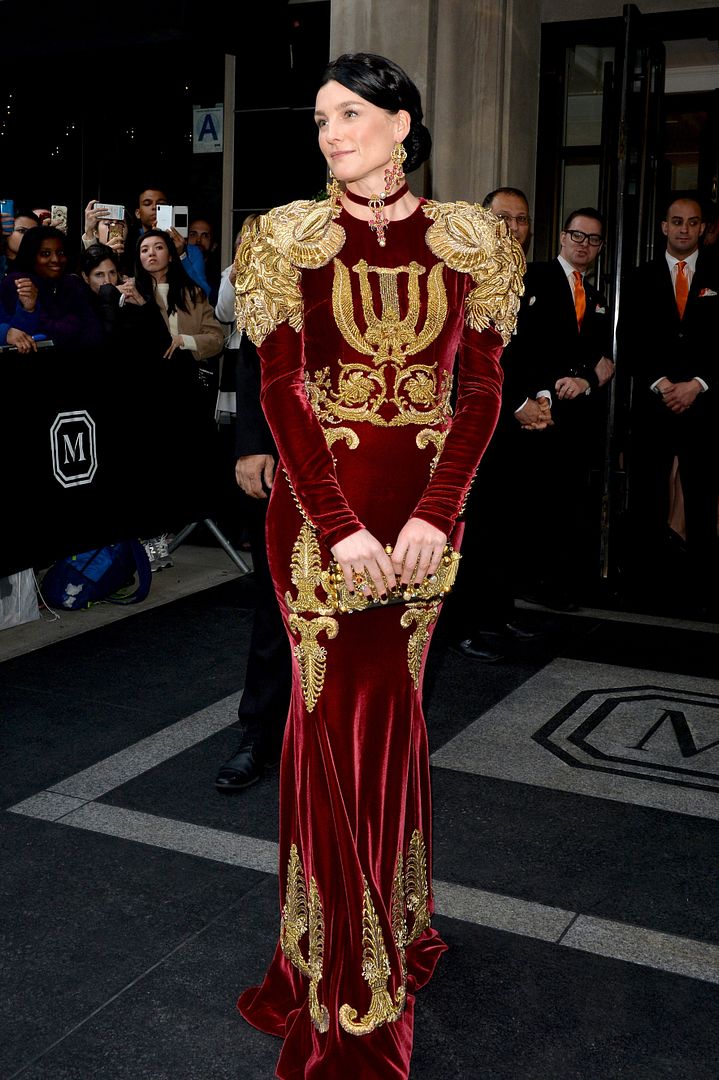 Tabitha Simmons in Dolce & Gabbana
I'm sweating just looking at her (and I'm always cold…)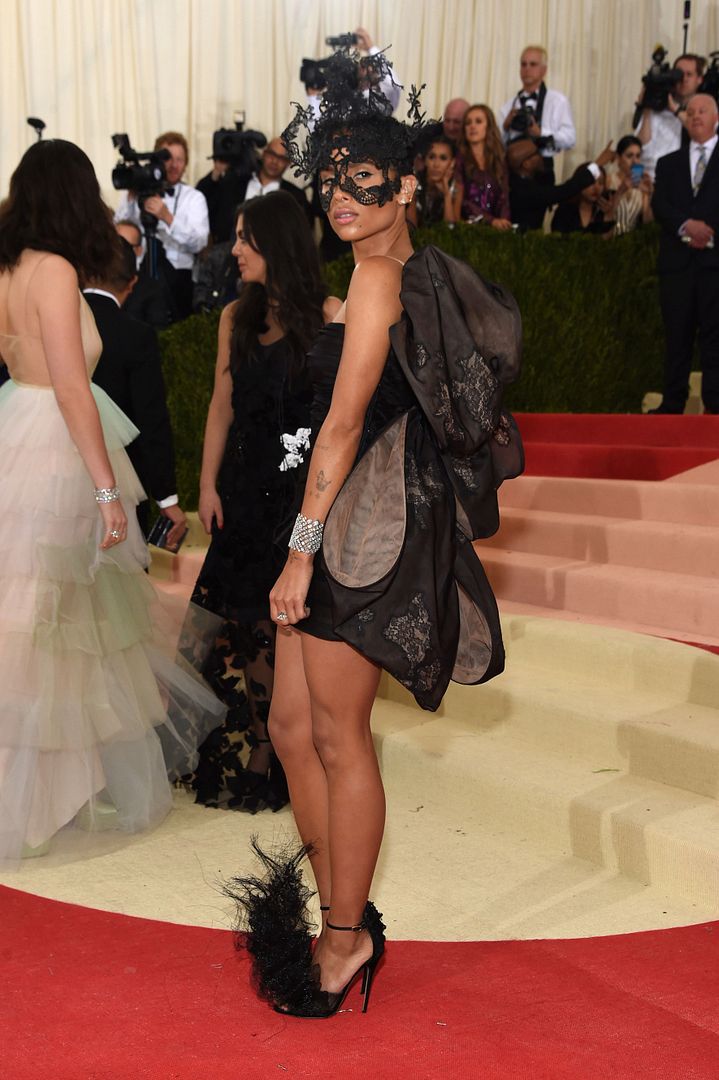 Zoe Kravitz in Valentino
If you've been itching to wear a mask and hairy shoes in public, then the Met Gala is really your only chance to do so. You know she's one of my favorite fashion girls right now and although I'd prefer some slightly toned down footwear (or just less…hairy heels), the mask is giving me life and I'm just feelin' it (and it feels GOOD).
—
Just one more to go (saved the best [dressed] for last!) Be sure to let me know who you thought was the most exciting / on theme this year in the comments!
Images via E! & The Cut
You might want to check out...