What do pool slides and pineapples have in common? Of course they're both perfect for warm weather (especially if the pineapples involve some sort of alcoholic counterpart) but they also happen to be a theme in [what I think] is one of the best Resort '15 collections (that you can actually buy right now…)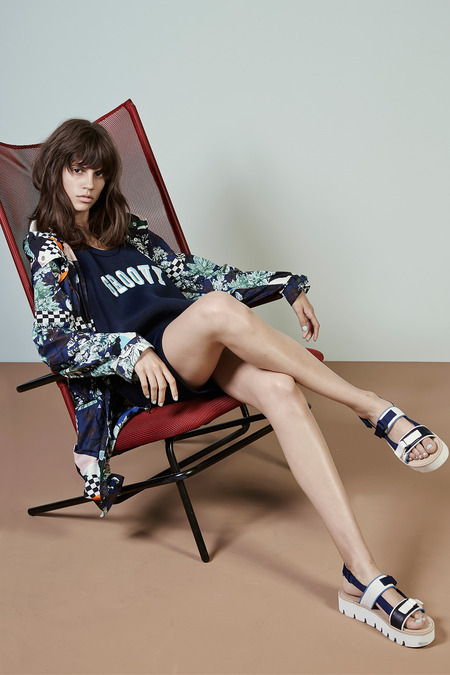 MSGM Resort 2015 is one of those collections where I'm all like YOU COMPLETE ME. Colors and prints in loose silhouettes (when it comes to clothing, I live by "the bigger the better"), fun sandals, quirky fruit and WIDE LEG LEATHER PANTS. What more could a girl ask for?
I'm already an MSGM fan but this collection makes me feel feelings I've never felt before…like feelings that make me consider maxing out my credit card, even though I'm typically somewhat responsible when it comes to personal finances (emphasis on the word somewhat).
It doesn't hurt that the way the collection is styled, and just the whole vibe of the Resort lookbook is all cool and laid back. Makes me feel better about not brushing my hair but also makes me wish I could pull off bangs (after a sweaty week in Acapulco sophomore year of college and Facebook photos that just won't seem to go away…bangs will never be returning to my face again). But what I hope does happen? MSGM shoes! You can't put square-print flatforms and leather pool slides in front of me and expect me not to want. According to the MGSM Resort trunkshow on Moda Operandi, though, there's no footwear in sight [insert crying emoji which might be replaced with a better crying emoji once this happens].
If your feelings towards this collection are similar to mine, then you should get on Moda Operandi and start pre-ordering. Good news is that you pay half up front and half on delivery (which is in 6-8 months from now) so it's like luxury layaway and I'm 100% on board with that. Bad news is that you'll get your MSGM pieces in 6-8 months from now (so not ideal for the impatient). More good news is that designers are getting into "seasonless" collections (especially for Pre-Fall and Resort) so yay for pineapple sweaters this winter even though they're from Resort! More bad news is that I don't have the balls to max out my credit card, therefore I won't be able to purchase the entire collection.
If you're down to reserve your Resort right now (and happen to trust my taste) here's a few of my favorites from the collection that you can shop TODAY.
Images via Style.com
You might want to check out...