Although I decided to skip out this year, it doesn't mean that we can't still discuss everyone's 4 favorite words, New York Fashion Week. With the Spring 2014 collections in full swing, it will make you forget that you haven't even gotten to wear your Fall clothes yet. Because we're only about half way through NYFW, I thought it was time to discuss some noteworthy looks from SS14…so far (and the lessons you can learn from them).
Ostwald Helgason says it's totally appropriate to wear a sweater with two balloon animals humping each other.
Rag & Bone is reviving the cropped halter top and encouraging you to take the 90s trend and make it modern with leather.
Tibi says you can still wear your Alexander Wang illusion pieces from last spring.
Peter Som agrees.
If you really want to make a statement, Opening Ceremony thinks you should pair a red jumpsuit with matching red slip on sneakers.
Prabal Gurung gives you the green light to still mix prints.
Misha Nonoo somehow makes a short sleeve collared blouse cool (it's gotta be that hat).
Like Rag & Bone, Jason Wu is reviving a 90s trend — spaghetti straps. Jason says "if it looks like something Kate Moss would have worn in in 1995 then it's acceptable to wear now" (he didn't actually say that but you know…)
Perforated leather and a sweatshirt? Let's just pretend like Jonathan Simkhai had me in mind when designing this look.
Jen Kao says it's totally cool to match your hair to your dog's.
Helmut Lang shows you how to make a skirt look badass.
Kaelen wants you to know that you can wear a long white coat without looking like a scientist, doctor or any other profession that involves a long white coat.
According to several designers this season, including DVF, crop tops worn with skirts are not going away.
The pink & red trend had it's moment a few spring seasons ago but Creatures of the Wind is bringing it back.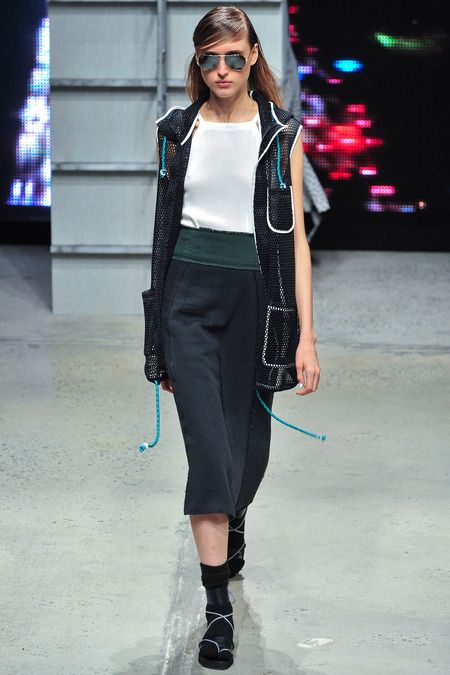 Band of Outsiders encourages vest-wearing for all occasions…
…so does BCBG (which by the way, is it just me or has the BCBG girl gotten cooler season after season?)
Although it's barely a trend but 10 Crosby Derek Lam says black and white is here to stay.
And DKNY says if you're going to wear a logo, go all big or go home.
—
Any favorite SS14 looks so far?
Images via style.com
You might want to check out...