Not to be a Debby Downer or anything but I was less than impressed with the Oscars last night. The fact that red carpet interviews ended an hour early on E! and I was forced to watch ABC coverage…that was not fun. And as far as the gowns go, I really was not blown away by anyone. So unfortunately, I did not have a" Gwyneth in Tom Ford moment." However, there were still some notable looks that deserve some discussing. So let's get to it.
Zoe Saldana in Alexis Mabille Spring 2013 Couture
I typically love everything she wears but that bow on the belt is a little much for me. And I could maybe get past it if it weren't for those awful 2001 shoes.
Renee Zellweger in Carolina Herrera
Renee, if you're going for "forgettable" then you killed it.
Kristen Stewart in Reem Acra
Stop trying to make Kristen Stewart wear feminine dresses. She hates it, we/I hate it. Why torture ourselves? Put her in Balmain or Balenciaga and let's move on with our lives. But hey, at least she's smiling. It's either she's really happy to be at the Oscars or the pain killers (don't those automatically come with crutches?)
Jennifer Garner in Gucci
Love the color. Love the idea of the back. Hate the back. Loathe the DTM* shoes.
*DTM = dyed to match…something you will never ever find at my wedding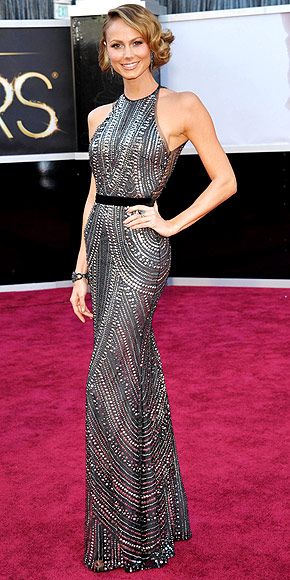 Stacy Keibler in Naeem Khan
Gorgeous. Not talking about the hair.
Reese Witherspoon in Louis Vuitton
If you just had a baby, the last thing you should wear is a fitted dress that makes your hips look wide. I don't get it. BUT…the hair is fantastic.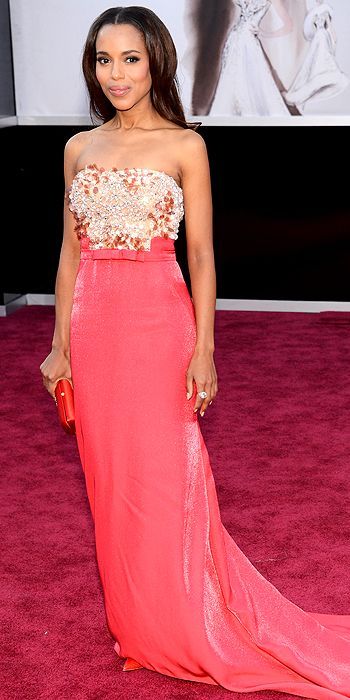 Kerry Washington in Miu Miu
Best Dressed Pick
I liked this better when I watched the red carpet because the skirt portion looked less shiny…but otherwise, she nailed it.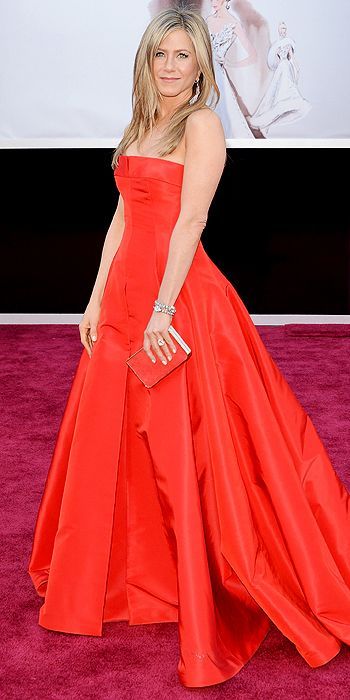 Jennifer Aniston in Valentino Resort 2013
I would love to give this a best dressed pick because she looks great (and for once she's not wearing black or nude) BUT this dress has already been worn on the red carpet TWICE (see Lea Michele and Freida Pinto) and for that reason alone, I have to pass.
Sandra Bullock in Elie Saab Spring 2013 Couture
From the neck down, this is insanely good. But this is how I wore my hair freshman year of high school and it's really not something I can look over.
Nicole Kidman in L'Wren Scott
An example where a shit ton of sparkle can still be boring.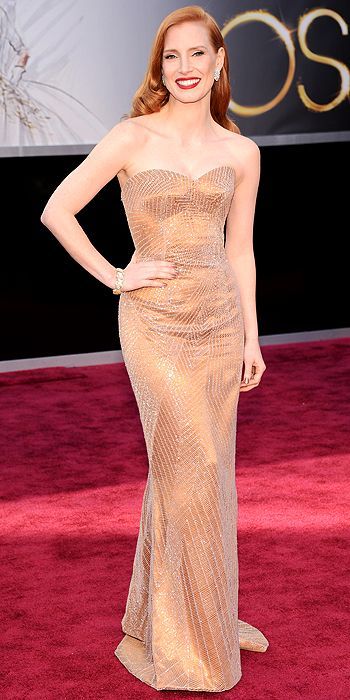 Jessica Chastain in Armani Prive
This seems like one of those things you have to see in person to really appreciate. However, Jessica looks stunning and the dress fits her perfectly…but she needs to try a different silhouette. And not one with saggy boobs. Been there. Done that. Not good.
Jane Fonda in Versace
WERK.
—
Part 2 with more mediocre dresses coming soon.
Photos via People.com
You might want to check out...