Thoughts on the Oscars red carpet so far? Be sure to catch up with part 1 (including two best dressed picks!) but now it's time for the final installment — part 2.
Sandra Bullock in Alexander McQueen
Sandy's always hit or miss on the red carpet and although this is a very simple dress for McQueen, it could not be more perfect for her. A dress like this is all about fit so she clearly nailed that. And that side-swept hair showing off that KILLER earring? Way to go, Sandy…you did it!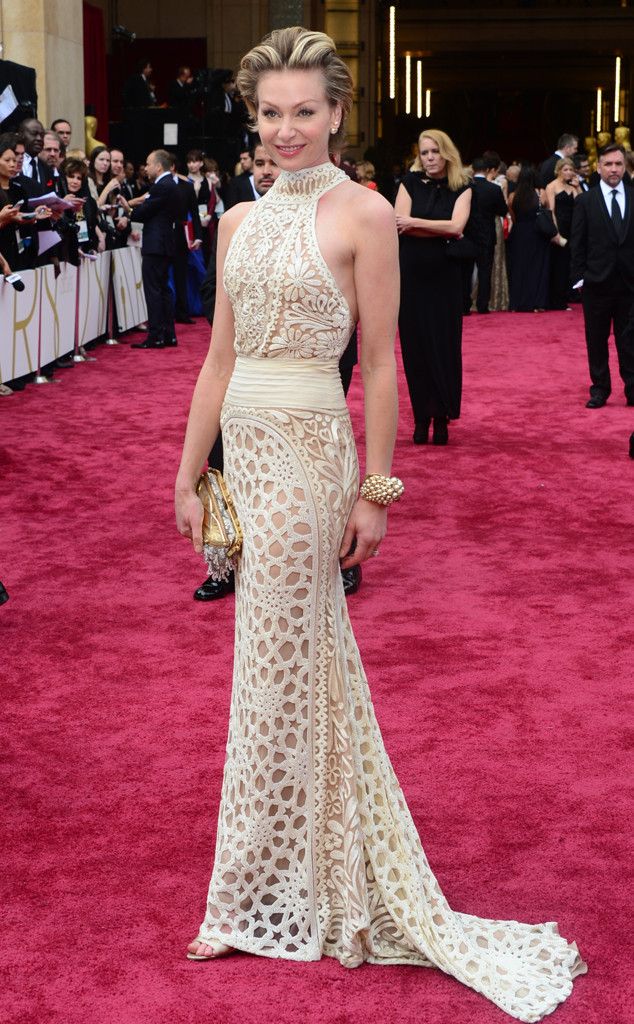 Portia de Rossi in Naeem Khan
I wish she would have kept the original neckline because I think it would've made more of an impact (plus the fit of the top half is a little off anyway) but overall she's killin' it…and I love the Dior earring (a la Emma Watson).
Penelope Cruz in Giambattista Valli
Pastel pink and black aren't my favorite color combination so we're already in the negatives. Also not a fan of one shoulder but regardless of my fashion dislikes, she's done better and she's done worse.
Margot Robbie in Saint Laurent
I had to give you a back shot for this one because I first saw this look from the back and absolutely loved it. Also a fan of the dark hair — what better time to sport a new look than the Oscars? But then I saw this from the front and realized the fit isn't right in the chest area and she just looks uncomfortable. It was a good attempt but goes to show how important fit is (like I should talk…everything I wear is oversized).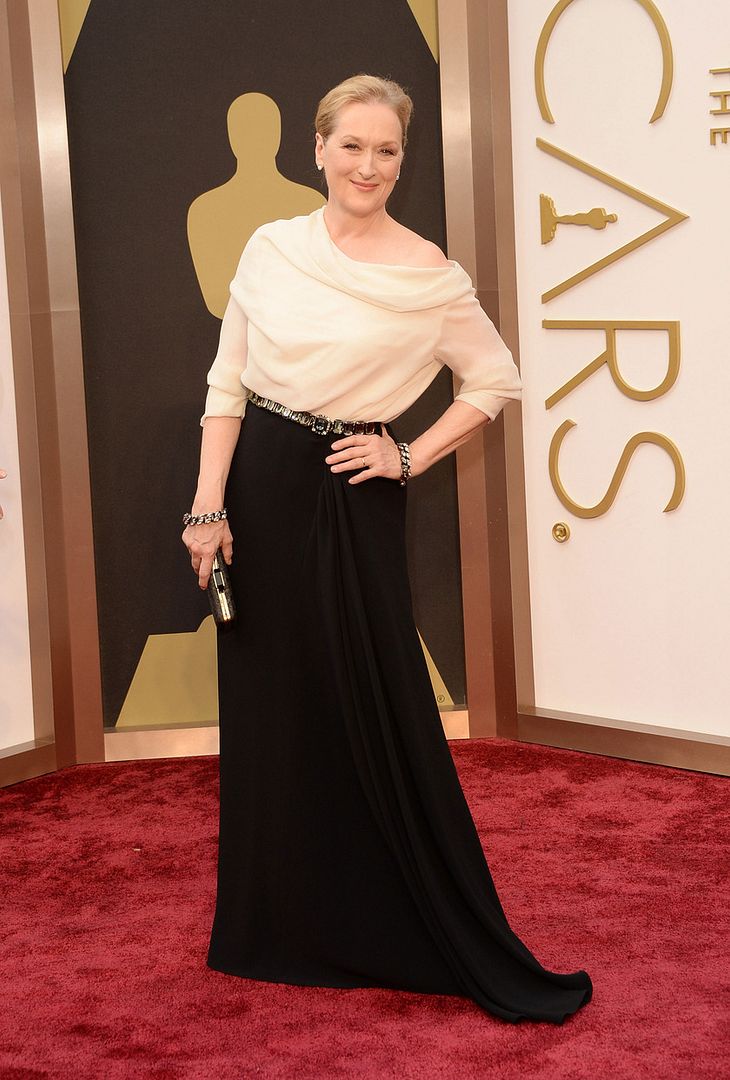 Meryl Streep in Lanvin
I guess when you've been nominated 18 times you can really wear whatever the hell you want.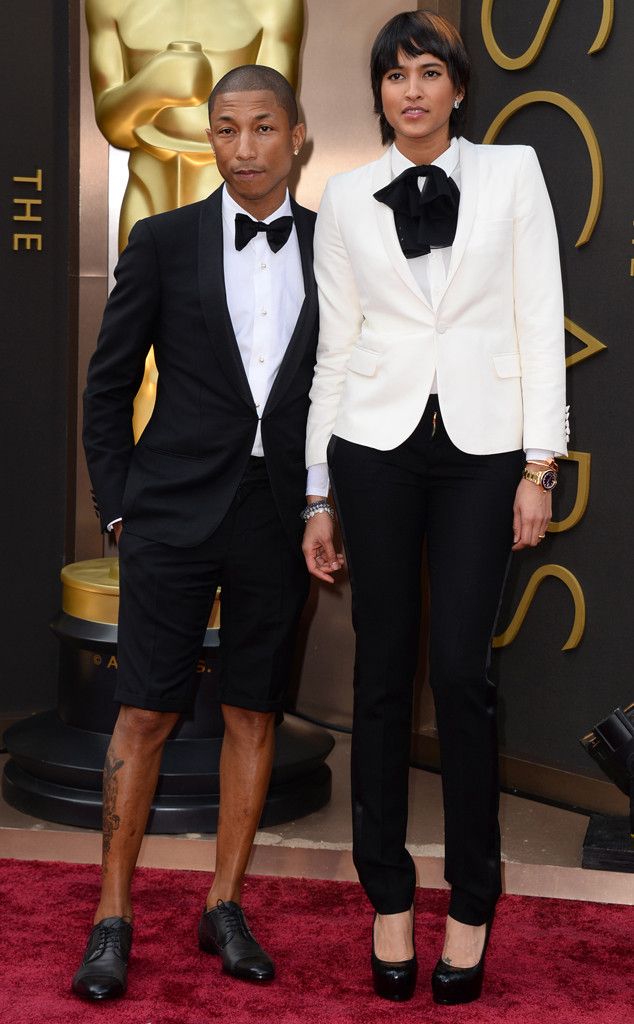 Pharrell Williams in Lanvin + Helen Lasichanh
Cute couples look. Not sure if bermuda shorts are Oscars appropriate but if they are, I'm into it.
Naomi Watts in Calvin Klein Collection
Best Dressed Pick
I have to start with the hair, only because it's the one thing that always ruins a look for me. This is an instance where the hair perfectly compliments the dress. It's a simple style but because it's swept back, you can really appreciate that necklace (which is awesome by the way). The dress isn't groundbreaking on its own but between the fit, the jewelry, the hair and that bag, it's why I chose her as one of the best dressed of the night.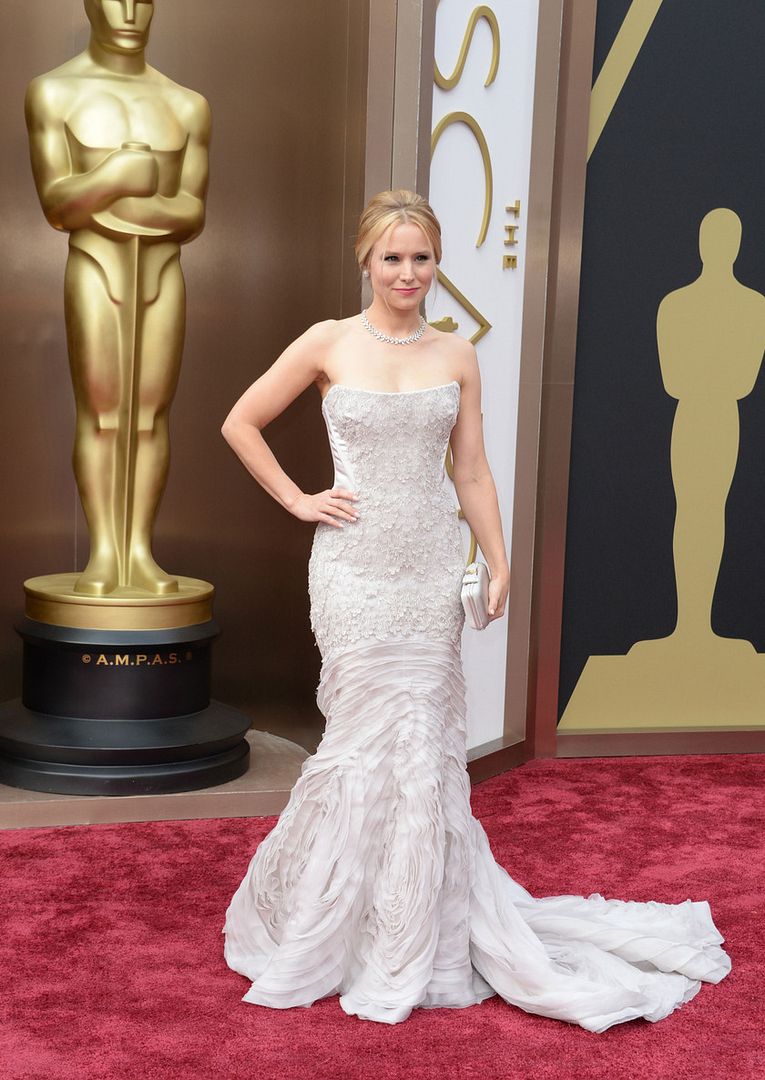 Kristen Bell in Roberto Cavalli
If I had to choose a worst dressed at the Oscars, this would be it. I appreciate the detailing in the dress but I can't say I love the design. Moving in the complete opposite direction of Naomi, this is where I hate the hair. Makes me think of the early 2000s where you couldn't leave the house unless you had two chunks of hair strategically hanging down either side of your face. Friendly reminder — it's 2014.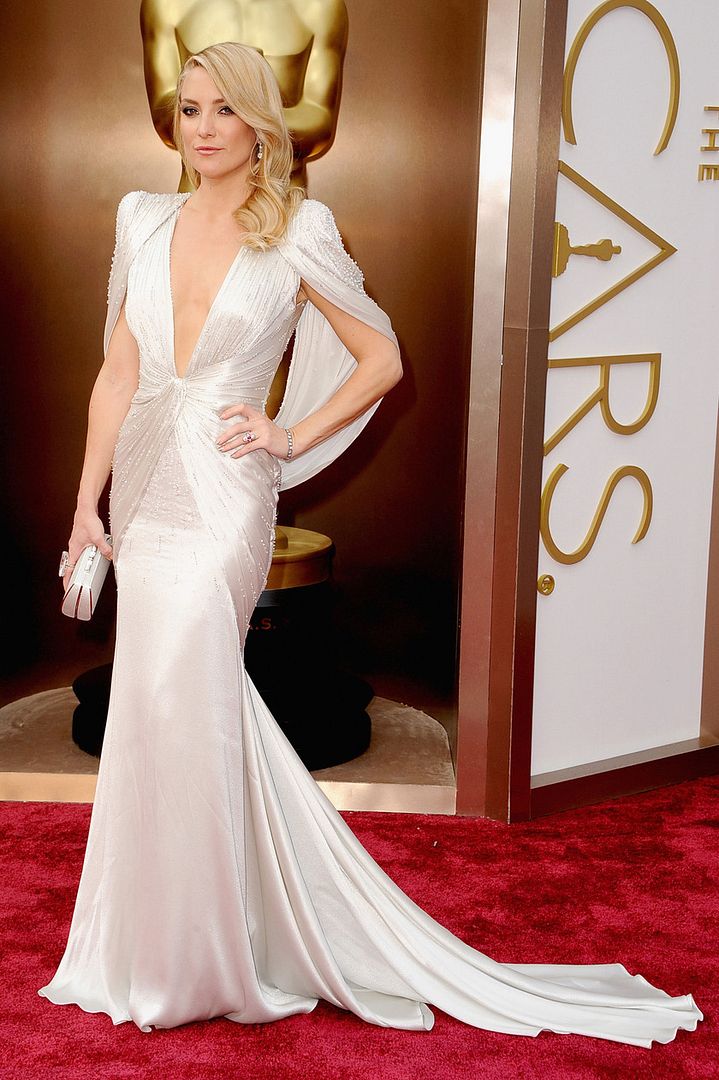 Kate Hudson in Atelier Versace
Best Dressed Pick
I don't think I've ever disliked anything Kate's worn on the red carpet and that tradition continues here. I love that plunging neckline (something you can only do if you're small-chested…not having big boobs does have its perks!) But of course, the cape makes the look. She presented at the Oscars without the cape and she still looked incredible but having that element just makes everything seem cooler. Having perfect hair and makeup doesn't hurt either.
Charlize Theron in Dior
Best Dressed Pick
It took a few minutes for this one to grow on me but when I finally noticed the slim silhouette in contrast with the sheer train (not always easy to see all the details when it comes to black dresses on the red carpet) it changed my whole perspective of the look…and it suddenly, became a best dressed pick. And how about those illusion straps. There's not a ton of neckline options out there so it's exciting to see something new and slightly avant-garde. I'm not sure if I'm sold on the necklace but I'm sure it will grow on me…
Amy Adams in Gucci Premiere
This isn't the first time we've seen her in dark blue and she made it very clear that she dressed for herself last night (and not for anyone else) so if it's what she feels good in, I'm on board with that. Is the dress amazing? No. Is the fit perfect? Yes. Are the earrings a nice touch? Of course (I always appreciate an unexpected pop of color). But is it best dressed/Oscar nominee-worthy? Probably not.

Cate Blanchett in Armani Prive
Of anyone on this year's Oscars red carpet, there's no one I was looking forward to seeing more than Cate Blanchett. She always wears something that just blows my mind but this year I have to say I'm not freaking out over this. Perhaps because there's only so many embellished nude dresses I can handle in one night or maybe because it's really hard to top that Givenchy from 2011 but regardless, of course she looks great but like McKayla Maroney…I'm not impressed.
Emma Watson in Vera Wang
There's maybe been one other time I've actually liked a Vera Wang dress on the red carpet…so I guess this makes it number two. Plus, she's wearing some Repossi (girl really knows how to win me over in the jewelry department).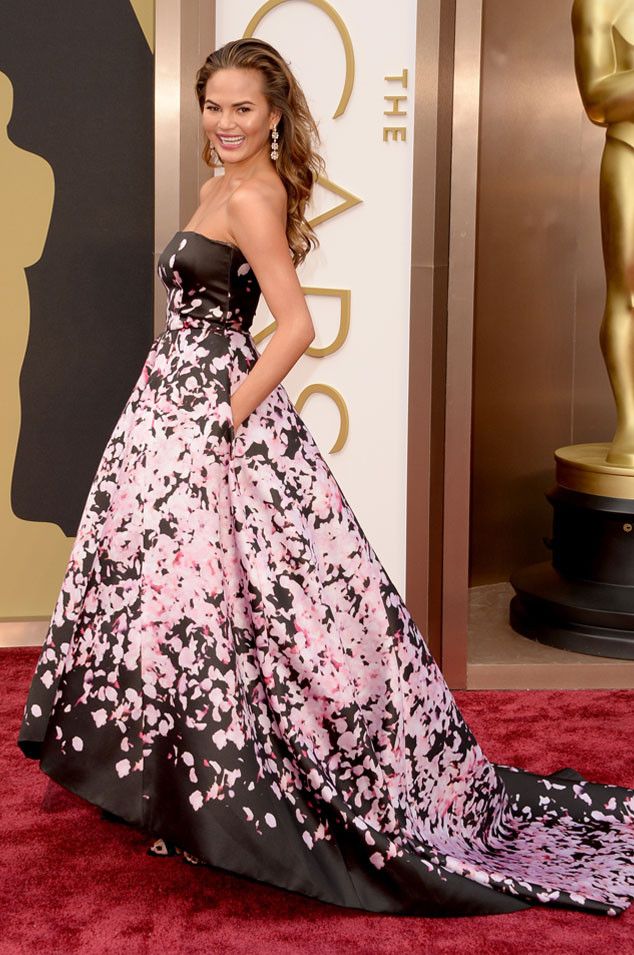 Chrissy Teigen in Monique Lhuillier
It's nice to see a printed gown at such a formal event so thank you for that, Chrissy. I don't love the dress itself but she clearly does. She's having a great time and really embracing those pockets. So hey, why not?
Brad Pitt in Tom Ford + Angelina Jolie in Elie Saab Couture
Well it's not possible to look bad in Tom Ford so there's that for Brad. As for Angelina, we know she can do better. The beading is incredible (as expected from Elie Saab Couture) but the fit up top isn't right and makes the impossible, possible — something can actually look unflattering on THE Angelina Jolie.
—
Well that's all, folks. Now tell me your best and worst dressed of the night. Don't make me beg…
Images via The Cut + E!
You might want to check out...