If you follow me on Twitter, you may find it obvious I think Rachel Zoe is the most fabulous person ever. She has the most amazing style and she is so passionate about she does. Her "zoe-isms" such as "Bananas" and "I die" are just a small part of her ever-entertaining life. She is always "shutting it down." Her eye for vintage is incredible and I only wish I could find the amazing pieces she does when shopping at vintage stores. Although she almost always seems stressed (at least that's what Bravo makes it out to be in her show, The Rachel Zoe Project), she figures everything out and manages to have a great time in the end.
Here is a tribute to her fabulous style: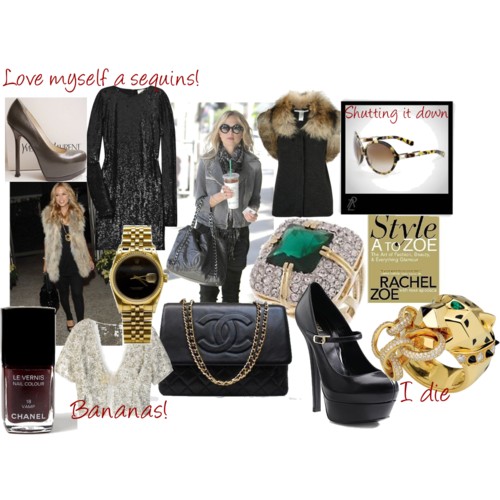 Now unfortunately, we cannot all afford her fab fur vests or her stellar vintage Rolex but fortunately Rachel created a line for QVC ( Rachel Zoe for QVC ). I am currently the proud owner of the Foldover Messenger Bag in Pewter, the Chic Cabochon Drop Earrings in Jade, and SOON to be the proud owner of the Faux Fur Vest in Red Fox (which I am currently waitlisted for but cannot wait to get). Next purchase: Simulated Emerald & Pave' Ring. Stunning.
Rachel has been so successful and she always strives for more. She never gives up. I find that extremely inspirational which is why I look up to her.