If you haven't yet, I highly suggest checking out part 1 of my Emmy red carpet commentary but I'm assuming you've been there, done that…so let's move on shall we?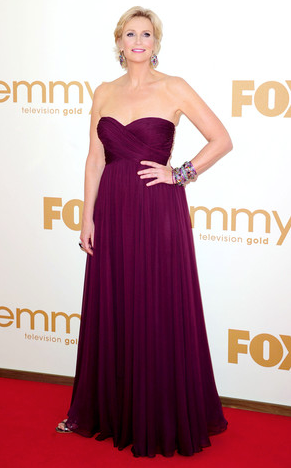 Jane Lynch in David Meister
Not the worst thing I've ever seen her wear. The color actually looks good on her, but it's just so hard for me to take her seriously in a gown. She should just wear tracksuits all the time.
 Heather Morris
I don't know who she's wearing, which is probably a good thing because I may seriously offend this person. This looks like a Project Runway DISASTER. As Heidi would say, auf wiedersehen!
Gwyneth Paltrow in Pucci
I have a feeling I will get shit for this, but Gwyneth is one of my best dressed picks for the night. It could have to do with the fact I was bored to tears with the dresses so just seeing this gave me some hope not everyone in television is super boring. It's different. It may be weird. But I'm kind of weird…and I love this look. Note that I would probably hate this on just about everyone but it works for HER.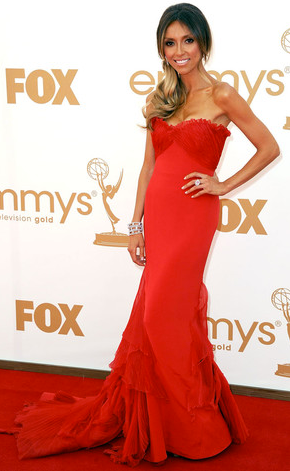 Giuliana Rancic in Roberto Cavalli
I'm not the biggest Cavalli fan, just because his dresses are not very tasteful in my eyes. But this is actually beautiful and classy, which works for Giuliana. It's another red gown but she looks gorgeous in it.
 Evan Rachel Wood in Elie Saab
Very old Hollywood glam…she looks gorgeous. Not like it's anything new and original, but it's pretty and the dress fits her like a glove.
Elizabeth Moss in Marchesa
Didn't Kelly Osbourne make a big deal how Marchesa only dressed ONE person for the Emmys and that ONE person was Lea Michele? Well Kelly…it looks like your sources were incorrect (unless they said Marchesa dressed one person WELL…then they were right).
Dianna Agron in Roksanda Ilincic
In my last post I said I liked Katie Holmes's dress because it wasn't shiny…and this is exactly what I was comparing it to. Why do people like shiny silk on the red carpet? You have  thousands of dresses to choose from and you pick the most standard material that's never flattering. I just don't get it! And ps. I hate the hair.
—
Who were your best dressed picks for the night? Let me know in the comments section below. And be on the look out for part 3 of my Emmys red carpet commentary coming soon!
Photos: Hollywood Reporter, E! Online, People
You might want to check out...