Wow there were a lot of great celebrities at the Golden Globes tonight, right? You know what that means…LOTS of dresses to judge. There were quite a few trends on the red carpet including canary yellow, dark teal, blush tones (most of which were extremely unflattering by the way) and surprisingly…headbands. Were there any trends you were a big fan of?
While you ponder that question…here's part 1 of the red carpet fashion from the 2012 Golden Globes.
 Jessica Alba in Gucci
Styled by the one and only Brad Goreski, I thought Jessica looked gorgeous in Gucci. Can you believe she just had a kid? I don't know how celebs do it. They're definitely magical creatures like that. Although the dress is a safe choice for the red carpet, you can't deny that she looks amazing.
 Zooey Deschanel in custom Prada
This is just so hard for me to make a decision on. I love the idea of the dress and most of it is fantastic, however the lace around the neck and that awful hair is really throwing me off. Would love to get your opinion about this…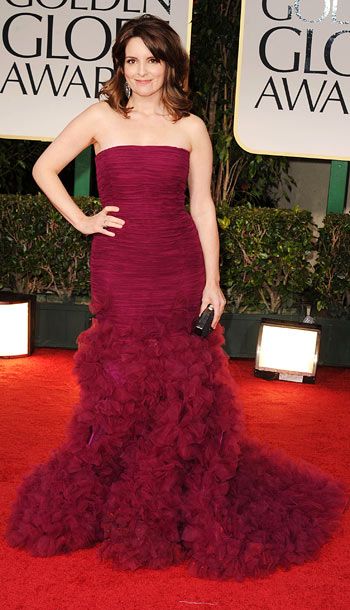 Tina Fey in Oscar de la Renta
I'm always hoping Tina will wear something decent on the red carpet, and for her this is….fine. I don't know whoever said ruching is flattering because I've always hated it, and combined with the ruffles here it's just not her dress.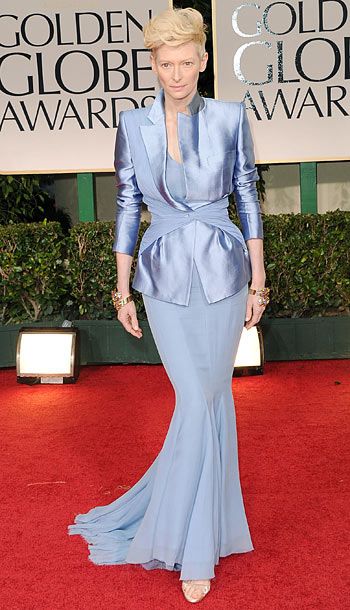 Tilda Swinton in Haider Ackerman
You know those things that "fashion people get" but the general public just seems confused about? I'm usually one of the people who gets it, but when it comes to Tilda Swinton…I don't.
 Stacy Keibler in Valentino
Such a safe choice, it almost bores me. But she's so beautiful it just bores me a little.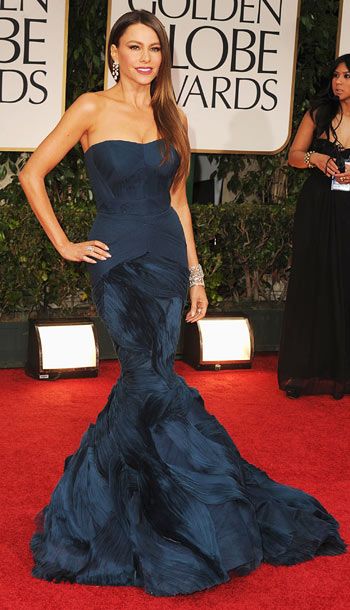 Sofia Vergara in Vera Wang
This is probably my favorite dress she's ever worn on the red carpet. THIS is her silhouette and it's definitely her color too. The texture at the bottom is amazing (and surprisingly photographs well) and this was obviously custom because it fits her absolutely perfectly.
 Shailene Woodley in Marchesa
Shailene, this is NOT your silhouette (mostly meaning strapless is not your friend).
 Sarah Michelle Gellar in Monique Lhuillier
Of ALL the dresses you have to choose from…THIS is what you go with. She said her kid picked it out for her (and clearly this child will not have a future in fashion) so hopefully she learns NEVER to listen to children again (at least when it comes to an outfit choice).
 Sarah Hyland in vintage Dolce & Gabbana
Was not loving the nude trend on the red carpet (mostly because it blended in with just about everyone's skin tone) but in this case, Sarah does have a glow and it's nice to have the black lace to break it up. She looks pretty but I'm not WOWed.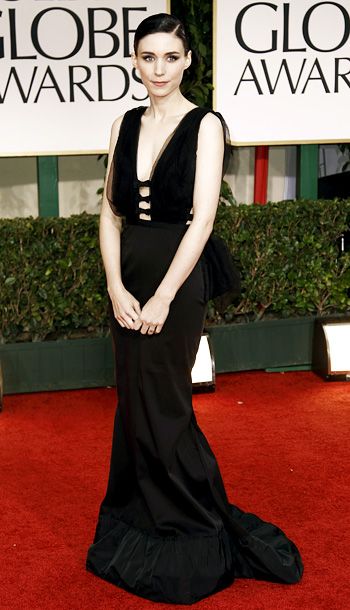 Rooney Mara in Nina Ricci Pre-Fall 2012
She's just been killing it on the red carpet lately so I really expected to be blown away. It's definitely true to her style and she looks amazing, but I just hoped to see something a little more exciting.
 Reese Witherspoon in Zac Posen
Love her. Not in love with the dress. Pretty forgettable…especially because it blends in with the carpet.
 Piper Perabo in Theyskens' Theory Spring 2012
When I first saw this, I hated it. The more angles I looked at, the easier it was to come to this conclusion; great dress, wrong girl. I think she would have looked better in the original black version but this color isn't her friend. And if she really wanted it to be her friend, she would have had some better accessories.
 Paula Patton in Monique Lhuillier
I do appreciate color on the red carpet, but this silhouette should never be made in this color yellow. It's just a little too much (and that's coming from me who lives by "more is more").
—
Be looking out for part 2 coming tomorrow! And don't forget to let me know your favorites of the night.
Photos via Entertainment Weekly
You might want to check out...