If you're already so over spring clothes (everything's on sale now anyway) and you're not quite ready for Fall fashion then I have the perfect happy medium for you. Want to know what you'll be wearing when you vacation somewhere fabulous come January? (or for most of us it's what we'll be wearing next Spring that's will technically be out of season but that just means better discounts). IT'S RESORT TIME.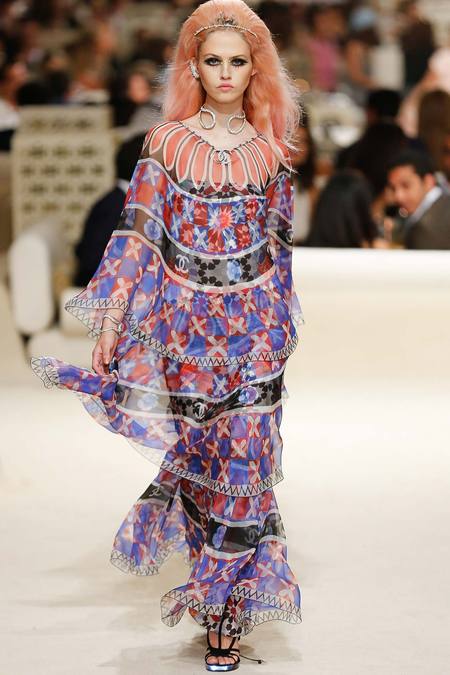 And I'm totally kind of joking about the vacationing somewhere exotic thing. As I explained last year, Resort/Cruise was originally created to be sold in stores during the Winter (usually around November/December) to cater to those who wanted new items for their holiday getaway. If you actually look through resort collections today, you'll see everything from swimsuits to wool coats. It really caters to a wide-range of people, so you don't have to feel like you can't get something new between Spring and Fall, even if you're not hanging with those DJ/model/actresses (which is code for socialite) on the beaches of St. Tropez. Enough about that, though. Let's get to this.
Here's a few lessons we can learn from Resort 2015.
Like I said about that wide range of Resortwear…it's all about the statement coat for Resort '15. Burberry Prorsum, Thakoon and Proenza Schouler had a few of my favorites. But you know what this means? More coat options come Winter, when we're already sick of the Fall stuff. Yay!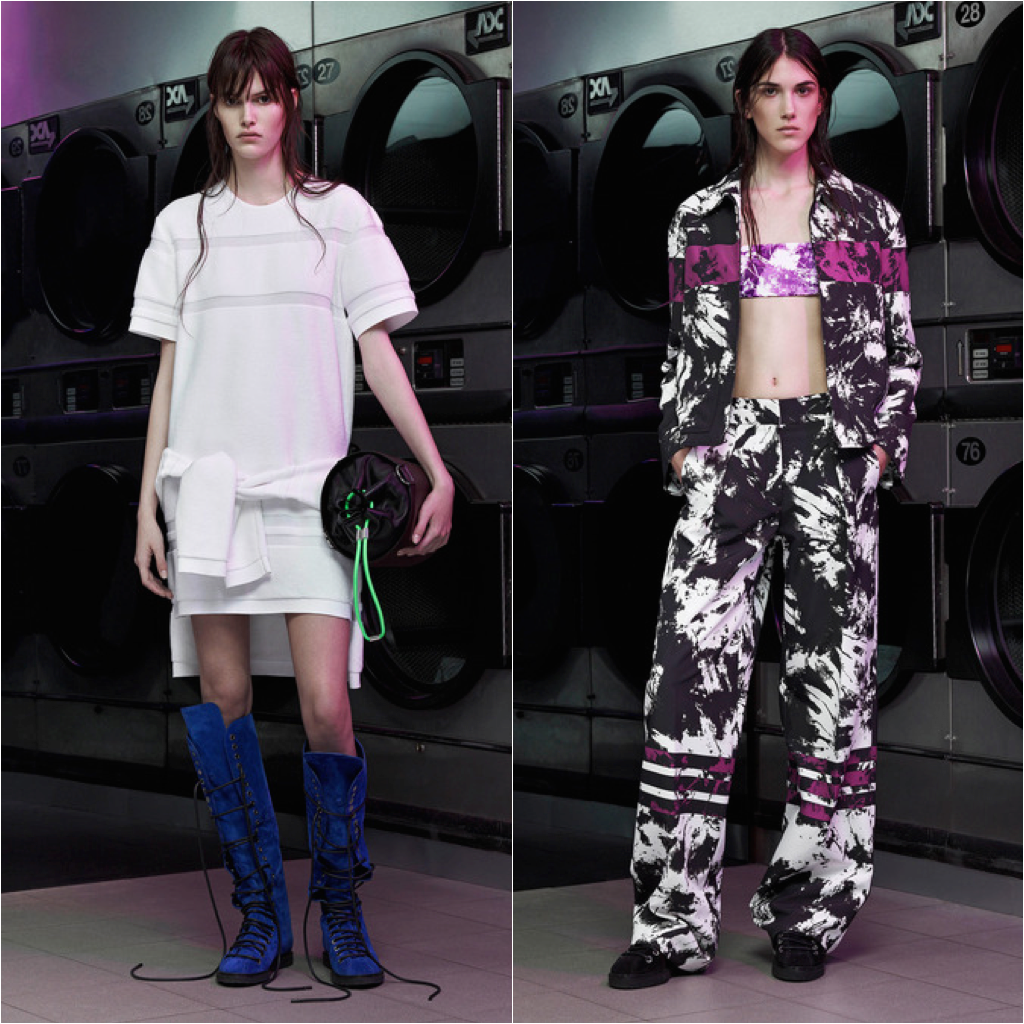 Alexander Wang wants you to know that you can still tie things around your waist (and he really gives a whole new meaning to "blue suede shoes") and you don't have to wear a printed crop top and matching skirt to do the whole "matchy matchy" trend. He's got that snowboarder-meets-beach-goer kind of vibe going on that literally makes zero sense to wear at the same time…but I'm into it.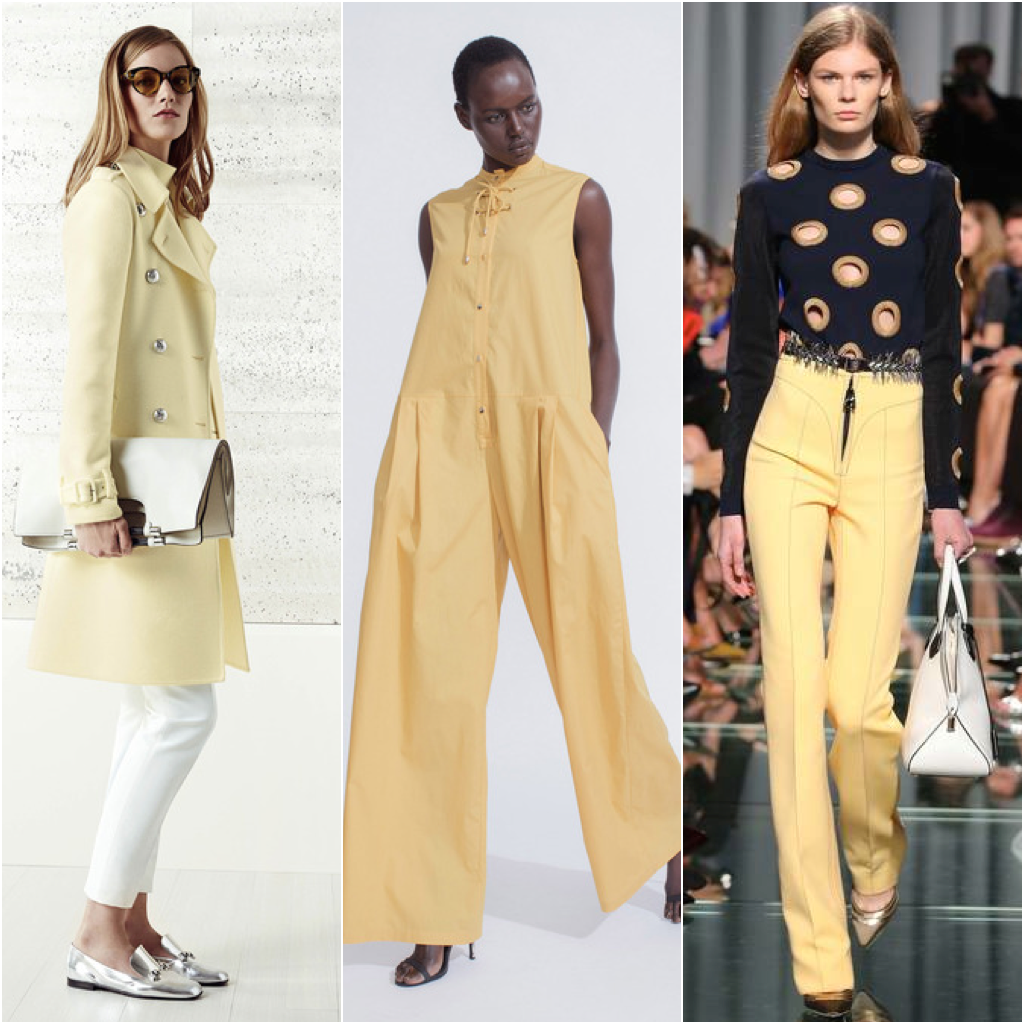 Hello yellow! Designers like Gucci, Tome and Louis Vuitton (just to name a few) are going yellow for Resort. These specific shades are perfect because they aren't so bright where you feel like you're looking into direct sunlight and they will go great with your St. Tropez tan (even if it's fake).
If you happen to be a label enthusiast you're in luck. Take note from Fendi and See By Chloe — you'll never have to answer "who are you wearing?" again!
Balenciaga has no problem with bras as tops…and neither do I (as long as we're keeping it [somewhat] classy).
[black and white] LACE IN YOUR FACE…happening this Resort season. Erdem, Dior and Oscar de la Renta all typically have more feminine designs, but they're taking it to the next level with a classic color combo and this delicate fabric. A special shoutout to Erdem for pairing this look with some Oxfords — I dig.
Fugly shoe trends continue with footwear that should be boots but are kind of sandals…and then made in green snakeskin. Insert clapping emoji for Phillip Lim.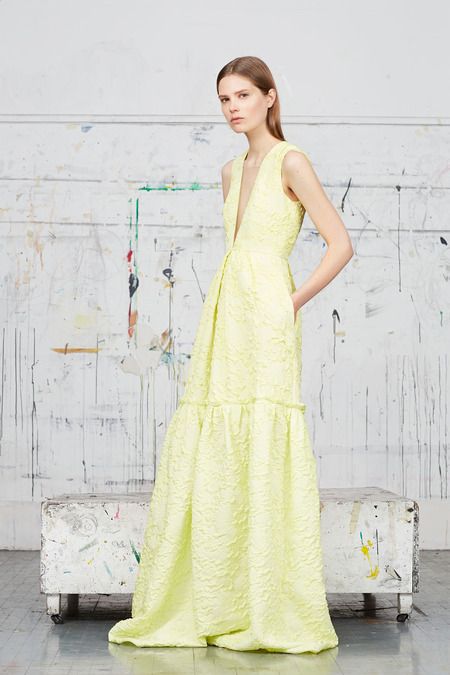 If you need to get all fancy, you shouldn't have have to wear a strapless satin dress or poofy ball gown (you know how I feel about these things). Erdem gets people like us and wants us to have a cool dressed up option. I call this the new black tie.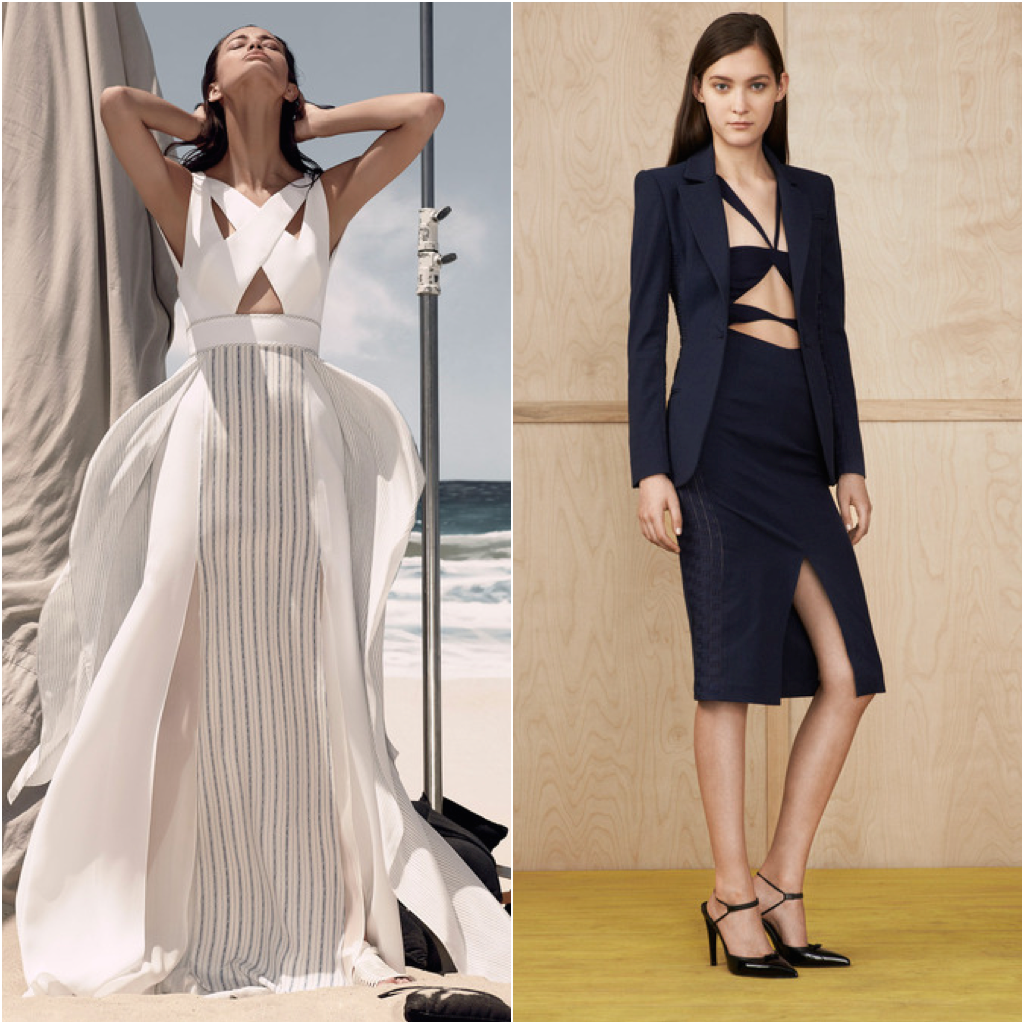 It's like cross-front tops  met cut-outs, got all tangled up and resulted in this. BCBG and Altuzarra killed it in this category. I love the look of this silhouette but if it involves any sort of thought/effort to actually put on my body, I'm already over it.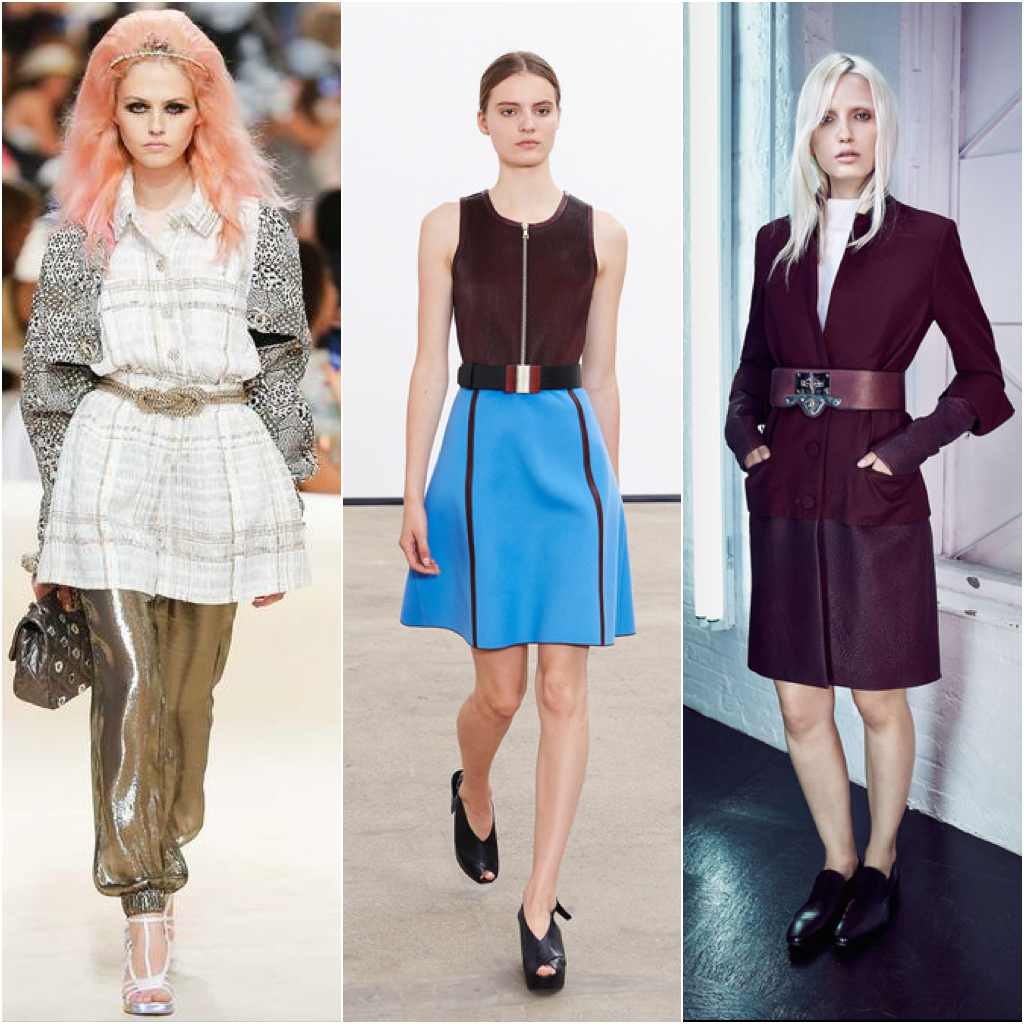 Chanel, Derek Lam and Sally LaPointe are all like PUT A BELT ON IT. Why go on a 10-day juice cleanse when you can just belt your outfit at the waist? They both make you [look] skinny — one just requires a lot less effort.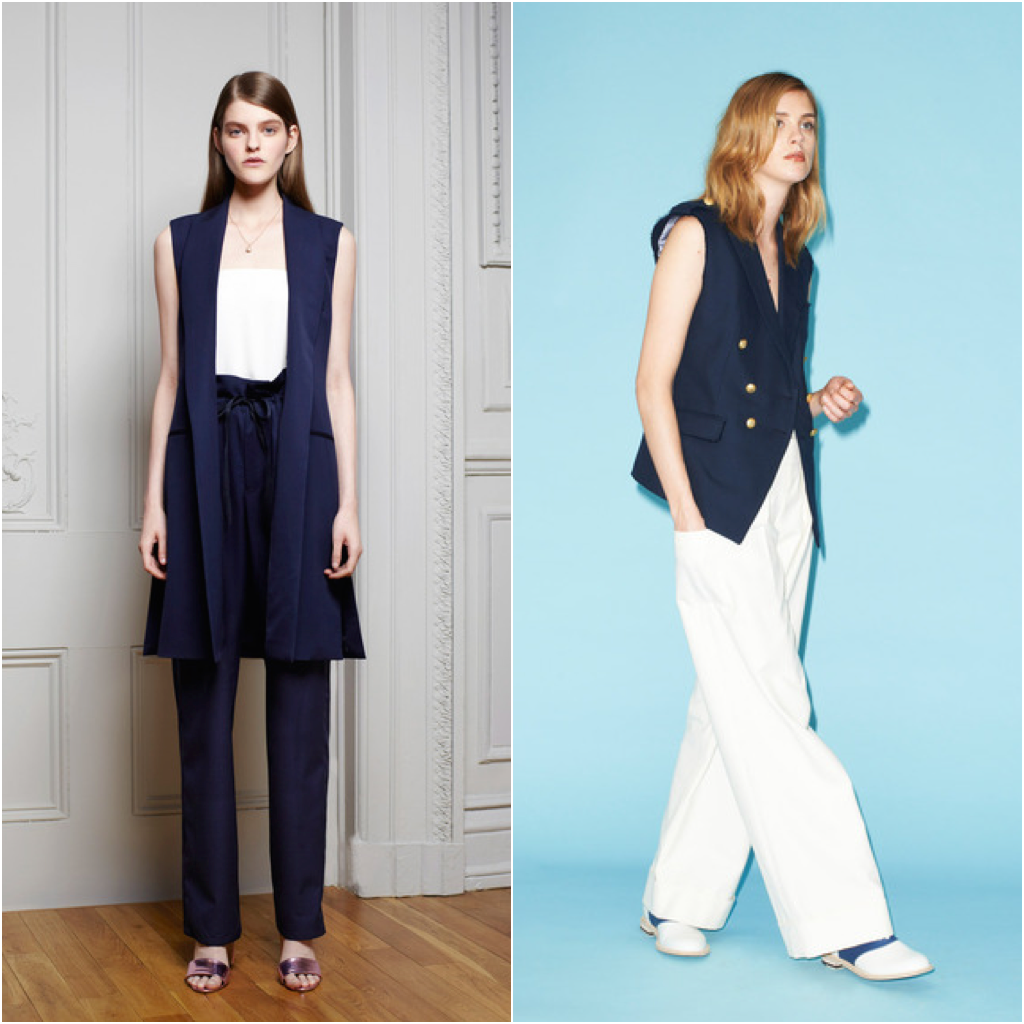 Let's learn from from Adam Lippes and Band Of Outsiders — invest in a navy vest, friends. I did (remember that time I J. Crewed around Chicago?) and you should too.

#DotsOnDotsOnDots is the message I'm getting from Fendi, Ralph Lauren and Band Of Outsiders here. These are three fantastic examples of the polka dot's versatility. Fendi gets funky, Ralph gets girly, BOO gets casual…dots for everyone!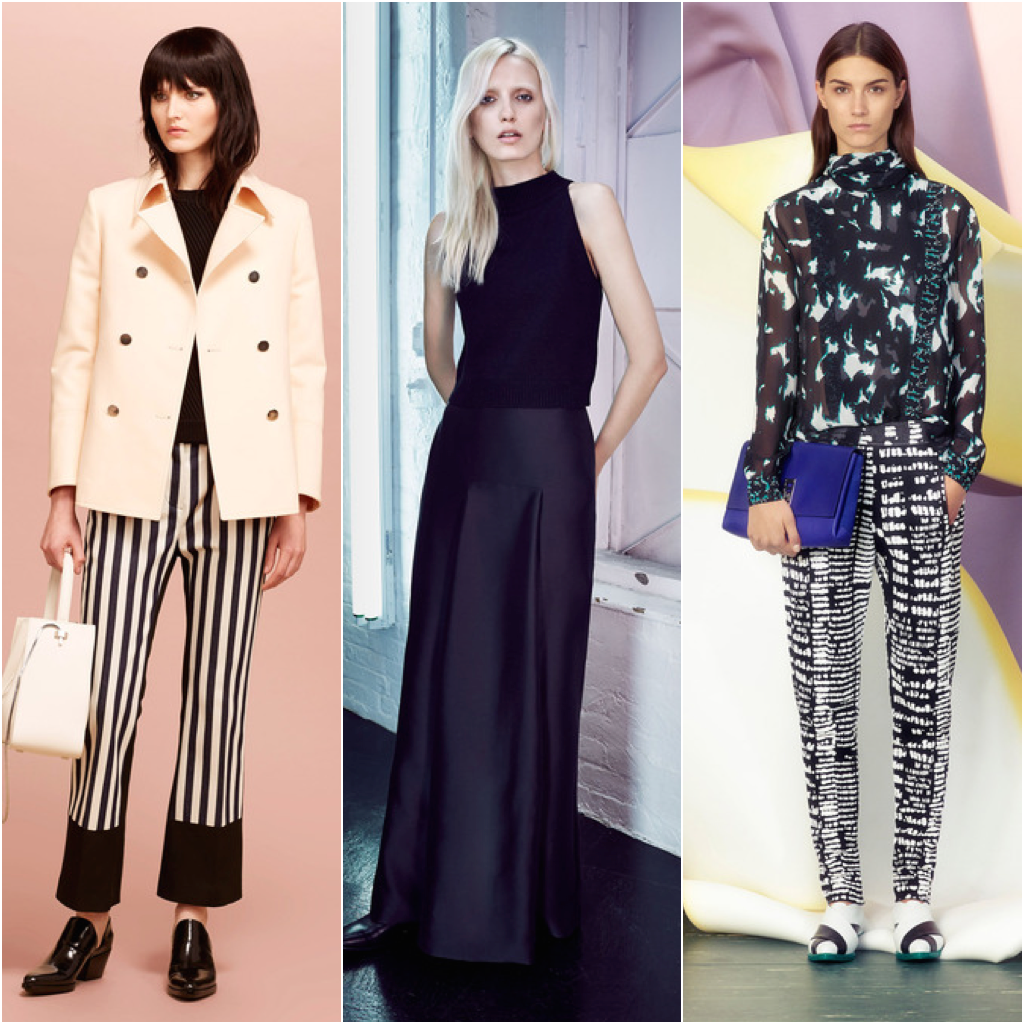 And last but not least — just a few of my absolute favorites from Resort '15. Something about those cropped vertical stripe Phillip Lim pants are just getting to me…and with those loafers? Sign. Me. Up. Sort of odd I'd like something so minimalist like this all black Sally LaPointe look but its simplicity is what's making me fall in love. And going in the complete opposite direction…Proenza prints are something I am always on board with. This look especially is calling my name (JENA…BUY ME!) See?
—
Do you have any favorites from this year's Resort collections? Be sure to share in the comments.
And if you just can't wait to get these looks…

Images via Style.com
You might want to check out...